August 23, 2013
Volume 1

Issue 32

County of Orange to Investigate Possible Contract Violations


(SANTA ANA, CA) Supervisor Todd Spitzer introduced preliminary draft research during the County Board of Supervisors Aug. 20 meeting, that more than $85 million in contracts have been granted through the County budget over the past four years without needing Board approval.

"There is about $21 million a year that passes though the County budget with no Board approval or what I believe is any review by the CEO," Spitzer said. "At least preliminarily, there are significant issues."

Spitzer commissioned a study conducted by a professor from Cal State University, Fullerton and an independent auditor to review more than 17,000 contracts approved by various departmental heads because the amounts or terms of the contacts fell below the threshold needed for Board approval.

Spitzer is working with the County CEO's Office and the County Procurement Officer to review the draft.

"I want to give the CEO's Office an opportunity to validate the data to make sure it's accurate, to see if we have issues or not and to check with department heads and give them an opportunity to respond," Spitzer said.

After the CEO's Office reviews the draft, Spitzer asked for the findings to be reported back to the Board.

County of Orange to Protest Sexually Violent Predator Enforcement Funding


(SANTA ANA, CA) Supervisor Todd Spitzer and the County Board of Supervisors voted to oppose during the Board's Aug. 20 meeting, the California Commision on Mandates position that would take away funding for prosecution, defense and housing of those prosecuted under Jessica's Law.

In addition to opposing the possible defunding of Jessica's Law, Supervisor Spitzer suggested that Board of Supervisors send representatives to and testify before the State Commission on Mandates.

Spitzer was a state campaign manager for the initiative, which voters passed in 2006. Jessica's Law:

Increased the penalties for sex offenders
Broadened the definition of certain sexual offenses,
Eliminated good time credits for early release of certain offenders, prohibited probation for certain crimes and extended parole for some offenses
Increased court-imposed fees on sex offenders and provided for life-long GPS monitoring of high risk sex offenders.

The law also bars convicted sex offenders from living within 2,000-feet of a school or any place where children gather.

"Jessica's Law, while passed by the Legislature, was subsequently confirmed by the voters. The issue is if the voters pass something versus the legislature, it's no longer an unfunded mandate, which would go to the Commission on Mandates. The position of the state commission now is that this is no longer a mandate," Spitzer said.

At risk is about $2 million in state funding to reimburse counties for prosecution, defense and incarceration. The three Orange County agencies that would be affected are: the Public Defender's Office for defense, the District Attorney's Office for prosecution and the Sheriff's Department for housing.

In 2006, the State Legislative Analyst's Office specifically stated the state would "reimburse counties for their costs for participation in the SVP commitment process."

"This is a very important public protection issue," Spitzer said.

"A lot of the testimony has been from staff and professional prosecutors and public defenders as opposed to elected officials," Spitzer said. "I think we have to take a full-on frontal offensive on this."

OCTA Refinances 91 Express Lanes Bonds

(From OCTA)

The Orange County Transportation Authority announced the new 91 Express Lanes Bonds, used to refinance the 2003 91 Express Lanes Bonds, have a true interest cost of 3.83%, nearly 1 percent lower than the 2003 cost.

The OCTA Board of Directors, on which Supervisor Todd Spitzer serves at the Chair of Finance and Administration, authorized the issuance of the bonds on July 22, when the 10-year AAA Municipal Market Data Interest Rates were slightly higher than 2.75%. When the bonds were priced on July 30, rates had fallen to just over 2.65%.

The bonds are rated A1, A, and A-minus respectively by Moody's Investor Services, Standard & Poor's, and Fitch Ratings.

The average debt service per year totals $10.798 million with a total debt service for 17 years of $186.616 million. The bonds have total proceeds of $135.576 million with a 10-year optional par call provision.

County of Orange Supports Fire Pit Legislation


(SANTA ANA, CA) Supervisor Todd Spitzer and the County Board of Supervisors voted to support during the Board's Aug. 20 meeting, a bill pending in the state Legislature that would preserve Orange County's fire rings.

Assembly Bill 1102 - authored by Travis Allen, R-Huntington Beach and Sharon Quirk-Silva, D-Fullerton – would prohibit the South Coast Air Quality Management District from prohibiting beach bonfires.

In July, the AQMD voted to move or remove fire pits within 700 feet of homes. Spitzer and the Board of Supervisors previously voted to oppose that proposal.

"Fire rings are part of Orange County and Californian culture. They hearken back to a simpler, more innocent time of family outings during the summer, making s'mores, roasting hot dogs and singing songs," Spitzer said.

"I wholeheartedly support AB 1102 and thank our area state legislators who have worked vigorously to protect this piece of the Orange County lifestyle."

OUSD is the first school district in the Third District for its students to return to school; Motorists asked to be careful


(ORANGE, CA) The 38 elementary, middle and high schools in the Orange Unified School District began the 2013-14 school year on Aug. 21.

The Placentia-Yorba Linda Unified School District begins on Sept. 3, the Tustin Unified School District returns on Sept. 4 and the Irvine Unified School District returns on Sept. 10

Supervisor Todd Spitzer encouraged motorists to be mindful of the higher volume of traffic around the schools.

"I have two school-aged children, one in high school and the other in elementary school, so I understand the stresses of traffic," Spitzer said. "It is important that motorists in these areas plan their time accordingly. Leave for work earlier and try to be patient."

County Recognizes Retiring Tustin Police Chief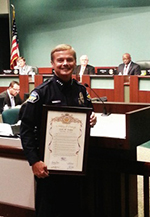 (TUSTIN, CA) Supervisor Todd Spitzer and the Board of Supervisors recognized retiring Tustin Police Chief Scott Jordan with a resolution honoring Jordan's service at the City of Tustin's Aug. 20 City Council meeting.

Chief Jordan joined the Garden Grove Police Department as a cadet in 1977. He was promoted to lieutenant in 1986, captain in 1990 and became the department's first Deputy Chief in 2001.

Jordan was appointed Chief of Police for the City of Tustin on January 3, 2005.

One of Chief Jordan's signature accomplishments was leading the department to earning professional accreditation through the Commission on Accreditation for Law Enforcement Agencies. In 2011, the Tustin Police Department became the third agency in Orange County to earn national accreditation.

"I am grateful for the nearly 40 years of tireless service Chief Jordan gave to the cities of Garden Grove and Tustin," Spitzer said. "Best wishes to Chief Jordan in his retirement."

OC Sheriff's Department Hosting Emerging Drug Trends Presentations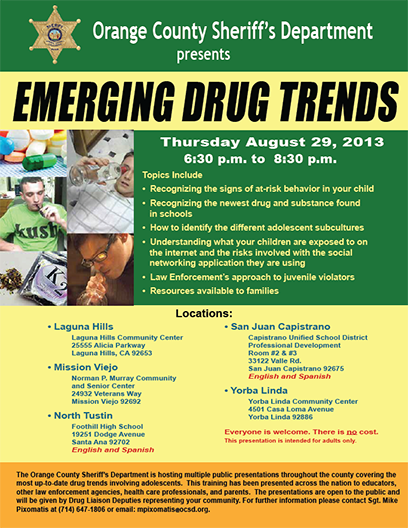 Click on the image above to view a PDF version.

How to Monitor, Secure and Destroy Your Medications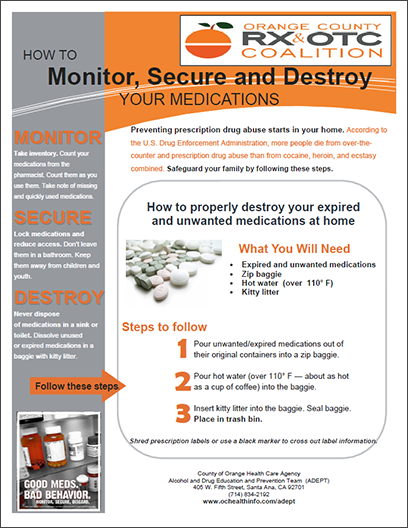 Click on the image above to view a PDF version.

Angels catcher Hank Conger to visit the OC Zoo


(From OC Parks)

The OC Zoo is offereing free admission and an opportunity for children to take photos with Angels catcher Hank Conger on Saturday, Sept. 7 at the zoo, 1 Irvine Park Road.

The first 125 people to arrive will be able to see Conger participate in a Zoo Keeper Talk with live animals from 11 to 11:30 a.m. From 11:30 a.m. to 12:30 p.m. Conger will take photos with children. No autographs.

In addition to free admission, all visitors wearing Angels gear (hat, shirt, jacket, jersey, etc.) will receive a free train ticket for the Irvine Park Railroad when they buy one at the regular price.

For more information, call 714-973-6847, email oczoo@ocparks.com or visit www.ocparks.com.

Free Movie Night in Villa Park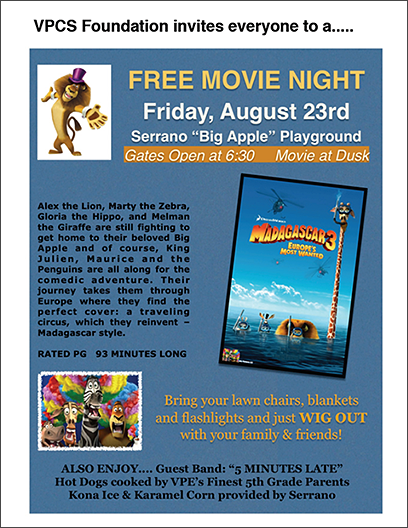 Click on the image above to view a PDF version.

Events Around The District

Anaheim
Sunkist Book Chat
1 p.m. Thursday, Aug. 29
Sunkist Branch Library, 901 S. Sunkist St.

Irvine
Morning Storytime
10:30-11 a.m. Tuesday, Aug. 27
Taft Branch Library, 740 E. Taft Ave.

Orange
Morning Storytime
10:30-11 a.m. Tuesday, Aug. 27
Taft Branch Library, 740 E. Taft Ave.

Silverado
Cardio Hike: Limestone
7-11 a.m. Sunday, Aug. 25
Limestone Canyon Wilderness Park, E. Santiago Canyon Rd. and Hicks Haul Rd.

Tustin
Author Talk & Book Signing: Resilience by Julie Garcia
7 p.m. Wednesday, Aug. 28
Tustin Public Library, 345 E. Main St.

Yorba Linda
Yorba Linda Farmers Market
9 a.m-1 p.m. Saturday, Aug. 31
Imperial Hwy. & Main St.



DISTRICT

STAFF
Martha Ochoa
Chief of Staff

Eugene Fields
Communications Director

Martin Gardner
Policy Advisor

Carrie O'Malley
Policy Advisor

Chris Nguyen
Policy Advisor

Christine Richters
Executive Aide



District Map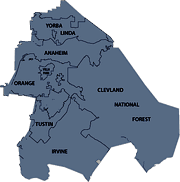 Anaheim, Irvine, Orange, Tustin, Villa Park, Yorba Linda, El Modena, North Tustin, Orange Park Acres, the Canyon Communities

Stay Updated!