September 27, 2013
Volume 1

Issue 37

Todd Spitzer Addresses Crime Victims' Memorial Evaluation Committee's Inaugural Meeting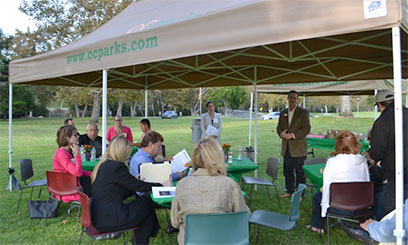 Supervisor Todd Spitzer and OC Parks staff joined members of the Orange County Crime Victims' Memorial committee on Wednesday night, September 25 in William R. Mason Regional Park in Irvine. The memorial site pays tribute to the victims of crimes and their loved ones. The committee will consider design submissions – due on September 30 – before judging the applications in terms of how to best create an accessible site that honors victims of all types of crime.

"I want to thank the members of the evaluation jury for serving our community," Supervisor Todd Spitzer said. "I also thank them for dedicating time and energy to ensure a successful and appropriate memorial for victims of crime here in Orange County."

The Orange County Crime Victims' Memorial plays an instrumental role in a larger movement to honor the rights of victims of crime. Supervisor Spitzer has dedicated his career to victims' rights, both as the campaign chairman of the Marsy's Law initiative and in his former positions as a prosecutor and a victims' rights attorney. The memorial site in Mason Park will serve as a place to remember and as a symbol of perseverance in the movement to defend the rights of crime victims.

The finalists of round 1 will be announced on October 31. They must submit more rigorous proposals by January 30, 2014, which will be on display for the public to view from February through March 2014. The formal announcement of the Orange County Crime Victims' Memorial in William R. Mason Regional Park is scheduled for April 2014, which coincides with National Crime Victims' Rights Week.

Members of the evaluation committee include representatives from each of the county's five districts:

Jane Bouffard, Justice for Homicide Victims, First District
Marie Belmontes, Parents of Murdered Children-OC, First District
Michael Chavez, Second District
Patricia Wenksunas, Crime Survivors, Inc., Third District
Christine Richters, Victim, Third District
Steve Spernak, Fourth District
Dru Maurer, Fifth District

County Completes Business Continuity Plans at Todd Spitzer's Urging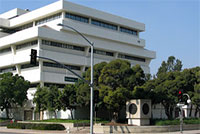 While it is not always possible to prevent disasters from wreaking havoc, the County government can ensure that the appropriate resources and procedures are in place to recover from possible catastrophes. Business continuity plans do just that. They lay out the tools that County agencies and departments will utilize in case of emergency. According to the County Chief Information Officer, all of Orange County's agencies and departments now have comprehensive business continuity plans in place.

"I want to congratulate all the County agencies and departments that have been involved in this process. It is quite an undertaking to manage the successful completion of 23 separate business continuity plans, and I am glad to see everyone contributing," Supervisor Todd Spitzer said. "We are responsible for over 3 million people, as well as immense infrastructure in Orange County, and business continuity plans serve a vital role in our protection."

Earlier this year, the Internal Audit Department reported on one department's progress with its business continuity plan. Supervisor Spitzer then asked for the Internal Audit Department to report on the status of the business continuity plans for the County's 23 departments and agencies.

On May 21, the Internal Audit Department report showed the plans just over half-completed. At Supervisor Spitzer's impetus, the County Executive Office then set out a timeline with key milestones to ensure County agencies and departments complete their business continuity plans.

Point-in-Time Count Finds 4,300 Homeless in Orange County Every Night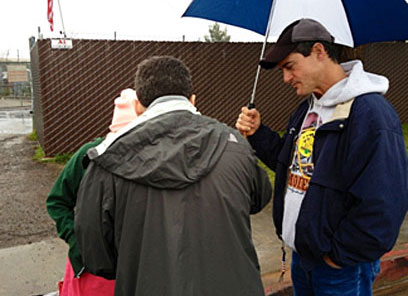 Supervisor Todd Spitzer and a volunteer speak with a homeless woman during the Point-in-Time count.
(Portions Courtesy of the OC Partnership to End Homelessness)

Capturing the efforts of a mass community undertaking involving 750 volunteers, 41 agencies and private and public supporters, the recently released 2013 Orange County Homeless Count and Survey Report now reveals that almost 4,300 people are homeless on any given night in Orange County. More than 12,700 people are homeless over the course of a year.

The report of results from the Point-In-Time count, Orange County's biennial survey and count of the area's homeless population, conducted through leadership of the Commission to End Homelessness, OC Partnership, Focus Strategies, the Orange County Health Care Agency, with funding provided by the County through OC Community Services, show that:

Approximately 40% of homeless people in Orange County are unsheltered; that's almost 1,700 individuals living on the street, in a car, or in other places not meant for habitation.
Approximately 1 in 5 homeless individuals are chronically homeless, meaning that they've been homeless for the last 12 months or at least 4 times in the past 3 years.
There are an estimated 900 homeless children in Orange County. In fact, 37% of homeless people live in a household that includes a minor child, although the vast majority of homeless children are sheltered.
More than 1 in 10 of Orange County's homeless are veterans, the majority of whom (60%) are unsheltered.
It's estimated that there are 480 homeless individuals are living with severe mental illness; the majority (78%) are unsheltered.
Among Orange County's homeless who are living unsheltered:


The average age is 48 years old.
1 in 5 are unsheltered females.
Almost 6% are transitional age youth (18-24 year olds).
In comparing the 2013 count data to the last Point-in-Time count conducted in 2011, this year's survey revealed a 23% increase in number of homeless individuals and families who were in a sheltered environment, a significant improvement. The data also showed a 5% decrease in the number of chronically homeless individuals counted. The chronically homeless are often the hardest to house, but the Point-in-Time found that these individuals are more often utilizing shelter than in previous years – just 4% in 2011, now 16% in 2013.

Beginning at 4:00 a.m., Saturday, January 26, county employees and volunteers ventured into areas where homeless take refuge, often near areas such as Mary's Kitchen in Orange, where homeless receive food and showers.

Third District Supervisor Todd Spitzer and his staff participated in the Point-in-Time count. The survey, which takes place every two years, is critical in determining federal funding received by the county to serve the homeless population.

"I want to thank all the staff and volunteers, including several of my colleagues on the Board of Supervisors, who participated in such an important event," Spitzer said. "It was such an eye-opening experience speaking with homeless individuals in our county and learning their stories. I look forward to working with my fellow Supervisors to make positive changes in efforts to find solutions to homelessness."

In addition to helping Orange County better understand and respond to homelessness in our region, Point-in-Time data also helps the County and homeless service providers allocate resources and prepare for projected changes in homeless policy. Several federal initiatives and requirements are calling for communities to soon shift from a system of homeless shelter and services to a housing "crisis resolution system" which focuses instead on transitional programs leading to stable housing as quickly as possible. Homeless count data about population and characteristics – such as the Point-in-Time count provides – are key pieces of the information needed to develop and refine this type of response system.

Tustin Tiller Days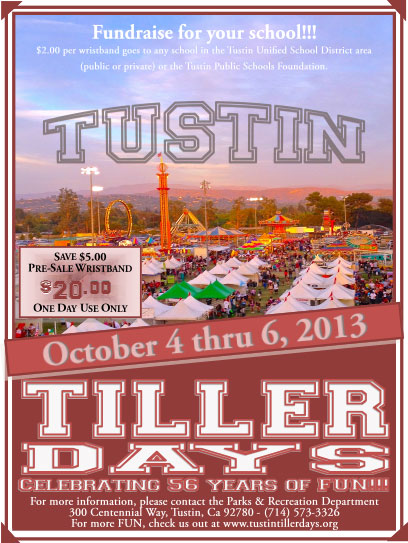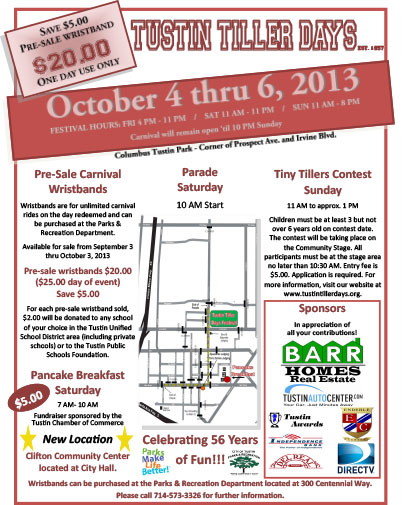 Click on the image above to view a PDF version.

2013-14 Property Tax Bills to Be Issued in October


The Orange County Treasurer-Tax Collector's office will be mailing 2013-14 Secured Property Tax Bills from October 4-18. (Secured property taxes are levied on buildings and real estate.) Secured tax bills will become available at ocgov.com/octaxbill as they are mailed.

Additionally, the paper property tax bill now includes a quick response code (QR code), so smartphone users can scan the code to reach the online version of their tax bill instantly. Online property tax payments can be made at ocgov.com/octaxbill. Online payments are processed more quickly, reduce the risk of a check being lost or stolen from the mail, and help the environment.

The first installment of property tax bills will be due December 10, 2013 and the second installment will be due April 10, 2014. Late payments will be subject to a 10% penalty.

Dog Licensing Saves Lost Pets


(Portions courtesy of OC Animal Care)

The County of Orange wants to reiterate the importance and benefits of dog licensing. Dog licensing began as a form of rabies control, but today it has transformed into much more than that. OC Animal Care says that nearly 90% of all animals that come to the shelter with some form of identification, which includes licenses, are returned to their owners.

"My dog, Auggie, is licensed, and my family has the peace of mind that if anything should ever happen to him, we'll get him back," Supervisor Todd Spitzer said. "Plus as a responsible dog owner, I make sure that Auggie has all his appropriate vaccines."

Having a dog license is certainly part of being a responsible pet owner and ensuring your dog is currently rabies vaccinated. However, dog owners can become so confident in the fact that they've secured their homes, their pets are very well trained, or the idea that "my dog will never get out," that owners forget the most valuable part of licensing – lost pets will be found and returned. Think of a dog license like a license plate for your car or like the name tag on your luggage. Only with a dog license you are ensuring that, instead of property, your faithful friend is returned to you should the unthinkable happen.

Also, purchasing a license for your dog couldn't be easier. OC Animal Care offers dog licensing online, over the phone, or at the shelter. For $24.00, if your dog is spayed or neutered, you can rest assured that should the unfortunate happen and your dog gets out, OC Animal Care can locate you quickly and may be able to return your pet without it ever needing to come to the shelter. Contact OC Animal Care at 714-935-6848, or visit them online at www.ocpetinfo.com.

Pet of the Week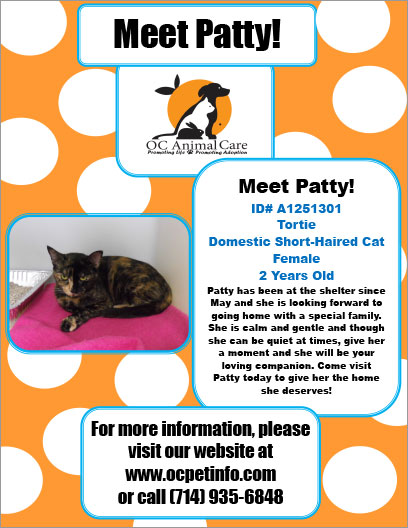 Click on the image above to view a PDF version.

Events Around the District

Anaheim
Contra Dancing for All Ages
2 p.m. Saturday, Sep. 28
Anaheim Canyon Hills Library, 400 Scout Trail

Orange
Ukulele Jam!
11 a.m.-12:30 p.m. Saturday, Oct. 5
Orange Public Library, 407 E. Chapman Ave.

Irvine
Farmers Market
10 a.m.-2 p.m. Sunday, Sep. 29
Orange County Great Park

Villa Park
Toddler Storytime
9:15-11:15 a.m. Tuesday, Oct. 1
Community Room, 17855 Santiago Blvd.

Yorba Linda
Tween Toy Workshop
6:30-7:30 p.m. Thursday, Oct. 3
Yorba Linda Public Library, 18181 Imperial Hwy.




DISTRICT

STAFF
Martha Ochoa
Chief of Staff

Martin Gardner
Policy Advisor

Carrie O'Malley
Policy Advisor

Chris Nguyen
Policy Advisor

Christine Richters
Executive Aide



District Map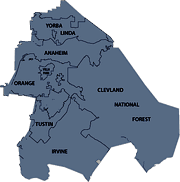 Anaheim, Irvine, Orange, Tustin, Villa Park, Yorba Linda, El Modena, North Tustin, Orange Park Acres, the Canyon Communities

Stay Updated!