February 11, 2013
Volume 1

Issue 4

Spitzer attends Black History Month Parade in Anaheim

(Anaheim, CA) – The 33rd annual Black History Month Parade was held in Downtown Anaheim, Saturday, February 2. Supervisor Todd Spitzer joined city and county representatives, along with members of the community to celebrate culture, heritage and history.

"It's simply wonderful to participate in an event that brings the African American community together with Orange County to honor the contributions of African Americans in American history," Spitzer said. "Thank you to all the event organizers and participants for making it a great success."

Click here for scenes from the parade and cultural fair.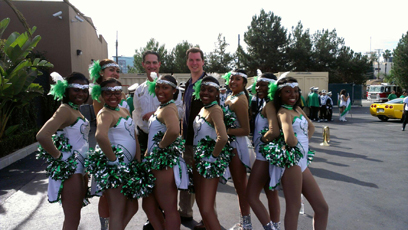 Sup. Spitzer and Anaheim City Council Member Jordan Brandman with Inglewood High School cheerleaders participating in the parade


Reminder - OC DUI Summit to be held February 27 at Concordia University

(Irvine, CA) Local leaders from across Orange County are coming together in February to search for solutions to the county's DUI epidemic. The event will be hosted by Supervisor Todd Spitzer, the Orange County DUI Task Force, Automobile Club of Southern California, Concordia University Center for Public Policy, MADD, and the Orange County Health Care Agency.

Click here for more information and to register.

Supervisor Spitzer receives committee assignments

Supervisor Spitzer Todd Spitzer was appointed to the following boards and committees:
California State Association of Counties (CSAC)
Emergency Management Council
Library Advisory Board
Local Agency Formation Commission (LAFCO)
Orange County Criminal Justice Coordinating Council
Orange County Fire Authority
Orange County Local Remote Access Network Board (RAN)
OCTA
Santa Ana River Flood Protection Agency
Santa Ana River Trail and Parkway Partnership
Transportation Corridor (Eastern/Foothill and San Joaquin Hills)
Urban County Caucus

Life expectancy in Orange County reaches new high

(Santa Ana, CA) A new report from the Orange County Health Care Agency finds that over the last 20 years the average life expectancy in Orange County has increased by five years, from 76.9 in 1990 to 81.9 years in 2010. Orange County residents live almost four years longer than the national average.

"We are very pleased that life expectancy in Orange County is at a new high," said Mark Refowitz, Health Care Agency Director. "But there is still more to do in reducing health disparities within our community."

While life expectancy has improved in Orange County, notable demographic differences in specific populations persist. Asian/Pacific Islanders have the highest average life expectancy of 85.0 years and Hispanics have the second highest at 83.1 years and non-Hispanic whites are third at 80.9 years. African Americans have the lowest life expectancy in the county at about 78.2 years. Females in Orange County have a life expectancy of 83.9 years, compared to males at 79.8 years.

Marked geographic differences were also found. Cities with the highest average life expectancies, 82 or more years, are primarily clustered in the southern half of Orange County. Cities with the shortest life expectancies, less than 81 years, tend to be in the northern and central parts of the county. The results show that average life expectancy is strongly related to where you live and to socio-economic factors such as education level, income, poverty, and health insurance. On average, residents from more affluent cities live longer than residents who live in less affluent communities.

The data used in this study were gathered from the death certificate information reported to the Orange County Health Care Agency. The full report entitled "Life Expectancy in Orange County" is available online.

Orange County fights for pension reform in Washington



(Santa Ana, CA) Orange County Congresswoman Loretta Sanchez (D-Santa Ana) has introduced legislation this year to allow employees to voluntarily elect a lower cost pension program. The legislation is co-sponsored by Ed Royce (R-Fullerton) and John Campbell (R-Irvine). On Tuesday, February 6, the Board of Supervisors voted to support this legislation as it makes its way through the legislative process.

Ultimately, this would allow employees to accept different forms of compensation instead of greater pension benefits – including salary increases and/or employer matching
contributions to a 401(k)-style account, which shift responsibility where it should be – on the employee and not the taxpayer. This would provide greater flexibility in negotiations with union leaders as both sides seek out ways to keep Orange County's pension program solvent and reverse the unfunded liability.

Ultimately, this would allow employees to accept different forms of compensation instead of greater pension benefits – including salary increases and/or employer matching contributions to a 401(k)-style account, which do not create future liabilities on the county. This would provide greater flexibility in negotiations with union leaders as both sides seek out ways to keep Orange County's pension program solvent.

The legislation (H.R. 205) is needed following a county tax counsel opinion, which determined current IRS rules prevented offering this voluntary option for existing employees.

Additional benefits of this legislation are:
Offers choices to employees
Reduces costs to employees
Reduces unfunded liability for pensions
Allows local governments to solve pension crisis

CHOC opens new South Tower

(Orange, CA) Children's Hospital of Orange County (CHOC) held a grand opening for its new patient care tower in Orange in the Third District on Saturday, February 2, 2012. Paid for in part with a $5 million grant from Disney, the grand opening involved community leaders, music entertainment, fun family activities, tours and more.

Supervisor Todd Spitzer was on hand to welcome guests. "This is a flagship hospital with incredible care devoted to children," Spitzer. "I'm incredibly proud CHOC is a part of my district. Thank you to the guests, sponsors – and especially to the kids for being a part of this project."

Spitzer is working with Orange City Council Member Mark Murphy to bring the CHOC Harley Davidson ride and toy drive back for Christmas.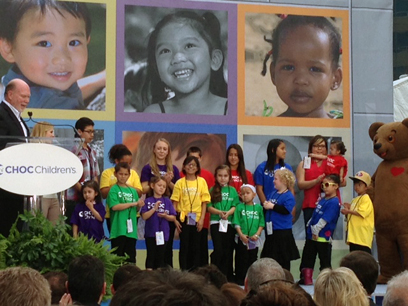 A new South Tower of Children's Hospital of Orange County (CHOC) was recently dedicated


Cal State Fullerton welcomes new President

(Fullerton, CA) Mildred Garcia has been named Cal State Fullerton's new president and was inaugurated at an event on February 1. Garcia celebrated with friends, family and community leaders, including Supervisor Todd Spitzer who attended.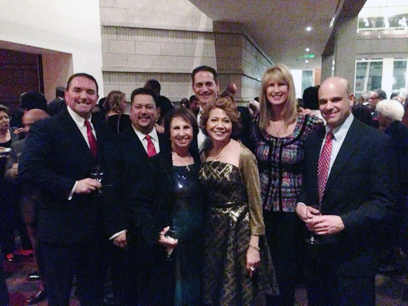 Supervisor Spitzer with new Cal State University President Mildred Garcia and guests at an event in her honor

In January 2012, the CSU Board of Trustees selected García, then president of Cal State Dominguez Hills and the CSU's first Latina president, to become Cal State Fullerton's fifth president. García assumed leadership of the most populous campus in the CSU last June. The author of several books and articles focused on the impact of equity in higher education, García serves on President Barack Obama's Advisory Commission on Educational Excellence for Hispanics, among other national boards.

Supervisor Spitzer's mother-in-law, Norma Morris, who recently retired from Cal State Fullerton, was staff assistant to the last three presidents during her career of more than 45 years.

A comprehensive, regional university with a global outlook, Cal State Fullerton enrolls more than 34,000 students and offers 107 degree programs in eight colleges.

Supervisor Spitzer goes Social


Pet of the Week

This week's featured pet is: Chico, a five year old, tan, neutered male, Chihuahua, ID# A0948163. Chico is an outgoing, sweet and friendly little guy. He loves attention and also enjoys cuddling up in your lap. He would be a great walking companion or TV buddy. Come visit Chico today and give him the second chance he deserves!

Go to www.ocpetinfo.com
to find out how to take Chico home.


Mike Johnson
Chief of Staff

Justin Glover
Communications Director

Martin Gardner
Policy Advisor

Martha Ochoa-Lopez
Policy Advisor

Carrie O'Malley
Policy Advisor

Chris Nguyen
Policy Advisor


District Map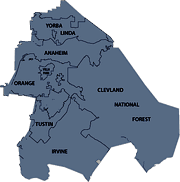 Anaheim, Irvine, Orange, Tustin, Villa Park, Yorba Linda

Stay Updated!