November 8, 2013
Volume 1

Issue 43

Supervisors Approve Nguyen-Spitzer Proposals for Elected Officials to Pay Their Full Employee Retirement Contributions; Voters to Have Final Say on June 2014 Ballot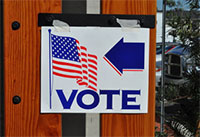 On Tuesday, the Board of Supervisors unanimously approved a proposal by Janet Nguyen and Todd Spitzer to have Supervisors pay their full employee retirement contributions effective immediately. The Board also unanimously approved a proposal by Supervisors Nguyen and Spitzer to place a charter amendment on the June 2014 ballot to make this a permanent requirement for all County elected officials that cannot be reversed without voter approval.

"We have asked County workers to pay their employee contributions for their retirement, and we need to do the same as Supervisors," Supervisor Nguyen said.

"I was elected on a promise to make government workers pay their pension contribution costs, and as Supervisors, we are now paying our costs," Supervisor Spitzer said. "The charter amendment will allow the voters to send a message that we should indeed pay for our pensions and that this can never be reversed without the consent of the people."

The full text of the Nguyen-Spitzer proposal to require Supervisors to pay their full employee retirement contributions immediately is available here. The full text of the Nguyen-Spitzer ballot measure is available here.

Supervisors to Deliberate Spitzer Proposal for Social Host Ordinance on December 10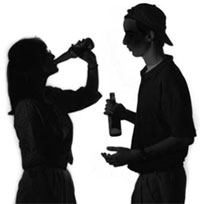 (Photo Courtesy of MADD)

On Tuesday, November 5, Supervisor Todd Spitzer brought a proposed social host ordinance to the Board of Supervisors. After much discussion, the Board voted to delay the social host ordinance item to the December 10 Board meeting. Upon passage, it would be enforceable in all unincorporated areas of Orange County. As a long-time advocate for DUI prevention efforts, Supervisor Spitzer proposed the ordinance to raise awareness regarding the dramatic problem that underage drinking and underage DUI has become in Orange County. The social host ordinance offers another solution in the fight against these scourges. Spitzer's proposal also brings attention to the dramatic youth health and welfare issues that have plagued Orange County due to underage drinking.

"Underage drinking is one of the great social ills of our time that is a threat to both public health and public safety," Supervisor Spitzer said. "We need to do everything we can to discourage drinking by people under 21 regardless of where that alcohol consumption occurs."

A social host ordinance holds people responsible for knowingly hosting an underage gathering where alcohol is being consumed. Currently eight O.C. cities have a social host ordinance: Garden Grove, Huntington Beach, Irvine, La Habra, Laguna Beach, Laguna Hills, Mission Viejo, and Orange. Other California counties that currently have a county social host ordinance are Contra Costa, San Bernardino, San Diego, Santa Barbara, Santa Clara, and Ventura Counties.

Devastating statistics have shown the need for a social host ordinance in Orange County.

"The numbers of Orange County underage youth drinking alcohol and driving has reached epidemic proportions," Supervisor Spitzer said. "In one year in Orange County, there were almost 1,000 underage misdemeanor DUI convictions and 150 Orange County minors who caused serious bodily injury or death in a DUI incident. 52% of underage minors are consuming alcohol at a friend's home."

Four best practices regarding DUI prevention were recently discussed in February at the O.C. DUI Summit, which was co-hosted by Supervisor Spitzer, the O.C. Health Care Agency, Mothers Against Drunk Driving (MADD), the Auto Club of Southern California, and Concordia University in Irvine. These best practices include social host ordinance, responsible beverage service, checkpoints/saturation patrols, and educational campaigns.

Speaking in support of the Social Host Ordinance at Tuesday's Board of Supervisors meeting included:

Councilmember Trish Kelly, City of Mission Viejo
Deputy Chief Mike Hamel, Irvine Police Department
Chief Legal Counsel Ron Wenkart, O.C. Department of Education
Councilmember Joe Carchio, City of Huntington Beach
Chief Kevin Rainey, Garden Grove Police Department
Anita Lorz, Public Affairs – Southern California Auto Club
Tiffany Townson, Program Director of MADD
Lynn Posey, Community Development – St. Joseph Health/Mission, Laguna Beach
Marilyn Ellis, Mother of a DUI Victim
In addition, formal letters of support were issued by Orange County Sheriff Sandra Hutchens, Orange County Superintendent of Schools Al Mijares, Ph.D., and the Hospital Association of Southern California.

"With efforts like the social host ordinance in place, local elected officials and law enforcement are working together to help stop underage drinking and the many potentially negative effects that can occur when underage drinking takes place," Supervisor Spitzer said.

The Board voted to continue the Social Host Ordinance item to the December 10 Board meeting.

"I hope many will realize the importance of the social host ordinance and its effects in preventing underage drinking, underage DUI, and other severe health related problems for Orange County's youth," Supervisor Spitzer said. "I appreciate the questions that many have regarding the Social Host Ordinance, and I welcome thoughts on this issue. Answering these questions and making appropriate changes are a natural part of a good deliberative process in making public policy."

Supervisor Spitzer plans to coordinate efforts and address any questions that arise regarding this important item. He plans to integrate ideas into the ordinance by the December 10 Board of Supervisors Meeting.

The proposed Orange County social host ordinance and all related documents for this agenda item may be accessed here.

Supervisor Spitzer Joins Gift of History Assembly for Third-Grade Students at Angels Stadium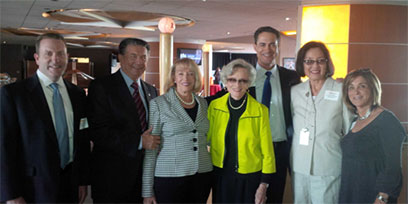 Orange County Auto Dealers Association Executive Director John Sackrison, former Orange County Supervisor Thomas W. Wilson and his wife Nancy, former OC Supervisor Marian Bergeson, OC Supervisor Todd Spitzer, Fullerton Elementary School District Assistant Superintendent Janet Morey, and Fullerton Elementary School District Boardmember Hilda Sugarman at the 2013 Gift of History Assembly at Angels Stadium
Yesterday, Supervisor Todd Spitzer joined the 2013 Gift of History Assembly at Angels Stadium. Developed by the Children's Education Foundation of Orange County, the Gift of History seeks to teach children about the cities, parks, streets, and leaders that form their local community. The program hopes that involving students in local history will inspire them to become "civically minded and genuinely curious about their surroundings."

"As a former public school teacher and school board member, I care deeply about education," Supervisor Spitzer said. "I always want to encourage young people's education, and I encourage every person of every age to be a lifelong learner."

At the 2013 Gift of History Assembly, each student receives a free book about Orange County. Additionally, students participate in an hour-long program at the stadium to show them "that history is alive and all around them."

The 2013 Gift of History Assembly also broke the Guinness World Record for the earth's highest-attendance history lesson.

Supervisor Spitzer Appoints Steve Chavez Lodge to Waste Management Commission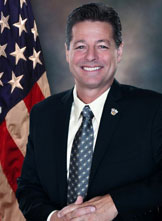 Supervisor Todd Spitzer has appointed Steve Chavez Lodge of Anaheim Hills to the Orange County Waste Management Commission. He replaces John Beauman of Brea who was appointed to the commission by Supervisor Spitzer's predecessor, Bill Campbell, in 2011. Beauman had served on the commission since 2002, as he was an appointee of the City Selection Committee before his 2011 appointment by Supervisor Campbell.

"Steve Chavez Lodge is a well-respected public servant who has served his country and his community in a variety of ways," Supervisor Spitzer said. "I thank Mr. Chavez Lodge for his willingness to serve the Third District on the Waste Management Commission."

Chavez Lodge is a United States Army veteran who served as an army paratrooper after graduating from the Army Airborne Academy and the Army Non-Commissioned Officers Academy. A graduate of the Golden West Police Officers Academy and the California Highway Patrol (CHP) Officers Academy, Chavez Lodge served as a police officer in Orange County for 27 years. During his law enforcement career, Chavez Lodge earned numerous awards, including Detective of the Year 2003, Officer of the Year in both 1995 and 1996, the State Legislature Career Commendation Award, and the FBI Career Achievement Award.

The Waste Management Commission advises the Board of Supervisors on municipal solid waste management and on the operation and maintenance of County landfills and other County facilities related to solid waste disposal.

Each Supervisorial district is represented by three people on the Waste Management Commission. Two are appointed by their Supervisor and one is appointed by the City Selection Committee, provided that none of the appointees may be representatives of the waste industry. The Third District is now represented by Steve Chavez Lodge, Donald Froelich, and Tustin Councilwoman Beckie Gomez.

Third District Forum on Conditions of Children in Orange County Report Set for December 3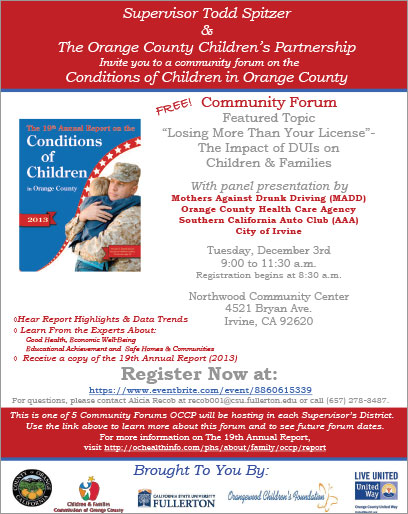 Click on the image above to view a PDF version.

Pet of the Week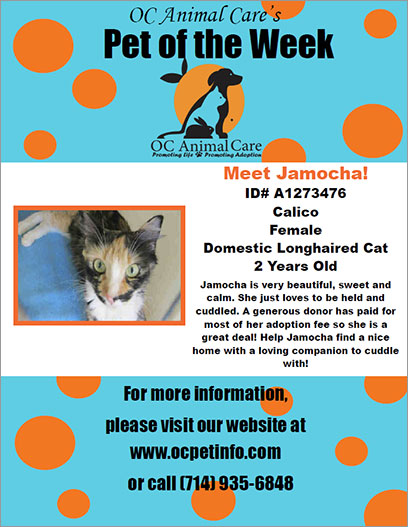 Click on the image above to view a PDF version.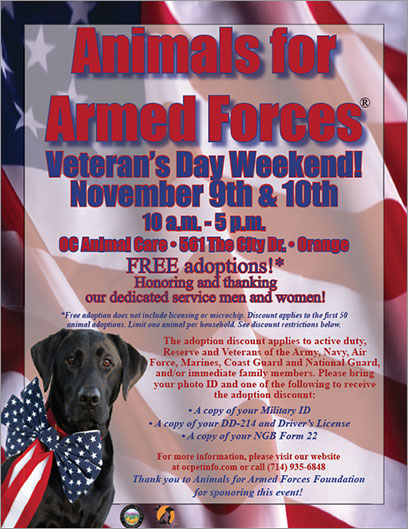 Click on the image above to view a PDF version.

Veterans Day Events Around the District

Anaheim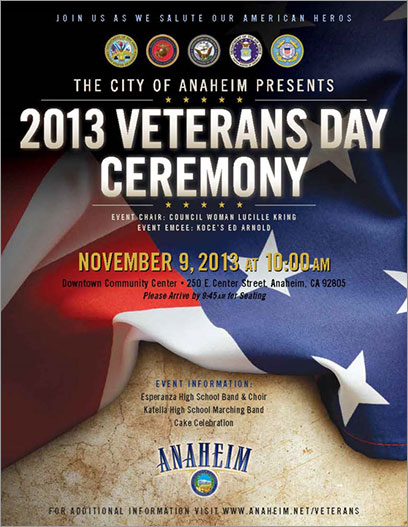 Click on the image above to view a PDF version.
Irvine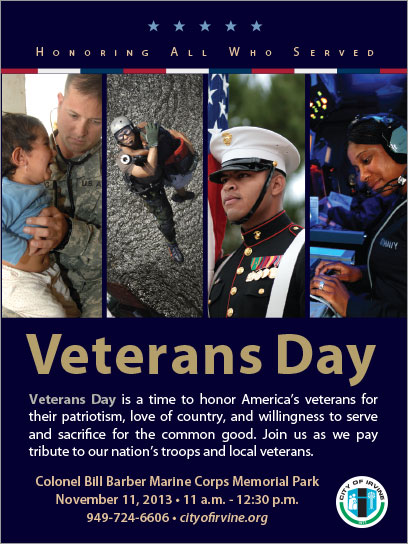 Click on the image above to view a PDF version.
Orange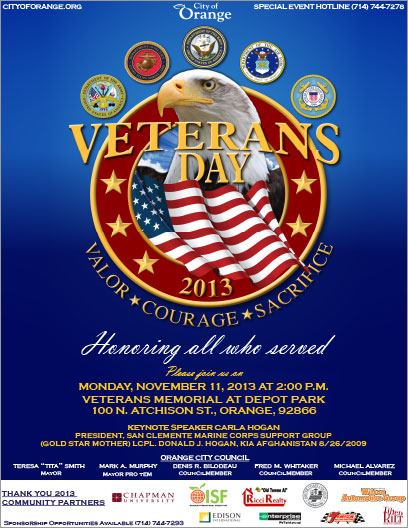 Click on the image above to view a PDF version.
Tustin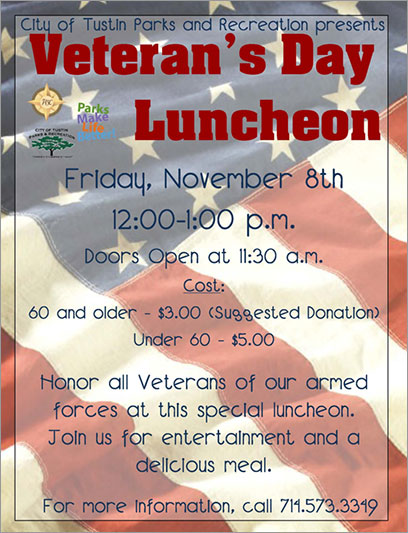 Click on the image above to view a PDF version.
Yorba Linda
Veterans Day Ceremony
Monday, November 11, 2013, 2:00 PM – 3:30 PM
Veterans Memorial in Veterans Park, 4756 Valley View Ave.




DISTRICT

STAFF
Martha Ochoa
Chief of Staff

Martin Gardner
Policy Advisor

Carrie O'Malley
Policy Advisor

Chris Nguyen
Policy Advisor

Christine Richters
Executive Aide



District Map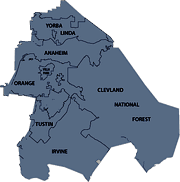 Anaheim, Irvine, Orange, Tustin, Villa Park, Yorba Linda, El Modena, North Tustin, Orange Park Acres, the Canyon Communities

Stay Updated!