Spitzer calls for Public Hearings on Violence

(Orange County, CA) – After 17 days of bloodshed and seven murders, Orange County Supervisor Todd Spitzer is calling for Third District Public Hearings on Violence.

"It's time to come together as a community to address the violence," Spitzer said. "I've talked to too many friends and neighbors who are living in fear, and it has to stop. That's why I'm calling for public hearings where we can discuss solutions including addressing our mental health system, our public policy as it relates to drug abuse and family violence, and any other causes of violence which need to be explored."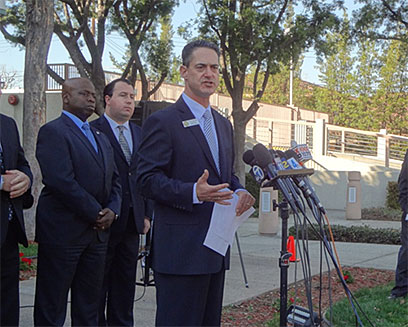 Supervisor Spitzer speaks at a law enforcement press conference identifying the first victim in Tuesday's shooting
Public hearings on violence will be held March 8 from 2-5 p.m. in the hearing room of the Board of Supervisors in Santa Ana at 333 W. Santa Ana Blvd.

Spitzer represents the third supervisorial district, which includes the cities of Irvine and Tustin where innocent victims of separate recent shootings were killed.

Spitzer said the recent violence calls for a larger discussion, not snap judgments regarding gun control.

"This is not about gun control. I am a member of the NRA, and I have been recognized by pro-2nd Amendment groups," Spitzer said. "I'm calling on these groups to be a part of this discussion, which we must have to hear from experts and members of the community to find solutions."

As a former LAPD police officer and assistant district attorney in Orange County, Spitzer knows the public safety challenges facing law enforcement. Spitzer also has a long record of standing up for crime victims. He led the successful campaign to pass Proposition 9, Marsy's Law for All, the nation's most comprehensive victims' Bill of Rights.

Great Park Working Group gets to work

(Santa Ana, CA) – Stakeholders involved in the Great Park's development came together recently at the county's headquarters in Santa Ana. Hosted by Orange County Supervisor Todd Spitzer, the working group took strides to identify constraints, develop solutions and expedite construction on Great Park infrastructure.

"I'm proud of this working group and how they are coming together to build the Great Park," Spitzer said. "Since my days fighting the El Toro Airport on the current Great Park site, I've been pushing for a world-class space to be constructed, to be enjoyed by all Orange County residents."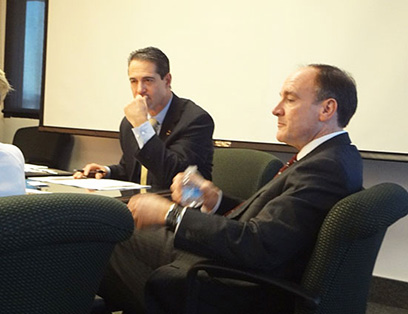 Spitzer with Irvine Council Member Jeff Lalloway, Chair of the Great Park Board of Directors and a member of the working group. Council Member Christina Shea also attended.
The working group includes members of the Irvine City Council, the Irvine Company, OCTA, developers and other affected groups.

Spitzer goes on CHP ride-along

Supervisor Todd Spitzer recently participated in a ride-along with CHP officers on DUI patrol in Orange County's Silverado Canyon area. Spitzer observed as officers conducted one arrest, which included the use of a field sobriety test.

Next week, Spitzer and Orange County's DUI Task force host a DUI Summit, bringing together community leaders and experts to address the growing DUI epidemic in Orange County.

Click here for more information.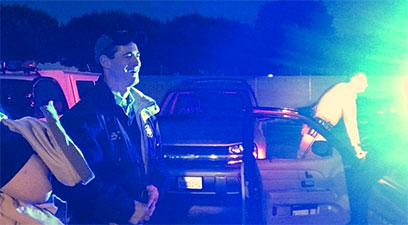 Get your free passes for Discovery Science Center
(Santa Ana, CA) – Discovery Science Center is a nonprofit organization dedicated to educating young minds, assisting teachers and increasing public understanding of science, math and technology through interactive exhibits and programs. Parents can download a coupon for a free child admission to the Discovery Science Center, by clicking here.


| | | |
| --- | --- | --- |
| The coupon is part of a partnership agreement with Orange County and Discovery Science Center to promote a set of exhibits known as the EcoChallenge. OC Waste & Recycling is partnering with the Discovery Science Center to reach nearly 500,000 Orange County residents with waste reduction and increased recycling messages through the EcoChallenge exhibits. | | |

Discovery Science Center is located at 2500 N. Main Street, Santa Ana.

Pet of the Week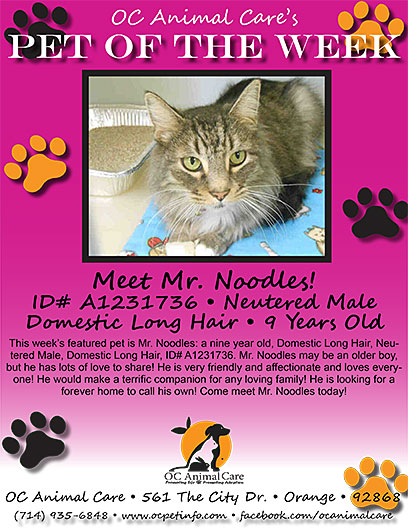 Please click here to see the flier.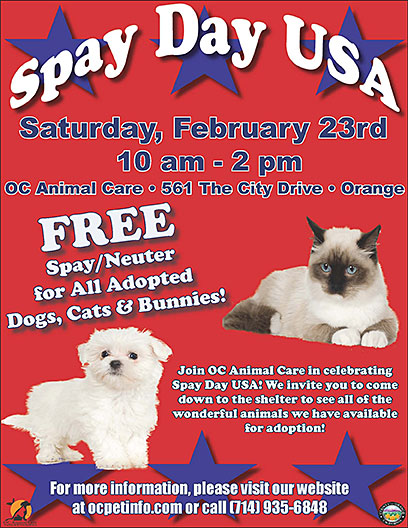 Please click here to see the flier.

Events around the district

Yorba Linda:
Pianist Victor Goldberg will perform a free concert at the Nixon Library.
Nixon Library, 18001 Yorba Linda Blvd Yorba Linda
February 24, 2:00 p.m.

Tustin:
Celebrate Dr. Seuss' birthday at the Orange County Public Library in Tustin, with games, crafts, treats and more
345 East Main Street, Tustin
March 2, 1:30 – 3:00 p.m.

Irvine:
The Orange County Great Park Food + Farm Lab hosts Bee Aware garden workshop.
Great Park Food + Farm Lab
March 10, 11:00 a.m. – 1:00 p.m.