February 28, 2013
Volume 1

Issue 7

Spitzer, DUI Task Force host DUI Summit

(Irvine, CA) – Supervisor Todd Spitzer and the OC DUI Task Force welcomed more than 150 policymakers and experts as they met at Concordia University for the Orange County DUI Summit.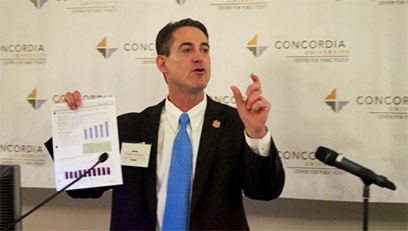 The event was organized by the OC DUI Task Force, MADD, the Orange County Health Care Agency, and AAA of Southern California. Concordia University generously made their campus available.

"I'm so thankful to the elected officials and policymakers who attended," Spitzer said. "They came because they truly believe even one more death due to drunk driving is one too many. A special thanks goes to event organizers Mayor Keith Curry of Concordia University, Anita Lorz with AAA, Kathy Kendrick of the DUI Task Force and Carrie O'Malley on my team."


left: Todd Spitzer greets Marilyn Ellis, whose daughter was killed by a drunk driver; right: Spitzer is interviewed by PBS SoCal in front of MADD's crashed car.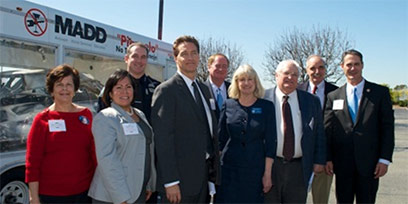 Spitzer (right) stands with OC DUI Summit speakers including Marilyn Ellis (left) and Mayor Keith Curry (center)
"I cannot tell this great community how much we have to be proud of in the fight against DUI. Law enforcement - police, sheriff's deputies, district attorney's office - are all working day and night to go after those who are drinking and driving only to create destruction on our streets and highways," Spitzer said. "This summit is the beginning of a countywide discussion to adopt a set of 'best practices' to drive down the high numbers of injury and fatality crashes in Orange County."

According to the California Highway Patrol, Orange County is the 2nd worst county in the state for DUI deaths and injuries. As a part of the work of the Summit, the Community Indicators Report will begin tracking this information on every Orange County city, so that public policy changes can be measured against actual data.

The Summit also worked to develop best practices for DUI Prevention, which will be shared with policymakers for passage at the city and county levels.

This effort is only the beginning – later Orange County will be home to a Visioning Conference to help community members decide the future of Orange County.

Forum on Violence to be held

(Santa Ana, CA) – Following 17 days of bloodshed and seven murders, Orange County Supervisor Todd Spitzer has called for a community forum, which will be held to discuss the causes and impacts of violence.

"Our community deserves an opportunity to come together and talk about these difficult issues, from video games, to the availability of guns, to mental health," Spitzer said. "That's why I'm bringing together a diverse group on all sides of the issue to start a dialogue."

Spitzer said the forum would be co-chaired by Tustin Mayor Al Murray and the Orange County Commission on Human Relations. Speakers may include mental health experts, medical professionals, organizations and representatives from public policy makers.

Community members, elected officials, parents, crime victims and anyone who has a stake in reducing violence is invited to attend.

OCTA/Caltrans roll out new lanes on the 91

(Anaheim Hills, CA) – The long-awaited completion of the Riverside Freeway (SR-91) Westbound and Eastbound Lane Addition Project was marked at an event in Anaheim last Thursday.

OCTA put a chainsaw to work last Thursday, this time "cutting down traffic congestion" as the agency officially opened the new six-mile westbound and eastbound lanes between the Costa Mesa Freeway (SR- 55) and Eastern Toll Road (SR-241).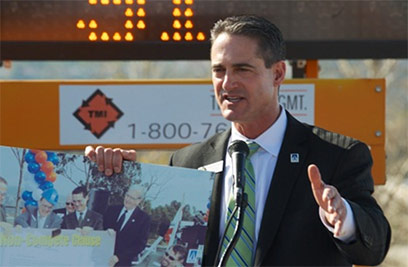 "The fact is that we can now build a series of projects that will cut down on traffic congestion because we took a chainsaw to the non-compete clause in 2003," OCTA Director Todd Spitzer said.

This project is the second in a series of freeway improvements to increase capacity and improve operations on the SR-91, a vital freeway connection between the counties of Riverside, Los Angeles and Orange.

This economic stimulus also came in the form of creating hundreds of jobs for Orange County workers, providing a source of pride and steady income for the men and women who worked every day to build a better 91.


left: Spitzer (with real chainsaw), with OCTA Director and Anaheim City Council Member Gail Eastman

right: Spitzer with outgoing OCTA CEO Will Kempton and incoming OCTA CEO Darrell Johnson


El Modena cleans up

Courtesy of OC Waste & Recycling

(El Modena, CA) – Third District Supervisor Todd Spitzer, along with twenty volunteers from the OC Planning Neighborhood Preservation team and OC Waste & Recycling (OCWR), held a successful Community Clean-Up Day Saturday, February 23rd in the unincorporated El Modena Community.

Supervisor Todd Spitzer kicked off the event at 7:30 a.m. while coffee and donuts were provided for volunteers.

"This is a great opportunity to show pride in our communities – and to get rid of that extra junk in your garage," said Spitzer. "A special thank you to the organizers, especially OC Planning's Neighborhood Preservation and OC Waste and Recycling. Thank you also to Ware Disposal, the county's vendor on this great program."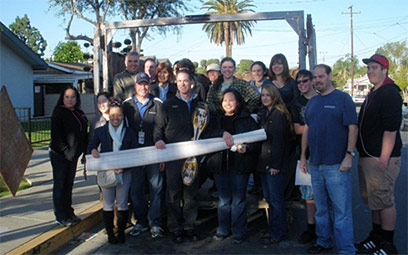 Supervisor Spitzer with clean-up volunteers

OC Waste & Recycling sponsored eight 40-yard roll-off containers, provided by Ware Disposal, and strategically placed them for El Modena residents to dispose of or recycle large household items.

Two to three volunteers were at every drop location to assist residents with answering questions and helping place items into containers. The first roll-off container was filled by 8:20 a.m. Each dumpster collected anywhere from 2.15 – 3.17 tons of waste, totaling 23.14 tons for all six locations. All dumpsters were filled by 10:30 a.m. Many of the residents expressed their appreciation for the event.

This event, and others like it throughout the county, gives residents the opportunity to remove large household items such as: sofas, desks, chairs, stoves, shelving units, mattresses, refrigerators washers and dryers. The Community Clean-up Day clears debris while working alongside residents with the shared goal of an improved community.

Pet of the Week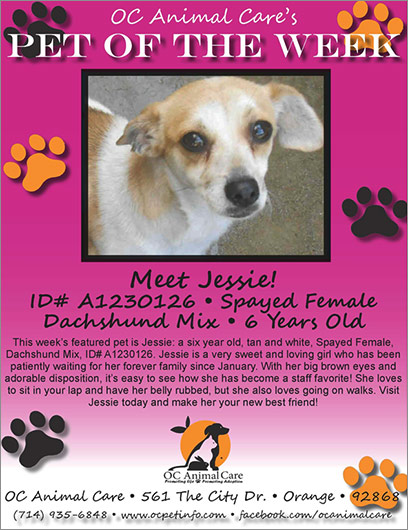 Please click here to see the flier.

Events around the district

Tustin:
Community Yard Sale at Tustin Area Senior Center
8:00 a.m.-12:00 p.m., April 20, at 200 S. C Street

Irvine:
Irvine Ranch Little League Opening Ceremonies
All day on March 2, at Las Lomas Community Park

Orange:
"Paws to Read" at the Orange Public Library, where kids can read to a certified therapy dog
3:30 p.m., March 25 at the Orange Public Library

Anaheim:
Big West Basketball Tournament
March 16, at the Honda Center


DISTRICT

STAFF
Mike Johnson
Chief of Staff

Justin Glover
Communications Director

Martin Gardner
Policy Advisor

Martha Ochoa-Lopez
Policy Advisor

Carrie O'Malley
Policy Advisor

Chris Nguyen
Policy Advisor


District Map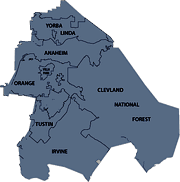 Anaheim, Irvine, Orange, Tustin, Villa Park, Yorba Linda

Stay Updated!