March 8, 2013
Volume 1

Issue 8

Orange County joins Association of California Cities - OC

(Santa Ana, CA) – The Orange County Board of Supervisors this week approved a measure to join the Association of California Cities – Orange County (ACC-OC).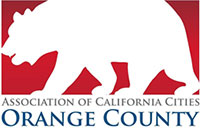 ACC-OC works with local government leaders who are committed to good public policy on a vast range of issues. The approach employs several committees, tools and resources for local leaders including the New Elected Official Orientation, Local Government Innovation Taskforce, Economic Development and Job Creation Committee and the Pension Reform Committee, on which Supervisor Spitzer participates. Go to www.accoc.org for more information.

"We are a non-profit entity, focusing on public policy and bringing cities, agencies, non-profits and businesses together as a community," said Lacy Kelly, CEO of ACC-OC, speaking before the board in support of the measure.

Supervisor Spitzer proposed the measure and praised ACC-OC for its "good work as a regional body."

"I'm impressed by the work ACC-OC is doing, and that's why I want the County of Orange to be a part of this partnership," Spitzer said.

Tustin Mayor Al Murray also spoke in support of the organization and asked supervisors to support the measure, joining with cities countywide.

"I offer my strong support for this organization," Murray said. "They are a leader in crafting responsible, effective public policy."

Todd Spitzer speaks with Ed Arnold and Ann Pulice on PBS SoCal

Watch the interview on PBS SoCal.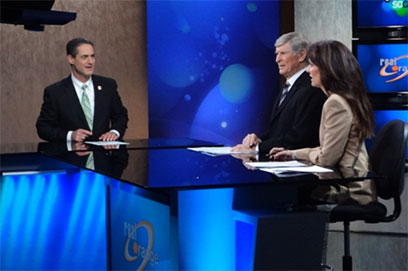 Supervisor Todd Spitzer appeared on Real Orange with Ed Arnold and Ann Pulice, and spoke on a proposed Visioning Summit for Orange County, the Great Park and recent violence in our community.


Spitzer outlines local projects at FCA Annual Meeting

(North Tustin, CA) – Supervisor Todd Spitzer spoke at the Foothill Communities Association Annual Meeting this week, where he described local parks and public works projects – and discussed issues facing the county including the growing public employee pension liability.




Here are just a few of the projects underway or completed:

17th Street Raised Median/Landscaping project, completed in Nov., 2012
Monument sign: "Welcome to North Tustin"
Foothill Blvd., LaQuesta to Skyline, a $1.5 million project to rebuild the street and improve drainage, erosion
La Colina Pavement rehabilitation to improve roadway and remove overgrown trees
OC Parks is conducting a Regional Park General Review on Peters Canyon to address long term park planning, which especially impacts North Tustin.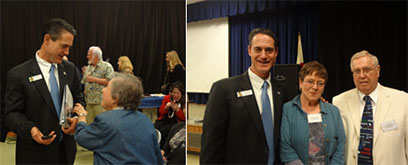 Left: Supervisor Spitzer with North Tustin resident Florence Paul
Right: Spitzer with FCA President Rick Nelson (far right)



Spitzer with OC Public Works engineers

Supervisors narrow clerk-recorder search

(Santa Ana, CA) – Orange County Clerk-Recorder Tom Daly resigned in December to be sworn in as State Assembly Member for the 69th district. Consequently, the Board of Supervisors must appoint a person to be the Orange County Clerk-Recorder to fill the remainder of Daly's term (end of 2014).

The Clerk-Recorder Department's chief responsibilities are:

Examining and recording documents presented regarding ownership of land in Orange County
Maintaining and providing certified copies of birth, death and marriage certificates
Overseeing the Orange County Archives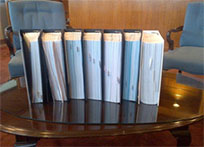 893 people met the January 15 deadline to submit an application to be the Clerk-Recorder of Orange County.

On Tuesday, the Board of Supervisors selected 25 semifinalists. These 25 will be further narrowed next week to create a pool of finalists who will then be invited to interview for the appointment as clerk-recorder.

In alphabetical order by last name, the 25 semifinalists are:

Dick Ackerman (attorney, former state senator and assemblyman)
Dale Anderson (attorney)
Larry Bales (FDIC settlement agent)
Andrew Calderon (law firm managing partner)
Alicia Campbell (Administrative Manager II at OC Public Works)
William Copulos (retired law firm managing partner)
Ron Davidson (retired corporate CEO)
Stewart Davis (corporate program contracts manager)
Linda Dixon (former Costa Mesa mayor and council member, retired university assistant vice chancellor)
Elizabeth Fleming (contract attorney)
Michael J. Fox (attorney)
Ellie Ghasemi-Fazeli (legal assistant at Office of Orange County Counsel)
Lydia Lake (attorney)
Nora Lesnet (Administrative Manager at OC Community Resources)
Francis Licata (attorney)
Steve Madoff (consultant, former executive vice president of Paramount Pictures)
Tanya Mayweather (regional credit/collections manager)
Hieu Nguyen (assistant clerk of the Orange County Board of Supervisors, former OC chief deputy recorder)
Chris Norby (former state assembly member and supervisor)
Bruce Peotter (attorney, former assistant public administrator/public guardian)
Renee Ramirez (assistant clerk-recorder)
Roy Reynolds (transportation consultant)
Steve Rosansky (real estate company president, former Newport Beach council member and mayor)
Harry Sidhu (business owner, former Anaheim council member)
Steve Waechter (sales manager/computer consultant)

Pet of the Week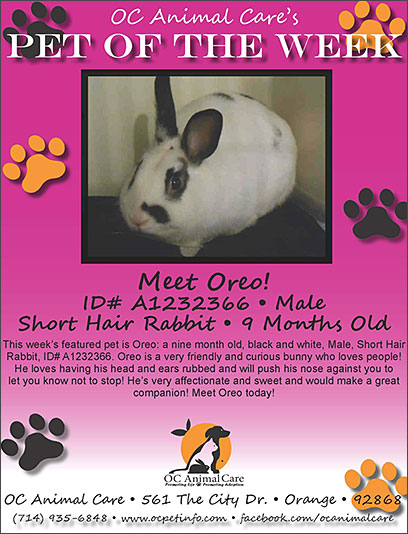 Please click here to see the flier.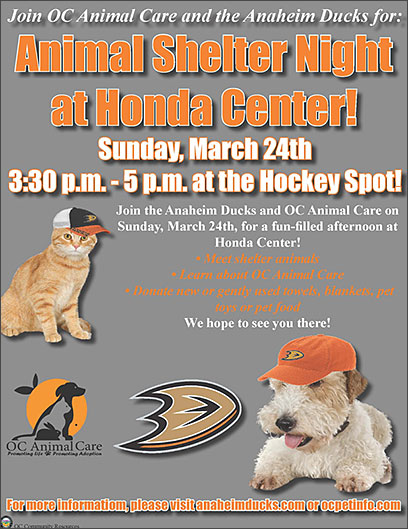 Please click here to see the flier.

Events around the district

Tustin:
Tustin Winter Classic Tennis Tournament
Saturday, March 9 & Sunday, March 10, 2013
Tustin Sports Park, 12850 Robinson Dr.

Irvine:
Pianist Kevin Kwan Loucks is in concert with 30 guest artists
2:00 p.m., Saturday, March 30
Palm Court Arts Complex at the Great Park

Orange:
"Teen Movie Madness" at the Orange Public Library, with a screening of "Gremlins"
6:00 p.m., Wednesday, March 20.
Popcorn and refreshments will be served

Anaheim:
Animal Shelter Night, OC Animal Care and Anaheim Ducks
Sunday, March 24, 3:30-5:00 p.m. at the Honda Center

Yorba Linda:
Pat Nixon's 101st Birthday
Sunday, March 17
Richard Nixon Library and Museum, 18001 Yorba Linda Blvd.
Free admission all day



DISTRICT

STAFF
Mike Johnson
Chief of Staff

Justin Glover
Communications Director

Martin Gardner
Policy Advisor

Martha Ochoa-Lopez
Policy Advisor

Carrie O'Malley
Policy Advisor

Chris Nguyen
Policy Advisor


District Map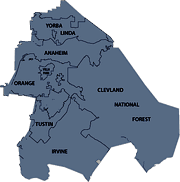 Anaheim, Irvine, Orange, Tustin, Villa Park, Yorba Linda

Stay Updated!