March 14, 2013
Volume 1

Issue 9

Supervisors to interview 11 for clerk-recorder

(Santa Ana, CA) – On Tuesday, the Board of Supervisors narrowed the pool of applicants for clerk-recorder from 25 semifinalists to 11 finalists who will be interviewed publicly at a future meeting of the Board. All 11 finalists were nominated by at least two supervisors.

"It's so important to hear from a diverse and qualified group of applicants for Orange County Clerk-Recorder," said Supervisor Todd Spitzer. "That's why I supported interviewing all those nominated by at least two supervisors, which includes some very qualified individuals. This is not an insider's game."

In alphabetical order, the 11 finalists who each received nominations from at least two supervisors are:

Dick Ackerman (attorney, former state senator and assemblyman)


Larry Bales (FDIC settlement agent)


Michael J. Fox (attorney)


Steve Madoff (consultant, former executive vice president of Paramount Pictures)


Hieu Nguyen (assistant clerk of the Orange County Board of Supervisors, former OC chief deputy recorder)


Chris Norby (retired teacher, former state assemblyman and county supervisor)


Bruce Peotter (attorney, former assistant public administrator/public guardian)


Renee Ramirez (assistant clerk-recorder)


Roy Reynolds (personal rapid transit consultant)


Steve Rosansky (real estate company president, former Newport Beach councilman and mayor)


Harry Sidhu (business owner, former Anaheim councilman)
The person appointed will fill out the remaining two years of former Clerk-Recorder Tom Daly's term after Daly resigned to become a state assemblyman. In the 2014 election, voters will elect a clerk-recorder to serve a four-year term.

Spitzer attends Harvard's "Driving Government Performance"

(Cambridge, MA) – Supervisor Todd Spitzer is attending the Harvard Kennedy School of Government's "Driving Government Performance" seminar this week, where he has an opportunity to interact with our nation's top leaders and policymakers.

The program is led by Robert D. Behn, Lecturer in Public Policy, who focuses his research, teaching, and thinking on the leadership challenge of improving the performance of public agencies. He is the faculty chair of the school's executive program, Driving Government Performance: Leadership Strategies that Produce Results.

Behn holds a BS in physics from Worcester Polytechnic Institute and a PhD in decision and control from Harvard. He has served on the staff of Governor Francis W. Sargent of Massachusetts, as a scholar in residence with the Council for Excellence in Government, and on the faculty of the Harvard Business School and Duke University's Terry Sanford Institute of Public Policy where he was director of its Governors Center. Behn is also a fellow of the National Academy of Public Administration.

Spitzer is joined by a host of senior leaders in government and the non-profit sector from around the world, including Deputy U.S. Naval Inspector General Andrea Brotherton, Attorney General of the state of Lagos (Nigeria) Adeola Ipaye, and Arizona State Parks Executive Director Brian Martin.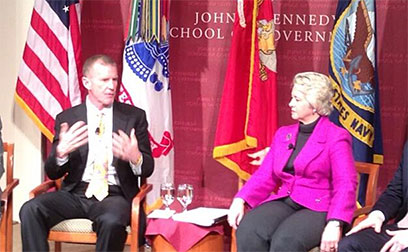 General Stanley McChrystal with Houston Mayor Annise Parker, addresses Spitzer's leadership group as part of a panel on veterans.


Spitzer tours crime lab

By Carrie O'Malley

(Santa Ana, CA) – Last week, Supervisor Spitzer took an in-depth tour of the Orange County Crime Lab (OCCL), a division of the OC Sheriff-Coroner's Department. The Mission Statement of the OCCL is to serve the criminal justice needs of Orange County by applying sound scientific principles to the collection, evaluation and interpretation of physical evidence.

The OCCL provides all public law enforcement agencies in Orange County with services for the recognition, collection and evaluation of physical evidence from crime scenes. OCCL is the only full-service, internationally accredited laboratory providing forensic analyses to all law enforcement and fire protection agencies in Orange County. The Division employs over 150 staff members, housed in a modern 100,000-square-foot facility, serving the over 3 million residents of Orange County.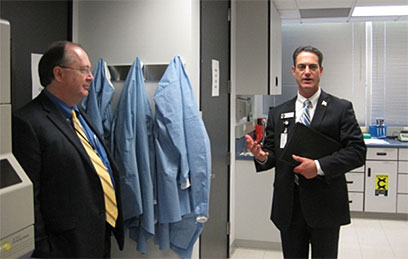 Spitzer with Bruce Houlihan, Director of OC Crime Lab

The OCCL laboratory is a nationally recognized leader in the forensic science community and the first local law enforcement DNA lab in the Western United States. The OCCL also began the first local automated fingerprint identification system in California and are leading the way in DUI enforcement with the introduction of portable breath alcohol testing devices.

Other areas that the Crime Lab oversees are the Cal-ID Bureau, which is responsible for maintaining the computerized fingerprint database AFIS (Automated Fingerprint Identification System). Live Scan devices, used to capture fingerprints taken at the time a person is booked, are located in each Sheriff and police department jail in the county. These devices transmit fingerprints taken during the booking process and electronically direct them to AFIS. The AFIS computer searches and compares them to prints already in the database. Although this is an automated process, some records require manual evaluation of the print quality by Cal-ID staff.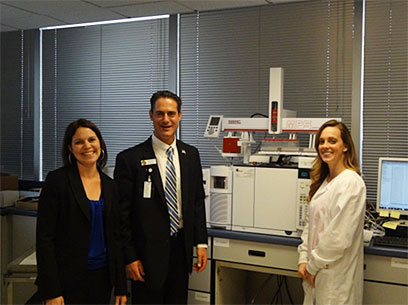 In addition, the OC Crime Lab analyzes controlled substances as well. The primary responsibility of this unit is the identification of controlled substances submitted by law enforcement agencies. Analysis of blood, urine, tissue, and beverages for alcohol content are commonly done at the OCCL.

The OCCL has many functions and is a resource to the County for the analysis of many substances and evidence. The forensic Scientists assigned to many of the OCCL's units are proficient in the processing of major crime scenes. This includes the detection, recognition, documentation, collection, interpretation, and preservation of physical evidence associated with the crime scene. For more information on the OC Crime Lab, please visit their web site at: www.occl.ocgov.com.

Todd Spitzer inspires Lake Forest leaders and volunteers

Supervisor Todd Spitzer spoke recently before an audience of Lake Forest leadership academy graduates and city volunteers. Mayor Scott Voigts introduced Spitzer and was joined by city officials, members of the media and special guests. Council Members Kathryn McCoullough, Peter Herzog, Adam Nick and Dwight Robinson were also on hand.

Click here to view his address.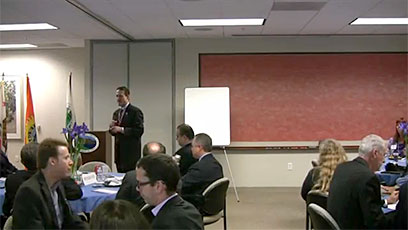 Pet of the Week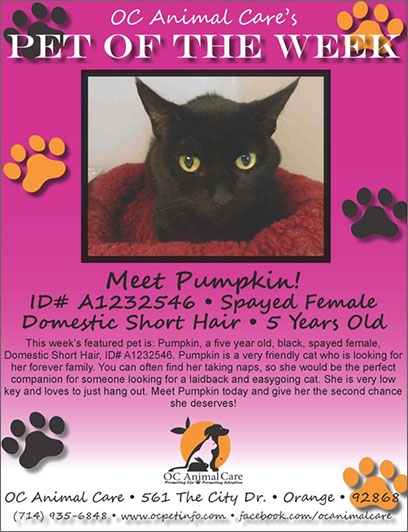 Events around the district

Tustin:

Casino Night
7-10:00 p.m, Friday, April 5
Tustin Senior Center

Irvine:

Pianist Kevin Kwan Loucks is in concert with 30 guest artists
2:00 p.m., Saturday, March 30
Palm Court Arts Complex at the Great Park

Orange:

125th Birthday Celebration for the City of Orange
12:00 p.m., Saturday, April 6
In the Old Towne Orange Plaza

Anaheim:

Animal Shelter Night, OC Animal Care and Anaheim Ducks
Sunday, March 24, 3:30-5:00 p.m. at the Honda Center

Yorba Linda:

Pat Nixon's 101st Birthday
Sunday, March 17
Richard Nixon Library and Museum, 18001 Yorba Linda Blvd.
Free admission all day




DISTRICT

STAFF
Mike Johnson
Chief of Staff

Justin Glover
Communications Director

Martin Gardner
Policy Advisor

Martha Ochoa-Lopez
Policy Advisor

Carrie O'Malley
Policy Advisor

Chris Nguyen
Policy Advisor


District Map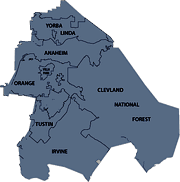 Anaheim, Irvine, Orange, Tustin, Villa Park, Yorba Linda

Stay Updated!