April 4, 2014
Volume 2

Issue 13

Supervisors Approve Bidding Process for North Tustin Sidewalk Project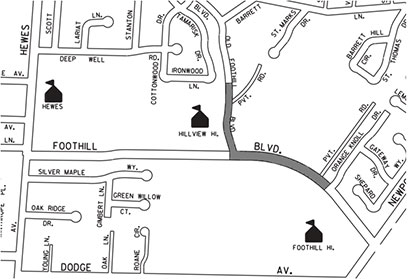 The Foothill Blvd./Old Foothill Blvd. Sidewalk Replacement Project will occur in the gray shaded area of the map above.
On Tuesday, the Board of Supervisors approved the bidding process for the Foothill Blvd./Old Foothill Blvd. Sidewalk Replacement Project in North Tustin. Supervisor Todd Spitzer and OC Public Works had previously organized a public meeting at Foothill High School in February to discuss the project with the residents of North Tustin.

"Public input is a critical part of the process, and I am glad that we were able to take resident input in developing the plans for this vital project to improve sidewalks in North Tustin," Supervisor Spitzer said. "These sidewalk replacements will help reduce the risk of injury and increase mobility for North Tustin residents, and I am pleased to see the project moving forward."

There is an optional pre-bid meeting on Wednesday, April 9, at 10:00 AM at OC Public Works, 300 N. Flower St., Conference Room 557, Santa Ana, CA 92703. Bids are due no later than 2:00 PM on Wednesday, April 23, when they will be publicly opened and read. Construction is scheduled to begin in June 2014, and is expected to be completed in two months, with an estimated cost of $800,000.

The project will improve the roadway and sidewalk adjacent to Hillview High School and Foothill High School to provide students a safe route to school. The project will be conducted on Foothill Boulevard from Old Foothill Boulevard to Orange Knoll Drive, and on Old Foothill Boulevard from Foothill Boulevard to 600 feet north.

The majority of the sidewalks in the project area are distressed with uplifting, major cracking, or separation of the sidewalk from the curb, due to poor soil conditions and excessive animal burrows beneath the sidewalks.

The project will reconstruct existing deteriorating curbs and gutters, sidewalks, curb ramps, a driveway approach on Foothill Blvd., and full reconstruction of roadway shoulders on the south side of Foothill Blvd. and on the west side of Old Foothill Blvd. The contractor will need to fully reconstruct the pavement using warm mix asphalt. The project will also involve the reinstallation of chain link fences and gates.

Prospective contractors can obtain information on the bidding process from OC Public Works/OC Construction at (714) 245-4500. The Clerk of the Board will advertise the project for bids. The bidding documents approved by the Board of Supervisors are available here.

County Works With Norbertine Fathers to Restore Trees Cut Down at Orchard Near Future Site of St. Michael's Abbey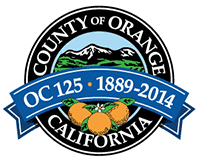 The Norbertine Fathers currently use a 35-acre site in Silverado and are constructing a new monastery on a 124-acre site. During the construction process, the fathers are conducting various site preparation activities, including thinning coastal sage scrubs, and salvaging cactus pads. During the process, the Norbertines reported that two trees were accidentally cut down in the orchard area. They have now pledged to replace the two trees with ten native trees.

"The Norbertine Fathers inadvertently erred in cutting down those two trees on the orchard by the site where they are building their new monastery," Supervisor Todd Spitzer said. "I am pleased that the Norbertines immediately took responsibility and submitted a mititgation plan to County staff with a replacement tree protocol."

The Norbertine Fathers will also be responsible for maintaining the replacement trees and replanting any of them that fail to survive over the next five years. The two trees that were cut down were in an area of the Norbertine property that was to remain ungraded and was to retain trees that had been planted by the Holtz family, who had purchased a 340-acre site in 1900 that would become the Holtz Ranch.

As another part of the mitigation plan, the Norbertines will retain two additional trees that they had previously designated for removal. County staff will continue to monitor the Abbey's construction in order to maximize preservation of the natural environment of the canyons.

Public Invited to Bike Safety Workshop on Monday, April 14

Orange County Transportation Authority (OCTA) Chairman Shawn Nelson, Vice Chairman Jeffrey Lalloway, and Director Todd Spitzer invite the public to attend the Orange County Bike Safety Workshop at Irvine City Hall on Monday, April 14, from 5:00-7:00 PM.

"Biking is a great alternative mode of transportation to get places quickly and efficiently," Director Spitzer said. "I enjoy using my bike safely, and this workshop will help bring a greater vision for Orange County of what our community's efforts to expand safe biking options for everyone."

This workshop will allow elected officials, law enforcement, bicycle groups, and the general public to discuss how to create not just a bicycle-friendly environment, but a bicycle-safe environment in Orange County.

There will be opportunities to view informational displays before the program begins. There will be a significant amount of time dedicated to group discussion after scheduled presenters have provided their perspectives. The group discussion will enable everyone to share their views and provide their input on how to improve Orange County for bicyclists.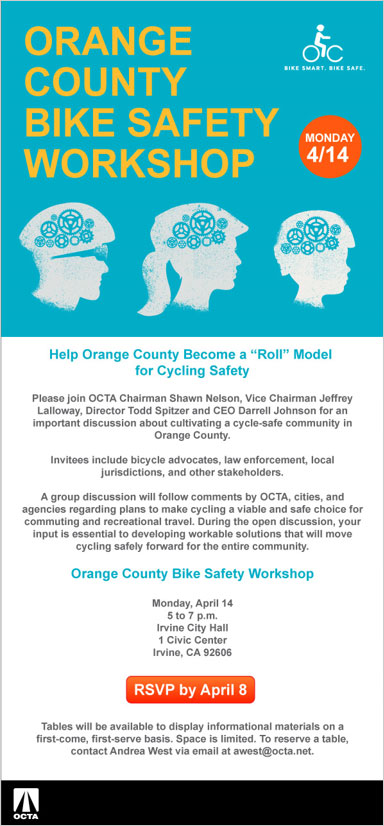 Third District Middle School Students Raise $535 for OC Animal Care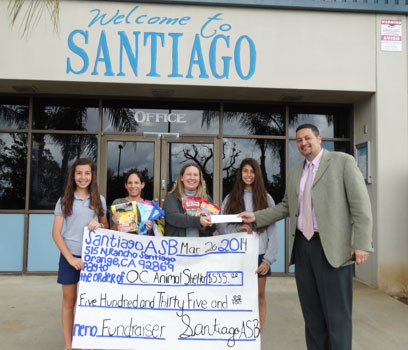 Santiago Student Brynn Deily, Katie Ingram of OC Animal Care, Kristen Zemke of OC Animal Care, Santiago Student Julianna James, and Santiago Principal Jim D'Agostino stand with the donations Brynn and Kristen raised for OC Animal Care.
Last week, Brynn Deily and Julianna James, two eighth-grade students at Santiago Charter Middle School in Orange, presented donations to OC Animal Care of $535 in cash along with boxes of blankets, dog treats, and food. Brynn and Julianna raised all of this in just three days.

"It's great when young people focus on helping others," Supervisor Todd Spitzer said. "Santiago is my local middle school, our son Justin graduated from there, and I'm so proud of kids from our community working for a great cause."

During the three days Brynn and Julianna had their fundraiser, they set up a booth during Open House, and they gave a speech in the school amphitheater.

"We think that it is important to raise funds for animals because they can't support themselves," Brynn said.

"If you want to do something, you have to put forth the effort," Julianna said.

Public Invited to Attend Unveiling of OC Crime Victims' Monument Design on Saturday, April 12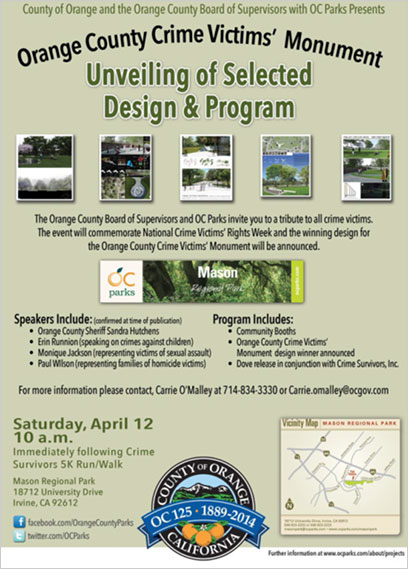 Click on the image above to view a PDF version.
Supervisor Todd Spitzer encourages the public to attend the Saturday, April 12 unveiling of the design selected for the OC Crime Victims' Monument, which will be built at William R. Mason Regional Park in Irvine.

"Victims' rights are civil rights, and the level of interest from designers from around the world is a huge statement of how victimization is an issue that affects all walks of life," Supervisor Spitzer said. "The Crime Victims' Monument serves to pay tribute to all crime victims and those touched by crime while providing a feature that complements the landscape of the park."

Speakers at the 10:00 AM unveiling on April 12 include Orange County Sheriff Sandra Hutchens, Monique Jackson representing victims of sexual assault, Erin Runnion speaking about crimes against children, and Paul Wilson representing families of homicide victims.

The contest was announced in April 2013. There were 59 entries submitted by the September 30 deadline. The OC Crime Victims' Monument judging panel selected five finalist designs, which were then publicly revealed in November by Supervisor Spitzer.

The finalists then submitted more detailed designs, which were publicly unveiled in February. The public was able to view detailed designs online and in person at the Old Orange County Courthouse. Public comments were accepted online and in person as well during the viewing period.

The OC Crime Victims' Monument judging panel met last week and selected the final design for the monument. The selected design will be announced at Mason Park on Saturday, April 12 at 10:00 AM as part of National Crime Victims' Rights Week.

Finalist Design by Man-Foon Chu of
Bellevue, Washington

Finalist Design by Joaquin Ochoa of
Mexico

Finalist Design by Ivan Juarez of
Mexico

Finalist Design by Jason Zerafa of
New York, New York

Finalist Design by Marija Cvejic of Yugoslavia

Ballot-Related Lawsuits Completed for June 3 Primary Election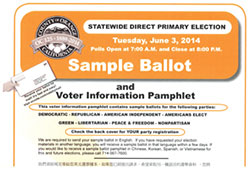 A little known part of the election process under state law is the 10-day review period in which voters may file suit in the Superior Court to alter ballot designations and ballot statements that they find false or misleading. Ballot designations are the short job descriptions underneath each candidate's name on the ballot while ballot statements are the quarter-page or half-page statements candidates place in the sample ballot for voters to read.

"This is an obscure part of the process that a lot of voters aren't aware of," Supervisor Todd Spitzer said. "I applaud the quick resolution of all these cases by the courts in order to allow the Registrar of Voters to quickly begin preparing the ballot."

There were five lawsuits filed involving the Orange County ballot. All five were resolved last week, with three resolved on Friday.

Candidate Troy Edgar sued the Orange County Registrar of Voters to be placed on the ballot for Clerk-Recorder. Edgar also sought to remove Assessor Webster Guillory and Superintendent of Schools Al Mijares from the ballot if he could not be placed on the ballot for Clerk-Recorder. The Orange County Superior Court rejected Edgar's claims entirely, so Edgar will not be on the ballot while Guillory and Mijares will stay on the ballot.

Second Supervisorial District Candidate Allan Mansoor filed suit against the Registrar of Voters to change the ballot designation of "Taxpayer Advocate/Businesswoman" for candidate Michelle Steel. The Orange County Superior Court ruled that Steel would have to be called "Board of Equalization Member" on the ballot.

Auditor-Controller Candidate John Wayne Willard sued the Registrar of Voters to change the ballot designation of "Orange Treasurer/CPA" for candidate Eric Woolery. The Orange County Superior Court rejected Willard's arguements entirely, so Woolery will remain "Orange Treasurer/CPA" on the ballot.

Laguna Niguel resident Todd Nugent filed suit to change the ballot designation of "Deputy Auditor-Controller" for candidate Frank Davies. Nugent's challenge was successful, so Davies will now be called "Property Tax Director" on the ballot.

Mission Viejo resident Dale Tyler sued the California Secretary of State to remove a sentence in 73rd Assembly District Candidate Anna Bryson's ballot statement: "On the school board, I returned $59 million to taxpayers." The Sacramento County Superior Court ruled that rather than deleting the sentence, it would be changed to: "On the school board, I voted to save taxpayers approximately $59 million."

Pets of the Week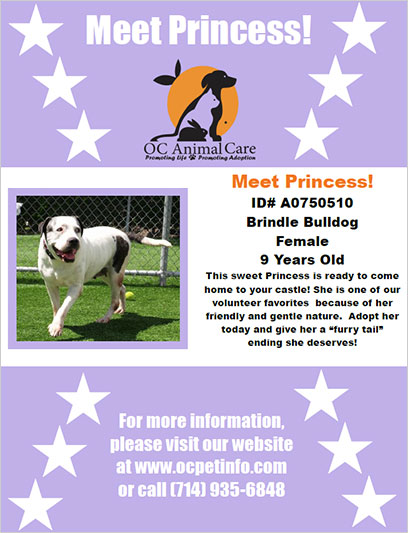 Click on the image above to view a PDF version.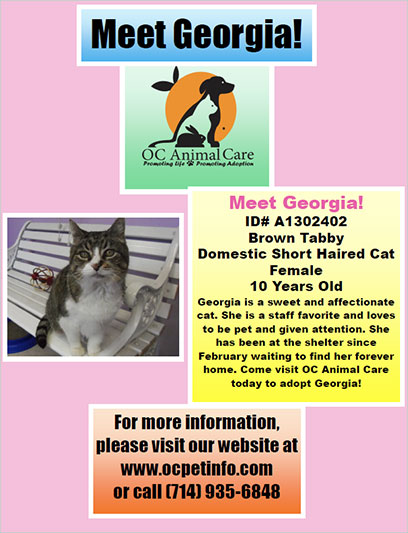 Click on the image above to view a PDF version.

Events Around the District

Anaheim
Compost Giveaway
Saturday, April 5, 7:00 AM – 10:00 AM
Angel Stadium of Anaheim, Orangewood Entrance

Irvine
Colorful Sustainable Landscapes Workshop
Saturday, April 5, 10:00 AM – 11:00 AM
Orange County Great Park

Orange
Self Defense for Women
Saturday, April 5, 10:30 AM – 12:30 PM
Orange Public Library & History Center, 407 E. Chapman Ave.

Silverado
Bridge Replacement Town Hall Meeting
Thursday, April 10, 7:00 PM – 9:00 PM
Orange County Fire Authority Station #16, 28891 Modjeska Canyon Rd.

Tustin
Money Matters Seminar
Tuesday, April 8, 6:00 PM – 7:00 PM
Orange County Public Library – Tustin Branch, 345 E. Main St.

Villa Park
Rainbow Loom Meet Up
Tuesday, April 8, 3:30 PM – 4:30 PM
Orange County Public Library – Villa Park Branch, 17865 Santiago Blvd.

Yorba Linda
Teen Snack 'N' Study
Tuesday, April 8, 5:00 PM – 8:00 PM
Yorba Linda Public Library, 18181 Imperial Hwy.




DISTRICT

STAFF
Martha Ochoa
Chief of Staff

Chris Nguyen
Senior Policy Advisor

Carrie O'Malley
Senior Policy Advisor

Martin Gardner
Policy Advisor

Christine Richters
Executive Aide



District Map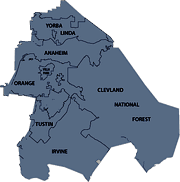 Anaheim, Irvine, Orange, Tustin, Villa Park, Yorba Linda, El Modena, North Tustin, Orange Park Acres, the Canyon Communities

Stay Updated!