April 11, 2014
Volume 2

Issue 14

10:00 AM Tomorrow – Mason Park – OC Crime Victims' Monument Event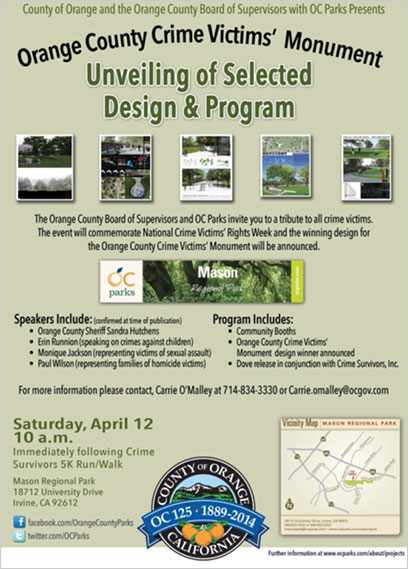 Click on the image above to view a PDF version.
Supervisor Todd Spitzer encourages the public to attend tomorrow's unveiling of the design selected for the OC Crime Victims' Monument, which will be built at William R. Mason Regional Park in Irvine.

"Victims' rights are civil rights, and the level of interest from designers from around the world is a huge statement of how victimization is an issue that affects all walks of life," Supervisor Spitzer said. "The Crime Victims' Monument serves to pay tribute to all crime victims and those touched by crime while providing a feature that complements the landscape of the park."

Speakers at the 10:00 AM unveiling tomorrow (Saturday) include Orange County Sheriff Sandra Hutchens, Monique Jackson representing victims of sexual assault, Erin Runnion speaking about crimes against children, and Paul Wilson representing families of homicide victims.

The contest was announced in April 2013. There were 59 entries submitted by the September 30 deadline. The OC Crime Victims' Monument judging panel selected five finalist designs, which were then publicly revealed in November by Supervisor Spitzer.

The finalists then submitted more detailed designs, which were publicly unveiled in February. The public was able to view detailed designs online and in person at the Old Orange County Courthouse. Public comments were accepted online and in person as well during the viewing period.

The OC Crime Victims' Monument judging panel met two weeks ago and selected the final design for the monument. The selected design will be announced at Mason Park tomorrow (Saturday, April 12) at 10:00 AM as part of National Crime Victims' Rights Week.

Finalist Design by Man-Foon Chu of
Bellevue, Washington

Finalist Design by Joaquin Ochoa of
Mexico

Finalist Design by Ivan Juarez of
Mexico

Finalist Design by Jason Zerafa of
New York, New York

Finalist Design by Marija Cvejic of Yugoslavia

Public Invited to Bike Safety Workshop on Monday

Orange County Transportation Authority (OCTA) Chairman Shawn Nelson, Vice Chairman Jeffrey Lalloway, and Director Todd Spitzer invite the public to attend the Orange County Bike Safety Workshop at Irvine City Hall this coming Monday, April 14, from 5:00-7:00 PM.

"Biking is a great alternative mode of transportation to get places quickly and efficiently," Director Spitzer said. "I enjoy using my bike safely, and this workshop will help bring a greater vision for Orange County of what our community's efforts to expand safe biking options for everyone."

This workshop will allow elected officials, law enforcement, bicycle groups, and the general public to discuss how to create not just a bicycle-friendly environment, but a bicycle-safe environment in Orange County.

There will be opportunities to view informational displays before the program begins. There will be a significant amount of time dedicated to group discussion after have provided their perspectives. The group discussion will enable everyone to share their views and provide their input on how to improve Orange County for bicyclists.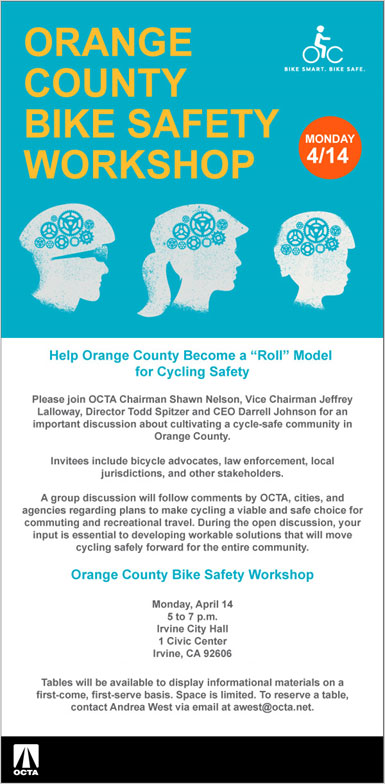 Supervisors Approve Request for Proposals for Ambulance Contracts, Request One-Year Extension from State for Existing Ambulance Contracts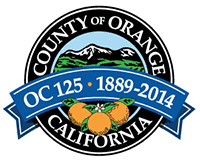 This week, the Board of Supervisors approved the Request for Proposals (RFPs) for ambulance contracts drafted by Orange County Emergency Medical Services (OCEMS). They will still require approval from the California Emeregency Medical Services Authority (EMSA). Currently, the Orange County Fire Authority (OCFA) operates the ambulance contracts in nineteen Exclusive Operating Areas (EOAs). OCEMS proposes to reduce that to five EOAs when it takes over management of the ambulance RFP process from OCFA. An EOA is an area where an ambulance company has the sole contract to operate ambulance services in that area.

"I thank the City Councils and City staffs for their comments regarding the draft RFPs for the ambulance contracts," Supervisor Todd Spitzer said. "Based on the feedback we received, I have recommended that OCEMS request a one-year extension from EMSA for the current EOAs."

A one-year extension would enable OCEMS to continue to work with the local cities and OCFA in order to provide a smooth transition, and this will also allow OCEMS to complete the RFP process in a more thorough and organized fashion.

In addition, many cities requested City Representation on the evaluation panels that would evaluate the ambulance company bids. Panel members will be obligated to have job knowledge expertise and to have no financial or other conflict of interest with any of the ambulance companies bidding.

Supervisor Spitzer met with OCEMS, who then added language to the RFP to have the following categories be represented as part of each evaluation panel:


| | |
| --- | --- |
| Category | Job Experience |
| City Representative | Emergency Medical Services (EMS) system experience |
| County Representative | Non-OCEMS, county emergency manager |
| Hospital Representative | Orange County hospital preferred |
| Physician/Nurse | Emergency receiving and specialty center experience preferred |
| First Responder | Public safety, first responder, EMS educator |

On February 3, the state EMSA informed the OC Health Care Agency that it would need to take over the ambulance RFP process from OCFA after concerns about adequate ambulance contract oversight.

OCEMS is part of the OC Health Care Agency, which is part of the County government. OCFA is an independent regional agency that is not a part of the County government. EMSA is part of the state government's Health & Human Services Agency.

OCTA Considers Designating Great Park Roads as Arterial Roads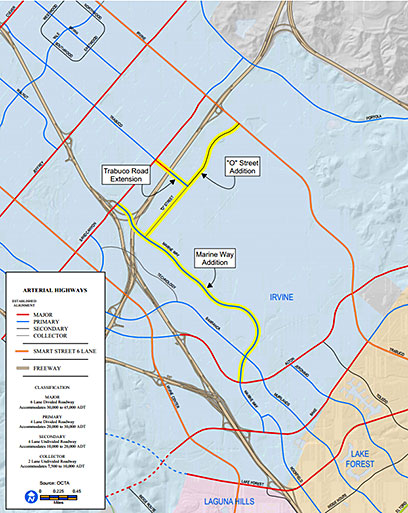 OCTA is considering designating the roads highlighted in yellow as arterial roads.
At the request of Orange County Transportation Authority (OCTA) Vice Chairman Jeffrey Lalloway and Director Todd Spitzer, OCTA is considering designating Marine Way, Trabuco Road, and the future O Street as arterial roads.

"An arterial designation allows a stretch of road to be eligible for additional federal funding," OCTA Director Todd Spitzer said. "Arterials are our major roads that provide for the movement of our residents from home, to work, to school, and to stores."

The City of Irvine's request to OCTA would make six designations (one for Marine Way and two each for Trabuco Road and O Street):

Trabuco Road between Sand Canyon Avenue and the 133 toll road as a major arterial (six-lane, divided roadway)
Trabuco Road between State Route 133 and the future O Street as a primary arterial (four-lane, divided roadway)
Marine Way between Alton Parkway and Sand Canyon Avenue as a primary arterial (four-lane, divided roadway)
O Street between Trabuco Road and Irvine Boulevard as a secondary arterial (four-lane, undivided roadway)
O Street between Trabuco Road and Marine Way as a collector arterial (two-lane, undivided roadway)
This past Monday, April 7, the OCTA Regional Planning and Highways Committee recommended the full OCTA Board approve the City of Irvine's request. The full OCTA Board of Directors will consider the requested designations at its meeting this coming Monday, April 14.

Irvine Councilman Agran Proposes Friendship City Relationship with Nha Trang in Communist Vietnam - Spitizer Speaks Out Against Proposal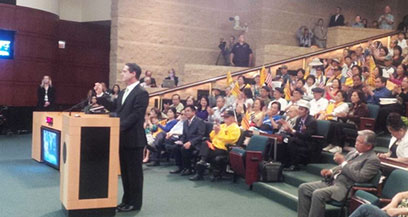 Supervisor Todd Spitzer addresses the Irvine City Council, urging them to oppose a Friendship City relationship with Nha Trang, Vietnam.
Last week, Irvine City Councilman Larry Agran proposed a "Friendship City" relationship between Irvine and Nha Trang, Vietnam. The item was placed on the Irvine City Council agenda for this past Tuesday's meeting.

A large number of people appeared at Tuesday's Irvine City Council meeting to protest the proposal, filling the City Council chamber and the City Hall lobby to capacity and spilling into the plaza outside City Hall. Crowd estimates ranged from 600 people reported by the Los Angeles Times to 2,000 people reported by CBS 2/KCAL 9 and the Associated Press.

Among those speaking at the Council meeting in opposition to the proposal were Orange County Supervisors Todd Spitzer and Janet Nguyen, State Senator Lou Correa, former State Assemblymen Van Tran and Jose Solorio, Orange County Clerk-Recorder Hugh Nguyen, Fountain Valley Mayor Michael Vo, Westminster Mayor Tri Ta, Garden Grove Councilmembers Dina Nguyen and Chris Phan, Huntington Beach Councilman Joe Carchio, former Orange County Board of Education Trustee Long Pham, and Garden Grove Unified School District Vice President Lan Quoc Nguyen. State Assemblymen Don Wagner, Allan Mansoor, and Travis Allen also sent representatives to voice their opposition to the proposal.

Councilman Agran withdrew his proposal for a Friendship City with Nha Trang, Vietnam. However, he did want to press forward with Friendship City relationships with Baoji, China and Karachi, Pakistan, but Agran was unsuccessful in gaining the necessary votes.

The Irvine City Council voted 3-2 to instruct City staff to draft a policy excluding Friendship City relationships with any city from a country that commits human rights violations. Mayor Steven Choi, Mayor Pro Tem Jeffrey Lalloway, and Councilwoman Christina Shea voted for the policy change while Agran and Councilmembers Larry Agran and Beth Krom voted against the policy change. That same 3-2 vote also approved a letter from the City of Irvine to Vietnam's Counsul General to state Irvine's position in favor of freedom.

Video of the Council meeting is available here.

Below is a transcript of Supervisor Spitzer's remarks at the Irvine City Council meeting Tuesday evening:


I'm very saddened to be here on this occasion, quite frankly. You know, we were collectively working together in this community as elected officials to stop an airport at El Toro, and when we did so, we said we would sanctify what our military presence gained not only for Orange County but our entire nation.

And you now have the future of El Toro and a military base in your hands, and what does that military base stand for, here in your city? That military base was the forefront of freedom and democracy and fighting throughout the world to ensure that forces of evil and communism and other types of political ideologies did not infiltrate our American soil, and yet tonight, we have an agenda to support a city which stands for the very principles in which our own military personnel, a complexion of people, a melting pot, from around the country, who embraced our military presence, the very own putting forth of an ordinance for a sister cityhood proposal like this in the face of our military presence at El Toro to me is a complete slap in the face of everything that we stand for.

One of the things I love about being an elected official, like the five of you, here in Orange County is that we are a melting pot of people from all over the world who know they can come to the United States of America and raise their children and have every opportunity as if they were born here because this is a country that stands for something, and what it stands for is that it will not tolerate not only the presence of evil, but it will not even allow those ideologies, or the thought, to be commingled with our preservation of freedom.

This agenda item tonight suggests that we can change the ideology of a political regime, which by its very core, is vile, supports hatred, and supports the oppression of amazing individuals whose stories are resonating here tonight.

I am here not only to speak against this sister cityhood proposal; I'm here to tell the world that Orange County will not tolerate intolerance. God bless America, and God bless the opportunity to speak freely and openly in a public forum like this and not be afraid that you'll be chastised for your thoughts, your religion, or your person and your cause. Thank God for America.


Below is the text of a letter Supervisor Spitzer sent to the Irvine City Council Tuesday morning:


I urge the Irvine City Council to withdraw the portion of Item 5.1 from today's City Council agenda that would declare a "Friendship City" relationship between Irvine and Nha Trang, Vietnam. If the item cannot be withdrawn, then I urge every member of the Irvine City Council to oppose the proposed "Friendship City" relationship with Nha Trang.

The government of the Socialist Republic of Vietnam is a frequent perpetrator of human rights abuses of its own people. In the United States, our most cherished civil liberties include the right to freedom of speech, freedom of the press, and freedom to choose our own government officials through free and fair elections. The Vietnamese government regularly imprisons people for criticizing the government. As of July 2013, the Vietnamese government held more than 160 political prisoners, including imprisoning 14 pro-democracy activists in January 2013 alone. Just last month, the Vietnamese government sentenced Truong Duy Nhat to two years in prison for running a blog critical of the government.

Even the city government of Nha Trang commits these abuses. In 2009, Nha Trang officials suspended two journalists for investigating local government corruption. In May 2013, the Nha Trang government resorted to beating, cigarette burning, home detention, and electronic device confiscation, all in an effort to prevent a peaceful human rights picnic in a public park.

The United States is home to more than 1,000,000 Vietnamese immigrants who fled for their lives from the tyranny of communism. More than 2,600,000 American soldiers served in Vietnam, and more than 58,000 gave their lives for the cause of freedom. Declaring a "Friendship City" relationship with Nha Trang is not simply an insult to Vietnamese Americans and Vietnam War veterans, but it is also an insult to all freedom-loving Americans and all freedom-loving people around the world.

Establishing a Friendship City relationship with Nha Trang would be as offensive as one with Tehran, Pyongyang, or Damascus, and I urge the Irvine City Council to oppose this effort.

Please do not hesitate to contact me at (714) 834-3330 or todd.spitzer@ocgov.com. I appreciate the opportunity to work with you on behalf of our mutual constituents, as leaders democratically chosen in free and fair elections in a country where criticism of the government is not only permitted but encouraged.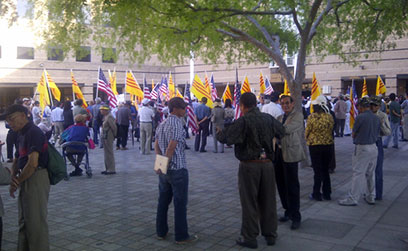 When the Council chamber and the City Hall lobby both reached maximum capacity, protestors continued to gather in the plaza outside Irvine City Hall.

Association of California Cities-Orange County Gives Supervisor Spitzer 2014 Collaborative Lawmaker Award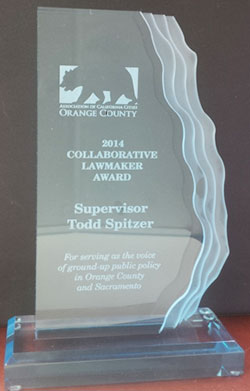 Yesterday, the Association of California Cities-Orange County (ACC-OC) gave Supervisor Todd Spitzer its 2014 Collaborative Lawmaker Award. The award was presented to Supervisor Spitzer "for serving as the voice of ground-up public policy in Orange County and Sacramento."

"ACC-OC is one of the great leading organizations of our county, with the mission of collaborating with stakeholders to create good public policy," Supervisor Spitzer said. "It is such an honor to be recognized by the leaders of our county for my efforts to work together with them to advance policies that advance the interests of all Orange County residents."

Supervisor Spitzer's efforts to work with other Orange County leaders and organizations have been a hallmark of his current term as Supervisor, having helped develop the first Orange County Visionary Leaders' Conference, the first Orange County DUI summit, and the Safe Community Meetings series.

All six cities in the Third Supervisorial District are members of ACC-OC. The members of ACC-OC are 28 of Orange County's 34 cities: Aliso Viejo, Anaheim, Buena Park, Costa Mesa, Cypress, Dana Point, Fullerton, Garden Grove, Huntington Beach, Irvine, La Palma, Laguna Hills, Laguna Niguel, Lake Forest, Los Alamitos, Mission Viejo, Newport Beach, Orange, Placentia, Rancho Santa Margarita, San Clemente, San Juan Capistrano, Seal Beach, Stanton, Tustin, Villa Park, Westminster, and Yorba Linda.

Affiliate members of ACC-OC include the County of Orange; Orange County Fire Authority; Orange County Transportation Authority; Transportation Corridor Agencies; Children & Families Commission of Orange County; University of California, Irvine; Orange County Business Council; Best, Best & Krieger; Chevron; Cummins & White; Disneyland Resort; Parsons; PsomasFMG; Southern California Edison; and Tripepi Smith.

ACC-OC was formed in 2011 as an alternative to the League of California Cities. It serves as a hub for public policy, from the ground up for Orange County cities. It is a regional advocate for local control, both in Orange County and at the state level. It focuses on defending and expanding local control.

Supervisor Spitzer to Speak Sunday at Parents of Murdered Children Candlelight Vigil and Names Dedication Ceremony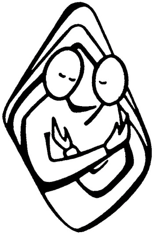 This coming Sunday, April 13, Supervisor Todd Spitzer will be speaking at the 22nd Annual Candlelight Vigil and Names Dedication Ceremony held by the Greater Orange County Chapter of Parent of Murdered Children. The vigil and ceremony will be held at Memory Garden Memorial Park in Brea from 6:00 PM – 8:00 PM.

"It is heartbreaking every time a family adds the name of their loved one to this monument," Supervisor Spitzer said. "As a community, we must preserve the memory of these lost souls."

Parents of Murdered Children serves as a support group for not only parents, but for all adult family members and friends of people who have passed away due to violent crime. The group also offers emotional support and information about surviving the loss of a loved one who has been murdered.

Marie Belmontez, the aunt of Stephen Sanchez, will give the welcoming remarks. Lena Gonzalez, the sister of Jonathan Dizon, will serve as master of ceremonies. Chaplain Brad Stetson will deliver the invocation and the closing thoughts. Zakary Dye, nephew of Marques Murray, will lead the dove release. Bagpiper Eric Rigler will perform Amazing Grace. Shirley Tapia, mother of Richie Tapia II and Michael Tapia, will read "Never an Answer," which she wrote. Mary Urenda, aunt of Lanette Alvarado, will lead the candlelighting. Chirs Lewis, grandson of Lester Lewis and brother of Mary Lewis, will read a poem. Jacob G will sing "Sunday Mourning" and "What Faith Can Do." Rachel Alvarado, mother of Lanette Alvarado, will speak about a mother's grief. Mandy Mendoza will sing "Broken." Kevin Blunt, father of Kevin Blunt, Jr. and stepfather of Marques Murray, will speak about suffering beyond death. The vigil and ceremony will end with all attendees singing, "We are the Survivors."

Twelve names will be dedicated on the memorial monument on Sunday:

David William Witmer
M. "Chris" MacCallum
Christian F. Alcantar
Malaikye T. Payne
Cesar G. Rodriquez
Andrew Pacheco
Courtenay Rene Hoag
Justin S. Del Campo
Justin A. Soto
Pedro "Pete" Cabrera
Kevin Blunt, Jr.
Lester Lewis

Pet of the Week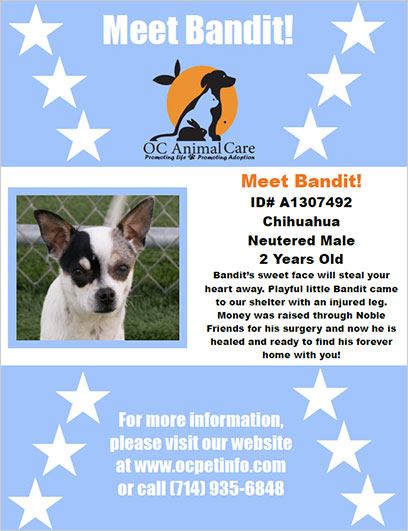 Click on the image above to view a PDF version.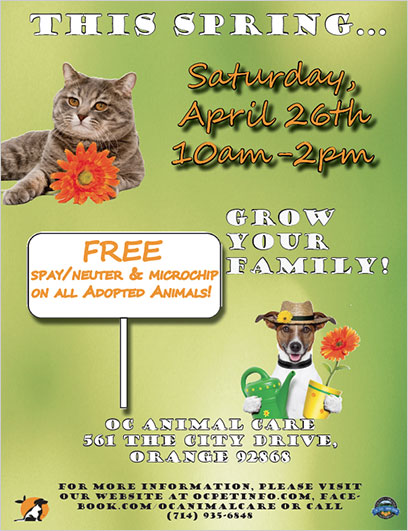 Click on the image above to view a PDF version.

Events Around the District

Anaheim
Kodiak Street Mobile Recreation Program
Friday, April 11, 2:45 PM – 5:00 PM
Kodiak Street Neighborhood

Irvine
"Three Sisters Gardening: A Native American Tradition"
(Children's Gardening Workshop)
Sunday, April 13, 11:00 AM – 1:00 PM
Orange County Great Park

Orange
Spring Storytime and Crafts for Children
Friday, April 11, 4:00 PM – 5:00 PM
Orange Public Library – El Modena Branch, 380 S. Hewes St.

Silverado
Yiking! (Yoga and Hiking)
Sunday, April 13, 8:00 AM – 11:00 AM
Limestone Canyon Regional Park, Hicks Haul Road Staging Area

Tustin
How Does Solar Work?
Wednesday, April 16, 6:00 PM – 7:00 PM
Orange County Public Library – Tustin Branch, 345 E. Main St.

Villa Park
Mr. Villa Park
Friday, April 18, 6:30 PM
Villa Park High School, 18042 Taft Ave.

Yorba Linda
You Are What You Eat: Healthy Cooking for Teens
Tuesday, April 15, 6:00 PM – 7:00 PM
Yorba Linda Public Library, 18181 Imperial Hwy.




DISTRICT

STAFF
Martha Ochoa
Chief of Staff

Chris Nguyen
Senior Policy Advisor

Carrie O'Malley
Senior Policy Advisor

Martin Gardner
Policy Advisor

Christine Richters
Executive Aide



District Map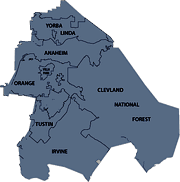 Anaheim, Irvine, Orange, Tustin, Villa Park, Yorba Linda, El Modena, North Tustin, Orange Park Acres, the Canyon Communities

Stay Updated!