May 2, 2014
Volume 2

Issue 17

Supervisors Take Step Toward Color-Coded Restaurant Rating System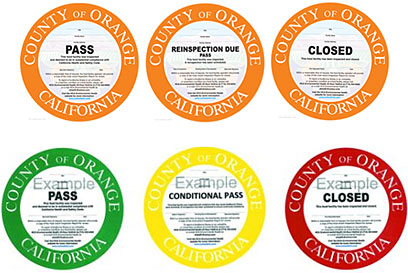 The placards for the current restaurant health grades are shown in orange above. Possible placards for the proposed color-coded system are shown in green, yellow, and red.
On Tuesday, the Board of Supervisors voted to direct the Orange County Health Care Agency to prepare a proposal for a color-coded restaurant rating system to be brought to the Board no later than May 20. This system would replace the County's existing system, where restaurants are simply described as "Pass," "Reinspection Due – Pass," and "Closed" on Health Care Agency placards posted in publicly-visible places in restaurants.

"I still prefer a letter-grade based system, so that Orange County will not be out of step with all of our neighboring counties," Supervisor Todd Spitzer said. "However, a color-coded system is still a good step forward to replace our outdated restaurant rating system adopted 15 years ago."

In May 1999, Supervisor Spitzer then proposed implementing a letter-grade restaurant rating system similar to those used in other Southern California counties. However, after he convened stakeholder discussions between the Board of Supervisors, the Health Care Agency, and restaurant representatives, he agreed to implement a three-tiered system that remains in place today, with some slight modifications.

One of the modifications was implemented after a 2008 vote by the Board of Supervisors: the large bold "Pass," "Reinspection Due – Pass," and "Closed" word descriptors were added to replace smaller sentence-long descriptors. Supervisor John M. W. Moorlach had pushed for a color-coded system in 2008 similar to the one being proposed in 2014. The color-coded system fell one vote short of passage in December 2008, so the current system with the large bold word descriptors was passed as a compromise.

The Orange County Grand Jury issued a report in March proposing that the County move away from the ambiguous system currently in place. The Grand Jury suggested utilizing a green-yellow-red system that many Northern California counties use. The County response to the Grand Jury is due in June.

The proposed green-yellow-red placards would also have word descriptors placed in the middle of the placards in order to assist those unfamiliar with the color-coded system and to assist the colorblind. The Grand Jury suggested "Pass," "Conditional Pass," and "Closed" as the word descriptors (with "Conditional Pass" replacing "Reinspection Due – Pass" from the current system). The Health Care Agency has not yet determined the phrasing of the word descriptors for the placards in the proposal that will be brought to the Board of Supervisors within the next three weeks.

Supervisor Spitzer Joins CalOptima Board of Directors


Yesterday, May 1, Supervisor Todd Spitzer attended his first meeting of the CalOptima Board of Directors. Two days earlier, the Board of Supervisors unanimously appointed Spitzer to join Supervisor Janet Nguyen on the CalOptima Board, with Supervisor John M. W. Moorlach serving as their alternate. CalOptima is the $1.5 billion government agency that serves as the health plan for 500,000 poor and elderly residents of Orange County.

"In my first term in the Legislature, I served as Vice Chair of the Assembly Health Committee. This new opportunity represents the chance to utilize that experience at the local level to assist Orange County's poor and elderly," Supervisor Todd Spitzer said. "I am excited about steering CalOptima out from under its current sanctions by the State."

On February 25, the Board of Supervisors approved the first reading of an ordinance to add a second member of the Board of Supervisors on the CalOptima Board, replacing the Director of the Orange County Social Services Agency, who becomes a non-voting member. On March 4, the Board of Supervisors approved the second reading and final adoption of the ordinance. The ordinance took effect after the April CalOptima Board meeting.

The CalOptima Board now consists of 11 voting members and a 12th non-voting member:

Two County Supervisors (with another Supervisor as an alternate)
OC Health Care Agency Director
Current hospital administrator or representative of a hospital trade association
Physician in current practice
Representative of a contracted independent physician's group or a health network
Representative of a for-profit business
Public member
Current CalOptima consumer
Current CalOptima consumer or representative from a 501(c)(3) that serves CalOptima consumers
Current CalOptima consumer or representative from a community clinic that serves CalOptima consumers
OC Social Services Agency Director (Non-Voting Member)

Supervisor Spitzer Helps Honor Tustin's Superhero Volunteers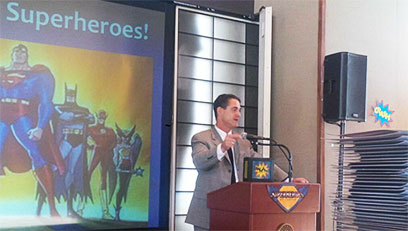 Supervisor Todd Spitzer gives the keynote address at the Superheroes of Tustin luncheon, sponsored by the Tustin Community Foundation.
On Wednesday, Supervisor Todd Spitzer was the keynote speaker at the Superheroes of Tustin luncheon, sponsored by the Tustin Community Foundation. The luncheon honored volunteers who were nominated as "superheroes" by local nonprofit organizations.

"There is a special relationship between volunteers and the people who benefit from their generosity of time," Supervisor Spitzer said. "When I underwent radiation treatment for throat cancer four years ago, something as simple as a blanket made by volunteers (from The Joyful Foundation) to keep me warm during radiation treatments was deeply meaningful to me."

Each organization participating at the Superheroes of Tustin luncheon was able to nominate their "superhero" volunteers for recognition. Each superhero received a gift bag, a medallion, and certificates from Supervisor Spitzer, Assemblyman Don Wagner, Senator Mimi Walters, and Congressman John Campbell.

The Tustin Chamber of Commerce also presented a $2,000 check to the Tustin Community Foundation from funds raised at the Leprechaun Leap event, where Spitzer also participated as a race event starter.

The 39 organizations that honored volunteers at the Superheroes of Tustin luncheon were the:

American Academy of Pediatrics – OC Chapter
American Red Cross
Assistance League of Santa Ana
Beckman High School
Big Brothers Big Sisters
Boys & Girls Club of Tustin
Children's Hospital of Orange County
City of Tustin
Clinic in the Park
DCH Tustin Acura Safe Driving Foundation
Foothill Communities Association
Foothill High School
Hanger Boutique – Working Wardrobes
Kiwanis Club of Tustin
Legacy Foundation
Miss Tustin Scholarship Program
Operation Warm Wishes
Red Hill Lutheran School
Relay for Life of Tustin
Students Against Destructive Decisions (SADD)
Safer 3 Water Safety Foundation
Single Moms Ministry
Soroptimist International of Santa Ana/Tustin
Tustin American Legion Post 227
Tustin Area Council for Fine Arts
Tustin Area Republican Women Federated
Tustin Area Senior Center
Tustin Area Woman's Club
Tustin Chamber of Commerce
Tustin Community Foundation
Tustin Dollars for Scholars
Tustin High School
Tustin High School Dance Team Booster Club
Tustin Host Lions Club
Tustin Police Department
Tustin Public Schools Foundation
Tustin/Santa Ana Rotary Club
Tustin Young Professionals, etc. (TYPe)
Women Helping Women / Men2Work
Due to the popularity of the event, there were many more nonprofit organizations and their superheroes who were unable to participate due to space constraints.

Spitzer to Assist as Judge at Silverado Annual Chili Cook-Off & Cinco de Mayo Festival This Sunday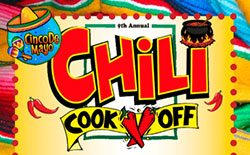 The Silverado Modjeska Recreation and Park District and its Silverado Children's Center will host the 9th Annual Silverado Chili Cook-Off and Cinco de Mayo Festival this Sunday, May 4 from 11:00 AM – 4:00 PM at Irvine Lake, 4621 Santiago Canyon Rd., Orange, CA 92676.

"It's always great fun to be a part of community events like this," Supervisor Todd Spitzer said. "I'm looking forward to tasting some great chili as a judge in the cook-off."

Competitors in the Chili Cook-Off will wear costumes and decorate their booths in order to win the contest. The official judges, including Supervisor Spitzer, and community tasters will decide who wins the Judge's Award for "Best Chili," the "People's Choice Chili" Award, and the "Best Booth" Award.

The Silverado Children's Center provides child development programs that teach children the importance of caring for the environment. The center serves families in the Silverado and Modjeska Canyons as well as the surrounding communities of Irvine, Orange, Tustin, Trabuco Canyon, Portola Hills, Rancho Santa Margarita, Mission Viejo, and Lake Forest.

In addition to the chili, Sunday's event has various family activities, arts and craft vendors, local businesses, performances by the Girl Scouts Folklorico Dancers, and live music. The music will include the all kid rock band "Corey Angeli," a tribute to the Grateful Dead and Rolling Stones by the "Throwing Stones" band, and Lazy Brad Lewis.

Pet of the Week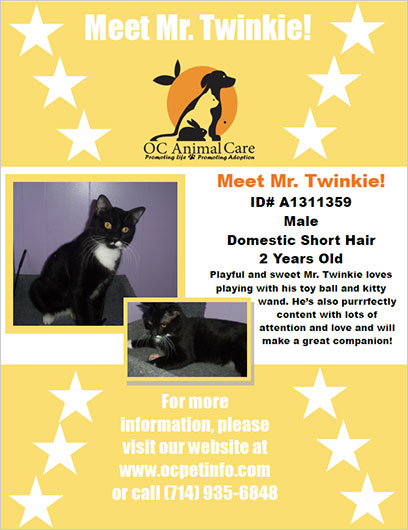 Click on the image above to view a PDF version.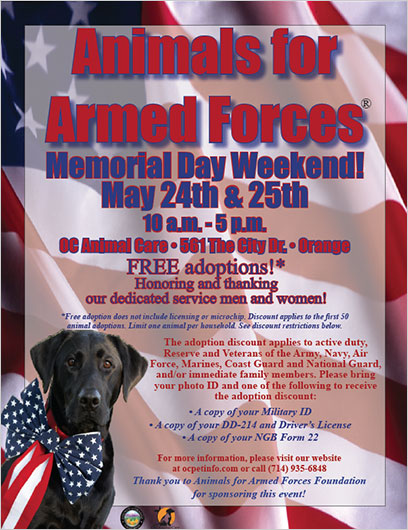 Click on the image above to view a PDF version.

Events Around the District

Anaheim
Authors Visit with Anita Hughes, Jane Porter, and Suzanne Redfearn
Saturday, May 3, 2:00 PM
Anaheim Public Library – Canyon Hills Branch, 400 Scout Trail

Irvine
"May the 4th" Star Wars Craft Program
Sunday, May 4, 1:00 PM – 4:00 PM
Orange County Public Library – Heritage Park Branch, 14361 Yale Ave.

Orange
Raise a Money Smart Child
Tuesday, May 6, 3:30 PM – 4:30 PM
Orange Public Library & History Center, 407 E. Chapman Ave.

Silverado
Wilderness Access Day – Black Star Canyon Guided Walk
Saturday, May 3, 8:30 AM – 11:00 AM
Black Star Canyon Staging Area, 14654 Blackstar Canyon Rd.

Tustin
Mother's Day Lunch
Friday, May 9, 12:00 PM – 1:00 PM
Tustin Area Senior Center, 200 S. C St.

Villa Park
Toddler Storytime
Tuesday, May 6, 10:30 AM – 11:00 AM
Orange County Public Library – Villa Park Branch, 17865 Santiago Blvd.

Yorba Linda
Teen DIY & Game Night
Tuesday, May 6, 5:30 PM – 8:00 PM
Yorba Linda Public Library, 18181 Imperial Hwy.




DISTRICT

STAFF
Martha Ochoa
Chief of Staff

Chris Nguyen
Senior Policy Advisor

Carrie O'Malley
Senior Policy Advisor

Martin Gardner
Policy Advisor

Christine Richters
Executive Aide



District Map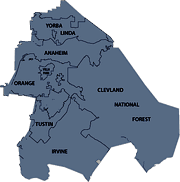 Anaheim, Irvine, Orange, Tustin, Villa Park, Yorba Linda, El Modena, North Tustin, Orange Park Acres, the Canyon Communities

Stay Updated!