May 9, 2014
Volume 2

Issue 18

Supervisor Spitzer to Hold Community Meeting on Flight Expansion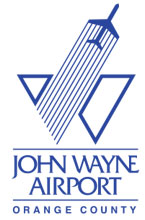 On Wednesday, May 28, Supervisor Todd Spitzer and John Wayne Airport (JWA) will be sponsoring a community meeting explaining the process related to the draft environmental impact report (EIR) that examines proposed changes in the latest version of the Settlement Agreement on JWA. The Settlement Agreement determines what facility and operational improvements are permissible at JWA.

"The airport is one of the most visible County agencies, and it is a vital part of Orange County's economic engine," Supervisor Spitzer said. "Much of the Third District lies within the flight path for arriving planes, so any changes to the airport's capacity must balance the need for economic growth and the quality of life for residents under the flight path."

The County will issue the draft EIR for the Settlement Agreement this month before the community meeting.

The Wednesday, May 28, community meeting sponsored by Supervisor Spitzer and JWA will be held in the Third District from 6 PM to 8 PM at Hewes Middle School, 13232 Hewes Ave., North Tustin.

The public can provide written and oral comments on the draft EIR at both public meetings. More information about the Settlement Agreement and the EIR process can be found at www.ocair.com/communityrelations/settlementagreement/

Created in 1985 by the County of Orange, the Airport Working Group, the City of Newport Beach, and Stop Polluting Our Newport, the Settlement Agreement was set to expire at the end of 2005. In 2003, the four entities that signed the agreement approved a renewal through 2015 that included amendments permitting additional facilities and operational growth while maintaining environmental protections. With the first renewal set to expire at the end of next year, this is an opportunity for the public to weigh in on the terms and conditions for the renewal of the Settlement Agreement, which will govern JWA for years to come.

Supervisors Considering Options on OC Animal Care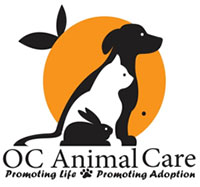 On Tuesday, the Board of Supervisors deliberated options for a $626,322 shortfall in the OC Animal Care budget for FY 2014-15, which begins July 1. The OC Animal Care budget in FY 2013-14 totals $18.6 million. OC Animal Care staff presented the Board with options to cut services, appropriate more funds from the County General Fund, or agendize a schedule of fee increases as part of the FY 2014-15 budget (OC Animal Care staff recommended the last option). OC Animal Care staff also suggested exploring whether the current model of animal care services should be continued, replaced with a joint powers authority governed by cities and the County, or replaced with a local service model, where each jurisdiction is responsible for its own animal care services. Under the existing model, OC Animal Care provides animal care services to half of Orange County's cities and all its unincorporated areas. OC Animal Care provides these services to the entire Third District, except for the City of Irvine.

"Our fees recover more of the actual costs of providing animal care services than other jurisdictions, as we provide the least amount of General Fund support," Supervisor Todd Spitzer said. "Our fees appear higher on their face, but they place the cost recovery on the users and not taxpayers who do not use the service."

The Board of Supervisors directed OC Animal Care to reexamine the fee schedule. Currently, 56% of OC Animal Care costs are covered by licensing fees and other service fees while 44% of costs are covered by contributions of taxpayer dollars from the General Funds of the County and the contract cities. Orange County has an animal license compliance rate of 47%, nearly double the statewide animal license compliance rate of 24%.

"I am pursuing bringing our basic dog license fee down to $20 per year while the staff recommendation is $27 per year," Supervisor Spitzer also said. "That is a huge differential in fee levels."

The basic fee for a one-year license for a neutered/spayed dog is currently $24. It is also $24 for a puppy under the age of six months. The fee is $100 for a non-neutered/non-spayed dog, $12 for a neutered/spayed dog owned by a senior citizen, and $6 for any cat. The late fee is $41 while the non-compliance fee is $75.

OC Animal Care has contracts with 17 of Orange County's 34 cities for animal care services and a contract with an 18th city (Santa Ana) for shelter services only:

Anaheim
Brea
Cypress
Fountain Valley
Fullerton
Garden Grove
Huntington Beach
Laguna Hills
Lake Forest
Orange
Placentia
Rancho Santa Margarita
San Juan Capistrano
Santa Ana (Shelter Services Only)
Stanton
Tustin
Villa Park
Yorba Linda

OC Residents Need to Be Wildfire Aware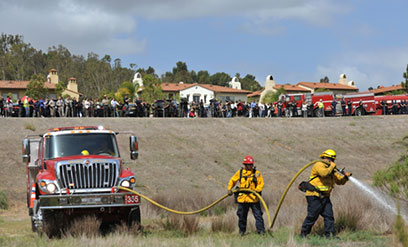 OCFA firefighters performing a demonstration for the assembled media at Wednesday's press conference. (Photo courtesy of OCFA.)
On Wednesday, the Orange County Fire Authority (OCFA), Orange County Sheriff's Department, OC Parks, and several other agencies and organizations held a press conference urging Orange County residents to be fire aware.

"Our recent drought has caused California to enter a state of emergency, due to the risk of wildfire," said Supervisor Todd Spitzer, also an OCFA Director. "We've had a number of dry months with a miniscule amount of rain, so as we enter our hotter months, Orange County is at great risk from the severe wildfire conditions."

Orange County homeowners are urged to harden their homes with fire resistant building material. Residents need to ensure they have 100 feet of defensible space around their homes to increase the odds of their home surviving a wildfire. They should have emergency kits and know what to do if a wildfire reaches their neighborhood, including knowing the evacuation routes. More information about what residents need to do to prepare in case of a wildfire is available at www.readysetgooc.org.

Orange County residents need to be the "eyes and ears" for firefighters in case of a fire. Residents need to be vigilant and immediately report any potential fire activity to 911. Unfortunately, some wildfires are started by arsonists. Vigilant residents can help prevent arson fires by simply making their active presence known, making arsonists think twice about starting a fire with witnesses observing their dangerous criminal activity. Working together with community partners and residents, firefighters can help prevent fires and quickly contain new fires.

Workers Needed for Election Day, Tuesday, June 3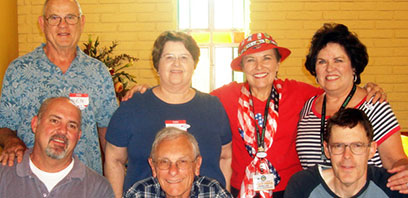 Several people who have served as Election Day workers for numerous elections are pictured here after the polls closed in the November 2012 election. (Photo courtesy of the Registrar of Voters.)
The Orange County Registrar of Voters seeks 6,500 people to help carry out Election Day functions on Tuesday, June 3, 2014.

"Elections are one of the most critical parts of our form of government in the United States," Supervisor Todd Spitzer said. "We need citizens to help make Election Day run smoothly and protect the integrity of our electoral process."

Election Day workers must be United States citizens at least 16 years of age. Election Day workers over 18 must be registered to vote in the State of California. Felons on parole and registered sex offenders are ineligible for these positions.

Bilingual citizens who speak Vietnamese, Chinese, Spanish, or Korean are particularly encouraged to apply to assist the County in complying with the Federal Voting Rights Act.

There are six types of workers needed on Tuesday, June 3:

Polling Place Inspectors, who each oversee a polling place
Polling Place Clerks, who each assist the inspector at a polling place
Election Day Coordinators, who each provide communications and troubleshooting for multiple polling places
Election Day "A" Team Members, who are dispatched throughout the County in case of emergency
Election Supply Collection Center Workers, who assist with polling place supplies being returned to the Registrar after polls close
Election Night Tally Center Operations Workers, who assist with the return of ballots from polling places to the Registrar after polls close
More information on these six positions, including more detailed descriptions of their responsibilities, their hours, and their stipends, are available at www.ocvote.com/volunteer/, where potential Election Day workers can also sign up.

OC Public Libraries Hosting Young Authors' Faire Tomorrow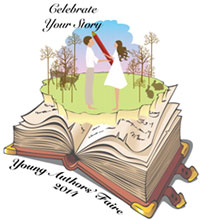 From 11:00 AM – 3:00 PM tomorrow, OC Public Libraries and the Orange County Department of Education will be hosting the 13th Annual Young Authors' Faire. This event will showcase original works by Orange County students from kindergarten through 12th grade.

"I was an English major, and I'm still a voracious reader, which makes me so proud that there are so many Orange County students who are creating their own literary works," Supervisor Todd Spitzer said. "As a former English teacher and school board member, I'm always excited when young people put their creativity to work at school."

Students will have their stories on display or performed during the Young Authors' Faire. Written, reading, and performance works will all be showcased. In addition to showcasing students' works, families will be able to meet published authors, illustrators, and storytellers at the event, along with learning about OC Public Library services and engaging in enjoyable literacy and technology activities.

The Young Authors' Faire will take place at five branches of the Orange County Public Library, located in Irvine, Tustin, San Juan Capistrano, La Habra, and Westminster. Most students attending school in the Third District will have their works exhibited at the Tustin branch, with some at Irvine's Katie Wheeler Branch, and a few at the La Habra and San Juan Capistrano branches.

The Tustin Branch at 345 E. Main St. will exhibit works by students from:

Brea-Olinda Unified School District
Orange Unified School District
Placentia-Yorba Linda Unified School District
Tustin Unified School District
Irvine's Katie Wheeler Branch at 13109 Old Myford Rd. will exhibit works by students from:

Garden Grove Unified School District
Irvine Unified School District
Santa Ana Unified School District
The San Juan Capistrano Branch at 31495 El Camino Real will exhibit works by students from:

Capistrano Unified School District
Laguna Beach Unified School District
Saddleback Valley Unified School District
The La Habra Branch at 221 E. La Habra Blvd. will exhibit works by students from:

Anaheim City School District
Anaheim Union High School District
Buena Park School District
Centralia School District
Fullerton School District
Fullerton Joint Union High School District
La Habra City School District
Magnolia School District
Savanna School District
The Westminster Branch at 8180 13th St. will exhibit works by students from:

Cypress School District
Fountain Valley School District
Huntington Beach School District
Huntington Beach Union High School District
Los Alamitos Unified School District
Newport-Mesa Unified School District
Ocean View School District
Westminster School District
Students in home schools and private schools will have their work exhibited in the library branch designated for their home school district.

Majority of OC's National Merit Scholars are Third District Residents


Despite comprising only 1/5 of Orange County's population, the majority of National Merit Scholarships awarded to Orange County students went to residents of the Third District. There were 61 OC students who were named as National Merit Scholars, with 55 winning the traditional National Merit Scholarships and 6 winning the National Achievement Scholarships.

"When I served as a high school teacher, it was so exciting to see students who were dedicated to their education," Supervisor Todd Spitzer said. "I applaud our National Merit Scholars, who have demonstrated such a strong commitment to their education and to their community."

Approximately 1.5 million high school students enter the National Merit Scholarship competition by taking the PSAT in October of their junior year. Of those, 50,000 students (about 3%) are selected for recognition based on their PSAT score. In September of their senior year, the 50,000 are narrowed to 16,000 semifinalists.

Each semifinalist is then invited to fill out an application, which includes an essay, the student's transcript, extracurricular activities, volunteer activities, and a recommendation from the applicant's high school administrators. In February of their senior year, 15,000 finalists are announced. Of this group, 8,000 are named National Merit Scholars.

Three types of scholarships are awarded to National Merit Scholars:

$2,500 National Merit/Achievement Scholarships
Corporate-sponsored Merit/Achievement Scholarships, with monetary values varying by sponsor
College-sponsored Merit Scholarships, with monetary values varying by college
The Third District residents who earned National Merit Scholarships are:

Anaheim Hills Residents

Tiffany Bowman, Troy High School
Alden D'Souza, Canyon High School (National Achievement Award)
Nicholas Trank, Troy High School
Irvine Residents
Jonathan Fu, Northwood High School
Thomas Gui, University High School
Staphany Hou, University High School
Kevin Huang, University High School
Jae Hwan Hwang, Northwood High School
Rui Jing Jiang, Northwood High School
Vincent Jin, University High School
Joon Hee Lee, Beckman High School
Kevin Lee, University High School
Nikhil Mishra, Northwood High School
Charl Potgieter, University High School
Dennis Shim, Northwood High School
Rachel Skelton, University High School (National Achievement Award)
Jennifer Sui, University High School
Sarah Sukardi, University High School
Courtney Vu, Beckman High School
Jingwen Wei, University High School
North Tustin Residents
Jennifer Franke, Foothill High School
Ryan O'Bannon, Foothill High School
Robert Okereke, Foothill High School (National Achievement Award)
Orange Residents
Chase Bishman, Canyon High School
Bhavesh Patel, Villa Park High School
Matthew Rock, El Modena High School
Tustin Residents
Emily Duong, Beckman High School
Brian Ng, Beckman High School
Yorba Linda Residents
Andrew Chang, Esperanza High School
Eric Chiang, Yorba Linda High School
Kevin Jin, Troy High School
Lani Kim, Troy High School
Hugo Yen, Troy High School

Pet of the Week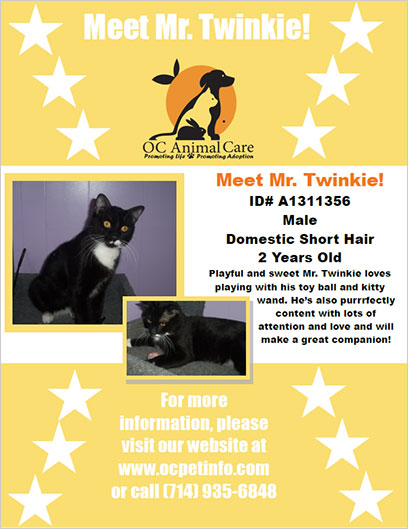 Click on the image above to view a PDF version.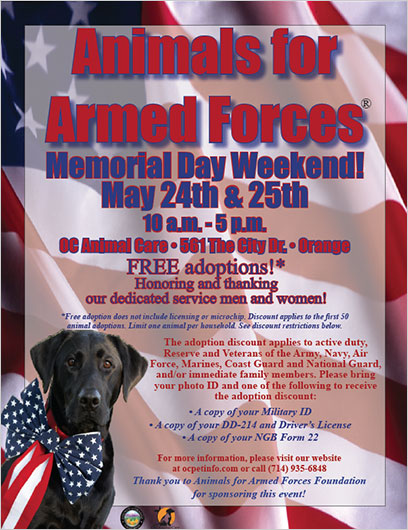 Click on the image above to view a PDF version.

Events Around the District

Anaheim
Family Storytime for All Ages and Mother's Day Crafts for Ages 3-5
Saturday, May 10, 11:00 AM
Anaheim Public Library – East Anaheim Branch
8201 E. Santa Ana Canyon Rd.

Irvine
Jazz at the Palm Court
Saturday, May 10, 11:00 AM – 3:00 PM
Great Park, Sand Canyon and Marine Way

Orange
Zumba Kids Dance Demo
Saturday, May 10, 3:00 PM
Orange Public Library & History Center, 407 E. Chapman Ave.

Silverado
Family Hike – Black Star Canyon
Saturday, May 10, 6:00 PM – 8:00 PM
Black Star Canyon Staging Area, 14654 Blackstar Canyon Rd.

Tustin
Author Reading and Lecture: 50 Hikes in Orange County by Karin Klein
Tuesday, May 13, 7:00 PM – 8:30 PM
Orange County Public Library – Tustin Branch, 345 E. Main St.

Villa Park
12th Annual VPHS Instrumental Music Car & Bike Show
Saturday, May 10, 8:00 AM – 2:00 PM
Villa Park High School, 18042 Taft Ave.

Yorba Linda
Summer Salads with Chef Renee
Saturday, May 10, 2:00 PM – 3:00 PM
Yorba Linda Public Library, 18181 Imperial Hwy.




DISTRICT

STAFF
Martha Ochoa
Chief of Staff

Chris Nguyen
Senior Policy Advisor

Carrie O'Malley
Senior Policy Advisor

Martin Gardner
Policy Advisor

Christine Richters
Executive Aide



District Map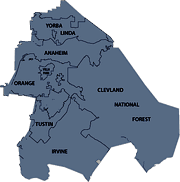 Anaheim, Irvine, Orange, Tustin, Villa Park, Yorba Linda, El Modena, North Tustin, Orange Park Acres, the Canyon Communities

Stay Updated!