January 17, 2014
Volume 2

Issue 2

New All-Electronic Tolling to Be Implemented on 73, 133, 241, and 261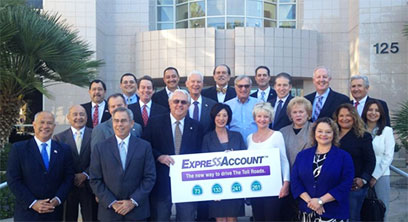 The Transportation Corridor Agencies (TCA) will be implementing all-electronic tolling on the four toll roads it operates: the 73, 133, 241, and 261. All-electronic tolling will eliminate the need for toll booths.

"This new technology removing toll booths will allow people to move smoothly and unimpeded on the toll roads," TCA Board Member Todd Spitzer said. "As more and more people use credit cards and online banking, cash and toll booths are becoming a thing of the past."

Without toll booths, electronic tolling locations will automatically scan license plates of cars without FasTrak transponders. The car owners will then be automatically billed via the license plate scans. Individuals who do not have FasTrak transponders who wish to use the toll roads will no longer have to stop at toll booths or worry about having exact change. Switching from traditional toll booths to all-electronic tolling will also reduce the costs of toll collection.

Toll road users on the 73, 133, 241, and 261 will now have five options to pay tolls:

"FasTrak" transponders will continue to operate as they always have, in which users sign up for a transponder and pay the lowest tolls; the FasTrak transponders operate anywhere in California
"ExpressAccount – Prepaid" allows users to prepay their accounts using credit cards, cash, or checks, with tolls deducted from their balance
"ExpressAccount – Charge" allows users to have their credit cards charged as tolls are accrued
"ExpressAccount – Invoice" allows users to receive a monthly bill for tolls used that can be paid with credit cards, cash, or checks
"One-Time Toll" allows each user to pay a toll online with a credit card 48 hours after a toll has been incurred without any fines or penalties and without signing up for an account
The electronic license plate scanning process will be used by the ExpressAccount and One-Time Toll programs for the 73, 133, 241, and 261 toll roads. ExpressAccounts and One-Time Toll have begun operation and will work alongside existing traditional cash toll booths until May, when the traditional cash toll booths will be removed.

The 91 Express Lanes are not part of the ExpressAccount and One-Time Toll programs, as they are not run by TCA. They are run by the Orange County Transportation Authority, which does use FasTrak transponders.

FasTrak was first introduced to California twenty years ago by TCA and has now become the industry standard. ExpressAccount and One-Time Toll are new TCA programs that are the first of their kind in California.

To compare the five ways to pay tolls on the 73, 133, 241, and 261, click here. For more information about each of these programs, click below:


Clerk-Recorder Now Accepting Reservations for Valentine's Day Marriages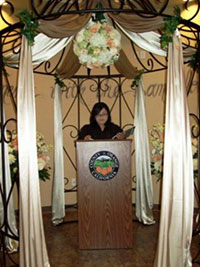 (Portions Courtesy of the Clerk-Recorder)

The Orange County Clerk-Recorder is now accepting reservations for couples who wish to be married on Valentine's Day at the department's three marriage offices.

"Reservations are a great way to ensure efficient appointments for Orange County residents," Supervisor Todd Spitzer said. "Valentine's Day wedding reservations help make every couple's special day smoother."

The Clerk-Recorder will also be offering slightly extended hours on Valentine's Day for marriages. Ceremony rooms and marriage services will be available at the Old County Courthouse in Santa Ana from 8:00 AM to 5:00 PM. Ceremony rooms and marriage services will be available at the department's branch offices in Laguna Hills and Fullerton from 9:00 AM to 5:00 PM. In addition, the branch office locations offer free parking. (The main office in Santa Ana normally closes at 4:30 PM while the branch offices in Laguna Hills and Fullerton normally close at 4:00 PM.)

Appointments are highly recommended for those wishing to have a ceremony on Valentine's Day since this day continues to be one of the most popular days to "tie the knot." Residents can make an appointment by visiting the Clerk-Recorder's web site at www.ocrecorder.com and using the online application and appointment system. Walk-ins will be assisted based on availability of ceremony rooms.

"My staff is dedicated to making this day as convenient and romantic as possible for the couples," Clerk-Recorder Hugh Nguyen said. "We are prepared to ensure that our customers experience a memorable wedding day on their special Valentine's Day."

Valentine's Day has consistently been one of the busiest days for civil marriages at the Clerk-Recorder. Last year, the department married 170 couples. The all-time record for the department is 173 ceremonies performed on Valentine's Day in 1997.

The department also issued 224 marriage licenses last year on Valentine's Day.

The County Clerk-Recorder provides a variety of public services, including recording documents relating to real property transactions, maintaining and issuing copies of vital records (birth, death and marriage certificates), issuing marriage licenses, and performing civil wedding ceremonies. The department additionally files Fictitious Business Names and Notary Public oaths and bonds.

Superior Court Urgently Seeks Grand Jury Applicants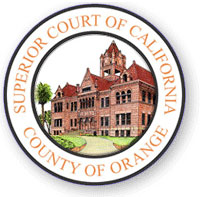 (Portions Courtesy of the Superior Court)

The Superior Court in Orange County urgently seeks Grand Jury applicants for the one-year term that begins July 1, 2014. Applicants are especially needed from the cities of Anaheim, Brea, Buena Park, Fullerton, Garden Grove, La Habra, Placentia, and Westminster. The selection of the 19-member Grand Jury panel is achieved by a random drawing of 25-30 candidates nominated for service, to equally represent each of the five Orange County Supervisorial Districts as required by law. Grand jurors receive a stipend and reimbursement for mileage.

"The Grand Jury's effectiveness is strongly influenced by the quality of its members," Supervisor Todd Spitzer said. "It is in the interests of all Orange County residents that the most qualified people apply to serve."

The Grand Jury performs civil oversight of local government by reviewing and evaluating county and city agencies, schools, and special districts within the county. The Grand Jury also considers evidence for possible indictment of individuals in felony cases.

The requirements to serve are:

At least 18 years old
United States citizen
Orange County resident for at least one year
Sufficiently fluent in written and spoken English
In possession of sound judgment, good character, and a sense of fairness
An application form and more information are available online at www.ocgrandjury.org, by calling (714) 834-6747, or at the Jury Commissioner's Office, 700 Civic Center Drive West, Santa Ana, CA 92701. Individuals meeting the above requirements are encouraged to apply by Wednesday, January 29, 2014.

Supervisor Spitzer Speaks at Noble Viking Charities Luncheon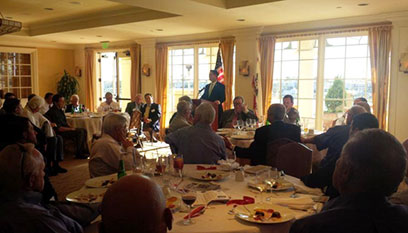 Yesterday, Supervisor Todd Spitzer spoke to the Noble Viking Charities of Orange County monthly luncheon.

"It is an honor to speak to charitable groups in the community, particularly those that help raise money for children," Supervisor Todd Spitzer said. "It is a pleasure to update these community leaders on the status of the County."

In his keynote address, Supervisor Spitzer spoke about his family history, his own charitable work with the Children's Hospital of Orange County, his efforts to combat drinking under the influence (DUI) of alcohol in Orange County, the violent rampage of former LAPD officer Christopher Dorner and its effects on Orange County, pension reform, the county budget battles with Sacramento, the near-completion of 20 years of debt payments for the County bankruptcy of 1994, and the County's recent credit rating upgrade. Additionally, he answered questions about AB 109 prison realignment, the ideological makeup of the State Legislature, and California's business climate.

Supervisor Spitzer also helped the organization honor 90-year-old Reed Sprinkel who founded the Noble Viking Charities of Orange County three decades ago.

The Noble Viking Charities of Orange County requires its members to donate to Christmas Food Baskets for children and families in need. The organization also supports various local charities at other times of the year by raising funds for disadvantaged children and families.

California Senate Fellows Application Deadline in Three Weeks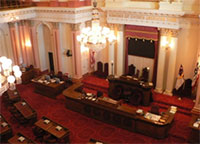 The four Capital Fellows programs are a set of unique opportunities for college graduates. Fellows work for ten months as full-time staff members in the State Assembly, the State Senate, the executive branch, or the judiciary while earning graduate credit.

"I got my start in public policy as a Senate Fellow after I graduated from college," Supervisor Todd Spitzer said. "The experience I gained in the State Capitol changed my professional and life goals."

Supervisor Spitzer served as a 1982-83 Senate Fellow in the office of Senator John Seymour (R-Anaheim). Chris Nguyen, a Policy Advisor in Supervisor Spitzer's office, served as a 2007-08 Senate Fellow in the office of Senator George Runner (R-Antelope Valley). Their experiences writing laws, working legislation and coordinating constituent services led Spitzer to pursue his Master of Public Policy and Juris Doctor and Nguyen to pursue his Master of Public Administration. Their further education enhanced the skills they developed in the Capitol as Senate Fellows, and they each still use those skills today in service to the people of Orange County.

The Senate Fellows and Assembly Fellows programs provide placements in legislative offices in the California State Capitol. The Executive Fellows program offers placements in various executive agencies throughout the Sacramento metropolitan area. The Judicial Administration Fellows program has its placements in courthouses throughout California.

"During my six years as a State Assemblyman, five Assembly Fellows worked for me," Spitzer said. "I was appreciative of the training they received in the six-week orientation and their weekly on-the-job policy seminars that no other legislative staffers receive."

Each of the four programs has a separate application, but all four require at least a personal statement, three letters of recommendation, and transcripts from all colleges attended. It is strongly suggested that at least one letter come from a college instructor and at least one letter come from an employer/supervisor. Applicants selected for interviews will do so in April and will be notified if they have been accepted in May.

All applicants must have their bachelor's degrees by September 2014 and must have been born no later than October 1994. Depending on which of the four programs they are in, Fellows serve from September/October 2014 to August/September 2015.

Applications are submitted online and are due by Monday, February 10. More information can be found online about the four Capital Fellows programs at www.csus.edu/calst/programs.

Pet of the Week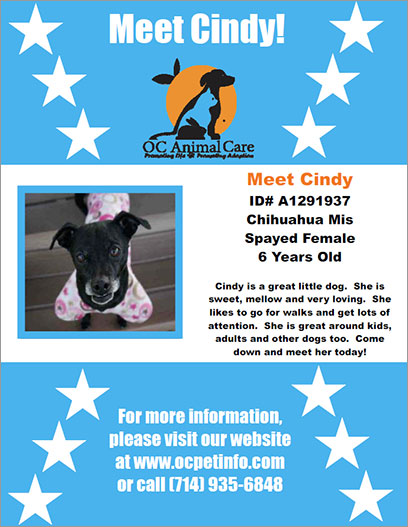 Click on the image above to view a PDF version.

Events Around the District

Anaheim
Toddlertime
Tuesday, January 21, 11:00 AM
Anaheim Public Library – Canyon Hills Branch, 400 Scout Trail

Irvine
Read to a Dog
Saturday, January 18, 11:00 AM – 12:00 PM
Orange County Public Library – Irvine University Park Branch,
4512 Sandburg Way

Orange
Science, Technology, Engineering, Arts, and Math (STEAM) for Teens – Mars Rover Technology
Saturday, January 18, 11:00 AM – 12:30 PM
Orange Public Library & History Center, 407 E. Chapman Ave.

Silverado
Trail Planting in Limestone Canyon
Sunday, January 19, 11:00 AM – 3:00 PM
Limestone Canyon Nature Preserve – Augustine Staging Area,
E. Santiago Canyon Rd. & Hicks Haul Rd.

Tustin
American Guitar Masters Concert
Tuesday, January 21, 7:00 PM – 8:30 PM
Orange County Public Library – Tustin Branch, 345 E. Main St.

Villa Park
Toddler Storytime for Ages 2-4
Tuesday, January 21, 10:30 AM – 11:00 AM
Orange County Public Library – Villa Park Branch, 17865 Santiago Blvd.

Yorba Linda
A Healthier You in 2014
Saturday, January 18, 2:00 PM
Yorba Linda Public Library, 18181 Imperial Hwy.




DISTRICT

STAFF
Martha Ochoa
Chief of Staff

Martin Gardner
Policy Advisor

Carrie O'Malley
Policy Advisor

Chris Nguyen
Policy Advisor

Christine Richters
Executive Aide



District Map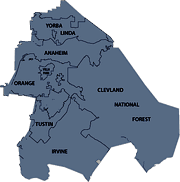 Anaheim, Irvine, Orange, Tustin, Villa Park, Yorba Linda, El Modena, North Tustin, Orange Park Acres, the Canyon Communities

Stay Updated!