May 30, 2014
Volume 2

Issue 21

Supervisor Spitzer Holds Community Meeting on Proposed JWA Flight Expansion, Urges Citizens to Submit Official Comments Now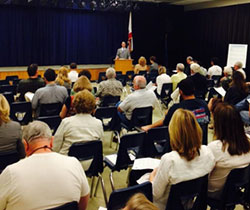 On Wednesday, Supervisor Todd Spitzer and John Wayne Airport (JWA) held a community meeting on the draft environmental impact report (EIR) that examines proposed changes in the latest proposed revision of the Settlement Agreement on JWA. The Settlement Agreement governs the facility and operational improvements at JWA after a lawsuit between the County and Newport Beach-based citizen groups.

"John Wayne Airport is one of the County's most high-profile agencies and is a vital part of our economic engine, but we must find a way to mitigate its impact on the quality of life of Orange County residents," Supervisor Spitzer said. "While much discussion centers on Newport Beach residents under the departure flight path, there needs to be more discussion about the Third District communities that are impacted by the arrival corridor."

Held from 6 PM to 8 PM at Hewes Middle School in North Tustin, the community meeting allowed members of the public to provide written and oral comments on the draft EIR. These comments are now part of the official record of the EIR, and responses to the comments must be included in the final EIR.

Comments can also be submitted by email or by mail until 5 PM on Tuesday, July 8. The draft EIR for the Settlement Agreement is available for public review and comment at www.ocair.com/communityrelations/settlementagreement/.

In addition to the online copies of the draft EIR, paper copies are available for review at six public libraries in the Third District:

Orange County Public Library – Irvine Heritage Park Branch
14361 Yale Avenue
Irvine, CA 92604
Orange County Public Library – Irvine University Park Branch
4512 Sandburg Way
Irvine, CA 92612
Orange Public Library and History Center
407 East Chapman Avenue
Orange, CA 92866
Orange Public Library – El Modena Branch
380 South Hewes Street
Orange, CA 92869
Orange County Public Library – Tustin Branch
345 East Main Street
Tustin, CA 92780
Copies are available at five other public libraries outside the Third District:

Orange County Public Library – Costa Mesa Donald Dugan Branch
1855 Park Avenue
Costa Mesa, CA 92627
Orange County Public Library – Costa Mesa Mesa Verde Branch
2969 Mesa Verde Drive
Costa Mesa, CA 92626
Orange County Public Library – Laguna Beach Branch
363 Glenneyre Street
Laguna Beach, CA 92651
Newport Beach Public Library
1000 Avocado Avenue
Newport Beach, CA 92660
Santa Ana Public Library
26 Civic Center Plaza
Santa Ana, CA 92701
Created in 1985 by the County of Orange, the Airport Working Group, the City of Newport Beach, and Stop Polluting Our Newport, the Settlement Agreement was set to expire at the end of 2005. In 2003, the four entities that signed the agreement approved a renewal through 2015 that included amendments permitting additional facilities and operational growth while maintaining environmental protections. With the first renewal set to expire at the end of next year, this is an opportunity for the public to weigh in on the terms and conditions for the renewal of the Settlement Agreement, which will govern JWA for years to come.

Supervisor Spitzer Provides County Update at Villa Park City Council Meeting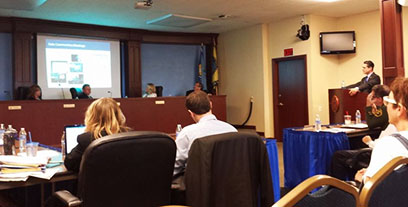 On Tuesday, Supervisor Todd Spitzer provided a County update to the Villa Park City Council. Spitzer spoke for approximately 20 minutes, followed by a question-and-answer session of about 40 minutes.

"It is always a privilege to provide an update to my fellow elected officials, the members of the public attending the meeting, and residents watching at home on television or online," Supervisor Spitzer said. "I thank the City Council for giving me time out of their meeting for this update and to the City staff for ensuring my PowerPoint presentation was visible in the Council chambers and in the television and online broadcasts."

Before beginning his presentation, Spitzer spoke in memory of former Villa Park Mayor Bill MacAloney who passed away from cancer last week at the age of 78.

Spitzer covered a broad array of issues in his update, including the Orange County Visionary Leaders' Conference, violence and mass murders, the Safe Communities Meeting series, the DUI epidemic in Orange County, the social host ordinance, GPS tracking of probationers, freeway improvements, the County budget, the County credit rating, pension reform, County labor negotiations, assessment appeals process improvements, and reforms in the Clerk-Recorder's office.

During the question-and-answer session, Spitzer and the Council discussed a number of topics, including Villa Park's contract for police services with the Orange County Sheriff's Department, labor negotiations, pension reform, and the status of OC Animal Care fees and services.

Spitzer's PowerPoint can be accessed here.

Orange County Honors Fallen Peace Officers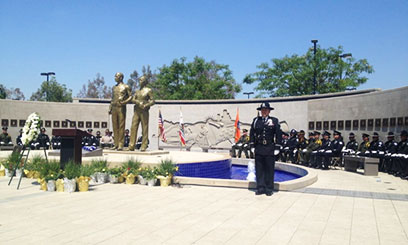 On Wednesday, the Orange County Sheriff's Advisory Council and the Orange County Chiefs of Police and Sheriff's Association held the annual Peace Officers' Memorial Ceremony at the Orange County Sheriff's Regional Training Academy in Tustin.

"We can never adequately thank the fallen heroes who have paid the ultimate price to protect and serve the residents of our County," said Supervisor Todd Spitzer. "I am always grateful for their courage and sacrifice."

At this year's ceremony, a fifty-third name was added to the memorial wall: Laguna Beach Police Officer Jon Coutchie, who was killed in the line of duty in September at the age of 41 while pursuing a reckless driver. Coutchie was an Army Ranger veteran of the wars in Iraq and Afghanistan. He is only the second Laguna Beach Police Officer to die in the line of duty, after Gordon French in 1953.

Supervisors Todd Spitzer, Shawn Nelson, and Janet Nguyen joined Sheriff-Coroner Sandra Hutchens and members of 40 Orange County law enforcement agencies at the ceremony to pay tribute to Coutchie and the other 52 Orange County law enforcement personnel who died in the line of duty.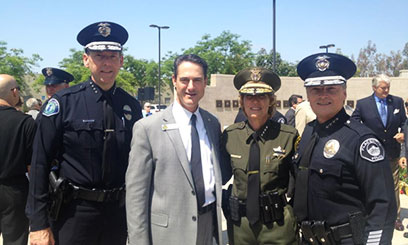 Irvine Police Chief Dave Maggard and Supervisor Todd Spitzer with Sheriff-Coroner Sandra Hutchens and Placentia Police Chief Rick Hicks at the OC Peace Officers' Memorial Ceremony

Tustin Street Fair and Chili Cook-Off on Sunday – Please Stop by Supervisor Spitzer's Booth!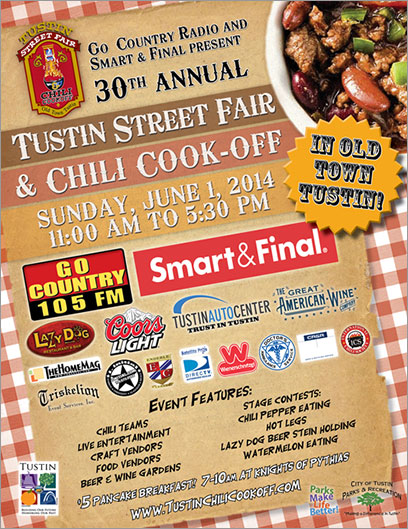 Click on the image above to view a PDF version.
On Sunday, the City of Tustin is hosting the 30th Annual Tustin Street Fair and Chili Cook-Off.

"The Street Fair and Chili Cook-Off are a time-honored tradition in Tustin," Supervisor Todd Spitzer said. "The City expects 40,000 people to take part in this wonderful community event."

Known as the nation's largest one-day chili competition, this year's projected attendance of 40,000 will far surpass last year's 37,000-person attendance. There are 51 chili teams entered in the International Chili Society and People's Choice contests while the street fair will have 128 booths.

Event attendance is free. The Street Fair and Chili Cook-Off is centered at El Camino Real and Main Street and stretches to neighboring blocks. Parking is available at City Hall at 300 Centennial Way and other streets adjacent to the event.

More information is available at www.tustinchilicookoff.com.

Election Day on Tuesday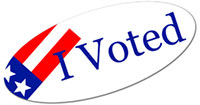 This coming Tuesday, June 3, is Election Day. Voters will cast their ballots throughout the state for numerous state and local offices.

"The American form of government works best when citizens participate in the process," Supervisor Todd Spitzer said. "I encourage all registered voters to cast their ballots in Tuesday's election."

The Registrar of Voters has set up a web site for voter election information, including where their polling places are, copies of their sample ballots, and how to obtain an emergency absentee ballot.

Polling places are open from 7:00 AM-8:00 PM on Tuesday. Vote-by-mail ballots (formerly known as absentee ballots) must arrive at the office of the Registrar of Voters or at a County polling place by 8:00 PM on Tuesday (postmarks do NOT count). With only four days until the election, residents are discouraged from sending these ballots by mail, as postal delays may result in them failing to arrive in a timely fashion. These vote-by-mail ballots can be dropped off at any polling place on Tuesday or at the Registrar's office today, Monday, or Tuesday.

Voters throughout Orange County will cast their ballots on eight statewide offices, the State Board of Equalization, United States Representative, State Assembly, seven Countywide offices, four judicial seats, two State ballot measures, and one County ballot measure.

Residents will also vote for State Senate in three of Orange County's five Senate districts, Supervisor in three of the five supervisorial districts, and members of the County Board of Education in two of the five education trustee areas.

Voters of the Irvine Unified School District have a special election for a six-month term on their school board. Residents of the City of Anaheim will vote on three City ballot measures while residents of the Buena Park School District will have one measure before them.

Santa Ana Dedicates Paul M. Walters Police Administration Building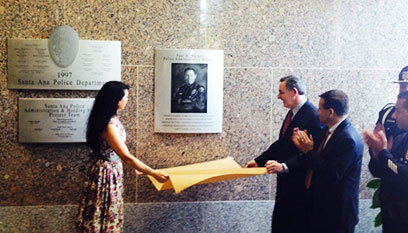 Former Santa Ana Police Chief Paul M. Walters and his wife, Mary, unveil the plaque dedicating the Paul M. Walters Police Administration Building, as Mayor Miguel Pulido and current Chief Carlos Rojas applaud.
Yesterday, Supervisor Todd Spitzer joined former Santa Ana Police Chief Paul Walters and the Walters family at the City of Santa Ana's dedication of the Paul M. Walters Police Administration Building.

"Paul Walters is one of the longest-serving police chiefs of a major city in modern American history," Supervisor Spitzer said. "I congratulate Chief Walters on this well-deserved honor."

Walters served as Santa Ana's Chief of Police from 1988 to 2013 and was also concurrently City Manager from 2011 to 2013. During his tenure as Chief, Santa Ana grew from 293,000 people to 335,000 people, yet the crime rate fell to its lowest level in nearly 40 years despite budget cuts decreasing the number of police officers from 359 down to 320.

A veteran of the United States Air Force, Walters earned his Bachelor of Arts in Criminal Science from California State University, Fullerton, Master of Public Administration from the University of Southern California, and Juris Doctor from the American College of Law. His son Gary is a Captain with the Los Angeles Police Department, son Michael is a Deputy with the Orange County Sheriff's Department, and daughter Dani is a junior high school teacher in Hawaii.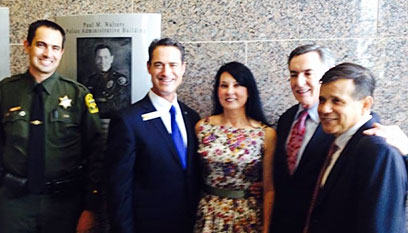 Deputy Michael Walters (Paul Walters' son), Supervisor Todd Spitzer, Mrs. Mary Walters, former Chief Walters, and Mayor Miguel Pulido at the dedication of the Paul M. Walters Police Administration Building.

Pet of the Week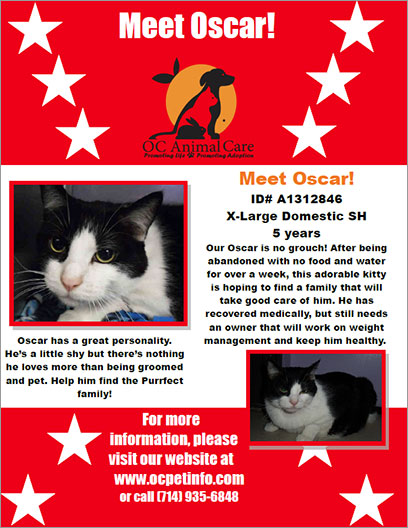 Click on the image above to view a PDF version.



Click on the image above to view a PDF version.

Events Around the District

Anaheim
Canyon Retro Café for Teens at Canyon Hills
Tuesday, June 3, 3:00 PM – 5:00 PM
Anaheim Public Library – Canyon Hills Branch, 400 Scout Trail

Irvine
David Sills Lower Peters Canyon Park Dedication Ceremony
Saturday, May 31, 3:00 PM – 4:30 PM
David Sills Lower Peters Canyon Park Tennis Court, 3901 Farwell Ave.

Orange
Paws to Read – Children Reading to Certified Therapy Dogs
Wednesday, June 4, 3:30 PM – 4:00 PM
Orange Public Library – El Modena Branch, 380 S. Hewes St.

Silverado
Canyon Clean Sweep
Saturday, May 31, 9:00 AM – 4:00 PM
Sunday, June 1, 9:00 AM – 4:00 PM
Silverado Community Center, 27641 Silverado Canyon Rd.

Tustin
Coffee with a Cop
Wednesday, June 4, 8:00 AM – 9:00 AM
Kean Coffee, 13681 Newport Ave., #14

Yorba Linda
Pajama-Rama Storytime
Wednesday, June 4, 7:00 PM – 7:45 PM
Yorba Linda Public Library, 18181 Imperial Hwy.




DISTRICT

STAFF
Martha Ochoa
Chief of Staff

Chris Nguyen
Senior Policy Advisor

Carrie O'Malley
Senior Policy Advisor

Martin Gardner
Policy Advisor

Christine Richters
Executive Aide



District Map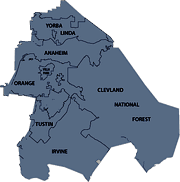 Anaheim, Irvine, Orange, Tustin, Villa Park, Yorba Linda, El Modena, North Tustin, Orange Park Acres, the Canyon Communities

Stay Updated!