July 11, 2014
Volume 2

Issue 27

Spitzer and Veterans Advisory Council Chair Bobby McDonald Lead Orange County Veterans Cemetery

Supervisor Spitzer says a Third District location search is underway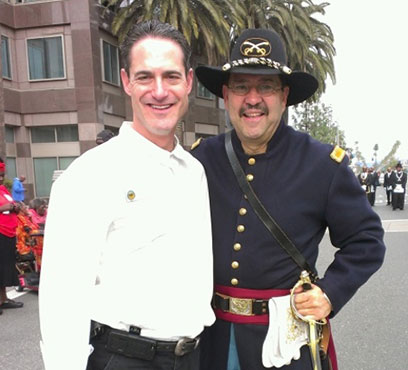 Supervisor Spitzer and Bobby McDonald
(Photo: Supervisor Spitzer and Bobby McDonald)

Support for a veterans cemetery in Orange County has been gaining momentum but the obstacle of finding the right location has remained a major road block.

"The Third District is a natural fit to provide a home to a veterans cemetery because it has the canyons and a significant and substantial amount of the most open space in the vicinity of the Marine Corps Air Station El Toro," Spitzer said. "It's time to come together in the Third District to find a viable option. I'm inviting Orange County leaders in the Third District to get the word out that we are in search of a land donation of over 100 acres to build a veterans cemetery."

Spitzer's office said that he will be hosting an intense discussion of possible locations. He will be inviting each of the Mayors in the Third Supervisorial District, which includes Irvine, Tustin, Orange, Villa Park, Yorba Linda, and Anaheim Hills.

Orange County Supervisor Todd Spitzer has partnered with the Chair of the Orange County Veterans Advisory Council, Bobby McDonald, to host this meeting where they will call for land donations to build a veterans cemetery.

"I'm always looking to expand services for veterans. I ask myself, 'Does this help a veteran?' and if it does, I'm in support," McDonald said. Bobby McDonald is Chair of Orange County Veterans Advisory Council and Spitzer's District Representative on the Council.

Spitzer said the County has already received interest regarding a parcel located in Modjeska Canyon. The 100.36-acre Saddleback Vineyards property is located between Modjeska Grade Road and the Cleveland National Forest in the Foothill-Trabuco Specific Plan Area. The Santiago Truck Trail access route to the Cleveland National Forest is located on the northern ridgeline of the property.

There has also been support for a cemetery to be constructed at the closed El Toro Marine Base, which Spitzer still supports but based on recent conversations, believes that alternative sites need serious consideration.

"Whatever happens there, I'm going to work to honor our veterans and celebrate their heroism. We need to preserve and promote the important sacrifices that men and women have made to keep our country free," Supervisor Spitzer said.

California has the largest veteran population in the nation with an estimated population of over 130,000 veterans in Orange County. Orange County has the third largest population of veterans of any county but does not have a veterans cemetery. The Advisory Group will be looking for possible land donations of parcels larger than 100 acres.

Supervisor Todd Spitzer on KFI Talking About Recidivism Rates


Supervisor Spitzer was on The Bill Carroll Show on KFI talking about recidivism rates since the California State Legislature's public safety realignment policy (AB 109) began in 2011. A recent report issued by the Public Policy Institute of California (PPIC) found mixed results on shifting the responsibility of more than 30,000 non-violent offenders from the state to the local level.

The PPIC writes in their report, Is Public Safety Realignment Reducing Recidivism in California?, that the proportion of offenders who are convicted after arrest is up.

Click here to listen to the radio clip.

Orange Community Master Chorale Director Mike Short Honored by Supervisor Spitzer


Supervisor Spitzer and Orange Community Master Chorale Director Mike Short
Supervisor Spitzer was very proud to recognize and honor Mike Short at the 19th Annual 3rd of July Celebration at Fred Kelly Stadium in the City of Orange. Supervisor Spitzer joined State Assemblyman Don Wagner and State Senator Lou Correa in commending the Orange Community Master Chorale and its Director, Michael Short.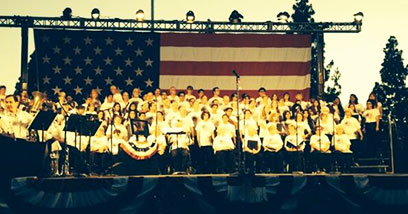 Orange Community Master Chorale
In 1994, Short led a group of fifteen recent graduates of Orange High School to form an alumni choir that was founded as the Orange Community Chorus and eventually became what is now known as the Orange Community Master Chorale. Short's leadership of the Orange Community Master Chorale has ensured that it has participated in inspiring community events in Orange for the last twenty years. He is well-recognized for his dedication and excellence as an educator and has earned the following awards: the Bravo Award from the Los Angeles Music Center in 2002 for excellence in music education; Outstanding Teacher by the Orange Unified School District in 2003, and Alumnus of the Year by Chapman University in 2004.

"Music inspires the best in people and brings them together," Spitzer said. "The residents of Orange County are fortunate to be served by an individual of the caliber of Michael Short."

Find more information about the Orange Community Chorus, click here.

Life Liberty Lake Forest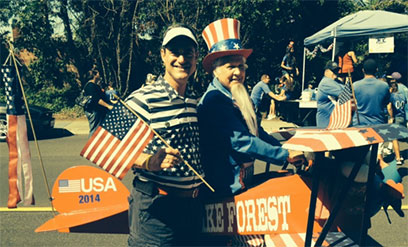 A special thanks to the City of Lake Forest and its Fourth of July Parade Committee for coordinating a wonderful community parade and event to celebrate the 4th of July. The day kicked off with a pancake breakfast sponsored by the Kiwanis. Others joined in the Lake Forest Firecracker 5K Run/Walk that was sponsored by the City of Lake Forest and the El Toro High School Parent, Student, Teacher Organization. The race course and parade routed through the tree lined streets of the community. There were close to 1,500 participants in last year's race and July 2014 marked the 20th anniversary of this event.

All proceeds from this fundraiser go toward purchasing educational supplies, equipment and programs that benefit the students of EI Toro High School.

Supervisor Spitzer was pleased to participate in the City's Fourth of July parade, "Life Liberty Lake Forest!"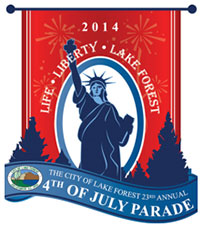 (2014 Fourth of July Logo Design Winner by Joanna Pallo)

Supervisor Spitzer Donates to the Equalizers Running Club High School Athletics Scholarship Fund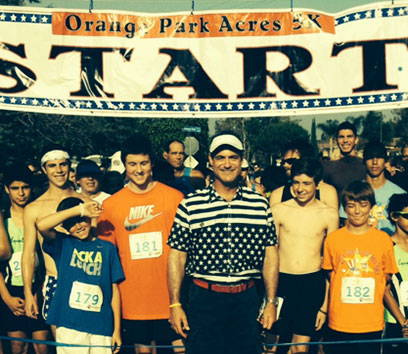 Supervisor Spitzer offered his support of $1,000 to The Equalizers Running Club High School Athletics Scholarship Fund at the Annual Orange Park Acres 4th of July – 5K & 10K. Each year, the Orange Park Association (OPA) holds this event to raise funds for scholarships and trails. Scholarships are available for high school track and cross country runners and funds are provided for the maintenance and beautification of community trails.

Community volunteers, residents and local businesses come together to support this worthy cause and to celebrate the 4th of July. "It's an honor to be part of something that is doing great things for the youth and for the community," Todd Spitzer said.

For more information on how to become involved with OPA, click here.

Rating Agency Meetings in New York with Orange County Transportation Authority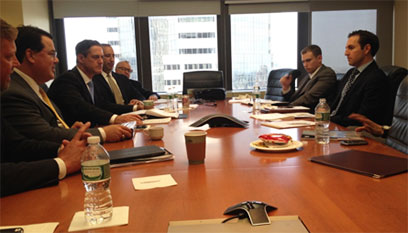 As a County Supervisor, Supervisor Spitzer is required to represent Orange County on various boards, commissions and agencies. Each year, the Orange County Transportation Authority (OCTA) travels to New York to attend important meetings with rating agencies and banks. As the Finance and Administration Committee Chairman for OCTA, Spitzer was called on to travel to New York City with OCTA Chairman Shawn Nelson and Chief Executive Officer Darrell Johnson for the annual meeting with financial rating agencies, bond insurers, and underwriters. The meetings updated the companies on the current status of OCTA's financial and operating conditions. Spitzer visited AIG, Bank of America/Merrill Lynch, Barclay's Capital, Fitch Ratings, JP Morgan, Moody's Investor Service, Standard & Poor's and Stantec.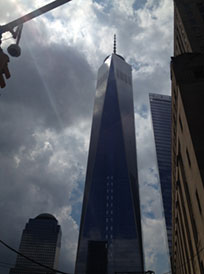 Freedom Tower NYC by Supervisor Todd Spitzer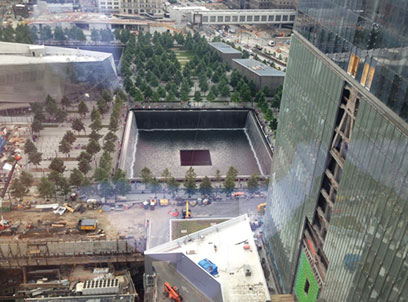 World Trade Center Construction by Supervisor Todd Spitzer

Kids Ride Free on Angels Express

(Courtesy of Orange County Transportation Authority)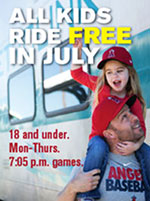 July is a great time to head out to the ballgame. In July, all kids 18 and under get to ride for free on the Angels Express to games that start at 7:05 p.m. Monday through Thursday.

Normally, roundtrip adult tickets on the Angels Express are $7, $6 for seniors and the disabled and tickets for kids between the ages of 6-18 are $4. Up to three younger children can ride free with a fare-paying adult. Not bad for a rolling Angels' party train that delivers game attendees straight to the Angel Stadium parking lot – no parking fee required.

The July all-kids-ride-free special makes this great deal even better, presenting a tremendous opportunity to bring the entire troop or youth group out for a summer evening at the ball park.

Angels fans appreciate the service that helps them avoid traffic and parking hassles and have boosted Angeles Express ridership to a record 19,772 boardings. That is 7 percent higher than this time last year.

All kids ride free to these games:

Monday, July 21: Angels v. Baltimore Orioles
Tuesday, July 22: Angels v. Baltimore Orioles
Wednesday, July 23: Angels v. Baltimore Orioles
Thursday, July 24: Angels v. Detroit Tigers
View schedules, stations and other Angels Express information at octa.net/angelsexpress.

Pet of the Week


Click on the image above to view a PDF version.

Events Around the District

Anaheim
Nature's Window at Canyon Hills
Monday, July 14, 6:30 PM
Anaheim Public Library – Canyon Hills Branch, 400 Scout Trail

Irvine
Movie on the Lawn
Saturday, July 12, 7:30 PM – 10:00 PM
Orange County Great Park, Sand Canyon and Marine Way

Certified Farmers Market
Sunday, July 13, 10:00 AM – 2:00 PM
Orange County Great Park, Sand Canyon and Marine Way

Orange
Living With Coyotes
Monday, July 14, 6:00 PM – 8:00 PM
Orange Public Library & History Center, 407 E. Chapman Ave.
http://ocpetinfo.com/civicax/inc/blobfetch.aspx?BlobID=36573

Silverado
8th Annual Silverado Summer Concert Series
G.G.B. Gilly's Garage Band (Old School Blues)
Saturday, July 19, 6:00 PM – 8:00 PM
Silverado Community Center, 27641 Silverado Canyon Rd.

Tustin
Concert in the Park – Country
Wednesday, July 16, 6:00 PM – 8:00 PM
Peppertree Park, 230 W. First St.

Movies in the Park
Wednesday, July 24, Activities 5:30 PM – 7:30 PM Movie at 8:00 PM
Parks include: Cedar Grove Park, Centennial Park, Frontier Park, Heritage Park, Peppertree Park

Villa Park
Digging Up Buried Treasure
Thursday, July 17, 3:00 PM – 5:00 PM
Villa Park Library 17865 Santiago Blvd.

Yorba Linda
Concerts in the Park
Sunday, July 13, 5:30 PM – 7:00 PM
Hurless Barton Park, 4601 Casa Loma Ave.




DISTRICT

STAFF
Martha Ochoa
Chief of Staff

Melanie Eustice
Communications Director

Chris Nguyen
Senior Policy Advisor

Carrie O'Malley
Senior Policy Advisor

Martin Gardner
Policy Advisor

Melissa March
Policy Advisor

Christine Richters
Executive Aide



District Map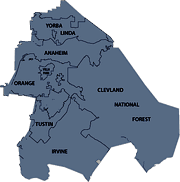 Anaheim, Irvine, Orange, Tustin, Villa Park, Yorba Linda, El Modena, North Tustin, Orange Park Acres, the Canyon Communities

Stay Updated!