July 18, 2014
Volume 2

Issue 28

Residents and Elected Officials Urge Approval of the Orange County Sheriff's Deputies Contract

Deputies Will Cover 100% of Employee Pension Contribution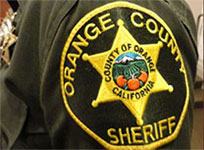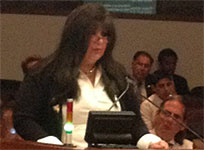 Donna Porter, Business and Community Leader


Left to right: OC Sheriff Sandra Hutchens and Orange County District Attorney Tony Rackauckas
Residents and elected officials attended the Board of Supervisors meeting this week to speak in favor of the Memorandum of Understanding with the Association of Orange County Deputy Sheriffs (AOCDS) for Peace Officer and Supervising Peace Officer Units. When the Board of Supervisors entered into negotiations with the Orange County Sheriff's Deputies, their goal was to reduce taxpayers' pension burden by having employees pay 100 percent of their employee retirement contributions. This contract achieves 100 percent pickup by all deputies.

Orange County District Attorney Tony Rackauckas and Tom Dominguez, President of the Association of Orange County Deputy Sheriffs attended the board meeting and spoke in favor of the agreement on Tuesday.

"It's been a long time coming with a lot of negotiations, but it arrives at a good balance," Rackauckas said in urging the board to support the agreement. Rackauckas, however, warned county officials about asking too much of employees, making it harder to recruit.

In San Jose, city officials a decade ago boasted of having the safest large city in the country. But when police officers were required to cover the full cost of their retirement benefits, the tide turned, Rackauckas said.

"It was devastating to their police department since that's gone into effect," Rackauckas said. "They're struggling to put that police department back together again, but they're hemorrhaging police officers ... They've had literally hundreds of transfers ... and their crime rate has gone up. They're now higher than the national average, higher than the state average, and they can no longer brag they're the safest city. In fact, far from it."

Response times for crimes in that Northern California city have gone from eight minutes to 20 minutes, Rackauckas said. Worse, he said, the city is "spending large amounts of money on training" recruits, only to lose them in a short time to other departments that can offer better pay and benefits.

"They have a very real concern they're training people for other departments," Rackauckas said. The deal was also supported by Sheriff Sandra Hutchens, who called the deal "fair."

Also advocating for the passage of the deputies contract were business leaders and crime victim advocates including Gary and Colleen Campbell.

Orange County cities protected by the Sheriff's Department consistently rank among the safest cities in America but that safety and security come at a cost. The County of Orange has invested millions of dollars recruiting and training experienced law enforcement officers and Supervisor Spitzer is committed to ensuring that the OC Sheriff's Deputies are equipped with the tools and training they need to keep Orange County a great and safe place to live and work.

Under the new contract, Sheriff's Deputies will be paying more than any other police officers in Orange County. While other municipal agencies pay 9-12 percent of salaries in retirement contributions, Orange County Deputies will pay between 14 and 20 percent. That is because our OC deputies are part of Orange County Employees Retirement System (OCERS) and not California Public Employees' Retirement System. OCERS has recently reduced its rate of return in investments, thereby costing employees more in contributions.

With deputies stepping up to the plate to cover the full cost of their pensions, AOCDS started negotiations asking for across the board salary increases. The Board of Supervisors insisted on merit based increases. In addition, the new contract requires a 5.5 percent reduction in pay for new deputy sheriffs to create immediate and long-term savings for County taxpayers.

"As a fiscal conservative and public safety advocate, I will continue to work to balance our responsibility to provide for the safety of our communities while remaining fiscally prudent for the taxpayers," said Supervisor Todd Spitzer.

Supervisor Spitzer said that he is thankful to both sides in this negotiation for being willing to "give up" some to protect the fiscal solvency of the County without jeopardizing public safety. "We achieved 100 percent retirement contributions by our deputy sheriffs, preserved our ability to recruit and retain quality law enforcement officers, and will continue to provide quality law enforcement to our residents all at a minimum cost to taxpayers."

Spitzer's Search for Veterans' Cemetery Site is Underway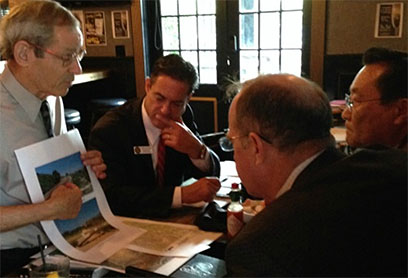 Supervisor Spitzer briefed by OC Parks Staff with Irvine Mayor Steven Choi and Anaheim Mayor Tom Tait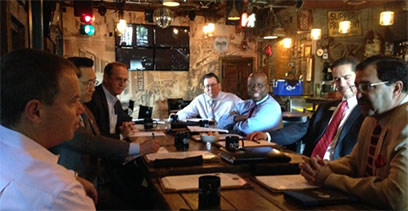 Supervisor Spitzer with Yorba Linda Mayor Craig Young, Irvine Mayor Steven Choi, Anaheim Mayor Tom Tait, Tustin Mayor Al Murray and Bobby McDonald, OC Veteran Advisory Council Chair
Support for a veterans' cemetery in Orange County has been gaining momentum but the obstacle of finding the right location has remained a major road block. The Third District is a natural fit to provide a home to a veterans' cemetery because it has the canyons and a significant and substantial amount of open space.

This week, Orange County Supervisor Todd Spitzer partnered with the Chair of the Orange County Veterans Advisory Council, Bobby McDonald, to host a meeting to call for donations of land to build a veterans cemetery.

Spitzer said the County has already received interest regarding a parcel located in Modjeska Canyon. The 100.36-acre Saddleback Vineyards property is located between Modjeska Grade Road and the Cleveland National Forest in the Foothill-Trabuco Specific Plan Area. The Santiago Truck Trail access route to the Cleveland National Forest is located on the northern ridgeline of the property.

"I'm going to work to honor our veterans and celebrate their heroism. We need to preserve and promote the important sacrifices that men and women have made to keep our country free," Supervisor Spitzer said.

California has the largest veteran population in the nation with an estimated population of over 130,000 veterans in Orange County. Orange County has the third largest population of veterans of any county, but does not have a veterans' cemetery. The Advisory Group will be looking for possible land donations of parcels larger than 100 acres.

Spitzer Gains Amendment for Inclusion of "Supposals" in OC COIN Ordinance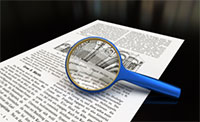 Supervisor Spitzer says supposals without public knowledge is not transparent at all

At the Board Meeting on Tuesday, the Board of Supervisors considered the Civic Openness in Negotiations (COIN) proposal. The proposal increases levels of transparency and public disclosure regarding labor negotiations before the agreements can be approved by the Board of Supervisors.

Spitzer raised concern over supposals, which are hypothetical offers that the Board discusses in closed session. Under current policy, these potential offers are not disclosed to the public.

"When you do any proposal, formal or through a hypothetical offer, it should be reported out," Supervisor Todd Spitzer said. "The people have the right to know."

Stating that supposals in closed session are not transparent and not fair to the process, Spitzer asked that the County draft language to be included in the COIN proposal to improve the effectiveness of the proposed ordinance. His proposal received unanimous Board support. In addition, the COIN proposal would require:

Each offer and counteroffer must be disclosed to the public within 24 hours during the negotiation process
Disclosure of each negotiating session information, including the date, the session length, the location, and a list of all people who attended
The Auditor-Controller must prepare an Independent Economic Analysis summarizing the fiscal costs of current benefit and pay components in comparison to the costs in each offer or counteroffer
No labor agreement can be voted on by the Board of Supervisors until the matter has been heard at two meetings of the Board where the public has the right to review and comment on the proposed labor contract
An outside party must represent the County in labor negotiations unless waived by a majority vote of the Board of Supervisors
Modeled on Costa Mesa's COIN ordinance, the County's COIN proposal is scheduled to come back to the Board of Supervisors on July 22 for the first reading and for a second reading on August 5. If the second reading is approved, then COIN will take effect 30 days later.

OC Sheriff's Department Receives NACo Awards

(Courtesy of OC Sheriff's Department)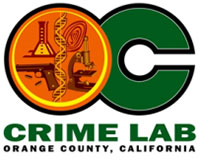 Congratulations to the Orange County Crime Lab (OCCL) who recently received a National Association of Counties (NACO) Achievement Award for their excellent work in Driving Under the Influence of Drugs, Enhanced Detection and Collaboration.

"Bruce Houlihan and his staff continue to do great work for Orange County residents," Supervisor Spitzer said. "I'm glad to see the OC Sheriff's Department's fight against drunk driving ramped up."

Due to the recent increase of people driving under the influence of drugs (DUID) the crime lab recognized a need for comprehensive analytical testing of DUID cases and improved expert testimony. The goal was to improve testing methodology, collaborate with stakeholders to identify drug trends, and provide comprehensive testing and expert testimony services. This was achieved through grant funding, increased and improved training and public relations, expansion of drug detection research and development and collaboration with criminal justice stakeholders and traffic safety policy makers.

OC Agencies Win Twelve 2014 NACo Achievement Awards

(Courtesy of OC CEO/Communications)



Orange County departments and agencies racked up 12 winners out of 15 entries submitted to the National Association of Counties (NACo) Achievement Awards for 2014. The association this month spotlighted winners across the country that celebrates innovative programs to modernize county governments.

Headquartered in Washington, DC, NACo was founded in 1935 to represent the interests of the nation's county governments. It has over 2,350 member counties.

Here are OC's winning agencies and what they were recognized for:

Civic Education and Public Information awards went to OC Parks for its Go Green at the OC Zoo recycling promotion; and to Child Support Services for its Community Education Initiative, "a customer-centric approach to service delivery by taking an active role in connecting customers with resources through education."

An Environmental Protection and Energy award went to OC Waste & Recycling for its Natural Bird and Vegetation Abatement Program in which falcons and hawks were used to drive hordes of seagulls from landfills, while goats were employed to clear weeds. Another award in the same category went to the OC Sheriff's Department for its Theo Lacy Facility Sustainability Program, in which deputies Jim Hamill and Bill Wagner have been able to eliminate over 60% of the facility's landfill-bound waste by recycling.

Human Services awards were given to OC Community Services for its Veterans Affairs Supportive Housing Program of housing subsidies and case management services for homeless veterans with disabilities including mental and addictive disorders; and to Child Support Services for its Collaboration with Superior Court, Family Law Facilitator & Self-Help Center entry, aimed at providing legal services and resources to address their customers' challenges.

A Community/Economic Development award went to the OC Health Care Agency and OC Community Services, who joined forces on a Mental Health Services Act Housing program that is providing 428 affordable housing units for mentally ill and other homeless persons.

A Criminal Justice and Public Safety award was given to the OC Crime Lab for its Driving Under the Influence of Drugs, Enhanced Detection and Collaboration research to improve methodologies for measuring the amounts of different drugs in suspects' blood.

A NACo Health award went to OC Community Services' Office on Aging, in partnership with the Orange County Health Care Agency and others on their "Healthier Living" Collaborative to bring community programs to disenfranchised, disabled, and elderly communities in Orange County, to help deal with chronic disease and other problems.

An award for Information Technology went to the Orange County Registrar of Voters for its entry, Learning from Logistics Experts to Improve Elections Operations. By judicious use of technology and studying companies that use logistics every day, the Registrar of Voters has made dramatic improvements in the time taken to process ballots.

A Planning award was given to OC Public Works and OC Parks for their collaboration on the Haster Retarding Basin, Pump Station and Recreational Field Project, in which the basin was upgraded to better handle a 100-year flood, while providing an additional two acres of much-needed park area to the county.

Finally, an award in the Parks and Recreation category went to OC Parks for its OC Parks Summer Concert Series. As it is doing again this year, OC Parks hosted a series of free concerts in several different parks last year, and did it cost-effectively by using an outside promoter to organize all the events.

Judging the 2014 Eco Challenge Poster Contest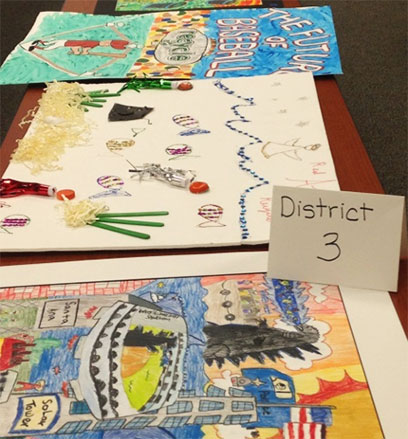 Third District Eco Challenge Poster Entries
The announcement of the winners from the 2014 Eco Challenge Poster Contest is just around the corner. This week county staff was asked to judge various entries from the Third Supervisorial District.

"There were a lot of creative entries that reflect talent and environmental awareness. Every entry looked like a winner," Todd Spitzer said.

Five lucky winners (one from each of Orange County's Supervisorial Districts) will be awarded the status of Honorary Bat Kid during one of five predetermined Angels Baseball home games in July, August or September 2014.

OC Zoo Offers Animated Animals with the Chuck Jones Center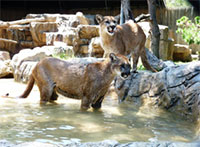 Animated Animals will bring in an artist from the famous Bugs Bunny animator's center to teach children how to draw, using the Orange County Zoo's animals as inspiration on August 6 at 10:30 a.m. The class is for children ages 9 to 16, and space is limited. Registration for the $10 class is available by calling (714) 973-6846. The OC Zoo is located in Irvine Regional Park.

The OC Zoo displays native Orange County animals like mountain lions, coyotes and bobcats, as well as animals from throughout the southwestern United States. The zoo offers story time, tours for schools and scouts, and preschool programs. Best of all, admission only costs $2.

Animals on exhibit include black bears, bald eagles, island foxes, an ocelot, red-tailed hawk, great horned owls, porcupine, coyotes, turkey vultures, coati and more.

The zoo also features a barnyard with domestic goats, Jacob sheep, doves and pheasants. Visitors can feed the barnyard animals, and even brush and pet the goats.

The OC Zoo provides a home for animals that can't be released in the wild due to injuries or socialization issues. For example, the zoo's two young mountain lions – Santiago and Modjeska – were orphaned when they were cubs and could not have survived on their own.

On the weekends, Keeper Talks let visitors ask the zoo's animal keepers questions. Throughout the week, the zoo has scheduled feeding and training times the public can watch, and docents bring smaller education animals out for visitors to see up close. Visitors just might see the keepers taking Betty the Beaver on a walk on her leash or dressed in costume at the zoo's holiday-themed events.

To learn more about the zoo and its programs, go to ocparks.com/zoo or watch this video.

The OC Zoo is located at 1 Irvine Park Road, Orange, CA 92869 in the Irvine Regional Park and is open daily from 10 a.m. to 3:30 p.m. weekdays, and weekends from 10 a.m. to 4:30 p.m. Admission is $2 per person ages 3 years and over; ages 2 years and under are free.

Parking for Irvine Regional Park is $3 per vehicle weekdays and $5 per vehicle weekends (more on major holidays).

Pet of the Week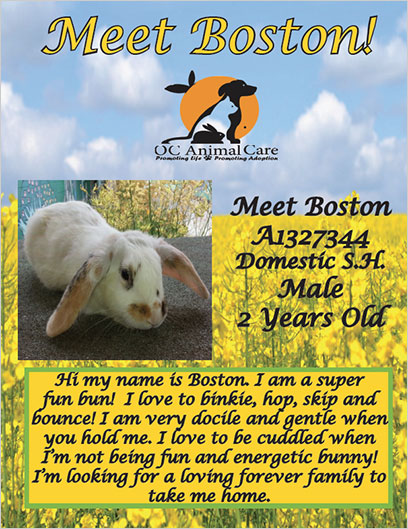 Click on the image above to view a PDF version.

Events Around the District

Anaheim
The Boo Hoo Crew
Saturday, July 19, 11:00 AM
Anaheim Public Library – Canyon Hills Branch, 400 Scout Trail

Irvine
OC Parks Summer Concert Series with Suburban Legends and Papafish
Thursday, July 24, 6:00 PM – 8:00 PM
Orange County Great Park, Sand Canyon and Marine Way

Orange
Concerts in the Park
Wednesday, July 23, 7:00 PM – 8:30 PM
Hart Park Band Shell, 701 S Glassell St, Orange

Silverado
8th Annual Silverado Summer Concert Series
G.G.B. Gilly's Garage Band (Old School Blues)
Saturday, July 19, 6:00 PM – 8:00 PM
Silverado Community Center, 27641 Silverado Canyon Rd.

Tustin
Concert in the Park – Country
Wednesday, July 23, 6:00 PM – 8:00 PM
Peppertree Park, 230 W. First St.

Movies in the Park
Thursday, July 24, Activities 5:30 PM – 7:30 PM Movie at 8:00 PM
Parks include: Cedar Grove Park, Centennial Park, Frontier Park, Heritage Park, Peppertree Park

Villa Park
Wildlife Wonders with the OC Zoo
Tuesday, July 22, 11:00 AM
Villa Park Library, 17865 Santiago Blvd.

Yorba Linda
Concert in the Park
Sunday, July 27, 5:30 PM – 7:00 PM
Hurless Barton Park, 4601 Casa Loma Ave.

Meet Teddy Roosevelt
Tuesday, July 22, 10:30 AM
Nixon Presidential Library & Museum, 18001 Yorba Linda Blvd.




DISTRICT

STAFF
Martha Ochoa
Chief of Staff

Melanie Eustice
Communications Director

Chris Nguyen
Senior Policy Advisor

Carrie O'Malley
Senior Policy Advisor

Martin Gardner
Policy Advisor

Melissa March
Policy Advisor

Christine Richters
Executive Aide



District Map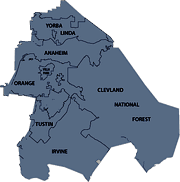 Anaheim, Irvine, Orange, Tustin, Villa Park, Yorba Linda, El Modena, North Tustin, Orange Park Acres, the Canyon Communities

Stay Updated!