September 26, 2014
Volume 2

Issue 37

CalOptima Ranked Top Medi-Cal Plan in California


(Portions courtesy of CalOptima)

Significant improvements have been made at CalOptima. According to the National Committee for Quality Assurance's (NCQA) Medicaid Health Insurance Plan Rankings 2014–2015, CalOptima is now California's best overall Medi-Cal health plan.

"As a CalOptima Board Member, I am committed to working toward ensuring that CalOptima is run efficiently and is providing quality services to our community," Supervisor Spitzer's commented.

CalOptima is the top-ranked plan in the state and 29th nationwide among the 136 Medicaid plans that were ranked. The NCQA rankings are based on standardized, third-party-audited data regarding health care quality and customer satisfaction, as well as NCQA accreditation scores. CalOptima's ranking is due to a Board of Directors and executive leadership decision last year to collect and share the full set of NCQA measures so nationwide comparison would be possible in 2014.

NCQA assesses plan quality based on 46 clinical measures related to both preventive care and treatments. Preventive measures report whether members are getting services to keep them healthy, such as well-child visits, immunizations, nutrition counseling and breast cancer screenings. Treatment measures gauge whether members are receiving appropriate care and medications in response to acute illnesses and chronic diseases, including diabetes and high blood pressure. NCQA also evaluates plan quality based on 11 customer satisfaction dimensions, such as getting care quickly and how well doctors communicate. Further, CalOptima is NCQA accredited with "commendable" status through 2015, which also contributes to the agency's new high ranking in California.

In Orange County and through CalOptima, nearly 200,000 people have gained health coverage since January 2014. "CalOptima is a $3 billion dollar a year agency. We are mandated by the federal government to provide expanded medical services. We need to be sure to do so in the most cost effective method," Supervisor Spitzer said. CalOptima is a mission-driven organization focused on providing all members with access to quality health care delivered in a cost-effective and compassionate manner.

All Canyons Clean-Up Attracts Residents and Inner Coastal Clean-Up Volunteers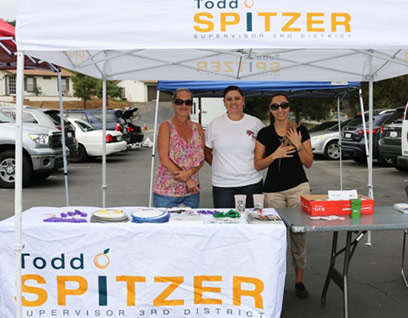 Supervisor Todd Spitzer's staff: Executive Aide Christine Richters, Policy Advisor Melissa March, and Chief of Staff Martha Ochoa
(Portions courtesy of OC Waste & Recycling)

Residents of Orange County's canyon areas stepped up to the plate last Saturday, participating in the Inner Coastal Clean-up Day as well as an All Canyons Community Clean-up that offered safe disposal of household hazardous waste, e-waste and landfill waste. Supervisor Todd Spitzer's office was on hand, providing information and reinforcing his commitment to meet the needs of the canyon residents in the wake of the recent fire.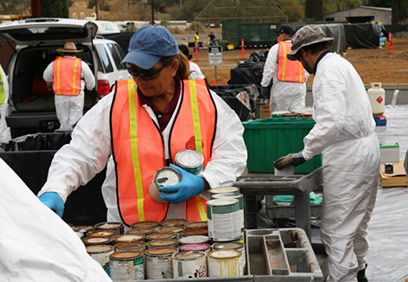 The All Canyons Clean-Up was sponsored by OC Public Works and OC Waste & Recycling, which provided the waste bins at strategic locations in the canyons. As a result, 9,678 pounds of Household Hazardous Waste was safely diverted, 21.79 tons of waste was collected from more than 150 participants in the clean-up!

Orange County was part of a statewide Coastal Clean-Up and Inner Coastal Clean-Up that included more than 54,000 volunteers picking up 600,000 pounds of trash and 200,000 pounds of recyclable materials, according to a preliminary count.

Participate in 'National Prescription Drug Take Back Day'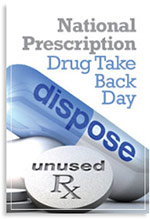 (Portions courtesy of OC Sheriff's Department)

Proper disposal of unused prescription drugs helps prevent abuse and helps keep pharmaceuticals out of landfills and waterways. Hundreds of locations throughout California will be accepting unused prescription drugs, including controlled substances, as part of National Prescription Drug Take Back Day on Saturday, September 27, 2014.

The event aims to provide a safe, convenient and responsible means of disposal, while also educating the general public about the potential for abuse of these medications. The last National Take Back Day held this past October collected 324 tons of prescription medications nationwide.

To find a National Take Back Day collection site, click here.

Grand Re-Opening of the Computer Lab at the Tustin Area Senior Center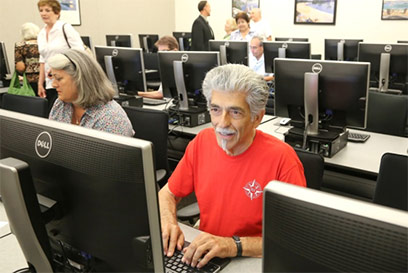 Former Tustin Mayor Tony Coco
The Tustin Area Senior Center celebrated its 25 year Anniversary with the grand re-opening of their Computer Lab. The remodeled computer lab was unveiled during the event featuring the upgrade of 23 new desk top computers, the addition of improved colored printers and a scanner. Additional improvements include an increased internet speed and updated computer software.

The Tustin Area Senior Center has expanded over the years with room additions and a kitchen. The center has also expanded classes and programming to accommodate the needs of the senior community. Each day the center is visited by anywhere between 600-900 senior residents.

"Providing seniors with current technology and enriching class opportunities is a great service. Congratulations to the Senior Advisory Board, the Community Services Commission, Tustin Area Senior Center Fund and the Tustin City Council," Supervisor Spitzer said in regard to the event.

Click here for more information about the Tustin Area Senior Center.

AlertOC Test Call Reaches Two Million OC Residents


(Portions courtesy of OC Sheriff's Department)

More than two million Orange County residents, along with users of AlertOC's smartphone app, received a call, e-mail or push notification this week to test the County's mass notification system. This is the fifth annual regional test of AlertOC and included 25 participating cities and the County's unincorporated areas.

"AlertOC is the system that emergency services uses to alert residents during an emergency," said Supervisor Spitzer. AlertOC is the mass notification system that alerted over 1,000 people of the evacuation during the recent fire in the Silverado area and of the location of the Red Cross shelter.

For more information on how to register and download the app, visit AlertOC.com.

Pet of the Week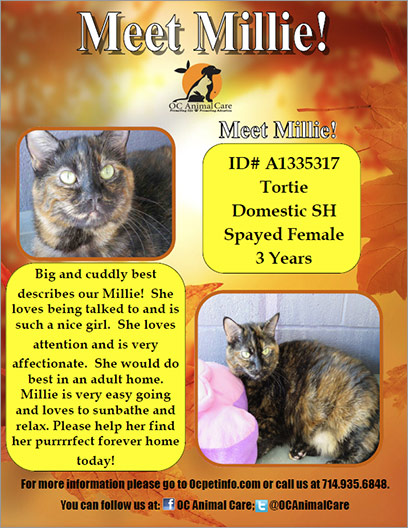 Click on the image above to view a PDF version.

Events Around the District

Anaheim
Family Story Time
Saturday, September 27, 11:00 AM
East Anaheim Branch Library, 8201 Santa Ana Canyon Rd.

Book Discussion for Adults
Tuesday, September 30, 12:00 PM
Canyon Hills Branch Library, 400 Scout Trail

Irvine
Global Village Festival
Saturday, September 27, 10:00 AM – 6:00 PM
Bill Barber Park, 4 Civic Center Plaza

Certified Farmers Market
Sunday, September 28, 10:00 AM – 2:00 PM
Orange County Great Park

Orange
Irvine Park Railroad Pumpkin Patch
Friday, September 26 - Friday, October 31, 10:00 AM
Irvine Regional Park, 1 Irvine Park Road

Container Gardening
Monday, September 22, 6:30 PM
Orange Public Library & History Center, 407 Chapman Ave.

Silverado
Meet the Candidates Night, Inter-Canyon League
Tuesday, October 7, 7:00 PM
Silverado Community Center, 27641 Silverado Canyon Rd.

Tustin
Free Document Shredding
Saturday, September 27, 10:00 AM
City Hall, 300 Centennial Way

Water Symposium & Open House
Tuesday, September 30, 4:00 PM
Clifton C. Miller Community Center, 300 Centennial Way

Villa Park
Walk With a Friend/Adopt a Dog
Saturday, October 4, 9:00 AM
Green Belt at Lincoln and Wanda

City-wide Neighborhood Watch Meeting
Tuesday, September 30, 7:00 PM
Villa Park City Hall, 17855 Santiago Blvd.

Yorba Linda
Pumpkin Decorating Contest
Wednesday, October 1, 9:00 AM
Yorba Linda Public Library, 18181 Imperial Hwy.

Self-Portrait Class for Students (K-12)
Saturday, October 4, 2:00 PM
Yorba Linda Library, 18181 Imperial Hwy.


For questions or comments regarding Spitzer's E-Newsletter
please contact the Supervisor's office staff at: (714) 834-3330 or Melanie.Eustice@ocgov.com


DISTRICT

STAFF
Martha Ochoa
Chief of Staff

Melanie Eustice
Communications Director

Chris Nguyen
Senior Policy Advisor

Carrie O'Malley
Senior Policy Advisor

Martin Gardner
Policy Advisor

Melissa March
Policy Advisor

Christine Richters
Executive Aide



District Map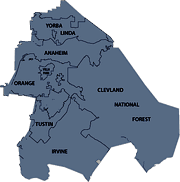 Anaheim, Irvine, Orange, Tustin, Villa Park, Yorba Linda, El Modena, North Tustin, Orange Park Acres, the Canyon Communities

Stay Updated!