October 10, 2014
Volume 2

Issue 39

Orange County Firefighters Memorial Service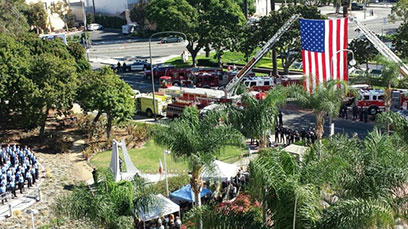 (Portions courtesy of Orange County Fire Authority)

Twenty-eight fallen firefighters and one lifeguard, Ben Carlson were honored this week at the Orange County Firefighters Memorial Service that was hosted by the Orange County Fire Chiefs Association. An American flag was suspended from the ladders of fire trucks along Broadway in Santa Ana at the County Civic Center.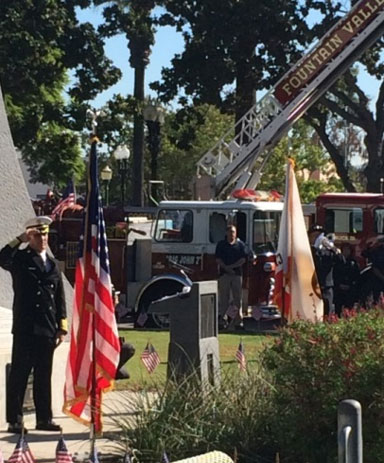 "I can't say enough how important and priceless the service of firefighters and emergency responders are to our community," Orange County Fire Authority Director Todd Spitzer said. "I am humbled to attend this ceremony memorializing their sacrifice."

Fire chiefs and family members of those who passed from job-related circumstances laid roses at the feet of the Orange County Fire Services Family Monument. The ceremony involved fire agencies from across the county.

Tiller Days Festival and Parade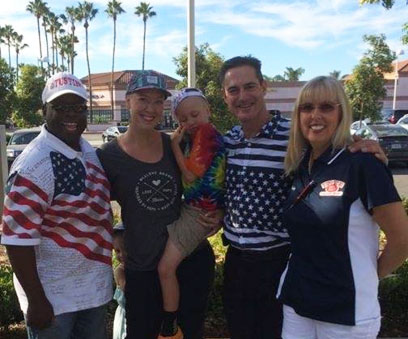 Tustin Mayor Al Murray, Audra and SuperMax Wilford, Supervisor Todd Spitzer, and Judy Barr
(Portions courtesy of the City of Tustin)

Supervisor Todd Spitzer joined the Tustin community in celebrating the 57th Annual Tustin Tiller Days Festival and Parade, which is held each year in downtown Tustin. Tustin Tiller Days has been an annual event in Tustin since 1957.

The three day festival celebrates Orange County's agricultural heritage while providing an opportunity for local non-profit organizations to promote their cause and raise much needed funds. Over the years, local civic organizations, schools, churches, and youth groups have raised thousands of dollars to benefit a wide variety of local needs. The event included a pancake breakfast, parade and carnival.

Board of Supervisors Vote to Ban Red Light Cameras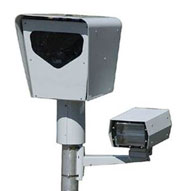 Red light cameras are on their way to being banned in Orange County. This week, an ordinance was introduced by Chairman Shawn Nelson and Denis Bilodeau, who authored a similar ban in the City of Orange, to prohibit the placement and use of red light cameras in unincorporated areas of the county.

Orange County Sheriff Sandra Hutchens had no objection to the ban, which the board approved on first reading. Final approval of the ordinance is expected on Oct. 21. The ban passed prevents Midway City, Ladera Ranch, Rossmoor, North Tustin and other communities from installing the controversial cameras.

It also eliminates the sole red light camera in an unincorporated area in Orange County located on the corner of Tustin Avenue and 17th Street adjacent to Santa Ana. The City of Santa Ana owns the camera and controls its revenue but has a permit to operate it on county land. The Santa Ana City Council voted earlier this year to end its red light camera program by June 2015.

In the Third District, Anaheim voters banned red light cameras by a 73%-27% vote in 2010. The Orange City Council passed a similar ban in 2011 and the Irvine City Council tried cameras in the early 2000s but removed them.

A number of studies have shown that instead of reducing car crashes as intended, most red light cameras increase car crashes.

After voting to support the ban, Supervisor Todd Spitzer said he would like county officials to have a much wider discussion on the use of surveillance cameras, such as ones worn by police officers. "This is going to be a big issue for society about how much information we'll gather on people," Spitzer said during the meeting. "In some ways it's a real intrusion in private lives."

Yorba Linda voters reject recall of Councilmen Craig Young and Tom Lindsey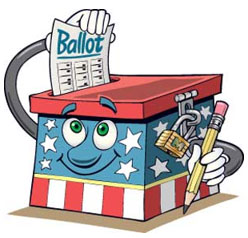 On Tuesday, Yorba Linda voters cast their ballots in the first recall election in the city's history. Voters rejected the recall efforts against Councilmen Craig Young and Tom Lindsey by margins of 59%-41%.

Councilman Young will serve the remainder of his term, which expires in 2016. Councilman Lindsey will serve the remainder of his term which expires next month.

"I congratulate Councilmen Young and Lindsey on their victories," Supervisor Todd Spitzer said. "I thank Registrar of Voters Neal Kelley for the rapid completion of the count for the October 7 recall election while also continuing to work on the November 4 general election." The Registrar of Voters completed counting ballots in the recall election just one day after the polls closed.

This was the first recall election to be defeated at the ballot box in Orange County in 24 years.

Turning Runways into Greenways


(Portions courtesy of the City of Irvine)

FivePoint Communities and the City of Irvine held an event called Turning Runways into Greenways where the community was invited to participate in breaking up the runways to make way for the next 688 acres of the Orange County Great Park.

"I'm pleased to see the development of the Orange County Great Park move forward in a way that is beneficial to the community," Supervisor Spitzer said. Spitzer helped lead the fight against an airport at the former El Toro Marine Base and helped broker the agreement to allow Irvine to annex the base, which effectively terminated any prospect for an airport and led to the Great Park.

The demolition of the former military runways at the Orange County Great Park is the first phase of an improvement program that will construct new sports, recreational and environmental amenities as the park. The improvements, which total over $250 million will be constructed by FivePoint Communities and then turned over to the City of Irvine. When complete, the park is scheduled to consist of a 176-acre sports park, a 41-acre wooded Bosque area, a 185-acre public golf course with practice facility and clubhouse, a 36-acre upper Bee Canyon as well and a 178-acre wildlife corridor.

'Laura's Law' Hotline Launches in Orange County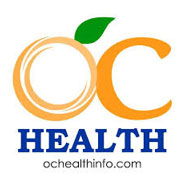 (Portions courtesy of OC Health Care Agency)

The Assisted Outpatient Treatment (AOT) program, also known as Laura's Law, provides court-ordered treatment for persons with severe mental illness who meet specific criteria. The program is designed to assist individuals who are resistant to obtaining or maintaining treatment. A Hotline is available for AOT referral and criteria verification. Please call 1-855-HCA-1421 or 1-855-422-1421, Monday through Friday, between 8:00 am and 5:00 pm.

There are specific guidelines determining who can request AOT and who qualifies for AOT. A summary of criteria can be found at this link.

There is an information session scheduled for October 14, 2014 from 6:00 to 8:00 PM at the Delhi Center, 505 E. Central Avenue, Santa Ana, 92707. The information session, which is free and open to the public, will cover the guidelines and criteria for Laura's Law and Assisted Outpatient Treatment in detail. Attendees will have an opportunity to speak with behavioral health services professionals and ask questions.

Orange County is the first urban county in California to approve implementation of AB1421, commonly referred to as Laura's Law. The law was named after Laura Wilcox, a mental health worker who was killed by a man who had refused psychiatric treatment. To qualify for the program, an individual must have a serious mental illness and a recent history of psychiatric hospitalizations, incarcerations, or acts, threats or attempts of serious violent behavior towards them self or others.

The Health Care Agency offers a variety of outreach and engagement programs and hotlines for individuals and families in need of behavioral health services and resources. For more information please see the information listed below or click here.

Behavioral Health Resources

OC Links (855-OC-Links)


Emergency Psychiatric Evaluation
(866) 830-6011 / 24 hours a day, 7 days a week.


Orange County Crisis Prevention Hotline 1-877-7CRISIS or 1-877-727-4747

Silverado Country Fair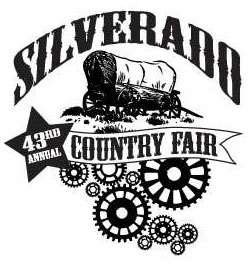 (Portions courtesy of the Silverado Country Fair Committee)

The 44th Annual Silverado Country Fair will be held this weekend on October 11 & 12. The event kicks off with the "UnParade" of canyon characters, Juaneno natives, wagon driven-store robbin' outlaws, horseback riders, scouts, dancers and classic cars. Attendees can best view the live 'kiss kiss bang bang' action from the Silverado Café or the Canyon Market!

The Country Fair event at the park opens at 10:00 AM with live performances of music, dancing and gun 'slingin' fun, local art & craft merchants, 1800s hands-on activities and eatin' contests, petting zoo & children's games plus the 'by golly tastiest and wholesomest country cookin' ya ever ate' Saturday to Sunday.

Saturday's music will include The Juaneno Tribal Singers, folk favorites of Valerie Bloom and Miguelito Pulido and cowboy singer Rusty Richards remaining member of the "Sons of the Pioneers!" The Saturday Night Music Fest from 4:00 to 9:00 PM will feature the legendary Oozie Blues, Americana music of Citizen Joe Band followed by the country rockin' blues of Lazy Brad Lewis!

Sunday's fair opens with the colorful Girl Scout Folklorico Dancers followed by bluegrass masters Shadybrook and Canyon Creek Ramblers.

The Silverado Country Fair is held at the Silverado Community Center & Fairgrounds at 27641 Silverado Canyon Road, Silverado.

For more information, click here.

Pet of the Week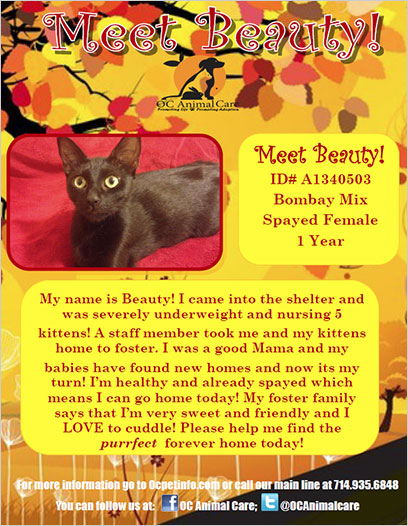 Click on the image above to view a PDF version.

Events Around the District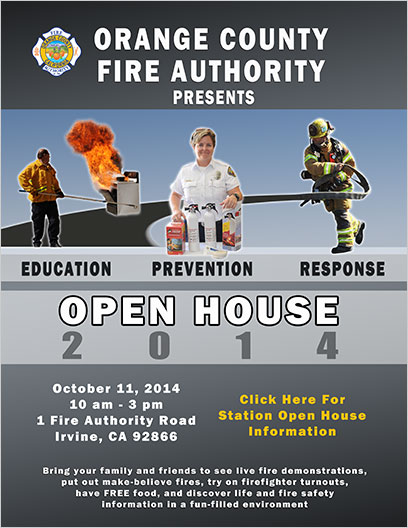 Click on the image above to view a PDF version.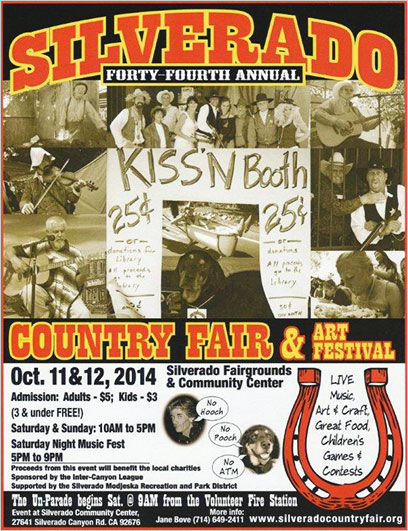 Click on the image above to view a PDF version.

Anaheim
Preschool Story Time
Friday, October 10, 10:30 AM
Canyon Hills Branch Library, 400 Scout Trail

Star Wars Crafts
Saturday, October 11, 11:30 AM
East Anaheim Branch Library, 8201 Santa Ana Canyon Rd.

Irvine
Certified Farmers Market
Sunday, October 12, 10:00 AM – 2:00 PM
Orange County Great Park

Orange
Irvine Park Railroad Pumpkin Patch
Daily through Friday, October 31, 10:00 AM
Irvine Regional Park, 1 Irvine Park Rd

Preschool Story Time
Tuesday, October 14, 10:00 AM
Orange Public Library & History Center, 407 Chapman Ave.

Silverado
44th Annual Silverado Country Fair
Friday, October 10 – Sunday, October 12 , 10:00 AM – 6:00PM
Silverado Community Center, 27641 Silverado Canyon Rd.

Tustin
7th Annual Old Town Tustin Art Walk 57th
Saturday, October 18, 10:00 AM to 4:00 PM
Tustin Area Historical Museum, 395 El Camino Real

Farmers Market
Wednesday, October 14, 9:00 AM to 1:00 PM
El Camino Real & 3rd St

Villa Park
Halloween Fest
Thursday, October 30, 4:30 PM-7:30 PM
Villa Park Towne Centre

Yorba Linda
OCFA Station No. 32 Open House
Saturday, October 11, 9:00 AM to 2:00 PM
OCFA Station No. 32, 20990 Yorba Linda Blvd.

Concert at Richard Nixon Library, Concert Pianist Lisa Zecchini
Sunday, October 12, 1:30 PM
Richard Nixon Library, 18001 Yorba Linda Blvd.


For questions or comments regarding Spitzer's E-Newsletter
please contact the Supervisor's office staff at: (714) 834-3330 or Melanie.Eustice@ocgov.com


DISTRICT

STAFF
Martha Ochoa
Chief of Staff

Melanie Eustice
Communications Director

Chris Nguyen
Senior Policy Advisor

Carrie O'Malley
Senior Policy Advisor

Martin Gardner
Policy Advisor

Melissa March
Policy Advisor

Christine Richters
Executive Aide



District Map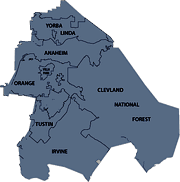 Anaheim, Irvine, Orange, Tustin, Villa Park, Yorba Linda, El Modena, North Tustin, Orange Park Acres, the Canyon Communities

Stay Updated!