February 13, 2014
Volume 2

Issue 6

Supervisor Spitzer Tours Musick Jail


Supervisor Todd Spitzer with Sheriff's Department staff outside the inmate education center at Musick Jail: Inmate Services Manager Dominic Mejico, Inmate Services Director Greg Boston, Supervisor Spitzer, Captain Mike Krueger, Commander Steve Kea, and Government Relations Manager Ray Grangoff.
Recently, Supervisor Todd Spitzer toured the James Musick Jail Facility with Orange County Sheriff's Department staff. Musick houses 1,250 adult inmates and offers job training, educational programs, and other rehabilitative and custodial programs.

"As a Supervisor, it is critically important to the policymaking process that I see County facilities firsthand with County staff," Supervisor Spitzer said. "As a decision-maker, I need to see up close what our County employees are handling on a day-to-day basis."

Opened in 1963, Musick is located between the Cities of Irvine and Lake Forest.

Supervisor Spitzer toured several facilities that house inmates, including temporary tents first constructed in the 1980s that continue to be used for inmates.

He also walked though barracks currently used for Immigration and Custom Enforcement (ICE) detainees. The Sheriff has leased jail beds to the federal government for ICE detainees since 2010.

Supervisor Spitzer observed a class on job interviewing skills. Musick's various educational and rehabilitative programs, such as this, are utilized to reduce recidivism and transition inmates into the community after their sentences.

Sheriff's Department staff also showed Supervisor Spitzer the location of new facilities to be constructed at Musick. In 2012, the State awarded Orange County $100 million from AB 900 funds to construct a 512-bed facility. In January 2014, the State awarded Orange County an additional $80 million from SB 1022 funds to construct a 384-bed facility for rehabilitation and treatment programs.

The new construction from AB 900 funds and SB 1022 funds will allow Musick to replace temporary structures and provide needed additional space to house jail Orange County's criminals.

Theo Lacy Jail Recycles Inmate Clothing as Dog Beds at Animal Shelter

(Photo Courtesy of OC Animal Care and OC Sheriff's Department)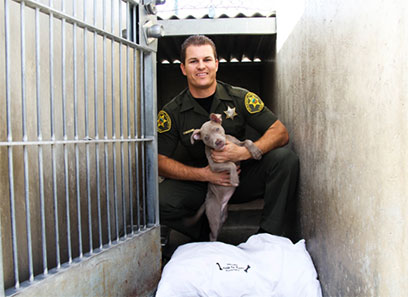 Sheriff's Deputy William Wagner, creator of "Jails to Tails," with a canine friend after bringing it a new bed made from inmate clothing.
During the past year, the Jail Sustainability Team at the Theo Lacy Facility has created many novel methods to recycle old material to reduce expenses for taxpayers while also helping improve the environment. Since December, the team began recycling used inmate clothing bedding supplies for shelter dogs at OC Animal Care through the new "Jails to Tails" program.

"I encourage our County's employees to come up with creative new ways to increase sustainability and cut costs for taxpayers," Supervisor Todd Spitzer said. "I thank Deputy William Wagner and the Sheriff's Department staff at Theo Lacy for their innovative efforts to save County funds and assist the environment."

Theo Lacy uses approximately 30,000 pounds of inmate clothing on an annual basis. Most of this clothing was simply thrown out and sent to landfills until the creation of the Sustainability Team. The team implemented efforts to "reduce, reuse, and recycle" this clothing. Today, the majority of inmate clothing is either repaired or recycled as machine shop rags.

Sheriff's Deputy William Wagner proposed the "Jails to Tails" program to deal with irreparable clothing and clothing that cannot be converted into machine shop rags due to their fabric content. Under "Jails to Tails," this material is now being transformed by Theo Lacy's Community Work Program into bedding material. Since December, Theo Lacy has donated thirty-two dog beds to OC Animal Care, whose animal shelter is adjacent to Theo Lacy.

Unveiling of OC Crime Victims' Memorial Finalist Designs on February 26


Click on the image above to view a PDF version.

Treasurer-Tax Collector Releases List of OC's Top Ten Property Taxpayers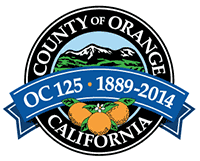 (Portions courtesy of the OC Treasurer-Tax Collector)

Orange County Treasurer-Tax Collector Shari L. Freidenrich released the list of the Top Ten Property Taxpayers for Fiscal Year 2013-14.

"I am appreciative of the hard work that Treasurer-Tax Collector Freidenrich's office does in keeping track of these vast property taxes," Supervisor Todd Spitzer said. "I thank all our taxpayers large and small who fund vital government services, such as public safety, roads, and education."

Both the Irvine Company and Time Warner Cable remain as the #1 secured and unsecured taxpayers from the prior year. Walt Disney Parks & Resorts US and So Cal Edison Company continued to hold the #2 and #3 secured tax spots. Cox Communications, Inc. continued to hold the #2 unsecured tax spot, while Broadcom Corp. moved up to the #3 unsecured tax spot. Current year secured tax collections are on track to meet or exceed the Fiscal Year 2012-13 secured collection rate of 98.9%. This collection rate is the highest rate found recorded for the County.

Secured taxes are those assessed against real property (e.g. land, buildings). Unsecured taxes are assessed against property that can be relocated and is not real estate (e.g. planes, boats).

The top 10 lists in both the secured and unsecured categories in the County of Orange are as follows:

Top 10 Secured Taxpayers


| | |
| --- | --- |
| 1. Irvine Company | $114,098,318 |
| 2. Walt Disney Parks & Resorts US | $51,566,414 |
| 3. So Cal Edison Company | $33,027,763 |
| 4. Heritage Fields El Toro | $10,107,327 |
| 5. Pacific Bell Telephone Company (AT&T) | $8,223,491 |
| 6. United Laguna Hills Mutual | $7,071,749 |
| 7. Oxy USA Inc. | $6,174,899 |
| 8. Linn Western Operating Inc. | $4,690,090 |
| 9. OC/SD Holdings LLC. | $4,652,758 |
| 10. Southern California Gas Company | $4,356,499 |
Top 10 Unsecured Taxpayers:
| | |
| --- | --- |
| 1. Time Warner Cable Inc. | $4,093,699 |
| 2. Cox Communications Inc. | $3,235,903 |
| 3. Broadcom Corp. | $2,112,900 |
| 4. The Boeing Company | $1,827,118 |
| 5. Allergan USA Inc. | $1,818,510 |
| 6. Southwest Airlines Company | $1,403,401 |
| 7. Kimberly-Clark Worldwide Inc. | $1,312,819 |
| 8. Jazz Semiconductor Inc. | $1,269,827 |
| 9. Panasonic Avionics Corp. | $1,129,317 |
| 10. New Albertson's Inc. | $1,113,035 |

Pet of the Week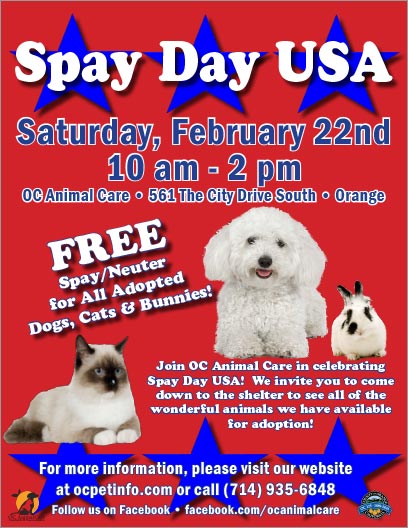 Click on the image above to view a PDF version.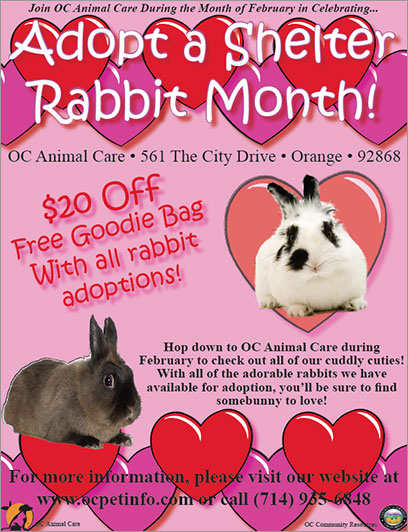 Click on the image above to view a PDF version.

Events Around the District

Anaheim
Anaheim Semper 5K
Saturday, February 15, 8:00 AM
Sycamore Park, 8286 E. Monte Vista Rd.

Irvine
Craft Time for Children Ages 5-12
Wednesday, February 19, 2:00 PM – 4:00 PM
Orange County Public Library – Irvine University Park Branch,
4512 Sandburg Way

Orange
Teen Movie Madness – Teen Wolf
Wednesday, February 19, 6:00 PM – 8:00 PM
Orange Public Library & History Center, 407 E. Chapman Ave.

Silverado
Canyon Story Swap
Thursday, February 20, 6:00 PM – 8:00 PM
Canyon Market, 28192 Silverado Canyon Rd.

Tustin
Chinese Lunar New Year Celebration
Sunday, February 16, 12:00 PM – 4:00 PM
Orange County Public Library – Tustin Branch, 345 E. Main St.

Villa Park
Screening of Race to Nowhere
Thursday, February 20, 7:00 PM
Cerro Villa Middle School, 17852 Serrano Ave.

Yorba Linda
Presidents Day Celebration – Free Cherry Pie for First 100 People;
Free Admission All Day
Monday, February 17, 10:00 AM – 5:00 PM
Community Room, Yorba Linda Public Library, 18181 Imperial Hwy.




DISTRICT

STAFF
Martha Ochoa
Chief of Staff

Martin Gardner
Policy Advisor

Carrie O'Malley
Policy Advisor

Chris Nguyen
Policy Advisor

Christine Richters
Executive Aide



District Map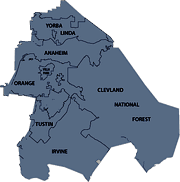 Anaheim, Irvine, Orange, Tustin, Villa Park, Yorba Linda, El Modena, North Tustin, Orange Park Acres, the Canyon Communities

Stay Updated!