March 6, 2014
Volume 2

Issue 9

Supervisors Approve Hiring Temporary Working Retirees for Sheriff's Department to Expedite CCW Applications in Response to Peruta Court Ruling


Due to a massive surge in applications for permits to carry a concealed weapon (CCW), Supervisor Todd Spitzer last week proposed adding additional human resources for the Sheriff's Department to rapidly clear the emerging backlog of CCW applications. This week, the Board of Supervisors approved hiring up to 15 working retirees for the Orange County Sheriff's Department to avert a backlog of CCW applications.

"If a person meets all the legal requirements to get a CCW, their application should not be delayed simply because of inadequate staffing," Supervisor Spitzer said. "By using working retirees, we minimize the expense to taxpayers, as the retirees are already trained to do this work and are not eligible for any benefits."

CCW applications surged after the United States Ninth Circuit Court of Appeals ruled on February 14 in Peruta v. County of San Diego that personal self-defense constitutes adequate grounds to obtain a CCW. In Orange County, there were approximately 500 CCW applications in all of 2013. There were 1,000 applications in just the first seventeen days after the Peruta ruling was handed down.

The Sheriff's Department is currently $3.5 million under budget, so the cost of the additional temporary working retirees will be spent from the existing Sheriff's Department budget.

Supervisor Spitzer Provides Community Update at Foothill Communities Association Annual Meeting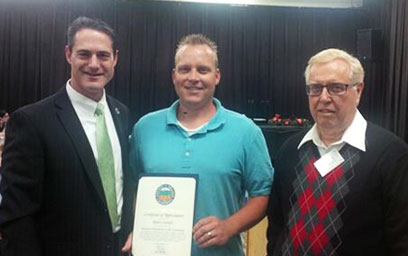 Supervisor Todd Spitzer and FCA President Rick Nelson (right) honor Robert Cowdell for his volunteer efforts in North Tustin.
On Monday evening, Supervisor Todd Spitzer was the keynote speaker at the annual meeting of the Foothill Communities Association (FCA) at Hewes Middle School in North Tustin.

"It is always a privilege to provide updates to community groups in the Third District," Supervisor Spitzer said. "FCA is an incredibly active group in the community, and I appreciate being able to keep its members informed."

Supervisor Spitzer spoke on a variety of County issues affecting North Tustin, including the recent burglaries in the community, the Orange County Fire Authority, the surge in applications for permits to carry a concealed weapon after Peruta v. County of San Diego, the Orange County Crime Victims' Monument, pending litigation regarding construction of a senior living facility involving the Foothill Communities Coalition against the Catholic Diocese of Orange and Kisco Senior Living, the Foothill Blvd./Old Foothill Blvd. Sidewalk Improvement Project, and animal safety regulations.

Residents asked numerous questions about the recent burglaries in the community, the Legislature's actions on prisons, and AB 109. Supervisor Spitzer warned that burglaries and other crimes will only increase due to AB 109. AB 109 is the state mandate that seeks to reduce the state prison inmate population by moving many inmates from state prison to County jails, reducing space for criminals whose offenses would previously have resulted in their being housed in County jails.

Supervisor Spitzer also joined FCA President Rick Nelson in honoring resident Robert Cowdell for his volunteer efforts for the past several years to design, install, and maintain decorative plantings at the intersection of Red Hill Avenue and Irvine Boulevard in North Tustin.

Supervisor Spitzer delivers the keynote address at the FCA annual meeting.

Supervisor Spitzer Encourages Orange County Youth to Enter 2014 Eco Challenge Poster Contest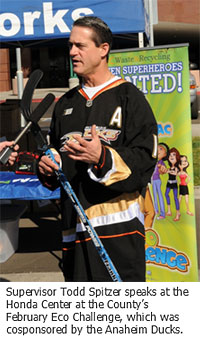 (Portions Courtesy of OC Waste & Recycling)

The OC EcoChallenge is an ongoing challenge by the County of Orange to all those willing to participate to care for the natural world by reducing, reusing, and recycling. Last month, at the Honda Center, Supervisor Todd Spitzer welcomed nearly 500 Anaheim Ducks fans, ready to dispose of hazardous waste, e-waste and used clothing.

Now, Supervisor Spitzer invites young Orange County residents to participate in the 2014 Eco Challenge poster contest presented by the County of Orange, Discovery Science Center and Angels Baseball for the chance to be an Honorary Bat Kid at a 2014 Angels baseball game.

Posters must be delivered in person or mailed to Discovery Science Center, Attn: Bat Kid Contest, 2500 N. Main St., Santa Ana, CA 92705, by Monday, June 30, 2014. Contest entries will be judged based on originality (20%), visual clarity (20%), relevance to theme (20%), artwork (20%), and effectiveness of message (20%). Only one entry per person will be accepted in the contest.

"This is a fun and educational opportunity for kids to put their artistic skills to work in encouraging people to think about ways to reduce waste," Supervisor Spitzer said. "I encourage all children, especially those in the Third District, to enter the contest for a chance to be an Honorary Bat Kid."

To enter the contest, children between the ages of 8-14 should use their imagination and creativity to design a unique eco-themed poster. With Orange County celebrating its 125th anniversary, the County encourages young artists to create artwork demonstrating what the next 125 years will look like if all of Orange County takes the Eco Challenge and work towards a sustainable future.

One winner from each of Orange County's five supervisorial districts will be awarded the status of Honorary Bat Kid during one of five predetermined Angels Baseball home games in July, August or September 2014. Winners will also receive the following:

Four tickets to a predetermined Angels home game
Complimentary parking for the game
One Bat Kid uniform
One official baseball for autographs
One on-field credential for dugout access (for Bat Kid only)
Recognition on the video board during pre-game activities
One professional field photo
Winners will be notified by phone in July after being selected by the County of Orange, Discovery Science Center and Angels Baseball leadership. Winners will have ten days to claim their prize, after which the prize will be awarded to another winner. Entries must have a completed Waiver Release Form in order to be eligible to win.

The design guidelines for entries are:

Size: Minimum: 11" X 17" Maximum: 18" X 24"
Materials: Poster should be designed on a white background. Artwork should not be computer generated. Paints, crayons, chalks, markers, pencils, pens, etc. are allowed.
Content: Artists are allowed to incorporate text relevant to environmentally friendly message. The visual design of the poster must relate to one of the above themes. Poster should be vibrant and aesthetically appealing. Copyrighted characters or name brands (Coca-Cola, McDonald's, etc.) should NOT be used in artwork; use of such brands or characters will result in disqualification.
Please do not fold posters. Entries must be matted, flat or rolled, and not folded.
Name, address, age, phone number, and district must be written on the back of the poster.
Poster orientation: portrait (vertical)
Submittals should indicate on the Supervisorial District in which the contestant resides:


| | |
| --- | --- |
| 1st District: | Garden Grove, Midway City, Santa Ana, Westminster, Fountain Valley |
| 2nd District: | Buena Park, Costa Mesa, Cypress, Fountain Valley, Huntington Beach, La Palma, Los Alamitos, Newport Beach, Seal Beach, Stanton, Rossmoor |
| 3rd District: | Anaheim Hills, Irvine, Orange, Modjeska Canyon, North Tustin, Orange Park Acres, Silverado Canyon, Tustin, Villa Park, Yorba Linda |
| 4th District: | Anaheim, Brea, Buena Park, Fullerton, La Habra, La Habra Heights, Placentia |
| 5th District: | Aliso Viejo, Coto de Caza, Dana Point, Irvine, Laguna Beach, Ladera Ranch, Laguna Hills, Laguna Niguel, Laguna Woods, Lake Forest, Las Flores, Mission Viejo, Rancho Santa Margarita, San Clemente, San Juan Capistrano, Crystal Cove, Emerald Bay |

Any posters not claimed by September 30, 2014 will be recycled. Participants may claim their posters by e-mailing ocecochallenge@ocwr.ocgov.com.

Visit www.discoverycube.org/batkid for full contest rules and eligibility.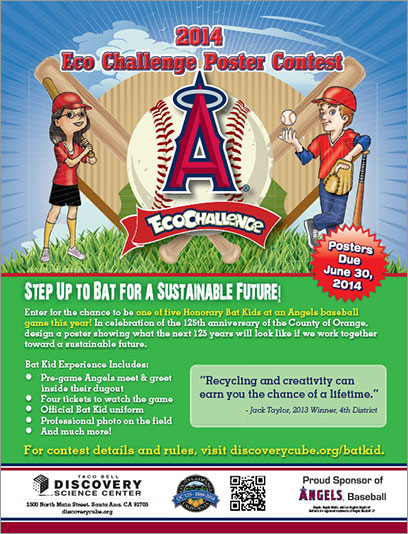 Click on the image above to view a PDF version.

John Wayne Airport Economic Impact Study Released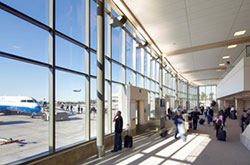 (Portions courtesy of John Wayne Airport)

This week, the results were released from an Economic Impact Study of John Wayne Airport operations for calendar year 2012. The study, conducted by InterVISTAS Consulting, measures the direct, indirect and induced economic impacts generated by John Wayne Airport in Orange County and three neighboring counties (Los Angeles, Riverside and San Bernardino).

"John Wayne Airport is one of the most visible County agencies and is the first thing many people encounter about Orange County," Supervisor Todd Spitzer said. "Tourism, shipping, and numerous other Orange County industries rely on this critical County agency."

Key findings of the Economic Impact Study include:

$6 billion of Economic Output, which is the dollar value of industrial output produced and reflects spending by firms, organizations and individuals
43,000 full time, part time and seasonal jobs.
$1.7 billion in wages, salaries, and benefits associated with employment tied to the Airport
$3.3 billion in Gross Domestic Product (GDP), which is the measure of the monetary value of final goods and services produced locally as a result of economic activity
"This study confirms that John Wayne Airport is a powerful economic engine for Orange County," said Shawn Nelson, Chairman of the Board of Supervisors. "By connecting Orange County with destinations throughout the United States, Canada and Mexico, JWA connects local business and tourism with economic opportunity - and supports the prosperity of our entire community."

To view the study in its entirety, click here.

Orange County Residents Come Together for SuperMax's Loom-A-Thon Against Cancer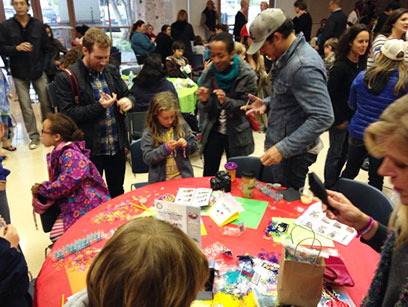 Participants in Saturday's Loom-A-Thon in Tustin;
Photo Courtesy of the MaxLove Project
This past weekend, Orange County residents came together to help 7-year-old Max Wilford, who is battling brain cancer. Wilford, known as SuperMax, is a student at Arroyo Elementary School in Tustin. More than 500 children and adults constructed a 29,040-foot chain of Rainbow Looms in Tustin in hopes of setting a world record. The event raised more than $14,000 for the Children's Hospital of Orange County.

SuperMax and his parents turned his birthday party into the countywide "Loom-A-Thon Against Cancer" fundraiser. Their Loom-A-Thon received national attention when SuperMax was featured on ABC's Jimmy Kimmel Live last week.

Kimmel presented a Rainbow Loom cape to SuperMax and wore a suit made completely from Rainbow Loom. Kimmel put his suit on eBay, with all proceeds going to the MaxLove Project. Inspired by SuperMax, the nonprofit MaxLove Project was formed to provide resources to families fighting pediatric cancer and other life-threatening illnesses affecting children. Bidding on Kimmel's suit has reached $40,000 and closes on Saturday.

The Wilford family plans to hold a national Loom-A-Thon in September.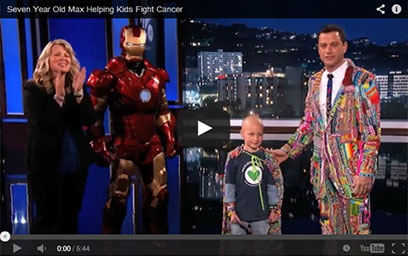 SuperMax featured on ABC's Jimmy Kimmel Live

OC Crime Victims' Monument Design to Be Unveiled Saturday, April 12

Supervisor Todd Spitzer encourages the public to weigh in on the five finalist designs competing to be selected for the OC Crime Victims' Monument, which will be built at William R. Mason Regional Park in Irvine.

"This monument will be an important site in the County," Supervisor Spitzer said. "I urge all Orange County residents to examine the designs and provide their input."

The contest was announced in April 2013. There were 59 entries submitted by the September 30 deadline. Supervisor Spitzer announced the five finalists in November. The finalists then submitted more detailed designs, which were publicly unveiled last week.

The finalists' detailed designs are now on display at the Old Orange County Courthouse, 211 W. Santa Ana Blvd., Santa Ana, CA 92701. The displays will be available until Thursday, March 20. The public can view those detailed designs and submit comments online or in person at the Old Orange County Courthouse until that date.

The selected design will be announced on Saturday, April 12 as part of National Crime Victims' Rights Week.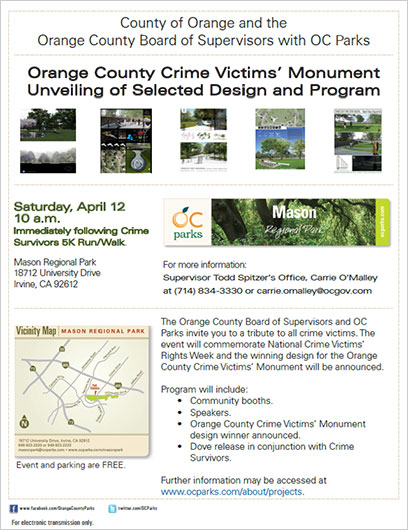 Click on the image above to view a PDF version.

Pet of the Week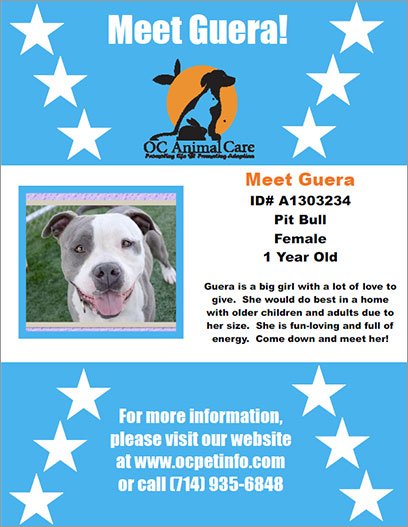 Click on the image above to view a PDF version.

Events Around the District

Anaheim
St. Patrick's Day Craft at Canyon Hills
Friday, March 7, 11:00 AM
Anaheim Public Library – Canyon Hills Branch, 400 Scout Trail

Irvine
Growing a Rainbow: Children's Gardening Workshop
Sunday, March 9, 11:00 AM – 1:00 PM
Orange County Great Park, Sand Canyon Ave. and Marine Way

Orange
How to Take Better Vacation / Travel Photos
Saturday, March 8, 10:30 AM – 11:30 AM
Orange Public Library & History Center, 407 E. Chapman Ave.

Silverado
Wildlife Field Session
Saturday, March 8, 12:00 PM
Tucker Wildlife Sanctuary, 29322 Modjeska Canyon Rd.

Tustin
Arbor Day
Wednesday, March 12, 10:30 AM
Tustin Sports Park, 12850 Robinson Dr.

Villa Park
Parent Preview Night for Incoming Freshmen
Monday, March 10, 6:30 PM
Villa Park High School, 18042 E. Taft Ave.

Yorba Linda
Teen Tech Week: Garden Pots and Bird Feeders from Recycled Materials
Tuesday, March 11, 5:30 PM – 8:00 PM
Yorba Linda Public Library, 18181 Imperial Hwy.




DISTRICT

STAFF
Martha Ochoa
Chief of Staff

Martin Gardner
Policy Advisor

Carrie O'Malley
Policy Advisor

Chris Nguyen
Policy Advisor

Christine Richters
Executive Aide



District Map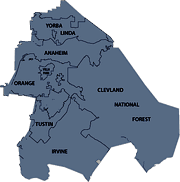 Anaheim, Irvine, Orange, Tustin, Villa Park, Yorba Linda, El Modena, North Tustin, Orange Park Acres, the Canyon Communities

Stay Updated!