June 26, 2015
Volume 3

Issue 18

Happy 4th of July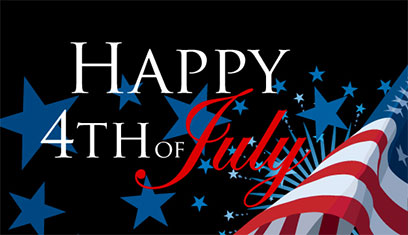 Dear Friends –
Wishing you and your families a wonderful and safe 4th of July.

God Bless America,
Todd Spitzer & Family
THIRD DISTRICT 3rd of July Events

4th of July (3rd of July) – Orange – 3rd of July Celebration, 4:00 PM to 9:00 PM, Fred Kelly Stadium/El Modena High School.
THIRD DISTRICT 4th of July Events

4th of July – Anaheim

Anaheim Hills Patriotic Parade, 1:00 PM to 2:30 PM – Imperial Highway/Santa Ana Canyon Road. (Parade starts at Canyon High School)

Fireworks Celebration, 3:00 PM to 10:00 PM – Peralta Park, Anaheim Hills, 115 N Pinney Dr, Anaheim

4th of July – Irvine – Concert on the Green & Fireworks Festival, 3:00 PM, Irvine High School Stadium, Walnut & Yale.

4th of July – Orange Park Acres – 4th of July Parade, "Independence in the Acres", Salem Church lawn

4th of July – Tustin – "Salute to our Veterans" Tustin High School, 1171 El Camino Real, Tustin, 6:30 PM, Fireworks at 9:00 PM

4th of July – Silverado – 4th of July Festival, Silverado Community Center, 27641 Silverado Canyon Road, 4th of July celebration begins at noon with an parade followed by music and family activities in the park."

4th of July – Villa Park – 4th of July "Stars on Parade" Line up at Villa Park High School at 8:30 AM, parade begins at 9:00 AM.

4th of July – Yorba Linda – 4th of July Spectacular, 5:00 PM to 10:00 PM, Fireworks at 9:00 PM, Veterans Park, 4756 Valley View Ave.

Tonight is the First Community Forum Meeting for Input on Acquisition of 1000 N. Kraemer Place, Anaheim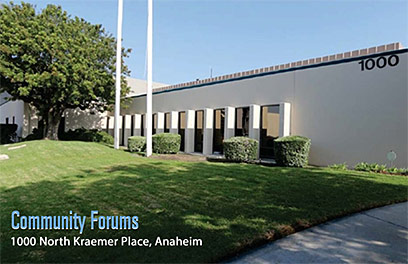 (Portions courtesy of OC Community Resources)

The County of Orange will hold a Community Forum on the potential uses for 1000 N. Kraemer Place in Anaheim, including use as a year-round emergency shelter and multi-service center. The Kraemer Community Forum, scheduled for Friday, June 26, at 5:30 pm at the Evangelical Free Church in Fullerton, will be the first in a series of community meetings to receive input on the potential site acquisition and use.

On June 2, 2015, the Orange County Board of Supervisors approved a purchase and sale agreement for the property. That means that a 90-day due-diligence process, including environmental site assessments, and structural and physical inspections has begun. The California Environmental Quality Act review process was also initiated.

The Community Forum is open to the public and will be structured to give residents, businesses and other interested stakeholders the opportunity to interact with a variety of representatives at table stations. Information and discussion topics will include Public Safety, Good Neighbor Plans, Transportation, Service Coordination, Shelter Advisory Board, Operator Selection and the Commission to End Homelessness.

Any future change in use of the Kraemer site would require approval of the Orange County Board of Supervisors at an advertised meeting open to the public. This vote will occur after the conclusion of the County's due diligence process.

Interested parties are invited to attend one of the following Kraemer Community Forums:

June 26, 2015 @ 5:30 pm
Evangelical Free Church
2801 Brea Blvd.
Fullerton, CA 92835

(Tentative) July 22, 2015 @ 5:30 pm
Eastside Christian Church
3330 E. Miraloma Ave.
Anaheim, CA 92806

(Tentative) August 5, 2015 @ 5:30 pm
Grace Korean Church (Grace Ministries)
1701 W. Valencia Drive
Fullerton, CA 92833

For more information please visit http://occommunityservices.org/hcd/homeless/kraemer/ To sign up to be included on the project interest list or to submit written comments, please email: 1000NKraemer@occr.ocgov.com or call (714) 480-2998.

Large-Animal Temporary Refuge Area Ribbon Cutting and Fire Safety & Emergency Preparedness Event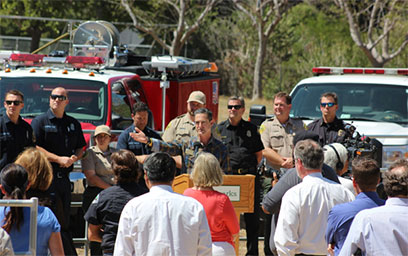 (Portions courtesy of OC Parks)

Chairman Todd Spitzer, OC Parks, OC Animal Care, the Orange County Fire Authority and the community held a ribbon-cutting for a large-animal temporary refuge area at the former Silverado Elementary School. This new amenity will provide an additional option for residents with large animals in fire-prone areas in eastern Orange County canyons during wildfire or other emergency events. This is part of an overall plan to convert the former Silverado Elementary School to a library, meeting room and regional park site.

The Inter Canyon League Disaster Coordinator Joanne Hubble and Large Animal Evacuation Coordinator Connie Nelson recognized the need for another facility that could be utilized by the residents of Silverado, Modjeska, Williams and Baker Canyon for safe refuge for large animals during periods of local emergencies or disasters.

They identified the desired amenities, developed a proposal and then worked collaboratively with OC Parks and the Silverado-Modjeska Parks and Recreation District to repurpose a portion of the former Silverado School property.

The facility was built through the combined efforts of OC Parks maintenance staff from Whiting Ranch Wilderness and O'Neill Park, OC Parks heavy equipment operators and with assistance from the California Conservation Corps.

This project illustrates the ingenuity and skills of the OC Parks maintenance staff. They utilized both prefabricated items and surplus materials and supplies sourced from OC Parks facilities. Staff trenched and installed a domestic water supply; installed footings and constructed a retaining wall; constructed a ranch style fence railing; graded and leveled jobsite and trailer parking area; installed and compacted road base material; installed sand footing for corrals; constructed 10 corrals and perimeter fence; assembled and installed storage shed.

The project was completed on time within the 90-day schedule between February 23rd and May 15th, 2015.

Use of the safe refuge site will be coordinated by the Inter Canyon League and available for periods up to 24 hours.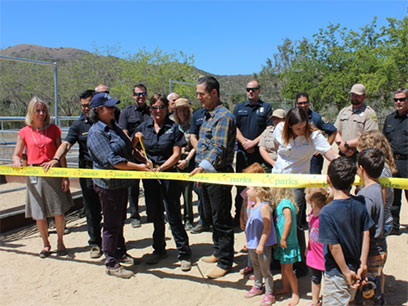 Jennifer Hawkins, DVM, OCFA Battalion Chief Kris Concepcion, Connie Nelson, Joanne Hubble, Supervisor Todd Spitzer, OC Parks Director Stacy Blackwood and community residents

50th Anniversary of the El Toro Marine Air Station, CA Air Disaster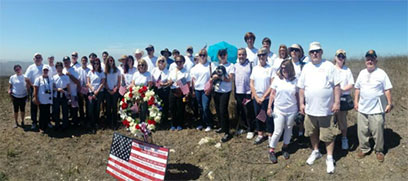 Family members of the crash victims lay a wreath to honor the memory of those who gave their lives to protect our freedom
June 25, 2015 marked the 50th Anniversary of the C-135 crash that killed 72 Marines and 12 Airmen aboard who departed from Marine Corps Air Station El Toro.

The crash took place on June 25, 1965, when a C-135 departed Marine Corps Air Station El Toro at 1:35 a.m. and crashed into Loma Ridge eleven minutes after takeoff with 72 Marines and 12 Airmen aboard.

The C-135 crash killed all 84 American servicemen aboard the plane bound for Okinawa Island in Japan via Hickham Air Force Base in Hawaii, with the 72 Marines aboard ultimately bound for Vietnam.

A Third District resident, Jordan Fourcher dedicated his Eagle Scout Project to the honor the victims of the disaster by creating a memorial for the 84 American servicemen who perished in what remains to this day even fifty years later as the worst airplane disaster in Orange County history.

"Orange County is fortunate to be served by a young man of the caliber of Jordan Fourcher. His dedicated service to his community is worthy of much thanks and appreciation," said Supervisor Todd Spitzer. "Our hearts, full with respect and gratitude, go out to the victims' families. Truly, these victims are heros."

The dedication of the kiosk will be on Saturday, June 27, 2015 at the Former MCAS El Toro, now the Orange County Great Park, Irvine. The Memorial will be at the Heritage and Aviation Exhibition, in Historic Hangar 244. For more information, click here and here.

Board of Supervisors Recognize James A. Wahner, 2nd District Commissioner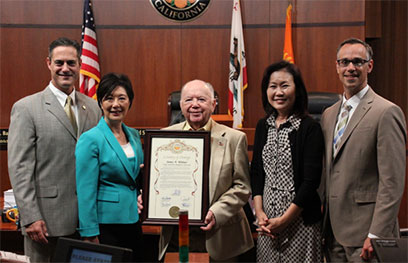 Supervisor Todd Spitzer, Supervisor Lisa Bartlett, James A. Wahner, Supervisor Michelle Steel, and OC Waste and Recycling Director Dylan Wright
On behalf of the Board of Supervisors, congratulations to James A. Wahner for his nineteen years of dedication and commitment to the County of Orange and the Orange County Waste Management Commission /Local Task Force. We appreciate all that your outstanding contributions on behalf of the OC Waste & Recycling Department and the County of Orange.

Board of Supervisors Approves Sheriff's Department Services to Contract Services


(Portions courtesy of OC Sheriff's Department)

The Board of Supervisors voted to approve FY 2015-2016 agreements with 13 cities that contract with the Orange County Sheriff's Department (OCSD) for their law enforcement services. Two of these cities, Yorba Linda and Villa Park, are located in the Third District. The Sheriff's Department provides each of these cities with outstanding law enforcement services. Such services contribute to the high level of public safety we enjoy throughout Orange County. Contracting with OCSD is a cost efficient use of taxpayer dollars, as cities are able to save on the large overhead costs that would be needed to operate their own individual departments.

Villa Park has contracted with the Sheriff's Department since 1962. The city currently has a five year agreement with OCSD for law enforcement services. The Board's action provides for approval of the third year of that agreement. The service level FY 2015-16 includes four deputy sheriff patrol positions, half an investigator position and regional/shared staff. The total cost to the City of Villa Park for the FY 2015-16 contract is $1,285,493. The partial Investigator position reflects a cost sharing partnership with the County which results in cost savings and efficiencies.

Yorba Linda has contracted with the Sheriff's Department since 2013. The city currently has a five year agreement with OCSD for law enforcement services. The Board's action provides for approval of the third year of that agreement. The service level for FY 2015-2016 includes one Lieutenant, five Sergeants, 21 Deputy Sheriffs for patrol, three motorcycle Deputy Sheriffs, two Deputy Sheriff for a community support unit including a school resource officer, three Investigators, one Investigative Assistant, two Community Services Officers for parking and traffic enforcement, one Crime Prevention Specialist, one Office Specialist, extra help and regional/shared staff. The total cost to the City of Yorba Linda for FY 2015-16 is $9,426,452.


Orange City Council and Supervisor & OCTA Director Todd Spitzer invite you to a
TOWN HALL MEETING
Orange Metrolink Parking Structure Project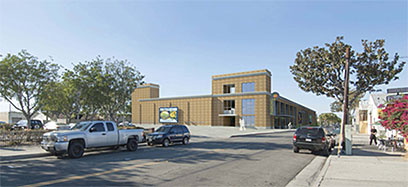 July 8, 2015
5:30 PM to 7 PM
Orange Main Library and History Center
407 E. Chapman Avenue, Orange, CA 92866
An exciting project is another step closer to becoming a reality. The City of Orange (City) and the Orange County Transportation Authority have been studying and planning for a parking structure at the northwest corner of Chapman Avenue and Lemon Street for several years. As part of the planning process, the City has incorporated a number of recommendations from community stakeholders, and we are at the final stages of environmental review.

We are excited to share how your input thus far has helped to shape the project. Please join us at an informal Town Hall meeting where you will have an opportunity to review the project design and learn about how the project fits into our community.

We hope to educate you about the project, and more importantly, we want your feedback. This will be an informal Open House format, and you are invited to stop by the library for a self-guided review of the exhibit boards. Subject area experts will be available to answer your questions.

If you are unable to attend the Town Hall, we still want to hear from you. For your convenience, the exhibit boards and technical documents can be found on the project website: www.cityoforange.org/metrolinkparkingstructure. The website also allows you to provide comments electronically and to add your name to our database to stay informed as we move through the next phases of final design and construction.

Official Public Review Period: June 10 to July 15, 2015

If you have any questions, please call: Jennifer Le, City of Orange Planning Division (714) 744-7238 / jle@cityoforange.org

Board of Supervisors Approve Plan to Address Commercially Sexually Exploited Children


(Portions courtesy of OC Social Services Agency)

This week, the Orange County Board of Supervisors approved a County Plan that will allow the County of Orange Social Services Agency (SSA) to continue to further develop and provide collaborative services to address the needs of Orange County's Commercially Sexually Exploited Child (CSEC) population and access State funding in support of this program.

The plight of commercially sexually exploited children has gained national attention over recent years. The victims are in many ways like other children whom Orange County serves; however, they have unique needs that require coordination and support from varied systems including mental health, public health, law enforcement, juvenile court, community providers and probation. Responding to CSEC requires a multi-pronged response that includes prevention, intervention and after care. These coordinated efforts will maximize resources and put into place a comprehensive system that prevents youth from returning to the streets and ultimately promotes safety, permanency and well-being.

In 2014, Senate Bill 855 established a state-funded county program to serve the needs of the CSEC population. Through this program, Orange County is working to unite various government agencies, community service providers and CSEC survivors toward early identification of victims through ongoing trauma-informed case management services. The goal of this approach is not only to provide services to current victims, but to identify and intervene with those at high risk of future exploitation. This coordinated interagency approach will provide for identification, education, intervention, placement and treatment, thus assuring the multi-faceted needs of CSEC victims are met.

"It is critically important for us to decriminalize these youth and recognize that they are victims. This County Plan will allow us to access additional resources from the State in order to better coordinate and address the needs of these youth," said Board of Supervisors Chairman Todd Spitzer.

On May 27, 2015, the Orange County CSEC Steering Committee was formed, co-chaired by Board of Supervisors Chairman Todd Spitzer, Presiding Judge of the Orange County Juvenile Court Maria Hernandez and Director of SSA's Children and Family Services Gary Taylor. Under the approved County Plan, the Steering Committee will meet regularly to assist in the development of the CSEC Interagency Protocol and provide oversight to the project to ensure that County agencies and partners effectively collaborate to better identify and serve youth who are at risk of or who have been commercially sexually exploited.

OC Animal Care Event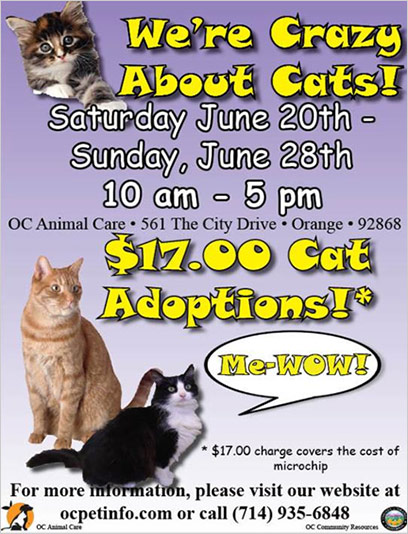 Click on the image above to view a PDF version.

Pet of the Week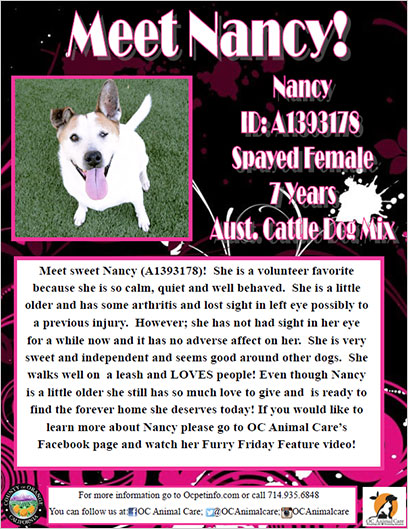 Click on the image above to view a PDF version.

For questions or comments regarding Spitzer's E-Newsletter
please contact the Supervisor's office staff at: (714) 834-3330 or Melanie.Eustice@ocgov.com


DISTRICT

STAFF
Martha Ochoa
Chief of Staff

Melanie Eustice
Communications Director

Chris Nguyen
Senior Policy Advisor

Carrie O'Malley
Senior Policy Advisor

Martin Gardner
Policy Advisor

Christine Richters
Executive Aide



District Map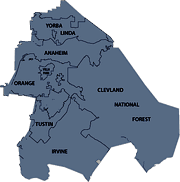 Anaheim, Irvine, Orange, Tustin, Villa Park, Yorba Linda, El Modena, North Tustin, Orange Park Acres, the Canyon Communities

Stay Updated!