Supervisor Spitzer Unanimously Elected as Board Chairman for 2015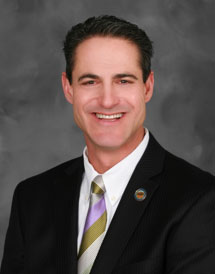 (Portions courtesy of County Executive Office)

Supervisor Todd Spitzer has been chosen unanimously by his colleagues to serve as Chairman of the Orange County Board of Supervisors for 2015.

This is Supervisor Spitzer's second round on the Board, having served from 1997 to 2002, when he was elected to the State Assembly. He thanked his colleagues for supporting his chairmanship, "I'm grateful for the respect and confidence that my colleagues showed in me by selecting me as Chair."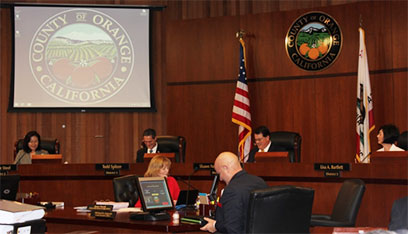 Supervisor Michelle Steel, Chairman Todd Spitzer, Supervisor Shawn Nelson, Vice Chair Lisa Bartlett, Clerk of the Board Susan Novak and County Executive Officer Mike Giancola
With Orange County emerging from bankruptcy after 20 years, Spitzer talked about looking forward as a County to reestablish exemplary leadership and excellent stewardship of resources and assets. He said he also looks forward to leading the strategic planning effort for the County, which he hopes will include protecting public safety, growing the local economy, improving Orange County's infrastructure, and securing fiscal solvency.

"The mindset of the bankruptcy ridden culture in Orange County will soon be behind us with the General Fund bankruptcy obligations being made whole. It is time to rebuild and to determine what the new priorities of this restored County will be without forgetting the painful lessons of failed oversight and a watchdog approach to government."

Supervisor Spitzer represents the Third District, which includes Anaheim Hills, Irvine, North Tustin, Orange, Orange Park Acres, Tustin, Villa Park, Yorba Linda, and the Canyons.

Supervisor Spitzer and OC Officials to Announce Environmental & Economic Benefits of New Renewable Energy Plant at Landfill

(Portions courtesy of OC Waste and Recycling)

Orange County Third District Supervisor Todd Spitzer will join with local government and business officials to present details on the area environmental and economic benefits to be gained from a planned landfill gas-to-electricity plant at the Frank R. Bowerman landfill east of Irvine. The announcement about the renewable "green" energy plant will take place during the official groundbreaking ceremony for the contractor-operated facility to be built on the county's 534-acre commercial landfill that is one of the largest on the West Coast.

The state-of-the-art $60 million plant will be a processing and power facility that captures landfill gas created by the millions of tons of waste buried at Bowerman. The gas, a natural byproduct of solid waste decomposition, contains high amounts of methane, which is a prevalent greenhouse gas. The gas will be converted to electricity for homes, schools and businesses in Anaheim. The planned facility will power Anaheim homes, create local jobs and generate millions in royalties.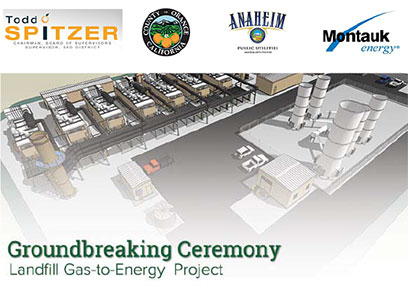 Announcement & Groundbreaking for the Bowerman Power Plant Site Pad
Thursday, January 22, 2015, 10:00 AM to 10:45 AM
Frank R. Bowerman Landfill, 11002 Bee Canyon Road, Irvine 92606
The event will be hosted by Supervisor Spitzer and the County of Orange, and presented by Bowerman Power, a local subsidiary of Pennsylvania-based Montauk Energy. On hand will be representatives of Anaheim Utility/City of Anaheim, Quinn Caterpillar and local business groups.

Supervisor Spitzer Ensures Consumer Protection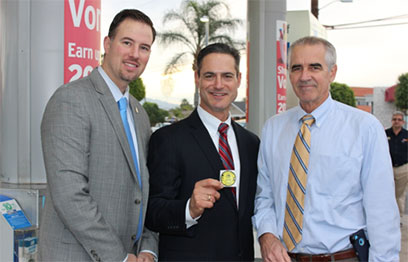 OC Public Works Director Shane Silsby, OC Agricultural Commissioner Mike Bennett and Chairman Todd Spitzer
(Portions courtesy of OC Public Works)

Supervisor Spitzer joined OC Public Works Director Shane Silsby and Mike Bennett, the County's Agricultural Commissioner and Sealer of Weights and Measures, for the very first gas station fuel inspection in 2015. This inspection featured the very first seal bearing Bennett's name and signature since becoming Agricultural Commissioner in 2014 and the first new Agricultural Commissioner in almost 20 years.

OC Public Works' Weights and Measures staff conduct periodic inspections of gasoline stations to ensure products and devices meet established minimum standards and that advertising price signs conform to the requirements of State law including size, color, and accuracy. All gasoline dispensing devices are also checked to ensure they contain required information for grade and octane. This program allows consumers to visually compare prices from adjacent roadways.

This inspection, which occurred at a Chevron station located at the corner of Katella Avenue and Glassell Street in Orange, is one of over 149,000 weighing and measuring devices inspected by OC Public Works staff throughout Orange County. Inspections like this help protect consumers by certifying commercial weighing and measuring devices on a variety of products ranging from gasoline and milk to packaged foods and cloth.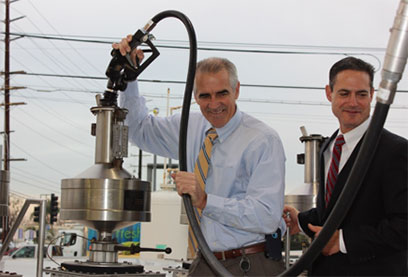 Mike Bennett, OC Agricultural Commissioner and Chairman Todd Spitzer
The office of OC Public Works' Agricultural Commissioner / Weights and Measures plays a leading role in State enforcement programs, which include agricultural services, weights and measures, and pesticide regulation.

To learn more about how Orange County ensures that its residents and visitors get what they pay for, visit www.ocagcomm.com/weights.

Board of Supervisors Commemorates Korean American Day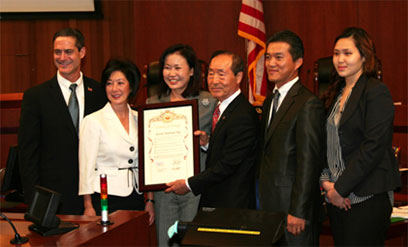 Chairman Todd Spitzer, Vice Chair Lisa Bartlett, Supervisor Michelle Steel, Brian Kim, President and representatives from the Korean American Federation of Orange County
(Portions courtesy of Supervisor Steel)

The Board of Supervisors commemorated January 13, 2015 as Korean American Day to honor the history, contributions and sacrifices of Korean Americans. The day marked the 112th anniversary of the arrival of the first Korean immigrants to the United States, and celebrated the valuable contributions Korean Americans have made to Orange County.

On January 13, 1903, the first group of Koreans arrived in Honolulu, Hawaii. Over the last 112 years, Korean Americans have made significant contributions in all aspects of American life and have excelled in all fields. They continue to play a pivotal role in defining America as the land of diversity and opportunity.

OCTA Delivers the End-of-Year Report Highlighting Initiatives and Action Plan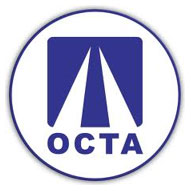 (Portions courtesy of Orange County Transportation Authority)

At the Orange County Transportation Authority's meeting this week, Chief Executive Officer Darrell Johnson summarized the activities and accomplishments from the 2014 Chief Executive Officer's Initiatives and Action Plan for calendar year 2014. The Chief Executive Officer's Initiatives and Action Plan supports the values, vision, mission, and goals of the Orange County Transportation Authority (OCTA).

Supervisor Spitzer, who serves as a Director on the Board commended OCTA for the great work that they have done in delivering projects in the Third District and the County. "Transportation is a vital part of the County's infrastructure, I'm committed to supporting OCTA's mission to enhance the quality of life and keep Orange County moving."

In 2014, OCTA continued its mission to serve the people of Orange County by delivering a wide variety of multimodal projects and transportation solutions. Organized around the eight initiatives adopted by the Board of Directors, this video highlights many of the OCTA accomplishments that helped keep Orange County moving in 2014 and beyond.
OCTA is governed by an 18-member Board of Directors consisting of 5 county supervisors, 10 city council members, 2 public members and the Director of the Department of Transportation District 12 (Caltrans) as a non-voting member.

Deadline to Apply for Grand Jury Service Extended to January 30, 2015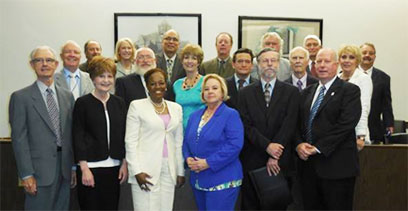 2013-2014 Orange County Grand Jury
(Portions courtesy of Superior Court of California)

Assistant Presiding Judge Charles Margines of the Superior Court of Orange County and chair of Grand Jury Recruitment/Selection Committee has extended the deadline to apply for Grand Jury service to January 30, 2015.

The Grand Jury performs civil oversight of local government by reviewing and evaluating county and city agencies, jails, schools, and special districts within Orange County and writes a final report with its findings and recommendations. The Grand Jury also considers evidence for possible indictment of individuals in felony cases and reviews complaints submitted by citizens.

The current stipend for Grand Jury service is $50 per day, up to five days per week. The panelists receive reimbursement for mileage at the current County of Orange rate and free onsite parking.

Superior Court judges interview qualified applicants and choose the top candidates. Final selection of the 19-member Grand Jury is accomplished by a random drawing of the 25 to 30 nominees who represent each of the five OC Supervisorial Districts. Current Grand Jury members and their advisors provide training to the panelists.

The requirements to serve are:

At least 18 years old
United States citizen
Resident of Orange County for at least one year
Sufficient knowledge of English
In possession of sound judgment and a sense of fairness
The application form can be obtained by clicking here or in person at the Jury Commissioner's Office, 700 Civic Center Drive West, Santa Ana.

CalOptima Receives Positive Results in their Final Report of the Audit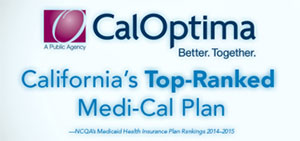 (Portions courtesy of CalOptima)

CalOptima underwent an audit of the Medi-Cal program by the California Department of Health Care Services (DHCS) and the California Department of Managed Health Care (DMHC) last October. This week the final report of the audit was received by CalOptima, and the results are very positive. The results of the state audit demonstrate the tremendous progress that CalOptima made in 2014 to improve regulatory compliance and oversight of the health network.

"I'm glad to see CalOptima continue on the path to improvement. The NCQA top ranking combined with the positive results of the state audit means that the quality of our Medi-Cal plan is validated and secure," CalOptima Director Spitzer said. "I'm glad to have the confidence of my colleagues who unanimously voted to place me on the CalOptima Board in the aftermath of the audit."

Moving forward, the federal Centers for Medicare & Medicaid Services (CMS) will be conducting a web-based re-audit of the OneCare program beginning next week. The purpose of the re-audit is for CMS to validate the progress that CalOptima has been sharing.

Martin Luther King Jr. Day 2015


(Portions courtesy of OneOC)

Now in its 16th year, community members can make their "day off" a "day on" with a Day of Service. Celebrate the life and legacy of Dr. Martin Luther King, Jr. through meaningful service. This year the OneOC will be partnering with multiple local agencies including the Orange County United Way, offering volunteer opportunities that address critical community issues. There is no better time to get involved and make a difference! Individuals, families, groups and organizations can easily participate in this national initiative in collaboration with the HandsOn Network. For more information, click here.

Pet of the Week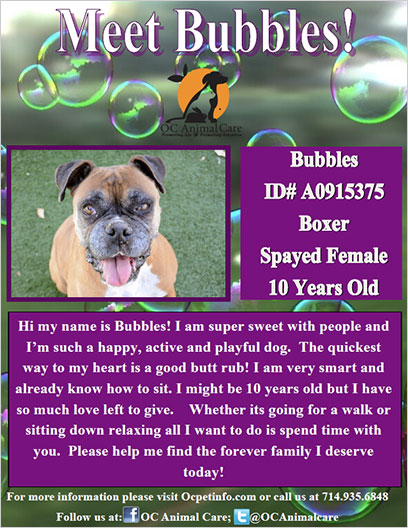 Click on the image above to view a PDF version.

Events Around the District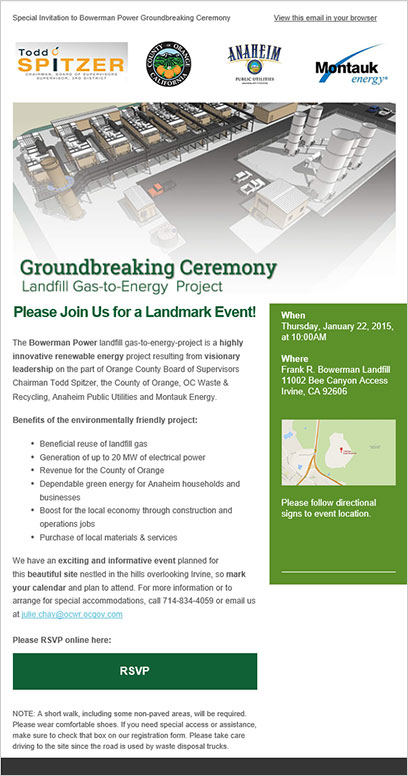 Click on the image above to view a PDF version.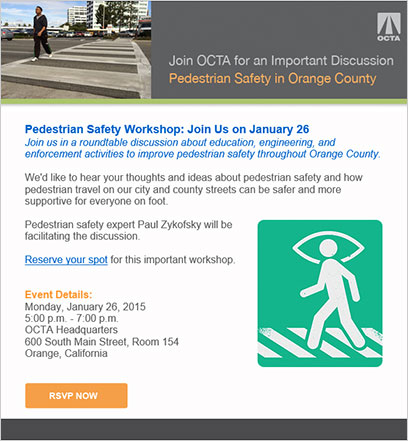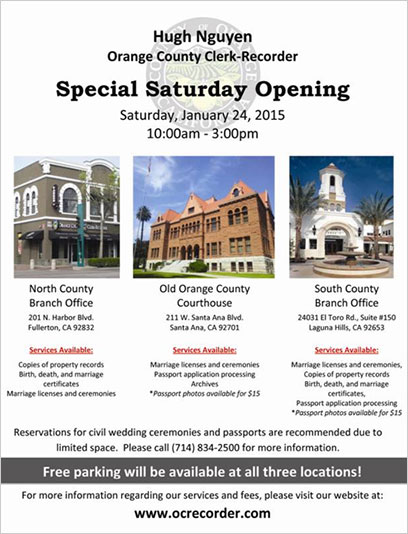 Click on the image above to view a PDF version.

Anaheim
Toddler Time
Tuesday, January 20, 11:00 AM
Canyon Hills Branch Library, 400 Scout Trail

Author Thornton Cline
Saturday, January 24, 2015, 11:00 AM
East Anaheim Branch Library, 8201 East Santa Ana Canyon Road

Irvine
Certified Farmers Market
Sunday, January 18, 10:00 AM – 2:00 PM
Orange County Great Park

Children's Garden Workshop
Sunday, January 18, 11:00 AM
Orange County Great Park, Edison House

Orange
So You Got a New Camera-Now What?
Saturday, January 17, 3:30 PM
Orange Public Library & History Center, 407 E. Chapman Ave.

Tustin
Farmers Market
Wednesday, January 21, 9:00 AM to 1:00 PM
El Camino Real & 3rd St.

Villa Park
Toddler Storytime
Tuesday, January 27, 9:30 AM
Villa Park Library, 17865 Santiago Blvd.

Yorba Linda
Nixon Library Concert
Saxophone Quartet, Directed by Ernie Del Fante
Sunday, January 25, 1:30 PM
Yorba Linda Public Library, 18181 Imperial Hwy.


For questions or comments regarding Spitzer's E-Newsletter
please contact the Supervisor's office staff at: (714) 834-3330 or Melanie.Eustice@ocgov.com