August 21, 2015
Volume 3

Issue 25

Supervisor Todd Spitzer to Serve on the Drowning Prevention Task Force


(Portions courtesy of the Drowning Prevention Task Force)

A drowning prevention task force was empaneled on August 3 to develop recommendations on methods and strategies to reduce drowning incidents and fatalities in Orange County. The 24-member task force includes the heads of county-wide public health, public safety, government, non-profit organizations, parents of victims, and Olympic medal-winning swimmers. Supervisor Todd Spitzer is also serving on the task force.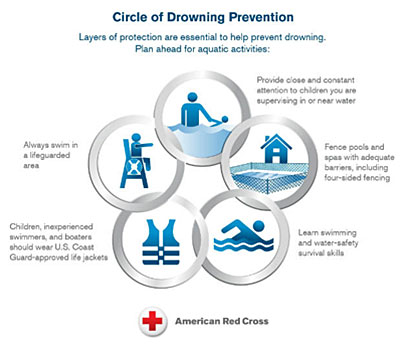 According to the Centers for Disease Control, drowning is the number one cause of fatalities among children up to four years of age. To date in 2015, 49 drowning calls have been received, and 22 involved children four years of age or younger; four were fatalities. Drowning reports county-wide that involve young children, including fatal and non-fatal incidents, are nearly 45 percent of all those reported, according to the Orange County Fire Authority (OCFA).

In 2015, according to OCFA data, 10 drowning incidents involved victims 50 years of age or older, seven of those were fatal. Of all drowning incidents reported county-wide, 49 in 2015, 18 were fatal.

The task force engaged in a facilitated discussion that covered a review of current drowning prevention efforts, methods on increasing public awareness, and ways in which groups can marshal resources into implementation strategies and a campaign to prevent drowning.

Task Force leadership was also chosen by the group. Tustin Councilman Al Murray was selected as Chair. The Vice Chairs are Blue Buoy Swim School Owner Johnny Johnson, Olympic swimmers Janet Evans and Aaron Peirsol, and Jasper Ray Foundation President Julie Lopiccolo, whose son Jasper was a drowning victim. OCFA Community Relations and Education Supervisor Kristina Hamm will serve as Task Force secretary.

The Orange County Task Force on Drowning Prevention will develop a report and recommendations scheduled for release before the end of August.

Ethics Committee Discusses Possible Oversight Models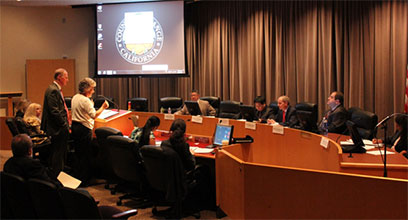 Bill Mitchell and Shirley Grindle present to the Ethics Committee. Pictured are Second District Committee Member Joel Angeles, Chairman and Third District Representative Chris Nguyen, Fourth District Committee Member Denis Bilodeau, and Vice Chair and First District Representative Brian Probolsky
The Board of Supervisors' Ethics Committee held its first meeting on Tuesday, July 28th, second meeting on Thursday, August 6th, third meeting on Tuesday, August 11th and fourth meeting on Tuesday, August 18. At Chairman Spitzer's request, the committee was formed to discuss possible ethics oversight models and bring recommendations to the Board on the formation of an Ethics Commission.

The Committee unanimously elected Supervisor Spitzer's Senior Policy Advisor, Chris Nguyen, as Chairman of the Ethics Committee that is comprised of one representative from each office of the Board of Supervisors. The rest of the committee are Vice Chairman Brian Probolsky, Chief of Staff to Supervisor Andrew Do; Joel Angeles, Chief of Staff to Supervisor Michelle Steel; Denis Bilodeau, Chief of Staff to Supervisor Shawn Nelson; and Paul Walters, Chief of Staff to Supervisor Lisa Bartlett.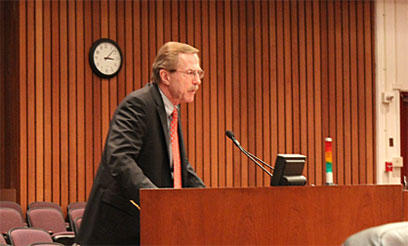 Former Federal Election Commission Chairman Darryl Wold speaks to the Ethics Committee
Committee members have received studied the ordinances of other Ethics Commissions in the State, including those of the Cities of Los Angeles, San Diego, San Francisco, and San Jose. Committee members have also discussed the possible roles of an Ethics Commission, as well as the scope of its authority. The committee has examined best practices proposed by the Institute for Local Government. The committee has also analyzed the 2013-14 ethics report of the Grand Jury.

So far, the committee has heard testimony from:

Assemblyman Matthew Harper, author of Assembly Bill 910 to allow Orange County to contract with the California Fair Political Practices Commission
Former California Fair Political Practices Commission Chairman Dan Schnur
Former Federal Election Commission Chairman Darryl Wold
Shirley Grindle, author of Orange County's campaign finance ordinance, and former Orange County Common Cause Chairman Bill Mitchell
Meetings are open to the public and are held at the Hall of Administration located at 333 W. Santa Ana Blvd., Santa Ana. The Ethics Committee is tentatively scheduled to convene again on Thursday, August 27 at 9:30 am pending approval of agenda item 79 that would extend the deadline for Ethics Committee to return to the Board with recommendations to September 19.

Homeless Services Expanded in Civic Center at Supervisors Request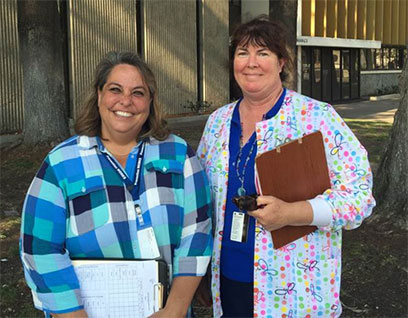 Mental Health Specialist Tammy Waitman and Public Health Nurse Michelle Spitaleri
(Portions courtesy of OC Health Care)

The County has expanded homeless services in the Civic Center Plaza at the request of the Board of Supervisors at their Board meeting on August 4. At the meeting, County Supervisors discussed steps and strategies to address the homeless population at the Civic Center Plaza in Santa Ana. The recent Homeless County identified that on a single night, nearly 4,500 people experience homelessness in Orange County.

The County will have two Mental Health Specialists on site, Monday through Friday, between the hours of 8:00 am to 5:00 pm. Their tasks are to gather information and encourage those to utilize the resources offered by the County to obtain therapy, housing and medical services. This effort is one small step toward solving the issue of homelessness in Orange County. Please visit www.211oc.org for further information.

OC Human Trafficking Task Force Held Press Conference to Raise Awareness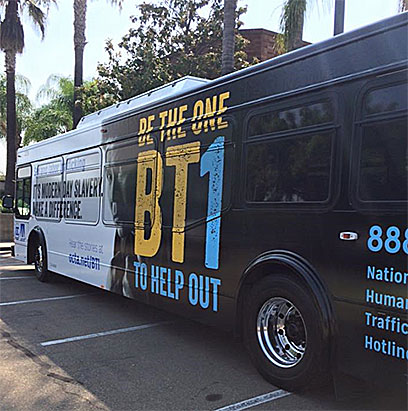 (Portions courtesy of CSP, Victim Assistance Programs)

The OC Human Trafficking Task Force (OCHTTF) with the Anaheim Police Department held a press conference today to share the 2015 Human Trafficking Report and to raise awareness to human trafficking.

In July 2015 alone, OCHTTF identified 12 victims – nearly double the number of victims identified monthly over the past three years.

Since 2004, OCHTTF has assisted more than 450 victims of human trafficking originating from 36 countries. For the past three years, OCHTTF has produced the Human Trafficking Victim Report to raise awareness of this often-invisible crime and developed collaborative models to thwart its enormity.

Of the 145 total victims of human trafficking assisted by the OCHTTF, 69 (48 percent) new victims sought services. Of the 69 given victim assistance, 15 were foreign nationals and 54 were U.S. nationals. Of these 145 men and women, 34 were victims of labor trafficking, while 105 were sex trafficking slaves. Five people were victims of both labor and sex trafficking, while one was not categorized. Human trafficking victims – those who endured labor or sex enslavement – were predominately women, representing 91 percent of the victims assisted. Eight percent were male, while 1 percent represented transgender individuals.

Last year, the Orange County Transportation Authority (OCTA) became a formal partner with OCHTTF. Because perpetrators and victims of human trafficking are more likely to rely on public transportation, OCTA took action by launching a campaign to increase public awareness and help victims.

This year, OCTA is increasing its efforts, launching a two-year public-awareness campaign and continuing to educate the men and women who operate OCTA buses on how to spot victims and how to get help from law enforcement.

The latest Be the One (BT1) campaign includes a one-minute video about human trafficking that will be shown on social media and YouTube and as an online public-service message on major news websites. See the video at www.octa.net/bt1


Supervisor Todd Spitzer and Staff Welcome Crowd to Concerts in the Park in Villa Park and Orange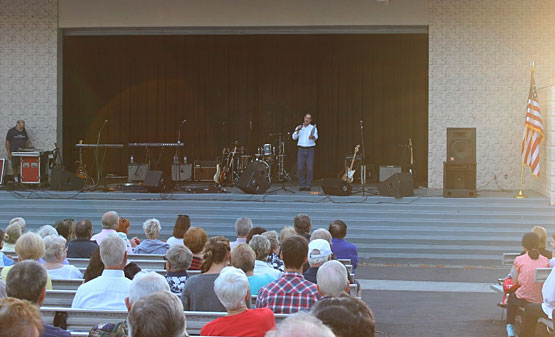 Supervisor Spitzer giving welcoming remarks in Villa Park
In continued support of the summer concert series throughout the Third District, Supervisor Spitzer and his staff attended summer concerts in Villa Park and at the County's Irvine Park.

Heartache Tonight an Eagles cover band performed at Villa Park's concert series. Supervisor Spitzer welcomed the crowd and led the Pledge of Allegiance. An OC Concert in the Park was hosted at the County's Irvine Park. Supervisor Spitzer's staff helped welcome the bands Venice and Quinn Archer.

This summer was the first time that OC Summer Concert Series allowed consumption of alcoholic beverages during the event. In July, the Board approved a resolution that allowed the County to use the 2015 OC Parks Summer Concert Series as a pilot program to test the new County Event Alcohol Ordinance. No incidents related to alcohol were reported at the events. Free concerts in the park are an annual tradition in Orange County that run on Thursday nights July through August and the public is invited to attend.

Last Eco Challenge Day of the Summer


(Portions courtesy of OC Waste and Recycling)

On Saturday, August 22 the County of Orange will host a collection event from 10:00 am to 1:00 pm at Discovery Cube OC located at 2500 N. Main Street in Santa Ana. Collection services offered at the event include paper shredding, donations of used clothing and household goods, and e-waste disposal.

The first 150 cars will receive a four tickets to Discovery Cube and priority wristbands to meet Angels Alumni Chuck Finley, who will be signing autographs inside the Cube for a limited time. Visit ocEcoChallenge.com for details.

The collection event is being done in partnership with Discovery Cube Orange County, Goodwill of Orange County, and Angels Baseball. For questions about the event contact Isabel Rios at 714-834-4118 isabel.rios@ocwr.ocgov.com.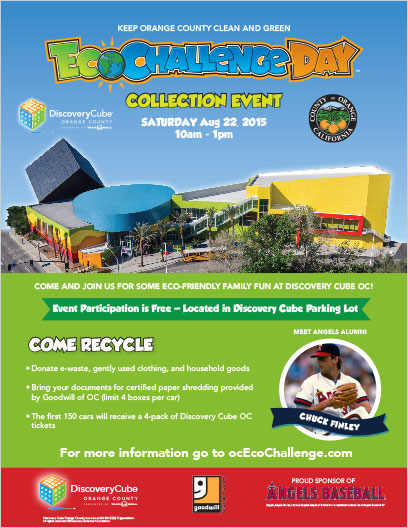 Click on the image above to view a PDF version.

Measure M Program Plans to Deliver Approximately $15.7 billion Worth of Transportation Improvements to Orange County by 2041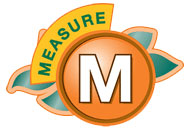 (Portions courtesy of OCTA)

Nearly 10 years have passed since Measure M, a half-cent sales tax for transportation improvements, was renewed by nearly 70 percent of Orange County voters in 2006.

To help gauge the progress of the program so far, the Orange County Transportation Authority is asking residents to share their thoughts on Measure M in a new online survey.

Sales tax collection for Measure M began in April 2011. By the year 2041, the Measure M program plans to deliver approximately $15.7 billion worth of transportation improvements to the region, making it safer, easier, and more pleasant to live and travel in Orange County.

So far, Measure M funds have been used to carry out $900 million in freeway improvements, purchase 1,300 acres of open space for preservation as part of a freeway mitigation program and enhance 52 rail-highway grade crossings, among other upgrades.

Residents can learn more about these projects and others in the works that will improve Orange County neighborhoods and commutes at www.octa.net/Measure-M.

On the web page, residents may also click on the Measure M2 Ten-Year Review Questionnaire to share their opinions about Measure M and transportation improvement priorities for Orange County.

The feedback being collected is part of a requirement of the Measure M ordinance passed by voters, which calls for a comprehensive review of projects and programs at least every 10 years.

Measure M was extended for 30 years following the success of the first 20-year program approved by voters in 1990. The first Measure M brought more than $4 billion worth of transportation improvements to Orange County, including adding 192 freeway lane miles, improving 170 intersections and 38 freeway interchanges, and implementing Metrolink service in Orange County.

Pet of the Week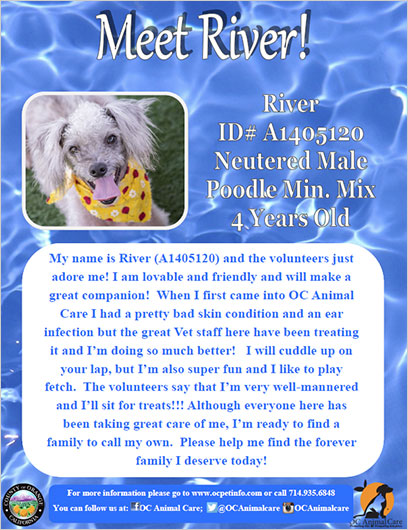 Click on the image above to view a PDF version.

Events Around the District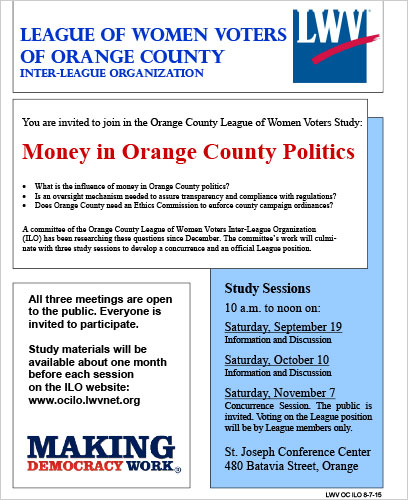 Click on the image above to view a PDF version.
Anaheim
Overdrive Computer Instruction
Wednesday, August 26, 2015, 10:00 AM
Canyon Hills Branch Library, 400 Scout Trail

Family Storytime at East Anaheim
Saturday, August 29, 2015, 11:00 AM
East Anaheim Branch Library, 8201 E. Santa Ana Canyon Rd.

Irvine
Certified Farmers Market
Sunday, August 23, 10:00 AM
Orange County Great Park, 6950 Marine Way

Drought Survival Expo
Sunday, Sept. 12, 9:00 AM – 1:00 PM
Irvine Ranch Water District, 15600 Sand Canyon Ave.

Orange
Anime Nights
Wednesday, August 26, 6:00 PM
Orange Public Library & History Center, 407 E. Chapman Ave.

Lisi Pigglepen's Play Place
Wednesday, August 31, 10:30 AM – 11:00 AM
Orange Public Library & History Center, 407 E. Chapman Ave.

Silverado
Silverado Summer Concert Series
Saturday, September 19, 6:00 PM
Silverado Fairgrounds, Community Center 27641 Silverado Canyon Rd.

Tustin
Farmers Market
Wednesday, August 26, 9:00 AM to 1:00 PM
El Camino Real & 3rd St.

Victory Park Grand Opening & Ribbon Cutting
Tuesday, August 25, 5:00 PM
Victory Park, 3300 Park Ave.

Villa Park
Concert in (Villa) Park, Full Spectrum
Friday, August 21, 7:00 PM
Villa Park High Outdoor Amphitheater

Book Club
Wednesday, September 16, 3:00 PM
Villa Park Library, 17865 Santiago Blvd.

Yorba Linda
Nixon Library Concert, Classic Touch, Singers Pam Wheeler, Ray Carrillo and Rob Woyshner, Pianist
Sunday, August 23, 1:30 PM
Richard Nixon Presidential Library & Museum, 18001 Yorba Linda Blvd.

Concert in the Park, Stone Soul
Sunday, August 23, 5:45 PM
Hurless Barton Park, 4601 Casa Loma Ave.


For questions or comments regarding Spitzer's E-Newsletter
please contact the Supervisor's office staff at: (714) 834-3330 or Melanie.Eustice@ocgov.com


DISTRICT

STAFF
Martha Ochoa
Chief of Staff

Melanie Eustice
Communications Director

Chris Nguyen
Senior Policy Advisor

Carrie O'Malley
Senior Policy Advisor

Martin Gardner
Policy Advisor

Christine Richters
Executive Aide



District Map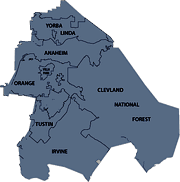 Anaheim, Irvine, Orange, Tustin, Villa Park, Yorba Linda, El Modena, North Tustin, Orange Park Acres, the Canyon Communities

Stay Updated!