August 28, 2015
Volume 3

Issue 26

Black Chamber of Commerce Presents Supervisor Todd Spitzer with the 2015 Distinguished Service Honoree Award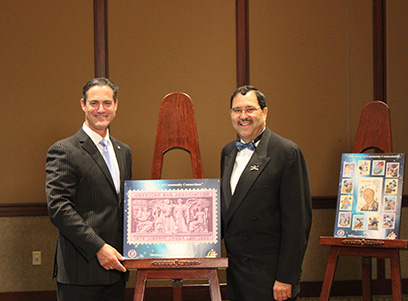 Supervisor Todd Spitzer and Black Chamber of Commerce Board of Director and OC Veteran Advisory Council, Chair Bobby McDonald in front of the American Bar Association Stamp "Liberty Under The Law"
Supervisor Todd Spitzer was presented with the 2015 Distinguished Service Honoree Award by the Black Chamber of Commerce at their OC Black Chamber Annual Banquet. This year, the theme of the event was Power of Community Connections.

For more than 30 years, the Black Chamber of Commerce of Orange County has continued to live up to its motto of "Access to Information" and to help the business community to grow their businesses. In addition, the Chamber has taken action on key issues including advocacy, housing, education, health, veterans, sports and community action.

The following community members were honored with Community Leadership Awards at the gala: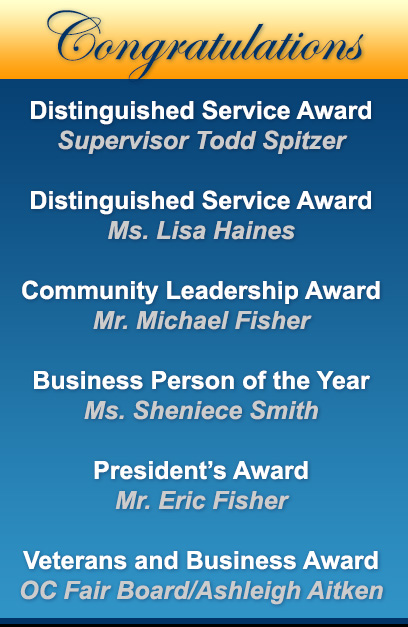 Board of Supervisors Take Major Step in Reforming Public Safety Oversight in Orange County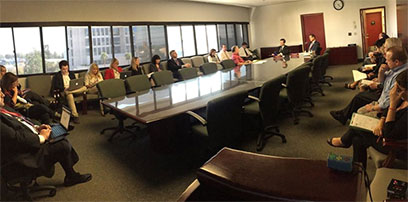 Ad Hoc Working Group heard testimony on different models of oversight for Orange County's law enforcement agencies. Photo by Supervisor Andrew Do's office.
The Board of Supervisors voted to hire Special Counsel to help construct an improved oversight model for public safety in Orange County. Sheriff-Coroner Sandra Hutchens spoke in favor of the contract during the Board meeting.

Special Counsel Michael Gennaco's contract was approved along with the extension of the current Office of Independent Review Executive Director Steve Connolly's contract by four months.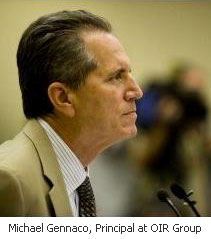 "Gennaco is one of the nation's leading experts in this area," said Orange County Board of Supervisors Chairman Todd Spitzer, who spoke of the need to examine the current oversight model. "We need a better model that expands oversight role to other criminal justice-related agencies at the county, such as the public defender's office and probation department."

In July, Chairman Spitzer called a special Board hearing on adopting a new public safety oversight model in Orange County. The hearing provided the Board of Supervisors with the opportunity to receive testimony, hold discussion and analyze various oversight models, including the Office of Independent Review.

Following the special Board meeting, an ad hoc committee was formed with Chairman and Third District Supervisor Todd Spitzer and First District Supervisor Andrew Do. The committee met to discuss the contracts for Gennaco and Connolly prior to the Board meeting on Tuesday. The ad hoc is scheduled to reconvene regularly with Gennaco's assistance in developing a new model of oversight this year.

Board of Supervisors Recognize the CalOptima Program of All-Inclusive Care for the Elderly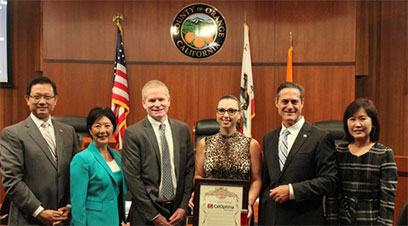 Supervisor Andrew Do, Vice Chair Lisa Bartlett, CalOptima CEO Michael Schrader, PACE Program Director Renata "Rena" Smith, Chaiman Todd Spitzer and Supervisor Michelle Steel
(Portions courtesy of CalOptima)

This week, the Orange County Board of Supervisors recognized CalOptima for their successful Program of All-Inclusive Care for the Elderly (PACE). PACE is a community-based Medicare and Medi-Cal program that provides coordinated and integrated health care services to frail elders to help them continue living independently in the community.

PACE services include routine medical care, prescription drugs, dental and vision. For more information about CalOptima, click here.

County Reforms Conflict of Interest Disclosure Process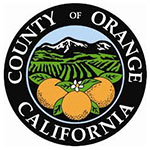 This week, the Orange County Board of Supervisors approved critical reforms in the way the County handles filing rules for financial conflict of interest disclosure forms, known as the Form 700 filing code.

"The Board's action will reduce the risk of financial conflicts of interest in government and will provide greater transparency to the public," Chairman Todd Spitzer said. "Orange County is leading the way for all local governments to bring more sunshine to what we do."

The Board of Supervisors approved a "Conflict of Interest Code Disclosure and Filing Policy" that clarifies the obligations of each County agency and department in keeping its Form 700 filing code up to date.

This policy requires:

Code amendments be submitted within 90 days of changes that require amendments (for example, when a new position is created)
Biennial reviews of the Form 700 code with appropriate amendments
Each agency/department must send a representative to the Board of Supervisors meeting where the code amendment is being considered
Each code amendment must include more detailed written justifications and explanations for all changes because these explanations were quite vague and unclear previously
Each agency/department must ensure that its own employees has met the Form 700 filing requirement; previously, each department decided for itself whether it would check on its employees
At the Board's direction earlier this year, County Counsel began the first-ever comprehensive review of the Form 700 filing requirements in each of the County's agencies and departments. In their review of top level executives, County Counsel has determined five departments need to make changes in disclosure categories, four departments need to add positions to the list of people who should file the Form 700, and two departments need to rename positions. County Counsel is now reviewing all non-executive employees and consultants.

After County Counsel completes this first-ever review and presents the findings to the Board, the reviews will be done both biennially and when positions are added, modified, or deleted by agencies/departments. Additionally, going forward, whenever a County agency/department submits amendments to their Form 700 filing requirements, County Counsel will now review proposed amendments before they reach the Board agenda.

Recognizing that the Form 700 should not be a punitive device, the Board of Supervisors approved the development and enhancement of informational and training materials to give guidance to County agencies and departments for developing and amending their Form 700 filing codes.

Additionally, the Board of Supervisors approved providing resources on the Clerk of the Board's web site to assist outside agencies in the creation and amendment of their Form 700 filing codes.

County and OC Workforce Investment Board Awarded Grant to Increase Veteran Focused Services


(Portions courtesy of OC Community Resources)

Veterans can access a variety of programs and services at both the One-Stop Centers throughout the county (including Irvine, Garden Grove and a satellite location at the Joint Forces Training Base, Los Alamitos) and at the County Veterans Services Office (VSO) in Santa Ana.

On August 25, 2015, the Board of Supervisors formally received a grant from the State of California, Employment Development Department. This grant was submitted in coordination with County of Orange, OC Community Services/Orange County Workforce Investment Board (OCWIB) and the Pacific Gateway Workforce Investment Network (PGWIN). The Veterans Employment-Related Assistance Program (VEAP) will provide employment and training services for approximately 85 Veterans in Orange County and Long Beach area.

With the funding received for the VEAP project, the OCWIB's One-Stop Centers will enhance employment services to recently separated veterans, campaign veterans, and veterans with disabilities. The OC One-Stop Centers and PGWIN have experienced staff ready assist veterans with customized career planning, employment, training, and support services.

Other services for Veterans are offered at the County VSO include the OC4Vets program. The OC4Vets Program is administered by the OC Community Services Department, VSO and One-Stop Centers in partnership with Orange County Health Care Agency-Behavioral Health Services. OC4Vets streamlines services and resources such as claims and benefits processing, behavioral health assessment, case management, on-site housing consultation, on-site job coaching, housing, transportation, and much more – all at the VSO in Santa Ana.

The Orange County VSO provides free benefit claims counseling and information and referral assistance to veterans, their dependents and survivors. The VSO works to ensure every Veteran who visits the office receives answers, resources, and support to meet all their needs.

To learn more about the OC One-Stop Center's Veteran Programs, please contact your local center at (949) 341-8000 or visit www.oconestop.com.

For more information about the County Veterans Service Office, please contact (714) 480-6555 or visit http://veterans.ocgov.com

Supervisors Appoint Peter Hughes as Performance Audit Director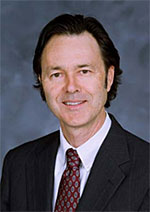 (Portions courtesy of County Executive Office)

The Board of Supervisors has appointed Peter Hughes to a three-year term as the County's permanent performance audit director.

The performance audit office conducts independent performance reviews of County operations to assess efficiency, effectiveness, accountability and compliance with state and federal laws, Board policy and industry best practices. Hughes will work directly with the Board of Supervisors and in consultation with the County Executive Office. His annual salary will be $192,000.

Since April, Hughes has been serving as the interim performance audit director following the departure of Philip Cheng. Previously Hughes was the County's director of internal audit, a position he held since being appointed by supervisors in July 1999.

"Peter Hughes is a dedicated County employee who I helped hire in 1999 as Internal Audit Director," said Chairman Todd Spitzer, Third District Supervisor. "His distinguished record speaks for itself, and he is the right person to revitalize Performance Audit."

Hughes is a Certified Public Accountant, licensed in California and Oregon, as well as a Certified Information Technology Professional, Certified Internal Auditor, and Certified Fraud Examiner.

Pet of the Week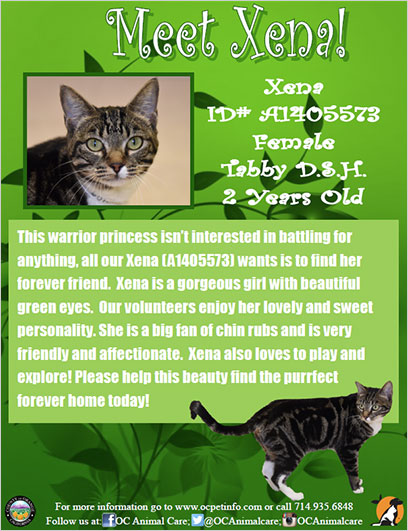 Click on the image above to view a PDF version.

Events Around the District

Anaheim
Family Storytime at East Anaheim
Saturday, August 29, 2015, 11:00 AM
East Anaheim Branch Library, 8201 E. Santa Ana Canyon Rd.

Irvine
Certified Farmers Market
Sunday, August 30, 10:00 AM
Orange County Great Park, 6950 Marine Way

Drought Survival Expo
Sunday, September 12, 9:00 AM – 1:00 PM
Irvine Ranch Water District, 15600 Sand Canyon Ave.

Orange
Outdoor Fitness Circuit at Grijalva Park
Saturday, August 29, 9:00 AM
Grijalva Park, 368 N. Prospect Ave.

Lisi Pigglepen's Play Place
Wednesday, August 31, 10:30 AM – 11:00 AM
Orange Public Library & History Center, 407 E. Chapman Ave.

Silverado
Silverado Summer Concert Series
Saturday, September 19, 6:00 PM
Silverado Fairgrounds, Community Center 27641 Silverado Canyon Rd.

Tustin
Farmers Market
Wednesday, September 2, 9:00 AM to 1:00 PM
El Camino Real & 3rd St.

Preschool Story Time
Thursday, September 3, 4:00 PM
Tustin Library, 345 E. Main St.

Villa Park
Family Movie Night, Home
Friday, August 28, 6:30 PM, Dusk
Serrano Elementary, 17741 Serrano Ave.

Book Club
Wednesday, September 16, 3:00 PM
Villa Park Library, 17865 Santiago Blvd.

Yorba Linda
Nixon Library Concert, Chamber Music, Duo Animato performing the complete Violin Sonatas of Brahms
Sunday, August 23, 1:30 PM
Richard Nixon Presidential Library & Museum, 18001 Yorba Linda Blvd.

Toddler Time Storytime
Tuesdays: September 8 - October 27, 10:30 AM-10:55 AM
Yorba Linda Library, 18181 Imperial Hwy.


For questions or comments regarding Spitzer's E-Newsletter
please contact the Supervisor's office staff at: (714) 834-3330 or Melanie.Eustice@ocgov.com


DISTRICT

STAFF
Martha Ochoa
Chief of Staff

Melanie Eustice
Communications Director

Chris Nguyen
Senior Policy Advisor

Carrie O'Malley
Senior Policy Advisor

Martin Gardner
Policy Advisor

Christine Richters
Executive Aide



District Map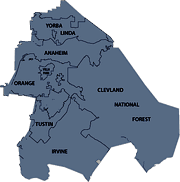 Anaheim, Irvine, Orange, Tustin, Villa Park, Yorba Linda, El Modena, North Tustin, Orange Park Acres, the Canyon Communities

Stay Updated!