October 9, 2015
Volume 3

Issue 32

Board of Supervisors Advance Campaign Finance and Ethics Commission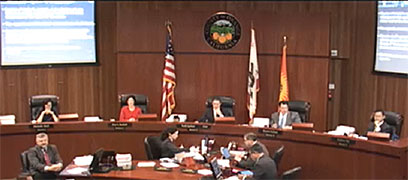 OC Board of Supervisors Meeting
This week, the Orange County Board of Supervisors moved closer to finalizing a ballot measure that would create an independent ethics oversight commission and strengthen enforcement of regulations on campaign finance, lobbyists, and other governmental ethics.

The newly formed ethics commission would oversee conduct relating to "Time is Now, Clean Up Politics" (TINCUP), which was passed in 1978 creating the Orange County Campaign Reform Ordinance; the County gift ban; the County Lobbyist Registration and Reporting Ordinance; and the County Code of Ethics.

"Creating an Orange County Campaign Finance and Ethics Commission will increase transparency and ethics reform in Orange County," said Supervisor Todd Spitzer. "My view on an ethics commission has remained constant. I was looking to see that key issues were addressed including the budget, subpoena power, appointments and training. I'm confident that this Ordinance has the teeth to make a difference and to serve as a useful resource and tool."

Supervisor Spitzer had been working with TINCUP author Shirley Grindle and Supervisor Shawn Nelson since 2013 to improve ethics oversight. Since returning to the Board of Supervisors in 2013, Spitzer had been pushing for a County ethics commission as proposed by Grindle and her colleagues, former Common Cause Chairman Bill Mitchell and Chapman University Professor Mario Mainero. When the County ethics commission effort was unsuccessful in 2013, Supervisors Nelson and Spitzer created Measure E, which the voters approved in November 2014 to authorize the County to contract with the California Fair Political Practices Commission.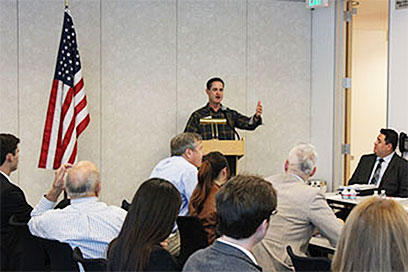 Supervisor Todd Spitzer Speaking at Ethics Roundtable held in April 2015
Implementation of Measure E required a change in state law, but after legislation by Senator Lou Correa (D-Santa Ana) stalled in 2014 and by Assemblyman Matt Harper (R-Huntington Beach) stalled in 2015, Supervisor Nelson led a working group with Supervisor Spitzer, Ms. Grindle, Mr. Mitchell, and Professor Mainero to develop the Orange County Campaign Finance and Ethics Commission.

Supervisor Spitzer sponsored a Roundtable Discussion on the Future of Ethics in Orange County in April 2015. In July 2015, he formed the Orange County Ethics Committee, composed of representatives from each Board of Supervisors office to study models of ethics oversight, with Supervisor Spitzer's appointee serving as chairman and Supervisor Andrew Do's appointee serving as vice chairman. The committee took testimony from a wide variety of experts in the field of ethics and returned to the Board of Supervisors with a 249-page report in September.

The commission would have the authority to subpoena bank statements of campaign committees, create an independent campaign contribution tracking system, develop an annual ethics training program for county officials and staff, and investigate and enforce TINCUP.

After incorporating a number of key amendments proposed by Supervisor Do to improve the commission proposal, County Counsel will return to the board on October 20, 2015 with final measure language and a proposed directive to place the Orange County Campaign Finance and Ethics Commission on the ballot for the June 2016 election.

Supervisor Todd Spitzer Speaks at Peters Canyon Regional Park Workshop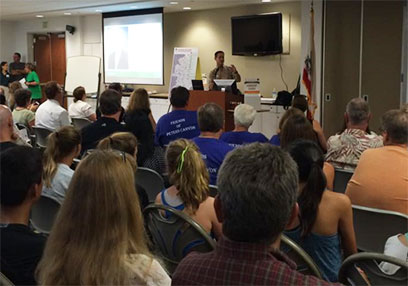 Supervisor Spitzer at the Peters Canyon Regional Park Workshop
(Portions courtesy of OC Parks)

Supervisor Spitzer worked with OC Parks to host a workshop this week at Orange County Fire Authority Headquarters to present and solicit public input on several alternative alignments for a segment of a proposed bikeway that would travel through or adjacent to Peters Canyon Regional Park. Over 250 people attended the event and most people expressed opposition to paving a path through Peters Canyon.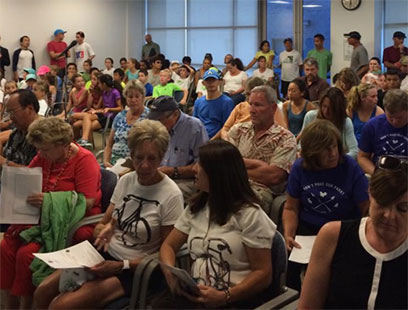 Community members attend the Peters Canyon Regional Park Workshop
In early 2015, OC Parks initiated the public input process to create a General Development Plan (park plan) for Peters Canyon Regional Park. One of the items being considered for the park's trail plan is a paved multi-use trail that would traverse the park. OC Parks has received public comment to consider alternative alignments for the multi-use trail.

OC Parks has hired an engineering firm to prepare an analysis of the proposed alternative trail alignments. At the upcoming workshop, OC Parks and the consultant will present various trail alignment alternatives for consideration and public input.

OC Parks wants to hear from all Orange County residents even if they are unable to attend the workshop. The presentation and exhibit maps will be available after the workshop on the project website.

Thoughts on the project can also be sent to OC Parks at peca@parks.com. The County looks forward to the public's participation in the planning process to improve Peters Canyon Regional Park for the enjoyment and recreation of all Orange County residents.

Board of Supervisors Commends OC Community Services and Health Care Agency for Earning the Affordable Housing Award for Development of the Year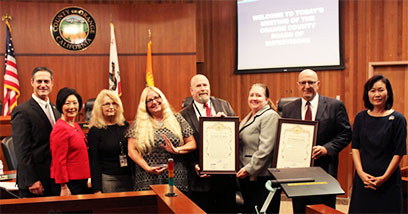 Chairman Todd Spitzer, Vice Chair Lisa Bartlett, Health Care Agency Residential Care and Housing Administrative Manager Judy Iturriaga, OC Community Services Director Karen Roper, Health Care Agency Residential Services Administrative Manager Mitch Cherness, OC Community Services Deputy Director Julia Bidwell, Housing/Community Development & Homeless Prevention Manager John Viafora, and Supervisor Michelle Steel
This week, the Board of Supervisors honored OC Community Services and the OC Health Care Agency for earning the Affordable Housing Award for Development of the Year.

The Orange County Community Housing Corporation, the Affordable Housing Clearinghouse, and the Kennedy Commission have honored the County of Orange with an Affordable Housing Award for Development of the Year for the Alegre Apartments.

Developed by AMCAL Multi-Housing, Alegre Apartments is a 104-unit affordable housing development located at 3100 Visions, Irvine, California. Supervisor Todd Spitzer participated the ribbon cutting for this project last week.

Alegre Apartments consists of one, two, three and four bedroom units serving low-income families with incomes from 30% to 50% of the Area Median Income (AMI).

Supervisor Todd Spitzer Leads the Pledge of Allegiance at the Orange County Police Canine Association 27th Annual Police K-9 Demonstration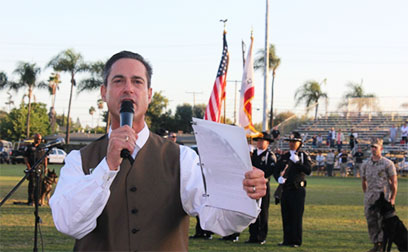 The Orange County Police Canine Association held its 27th Annual Police K-9 Demonstration at Glover Stadium in Anaheim. Supervisor Todd Spitzer was invited to lead the Pledge of Allegiance. Approximately 6,000 to 8,000 people at the event watched skits developed by each local law enforcement agency to showcase K-9 teams.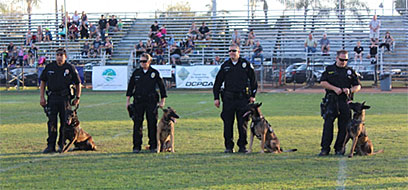 Police K-9 Teams
The event is a fundraiser for families of fallen officers and for helping local agencies buy and train police dogs.

30-Day Comment Period for 1000 North Kraemer Place Site Opens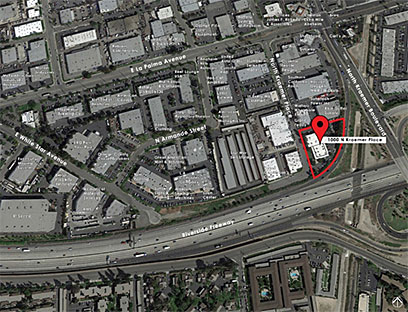 1000 North Kraemer Place, Anaheim
(Portions courtesy of County Executive Office)

The public has until October 30, 2015, to comment on a Draft Mitigated Negative Declaration before the Board of Supervisors considers finalizing the purchase of the property at 1000 North Kraemer Place for use as an Emergency Temporary Shelter and Multi-Service Center to serve the homeless. Review under the California Environmental Quality Act is required before the Board of Supervisors makes a final decision whether to purchase the property for use as a 200-bed shelter that would connect the homeless with a variety of government assistance programs.

"This is the public's opportunity to give us formal comments on the environmental impact of the project," said Board of Supervisors Chairman Todd Spitzer, who represents the Third District, which includes the property. "This is an important step in the process as my colleagues and I move toward a final decision."

The 30-day comment period opened October 1. Commenters are asked to submit written comments by 4:30 p.m. on October 30, 2015, to OC Public Works either by email to chris.uzodiribe@ocpw.ocgov.com or postal mail at the address below. The comments should address the finding that the project would not have a significant adverse impact on the environment. Please provide any supplemental data or documentation relevant to the comments.

A full copy of the document and supporting material can be found online here: http://ocplanning.net/planning/land/projects/emergency_temporary_shelter

Additional printed copies can be found at OC Public Works at 300 N. Flower St. in Santa Ana, the Anaheim Public Library at 500 W. Broadway in Anaheim, and the Orange Public Library at 407 E. Chapman Avenue in Orange.

Address comments to:
OC Public Works / OC Planning
Attn: Chris Uzo-Diribe
300 N. Flower St., 1st Floor
Santa Ana, CA 92702-4048
chris.uzodiribe@ocpw.ocgov.com

Grand Jury Applications are Available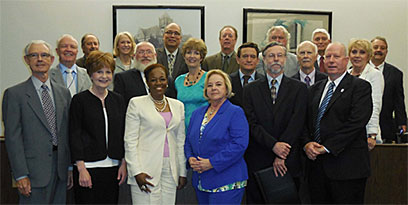 Orange County Grand Jury – June 2014
(Portion courtesy of Superior Court of California County of Orange)

The Orange County Superior Court encourages Orange County residents to apply to serve on the next Grand Jury. A new 19-member Grand Jury will be empaneled for a one-year term that begins July 1, 2016.

What does the Grand Jury do?

Investigates the performance of county, city, and other local agencies
Analyzes data and writes reports with recommendations for improvement
Verifies that local tax dollars are spent wisely
Examines conditions at local jails
Decides on indictments for some criminal cases
Looks into citizen complaints about local government agencies
At the beginning of the term, members of the Grand Jury attend tours and briefings to increase their knowledge of the workings of county agencies to help them assess potential problems. Grand Jury reports from past civil investigations are posted online at www.ocgrandjury.org/reports.asp.

Superior Court judges review applications and interview qualified applicants. The Orange County Sheriff's Department conducts background investigations on top candidates. Selection of the 19-member Grand Jury is achieved by a random drawing of the top 25 to 30 candidates nominated for service to equally represent each of the five Orange County Supervisorial Districts, as required by law. The minimum requirements to serve are individuals who are:

At least 18 years old
United States citizen
Resident of Orange County for at least one year
Sufficient knowledge of English
In possession of sound judgment, good character, and a sense of fairness
An application form and more information are available online at www.ocgrandjury.org, by calling the Grand Jury Hotline at 657-622-6747, or at the Jury Commissioner's Office, 700 Civic Center Drive West, Santa Ana, 92701. The current stipend for Grand Jury service is $50 per day plus mileage reimbursement. Individuals meeting the above requirements are encouraged to apply. Completed applications must be received by Friday, January 22, 2016.

Orange County Clerk-Recorder - Special Saturday Opening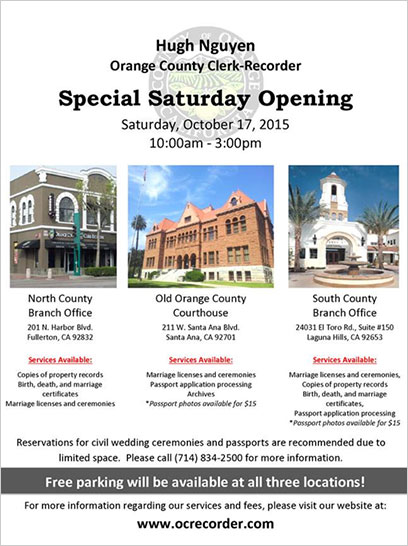 Click on the image above to view a PDF version.

Halloween Fest Event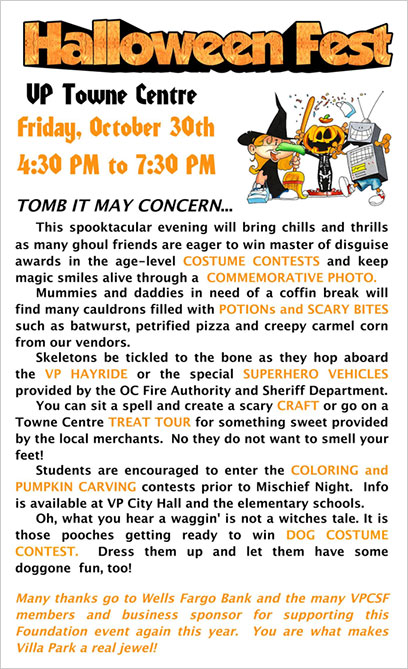 Pet of the Week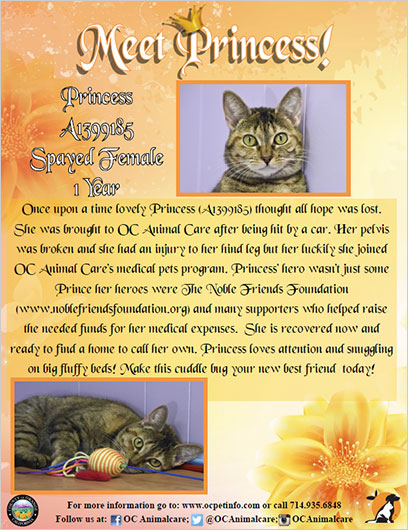 Click on the image above to view a PDF version.

Events Around the District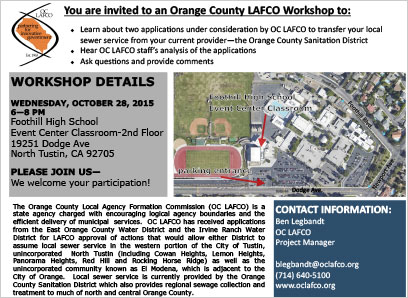 Click on the image above to view a PDF version.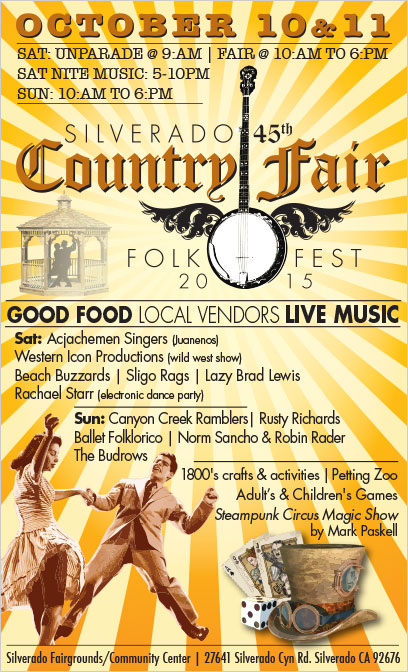 Click on the image above to view a PDF version.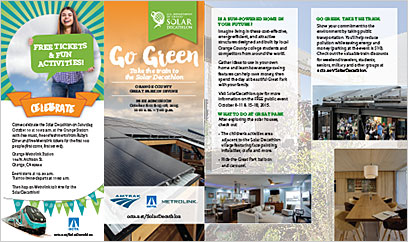 Click on the image above to view a PDF version.

Anaheim
Star Wars Reads Day with Mike Senna and R2D2
Saturday, October 10, 2015, 11:00 AM
East Anaheim Branch Library, 8201 E. Santa Ana Canyon Rd.

Explorers Club
Thursday, October 15, 2015, 3:00 PM
Canyon Hills Branch Library, 400 Scout Trail

Irvine
Certified Farmers Market
Sunday, October 11, 10:00 AM
Orange County Great Park, 6950 Marine Way

U.S. Department of Energy Solar Decathlon 2015
October 8-11 and 15-18, 11:00 AM – 7:00 PM
Orange County Great Park, 6950 Marine Way

Orange County Fire Authority Open House
Saturday, October 23, 10:00 AM – 2:00 PM
1 Fire Authority at Jamboree and Tustin Ranch Road

Orange
Old Time Games for Kids
Friday, October 16, 10:30 AM
Orange Public Library & History Center, 407 E. Chapman Ave.

Free Flu Shots
Friday, October 16, 11:00 AM – 1:00 PM
Grijalva Park & Sports Center, 368 N Prospect St.

Silverado
Silverado Country Fair
Saturday, October 10 and Sunday, October 11 10:00 AM to 6:00 PM
Fairgrounds, 27641 Silverado Canyon Rd.

Tustin
Farmers Market
Wednesday, October 14, 9:00 AM to 1:00 PM
El Camino Real & 3rd St.

Halloween Howl
Friday, October 30, 3:00 PM to 5:00 PM
Columbus Tustin Activity Center, 17522 Beneta Way

Villa Park
Villa Park Fire Station 23
Saturday, October 10, 9:00 AM – 2:00 PM
5020 Santiago Canyon Road

Book Club
Wednesday, October 21, 9:30 AM
Villa Park City Hall, 17855 Santiago Blvd.

Yorba Linda
Nixon Library Concert, Concert Pianist, Lisa Zecchini,
Sunday, October 11, 1:30 PM
Richard Nixon Presidential Library & Museum, 18001 Yorba Linda Blvd.

2015 Yorba Linda State of the City Address
Wednesday, October 14, 11:30 AM – 1:30 PM
Richard Nixon Presidential Library & Museum, 18001 Yorba Linda Blvd.


For questions or comments regarding Spitzer's E-Newsletter
please contact the Supervisor's office staff at: (714) 834-3330 or Melanie.Eustice@ocgov.com


DISTRICT

STAFF
Martha Ochoa
Chief of Staff

Melanie Eustice
Communications Director

Chris Nguyen
Senior Policy Advisor

Carrie O'Malley
Senior Policy Advisor

Martin Gardner
Policy Advisor

Christine Richters
Executive Aide



District Map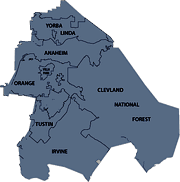 Anaheim, Irvine, Orange, Tustin, Villa Park, Yorba Linda, El Modena, North Tustin, Orange Park Acres, the Canyon Communities

Stay Updated!