October 23, 2015
Volume 3

Issue 34

Local Ethics Commission Vote Headed for June Ballot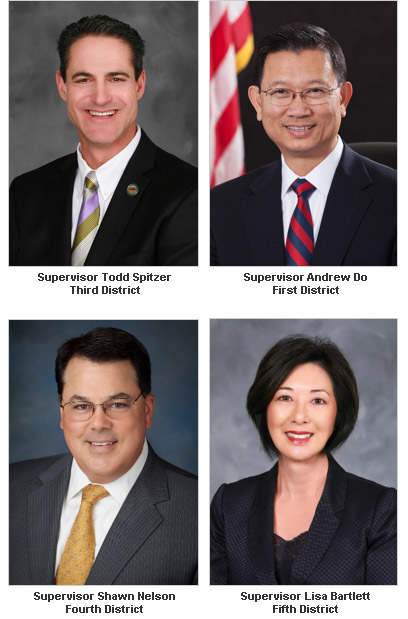 (Portions courtesy of the County Executive Office)

Local voters will be asked on the June 7 ballot to form an Orange County Campaign Finance and Ethics Commission and to make related changes to the County Campaign Reform Ordinance after action Tuesday by the Board of Supervisors.

"Elected officials have a responsibility to follow the rules when it comes to campaign finance and government ethics. This ballot measure will help fix compliance issues caused by common errors and help educate candidates and elected officials through training and advice, with enforcement penalties implemented in the most serious cases," Board of Supervisors Chairman Todd Spitzer said. "The Ethics Ordinance increases oversight and compliance."

Establishing a local County commission would require changing a law approved by voters last year permitting the County to contract with the state Fair Political Practices Commission (FPPC) for civil enforcement of county campaign laws with legislative approval.

"We're back to solving this ourselves because the state Legislature has refused to allow a truly independent agency, the FPPC, to enforce our local campaign laws," said Supervisor Shawn Nelson.

Supervisor Andrew Do said the proposed ballot measure would provide for enforcement and assure that candidates receive guidance in a confidential manner. "The goal of this proposal is to help candidates follow the rules, which can be confusing," Supervisor Do said. "Most people want to do the right thing."

Vice Chair Lisa Bartlett agreed the ballot measure is appropriate, saying, "It is important to have the voters weigh in on how they want oversight enforced in Orange County."

The ballot measure also would ask voters to approve a charter amendment giving the executive director of the proposed Orange County Campaign Finance and Ethics Commission the legal authority to subpoena the bank records of candidates for county offices.

Orange County's landmark campaign reform ordinance, known as TINCUP for "Time is Now Clean Up Politics" was approved in 1978 and amended in 1992. TINCUP regulates campaign contribution limits (currently $1,900 per candidate per election cycle) and other campaign activity for County elected officials, including the offices of Supervisor, Assessor, Auditor-Controller, Clerk-Recorder, District Attorney-Public Administrator, Sheriff-Coroner, Treasurer-Tax Collector and the Superintendent of Schools. Nothing in this measure, or in the original TINCUP prevents an officeholder from also having another officeholder account if they run for, or hold, another office.

Earlier this month, supervisors reviewed the recommendations of a special committee evaluating the establishment of a local ethics commission and directed County attorneys to prepare ballot language for consideration by voters.

Special Meeting of the Ad Hoc Committee Examining Office of Independent Review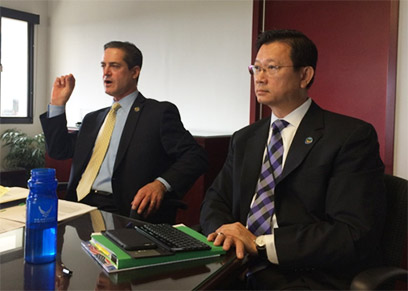 Supervisor Todd Spitzer and Supervisor Andrew Do at the Office of Independent Review Ad Hoc Committee Meeting
This week the Ad Hoc Committee examining the Office of Independent Review (OIR) met to receive a progress report from Special Counsel Michael Gennaco and to provide direction regarding the development of ordinances, polices and a model for independent oversight of Orange County law enforcement agencies.

After the Board of Supervisors expressed its intention not to renew the contract for the current provider and expressed interest in selecting a different model that allows for stronger oversight and transparency of law enforcement, the Ad Hoc Committee examining OIR was formed, and industry expert Michael Gennaco was brought on as Special Counsel to identify ways to increase the effectiveness of OIR.

At the meeting, Gennaco presented methods for strengthening the oversight model, such as adding resources to audit sheriff's investigations and practices. Another recommendation included bringing in law students and volunteers as independent jail monitors.

Gennaco also proposed expanding the scope of oversight to include law enforcement agencies that include Child Protective Services, District Attorney, Probation Department, Public Defender's office, and the Sheriff's Department. Each of the agencies, except for the District Attorney, attended the meeting.

"As a County we can't keep footing the bill on lawsuits without getting the facts and creating change to prevent the issues from occurring again," said Supervisor Todd Spitzer.

Gennaco is anticipated to present his final report to the Board of Supervisors in early November. To review the draft report click here.

Chairman Spitzer Honors Make-A-Wish at their 35th Anniversary Global Conference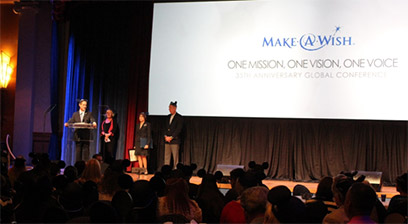 Chairman Todd Spitzer, Anaheim Mayor Pro Tem Lucille Kring, Make-A-Wish Orange County and the Inland Empire President/CEO Stephanie McCormick and Make-A-Wish America President/CEO David Williams
Supervisor Todd Spitzer honored Make-A-Wish and their CEO David Williams at the 35th Anniversary Global Conference. The conference was held at the Disneyland Hotel.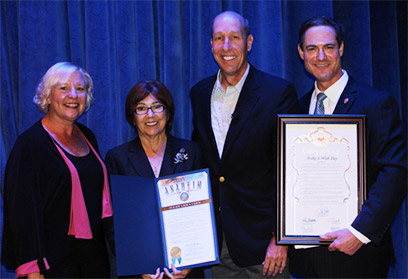 Anaheim Mayor Pro Tem Lucille Kring, Make-A-Wish Orange County and the Inland Empire President and CEO Stephanie McCormick, Make-A-Wish America President and CEO David Williams and Chairman Todd Spitzer
"With a heart full of gratitude, I support the great work that Make-A-Wish does for children and I encourage the people of Orange County to honor all the individuals who power the global movement to make life better for children with life-threatening medical conditions," said Chairman Todd Spitzer.

Over 2000 Make-A-Wish staff and volunteers from around the world are expected to attend this year's conference.

For more information about Make-A-Wish Orange County, click here.

Welcoming Attendees at the Annual Community First Conference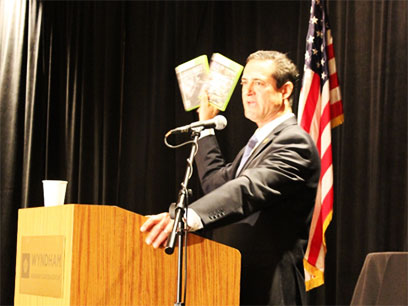 Supervisor Todd Spitzer talking about the impacts of violent video games
(Portions courtesy of OC Health Care Agency)

Supervisor Todd Spitzer was invited to give welcoming remarks at the Community First Conference. The Community First Conference is an educational forum designed to assist law enforcement personnel, mental health professionals, judicial officers, school professionals and other social service providers with current research, social protocols, and practical information about services provided to persons with a mental illness.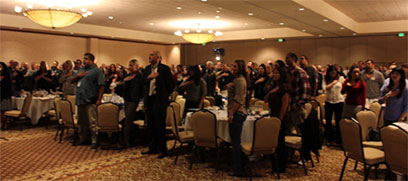 Conference attendees participate in the Pledge of Allegiance
This year's conference theme and topics were identified as high priority subject matter by law enforcement, mental health professionals, community leaders and consumer advocates who believe that applying increased knowledge, during interventions, will promote quality care and safety for all concerned.

New Director of John Wayne Airport Named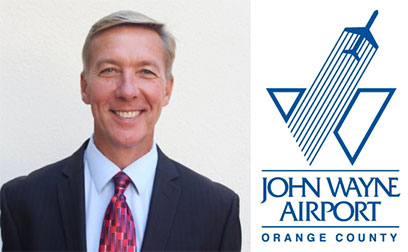 Barry Rondinella, JWA Airport Director-Designate
(Portions courtesy of County Executive Office)

Barry Rondinella, the director of operations for Los Angeles World Airports (LAWA), which operates Los Angeles International Airport (LAX), Ontario International Airport, and Van Nuys Airport, has been selected by the Board of Supervisors as the new Director of John Wayne Airport, effective November 13.

Rondinella replaces Alan Murphy, who retired in February. Rondinella has served as LAWA's director of operations since 2010. He previously served as deputy director for operations at Sacramento International Airport and as airport director for Stockton Metropolitan Airport and the Santa Maria Public Airport.

A licensed commercial pilot, Rondinella is an Accredited Airport Executive and a U.S. Air Force veteran.

"John Wayne Airport serves more than 10 million passengers a year with unique passenger restrictions and noise regulations that protect communities. It's essential to have an Airport Director whose highest priorities are to protect the community and honor the curfew," Board of Supervisors Chairman Todd Spitzer said. "The Board is pleased to have selected someone who is extremely qualified and collaborative."

"Orange County is fortunate to have airport professionals who put travelers and visitors first and we welcome Barry's expertise and leadership to the team," said Supervisor Michelle Steel, whose Second District includes John Wayne Airport.

The Airport Director develops airport policies and has direct responsibility for business development, facilities, finance and administration, and operations and public affairs. The director also oversees airport staff and prepares annual budgets. The airport's deputy director for facilities, Lawrence Serafini, has served as acting director during the national search for a permanent replacement.

Appointment of the airport director by the Board of Supervisors is required by County ordinance. The selection followed work by an ad-hoc Board committee comprised of Vice Chair Lisa Bartlett and Supervisor Andrew Do. Rondinella will report to County Executive Officer Frank Kim through County Chief Operations Officer Mark Denny. He will earn a salary of $200,000 a year.

Supervisor Todd Spitzer Scheduled to Start the 5K
25 Years Running, and Now Biking!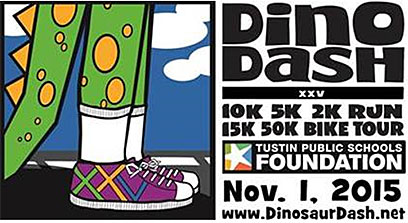 The 25th Anniversary Dinosaur Dash is right around the corner! Supervisor Todd Spitzer is scheduled to help start the 5K and everyone is invited to stop by and say hello.

The Dinosaur Dash will be held on Sunday, November 1 at The Market Place in Tustin. Races begin at 6:45 a.m., and continues until 10:30 a.m. You can sign up for the timed 5K or 10K, the non-timed 2K "Fun Run" or the non-timed 15K and 50K bike tours. The 5K and 10K division winners will receive the famous handmade dinosaur trophy, and second-place finishers will receive commemorative medals. All 5K and 10K finishers will receive a finisher's medal, and all 2K finishers will receive a commemorative wristband. The Expo opens at 7 a.m. and will feature Dino Dash sponsor booths, TUSD school booths, activities, tasty treats and more.

Register online at www.DinosaurDash.net. All proceeds benefit the Tustin Public Schools Foundation and Tustin Unified students and schools.

Halloween Fest Event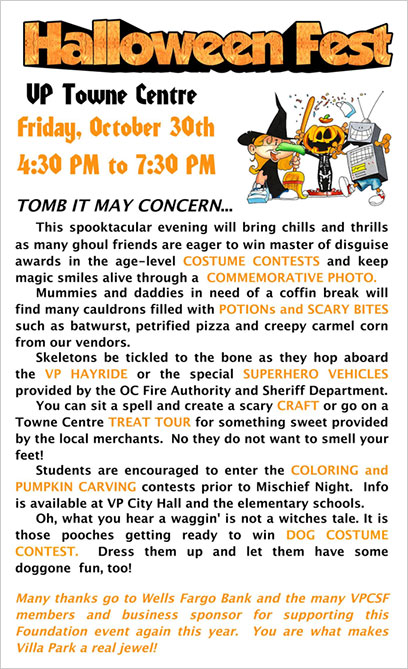 Pet of the Week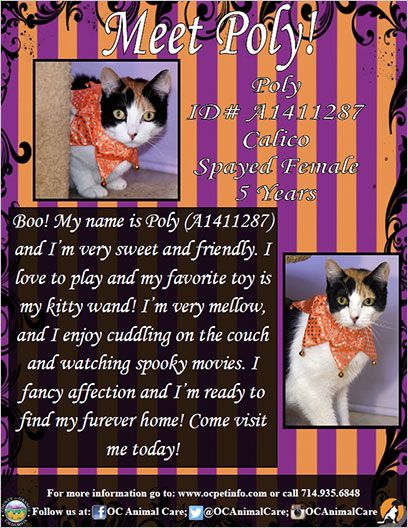 Click on the image above to view a PDF version.



Click on the image above to view a PDF version.

Events Around the District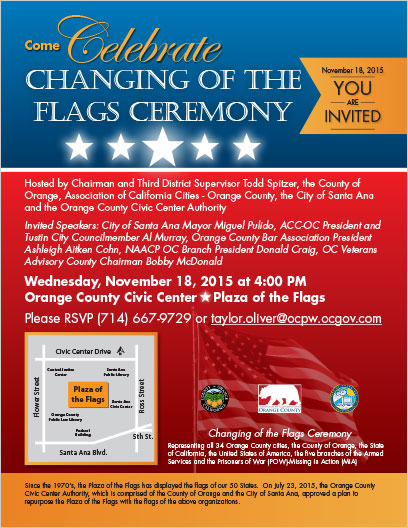 Click on the image above to view a PDF version.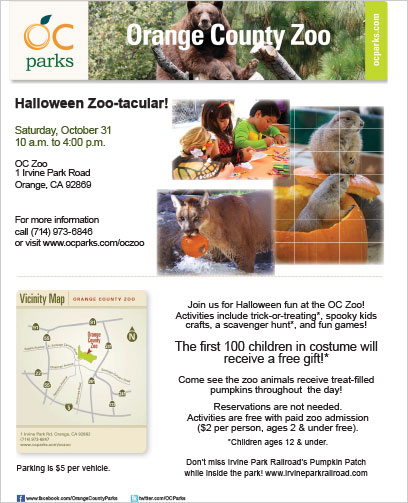 Click on the image above to view a PDF version.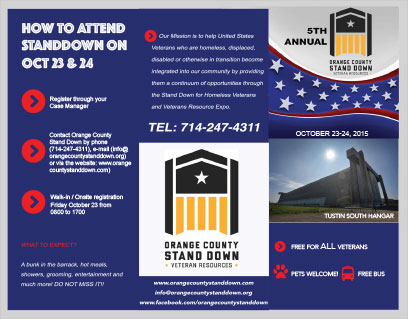 Click on the image above to view a PDF version.


Anaheim
Family Story Time
Saturday, October 24, 11:00 AM
East Anaheim Branch Library, 8201 E. Santa Ana Canyon Rd.

Halloween Festival
Saturday, October 24, 12:00 PM – 4:00 PM
Canyon Hills Branch Library, 400 Scout Trail

Irvine
Orange County Fire Authority Open House
Saturday, October 24, 10:00 AM – 2:00 PM
1 Fire Authority at Jamboree and Tustin Ranch Road

Certified Farmers Market
Sunday, October 25, 10:00 AM
Orange County Great Park, 6950 Marine Way

Orange
Meet the Author Eileen Hu, Tofu Power
Saturday, October 24, 2:00 PM
Orange Public Library & History Center, 407 E Chapman Ave.

Streets Autumn Festival
Thursday, October 29, 4:00 PM – 7:00 PM
Historic Old Towne Orange Plaza, where Glassell Street meets Chapman Ave.

Silverado
Pilates
Wednesday, October 28, 5:30 PM
Silverado Community Center

Community Trick-or-Treat
Saturday, October 31, 6:00 PM
Fire Station 16, 28891 Modjeska Canyon Rd.

Tustin
Farmers Market
Wednesday, October 28, 9:00 AM - 1:00 PM
El Camino Real & 3rd St.

Halloween Howl
Friday, October 30, 3:00 PM - 5:00 PM
Columbus Tustin Activity Center, 17522 Beneta Way

Villa Park
Preschool Storytime
Tuesday, October 27, 9:30 AM & 10:30 AM
Villa Park Library, 17855 Santiago Blvd.

Halloween Fest
Friday, October 30, 4:30 AM – 7:30 PM
Villa Park Towne Center

Yorba Linda
Nixon Library Concert, Concert Pianist, Ann Patrick Green
Sunday, October 25, 1:30 PM
Richard Nixon Presidential Library & Museum, 18001 Yorba Linda Blvd.

Ancestry Answers
Monday, October 26, 7:00 PM
Yorba Linda Library, 18181 Imperial Hwy.


For questions or comments regarding Spitzer's E-Newsletter
please contact the Supervisor's office staff at: (714) 834-3330 or Melanie.Eustice@ocgov.com


DISTRICT

STAFF
Martha Ochoa
Chief of Staff

Melanie Eustice
Communications Director

Chris Nguyen
Senior Policy Advisor

Carrie O'Malley
Senior Policy Advisor

Martin Gardner
Policy Advisor

Christine Richters
Executive Aide



District Map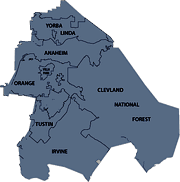 Anaheim, Irvine, Orange, Tustin, Villa Park, Yorba Linda, El Modena, North Tustin, Orange Park Acres, the Canyon Communities

Stay Updated!