October 30, 2015
Volume 3

Issue 35

CSAC Presents Four Awards to County of Orange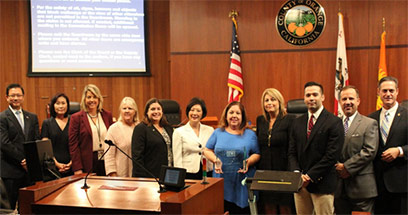 Presentation of the CSAC Challenge Award to the County for OC Community Services's Vets Helping Vets Work Study Program: Supervisor Andrew Do, Supervisor Michelle Steel, County Director of Government and Community Relations Cymantha Atkinson, CSAC Executive Director of Legislative Services DeAnn Baker, CSAC Legislative Representative Farrah McDaid Ting, Supervisor Lisa Bartlett (Orange County's CSAC Representative), Sonia Munoz of the County Veterans Service Office, Renee Ramirez of OC Community Services, County Veterans Service Officer Marco Martinez, County Director of Legislative Affairs Peter DeMarco, and Supervisor Todd Spitzer
(Portions courtesy of the County Executive Office)

The California State Association of Counties (CSAC) presented four awards to the County of Orange at this week's Board of Supervisors meeting. CSAC's 2015 Challenge Awards program honors innovation and cost-effectiveness.

"The County of Orange is working every day to improve the lives of our 3,000,000 residents, whether it's through job training for veterans or mentoring foster youth," said Board of Supervisors Chairman Todd Spitzer. "I congratulate all of this year's award winners, and I thank them for their service to the people of Orange County."

The awards were originally announced in September, and CSAC representatives have been traversing the state to present them to the award recipients.

OC Community Services's Vets Helping Vets Work Study Program earned a Challenge Award for providing training and work experience for veterans. The program assists full or part-time veteran students or eligible dependents enrolled in a college degree or vocational trade school to gain practical experience working at the Orange County Veterans Service Office while receiving GI Bill benefits. The program has been a win-win for veterans and the County—the program has augmented existing resources while helping post-9/11 veterans with employment opportunities.
OC Public Libraries earned a Merit Award for OC Stories: Keeping History Alive. The goal was to corral historical images scattered throughout the county's 53 historical societies as well as websites belonging to various libraries, archives and community groups. OC Stories created a centralized platform for images and video recordings, including reaching out to individuals and groups to share their personal photo albums at six public digital scanning events at libraries throughout the county.
The Health Care Agency and Probation Department earned a Merit Award for their team effort to remove barriers to behavioral health services by stationing HCA staff at Probation locations to create a continuum of services. Services include detoxification, residential treatment, psychiatric treatment and medication, and behavioral health counseling. HCA staff works at three Probation sites, which allows offenders engaging in treatment to be better prepared for success upon their re-entry into the community.
The Social Services Agency earned a Merit Award for Orange County Teen Collaborative Inspires Hope for Foster Youth. The program brings together community partners with SSA to provide strength-based, innovative and collaborative programs and services that build a sense of purpose, community and inspiration among abused and neglected foster youth. Youth are mentored and exposed to positive experiences and opportunities such as visits to colleges, museums, sporting and cultural events.
To learn more about the 2015 CSAC Challenge Awards, please visit http://www.counties.org/challenge-awards

LAFCO Holds Community Workshop on Proposed Transfer of Local Sewer Service for North Tustin, Western Tustin, and El Modena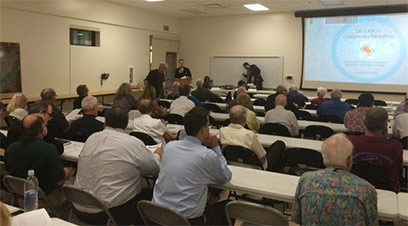 Supervisor Todd Spitzer welcomes residents of North Tustin, western Tustin, and El Modena to the LAFCO Community Workshop
This week, at Foothill High School, the Local Agency Formation Commission (LAFCO) held a Community Workshop on the Proposed Transfer of Local Sewer Service for Orange County Sanitation District Service Area 7 (North Tustin, El Modena, and the western portions of the City of Tustin).

The Orange County Sanitation District wishes to divest itself of local retail sewers in Service Area 7. The East Orange County Water District (EOCWD) submitted an application to LAFCO to take over Service Area 7 local retail sewers in March 2014. The Irvine Ranch Water District (IRWD) submitted a competing application in March 2015.

Even after additional chairs were brought in by Foothill High School staff, attendance was still standing room only, with well over 100 people present. After Supervisor Todd Spitzer gave introductory remarks, residents in attendance heard presentations from EOCWD General Manager Lisa Ohlund, IRWD General Manager Paul Cook, and LAFCO Project Manager Ben Legbandt.

Both EOCWD and IRWD propose changes to the existing rates currently charged by the Sanitation District. EOCWD proposes a 10% rate reduction for the next 20 years, followed by 13 years of 5% annual increases, and then 15 years of 4.5% annual increases. IRWD proposes a 50% rate reduction for the next 5 years, followed by 35 years of 2% annual increase, and then 35 years of 4% annual increases.

There are 38,000 registered voters in EOCWD while there are 171,000 registered voters in IRWD. EOCWD and IRWD each have a 5-member Board of Directors elected at-large by the voters of their districts. Three EOCWD Directors live in North Tustin, one lives in Tustin, and one lives in Orange. Four IRWD Directors live in Irvine while one lives in Newport Beach.

The Orange County Sanitation District has a 25-member Board of Directors, consisting of one County Supervisor, 20 City Council members, two Sanitary District Directors, and two Water District Directors.

LAFCO has a 7-member Commission consisting of two County Supervisors, two City Councilmembers, two Special District Directors, and one public member.

Supervisor Spitzer is a member of LAFCO. Supervisor Lisa Bartlett and Irvine Ranch Water District Director John Withers each sit on both LAFCO and the Sanitation District Board. Tustin Councilman Allan Bernstein is a member of LAFCO while Tustin Councilman Jim Nielsen sits on the Sanitation District Board.

To see the slides presented by EOCWD, IRWD, and LAFCO at the Community Workshop, click here.

To read the LAFCO staff review on the Service Area 7 Local Sewer Service, click here.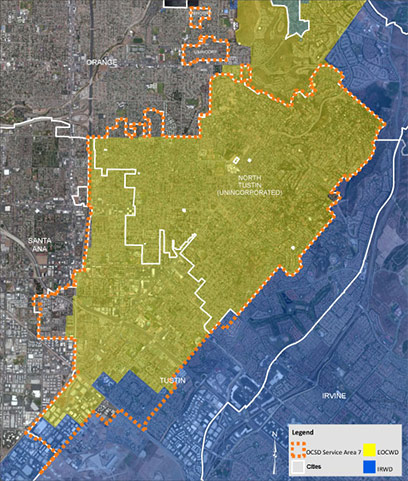 Map of Orange County Sanitation District Service Area 7

Agreement to End Years of Litigation Over Yorba Park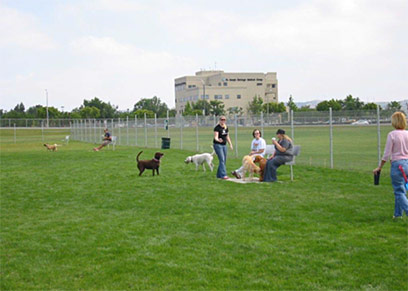 The Board of Supervisors has approved an agreement to resolve litigation with the City of Orange over a former landfill site at Yorba Park, allowing the property to be more developed and maintained as a city recreation facility.

The proposed agreement, which still must be approved by the Orange County Superior Court, calls for the County to assume responsibility for the landfill gas control system on the property, including monitoring and reporting as well as system operations and maintenance.

As part of the agreement, the City will make improvements to the park to add aesthetic value to the park.

"I'm glad to have helped play a role in bringing the County and the City of Orange together to find a win-win solution for this land after five years of dispute. At the end of the day, it's the citizens who are going to benefit from this agreement," said Supervisor Todd Spitzer, whose Third District includes the City of Orange. "Now that the technical issues are behind us, I look forward to seeing the great things that the City of Orange will do to improve the park."

"I am very appreciative of the County and in particular Supervisor Spitzer for helping find a positive resolution," said Orange Mayor Tita Smith. "Given the property's key location, the City is excited for the future recreational opportunities this agreement will provide."

The former Yorba Landfill Disposal Station was operated by the County from 1957 through 1960. The landfill closed in 1962 and the property was sold to the City with a restriction that it be used for a park. The City originally operated the acreage as an athletic field but in recent years limited its use as an open field and dog park.

In January 2010, the City of Orange's Redevelopment Agency filed a lawsuit against the City of Orange over the property; the City then filed its claim against the County alleging contamination and other issues. A trial was scheduled to begin on December 7.

The City of Orange's Yorba Park located at the corner of Chapman Avenue and Yorba Street next to the 55 Freeway should not be confused with the County of Orange's Yorba Regional Park, which lies between the Santa Ana River and La Palma Avenue stretching from Fairmont Boulevard to Yorba Linda Boulevard near the 91 Freeway in Anaheim Hills. Both parks are located in the Third Supervisorial District.

Building Industry Association Meeting on Innovation and Progress in Affordable Housing Features County Efforts to Build Year-Round Emergency Shelter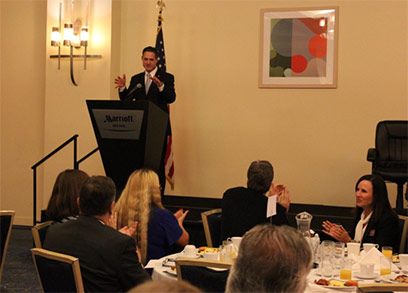 Board of Supervisors Chairman Todd Spitzer and OC Community Services Director Karen Roper provided an update to the Orange County chapter of the Building Industry Association (BIA-OC) on County efforts to build a year-round emergency shelter for the homeless at the BIA-OC's meeting on "Innovation and Progress in Affordable Housing."

The County update included a discussion on the 10-Year Plan to End Homelessness, the causes of homelessness, the slight increase in Orange County's homeless population after several years of significant decline, previous and ongoing County efforts to construct a shelter, support from cities for a shelter, and the Orange County housing market.

After the County's update, City of Irvine Housing Manager Mark Asturias moderated a panel discussion with Jamboree Housing President Laura Archuleta and C&C Development President Todd Cottle.

Following the panel, California Building Industry Association President and CEO Dave Cogdill, a former State Senate Republican Leader, spoke about the state legislative environment on housing issues.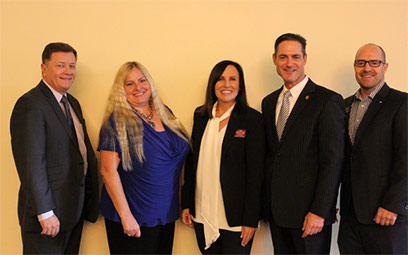 California Building Industry Association President and CEO Dave Cogdill, OC Community Services Director Karen Roper, Building Industry Association – Orange County Chapter (BIA-OC) President Joan Marcus-Colvin, Board of Supervisors Chairman Todd Spitzer, and BIA-OC Executive Director Mike Balsamo

Daylight Saving Time Ends Sunday, Clocks and Smoke Alarm Batteries Need to Be Changed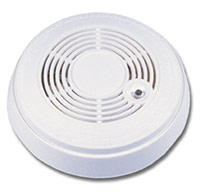 This Sunday, residents of 48 states, including California, will need to return their clocks to Standard Time. At 2:00 AM, clocks will fall back to 1:00 AM. This weekend will last one hour longer than most weekends.

Residents are also urged to change their smoke alarm batteries. By changing smoke alarm batteries when Daylight Saving Time begins and ends, this will prevent smoke alarms from having dead batteries.

The expression "Spring forward and fall back" is often used as a guide to recall which way to turn the clock for Daylight Saving Time. Daylight Saving Time began on March 8 this year.

While most phones, computers, and other electronic devices automatically change for Daylight Saving Time, analog clocks, microwaves, ovens, and other devices still require human intervention.

In 2016, Daylight Saving Time will begin on March 13 and end on November 6.

25 Years Running, and Now Biking!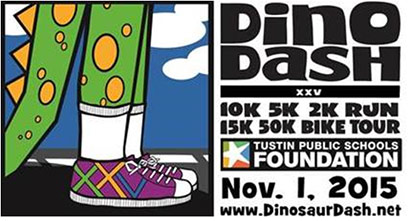 The 25th Anniversary Dinosaur Dash is right around the corner! The Dinosaur Dash will be held on Sunday, November 1 at The Market Place in Tustin. Races begin at 6:45 a.m., and continues until 10:30 a.m. You can sign up for the timed 5K or 10K, the non-timed 2K "Fun Run" or the non-timed 15K and 50K bike tours. The 5K and 10K division winners will receive the famous handmade dinosaur trophy, and second-place finishers will receive commemorative medals. All 5K and 10K finishers will receive a finisher's medal, and all 2K finishers will receive a commemorative wristband. The Expo opens at 7 a.m. and will feature Dino Dash sponsor booths, TUSD school booths, activities, tasty treats and more.

Register online at www.DinosaurDash.net. All proceeds benefit the Tustin Public Schools Foundation and Tustin Unified students and schools.

OC Zoo Halloween Zoo-Tacular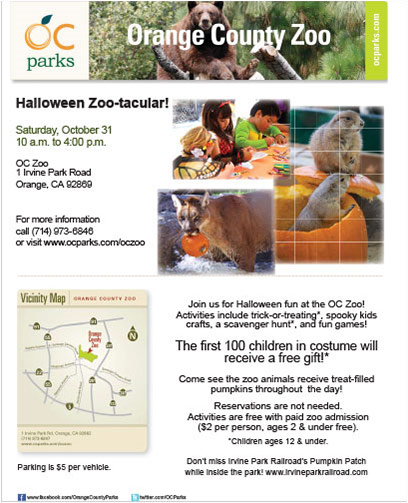 Click on the image above to view a PDF version.

Connecting Women to Power Business Conference


Click on the image above to view a PDF version.

Animals for Armed Forces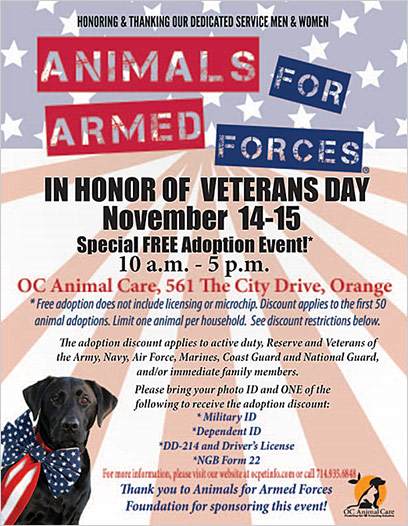 Click on the image above to view a PDF version.

Changing of the Flags Ceremony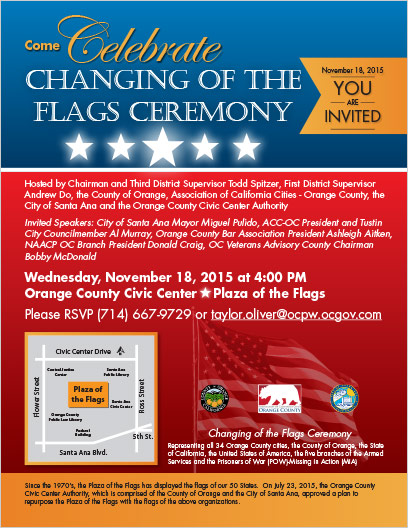 Click on the image above to view a PDF version.

Pet of the Week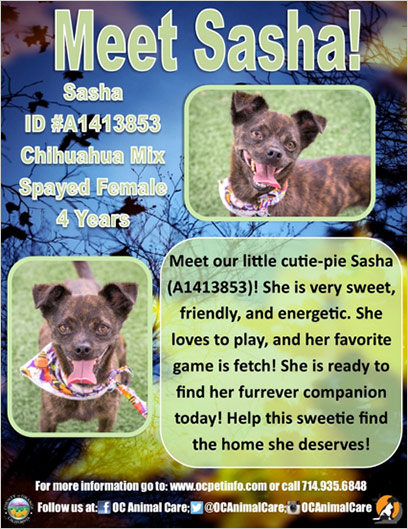 Click on the image above to view a PDF version.

Events Around the District

Anaheim
Discover Nature With Your Family
Sunday, November 1, 10:30 AM – 11:30 AM
Oak Canyon Nature Center, 6700 E. Walnut Canyon Rd.

Irvine
Storytime in the Garden
Sunday, November 1, 10:00 AM – 11:00 AM
Orange County Great Park, 6950 Marine Way

Orange
Lisi Pigglepen's Play Place
Monday, November 2, 10:30 AM – 11:00 AM
Orange Public Library & History Center, 407 E. Chapman Ave.

Silverado
Community Trick-or-Treat
Saturday, October 31, 6:30 PM
Fire Station 16, 28891 Modjeska Canyon Rd.

Tustin
Holiday Safety
Wednesday, November 4, 10:30 AM – 11:30 AM
Tustin Area Senior Center, 200 S. C St.

Villa Park
Baby Storytime
Monday, November 2, 9:00 AM – 11:30 AM
Orange County Library – Villa Park Branch, 17855 Santiago Blvd.

Yorba Linda
Teen Scene (Grades 6-8) – Hollywood Dance & Sumo Suit Challenge
Friday, November 6, 7:00 PM – 10:00 PM
Thomas Lasorda, Jr. Field House, 4701 Casa Loma Ave.
Pre-Registration Required: (714) 961-7192


For questions or comments regarding Spitzer's E-Newsletter
please contact the Supervisor's office staff at: (714) 834-3330 or Melanie.Eustice@ocgov.com


DISTRICT

STAFF
Martha Ochoa
Chief of Staff

Melanie Eustice
Communications Director

Chris Nguyen
Senior Policy Advisor

Carrie O'Malley
Senior Policy Advisor

Martin Gardner
Policy Advisor

Christine Richters
Executive Aide



District Map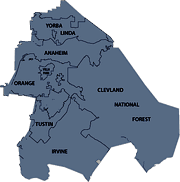 Anaheim, Irvine, Orange, Tustin, Villa Park, Yorba Linda, El Modena, North Tustin, Orange Park Acres, the Canyon Communities

Stay Updated!