Spitzer, Murphy Partner with CHOC, OC Harley Davidson, and Orange Coast HOG Chapter in 21st Annual Toy Drive and Ride for CHOC Children's Hospital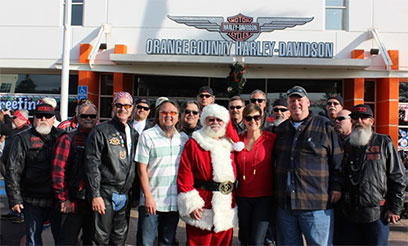 Supervisor Todd Spitzer, Wahoo's Co-Founder Wing Lam, Santa Claus, Whole Purpose Co-Founder Kelly Lam, Orange City Council Member Mark Murphy and riders at OC Harley Davidson
The 21st Annual Toy Drive and Ride for CHOC Children's Hospital will take place on Sunday, December 20, 2015. Over 1,000 riders, spectators and volunteers participated in the 20th Annual Toy Drive and Ride for CHOC Children's Hospital.

The toys donated at the event are used by CHOC to create a holiday store where parents can select gifts especially for their children. The unexpected surprise of having toys brought in for their children is often overwhelming for parents, who are often not able to shop for gifts themselves. The donations allow CHOC to provide each child with gifts for the holidays as well as providing activities for months to come.

"The spirit of the holiday of season is one of hope, giving and family. I am inspired by the great staff at CHOC who will spend their holidays serving others and by the family members who will gladly be at their child's side," Supervisor Spitzer said.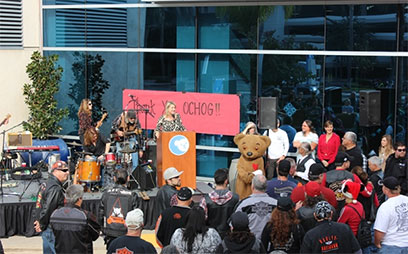 CBS 2/KCAL 9's Michele Gile addressing crowd
Michele Gile of CBS 2/KCAL 9 will again emcee the event and Wing and Kelly Lam will serve as the Grand Marshals. Gifts are being collected at Orange County Harley Davidson located at 8677 Research Drive, Irvine.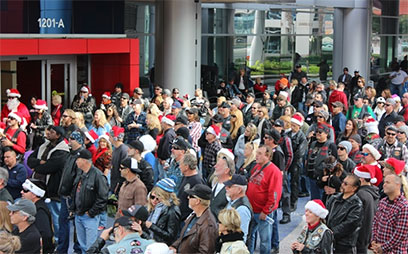 CHOC was the first hospital devoted exclusively to caring for children in Orange County and has one of only a handful of programs in the country uniquely dedicated to caring for adolescents and young adults with cancer. The CHOC emergency department recorded more than 71,000 visits in Fiscal Year 2014. CHOC cared for more than 111,000 patients in Fiscal Year 2014.

To register for this event or to get more information, click here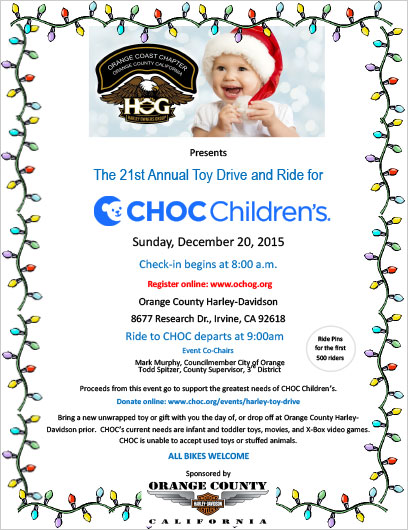 Click on the image above to view a PDF version.

Supervisor Todd Spitzer Calls for Improvements at Armories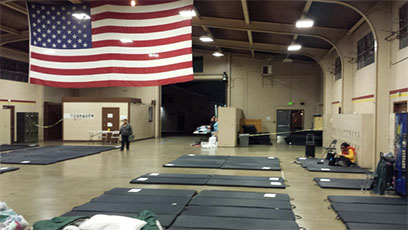 The County of Orange Armory Emergency Shelter Program is now open at the Fullerton Armory and Santa Ana Armory locations, and volunteers are needed.

"The Armories serve over 1200 clients who need our shelter, food and prayers. This service is needed during the cold weather season. I hope that we can do even better for our less fortunate," said Supervisor Todd Spitzer.

Both Armory locations are tentatively scheduled to remain open seven days a week through April 15, 2015 based on funding. The Armory Emergency Shelter Program will offer hot meals, showers, clothing, blankets, a safe place to sleep, and shelter from the winter weather, as well as other supportive services to approximately 400 homeless individuals per night.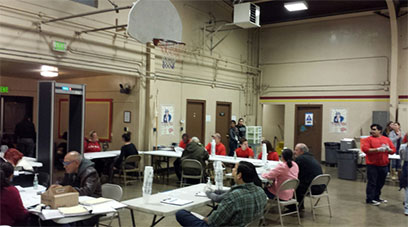 Santa Ana Armory
The program is operated by Mercy House, a nonprofit organization. Last year, the Armory Program provided 44,032 bed nights and served 2,077 unduplicated clients. The success of the Armory Program is largely due to the collaborative efforts of County agencies, churches, nonprofit agencies and dedicated individuals who generously volunteer their time.

The armories are located at:

Santa Ana Armory, 612 E. Warner Ave., Santa Ana. Bus pickup takes place 5 p.m. at Flower Street and Civic Center Drive, near Sixth Street, and 5:30 p.m. at 1901 W. Walnut Ave.


Fullerton Armory, 400 S. Brookhurst Road, Fullerton. Bus pickup takes place 5 p.m. at the northwest side of La Palma Park, 1161 N. Anaheim Blvd., Anaheim, on North La Palma Parkway between Harbor Boulevard and Homer Street.
For more information go to mercyhouse.net or call 714-836-7188, ext. 131.

Related Articles:
http://www.ocregister.com/articles/armories-694091-shelter-house.html

Board of Supervisors Approve Year Round Homeless Shelter and Service Center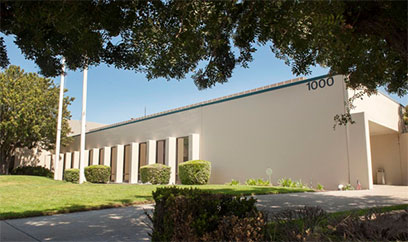 1000 North Kraemer Place, Anaheim
(Portions courtesy of County Executive Office)

At its last meeting, the Board of Supervisors unanimously approved the acquisition of the 1000 North Kramer Place in Anaheim to be used as a Year Round Emergency Shelter and Multi-Service Center.

The 1000 North Kramer Place site in Anaheim is a positive start to addressing the critical needs of the County's most vulnerable population. The 20- bed facility will be accessible 365 days a year, 24 hours a day, to single men, women, and families with children. To ensure the safety of all parties, each client will be screened for sex offender and active felony warrant status before admission. Clients will only be able to arrive after the screening process through direct transportation services.

While clients are at the site, breakfast, lunch, dinner and snacks will be provided in a central dining area. Meals will be cooked in an on-site kitchen. There will also be bathrooms, showers, and laundry facilities for clients. Toiletries will be provided as needed. All clients will have access to a storage space for their belongings.

This project will not only serve as a shelter for those in need; it will also help facilitate self-sufficiency. During the daytime, clients will have access to on-site services through the Multi-Service Center, which are designed to help clients move toward and achieve permanent housing. Some of the programs include life skills classes and workshops, indoor and outdoor recreational activities, access to an on-site computer lab, and full access to services providers.

Several cities supported the project. The cities of Anaheim and Fullerton contributed $500,000 each, and the City of Brea contributed $100,000. Additionally, the city councils of Anaheim, Brea, Buena Park, Fullerton, Orange, and Placentia adopted resolutions to document their support.

Related links: We changed history today': Supervisors approve permanent homeless shelter in Anaheim

Chairman Todd Spitzer and Orange County Cities Raise Flags at the Changing of the Flags Ceremony


President of ACC-OC and Tustin Councilmember Al Murray, Rev. Mark Whitlock Jr. Senior Minister, Christ Our Redeemer AME Church, OC Veterans Advisory Council Chairman Bobby McDonald, Orange County Sheriff Sandra Hutchens and Supervisor Todd Spitzer
50 state flags, including the Mississippi state flag, displayed at the Plaza of the Flags at the Orange County Civic Center have now been retired. They have been replaced by the flags of the 34 cities in Orange County, the County of Orange, the State of California, the United States, the five branches of the armed services and those who are prisoners of war or missing in action are on display.

"We're trying to make a strong public statement," said Todd Spitzer, Chairman of the Orange County Board of Supervisors. "We're not going to tolerate racism, we're not going to tolerate symbols of racism, and we're not going to have a community that feels alienated because of the symbols of racism."

The idea for removing the Mississippi state flag, which has been on display since the 1970s, was first proposed by the Orange County Bar Association in 2013. The issue was of particular importance because of the flag's proximity to the county's central courthouse, said Ashleigh Aitken, president of the group.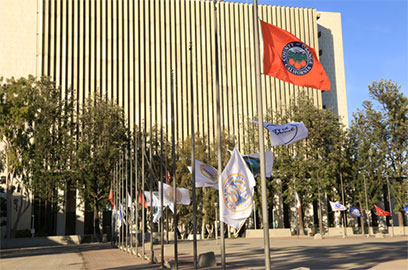 The Orange County Public Works Department requested each of the 34 cities to submit artwork for their flags.
Program participants included Association of California Cities-Orange County President and Tustin Councilmember Al Murray, OC Bar Association President Ashleigh Aitken, Orange County Veterans Advisory Council Chairman Bobby McDonald, NAACP Orange County Branch President Donald Craig, Supervisor Michelle Steel, Santa Ana City Manager David Cavazos, Reverend Mark Whitlock Jr. of Christ Our Redeemer AME Church, and Board of Supervisors Chairman Todd Spitzer.

Related Links: O.C. Civic Center replaces 50 state flags, and a Confederate symbol, with local banners

Supervisor Todd Spitzer Participates in Annual We Give Thanks Event on Thanksgiving Day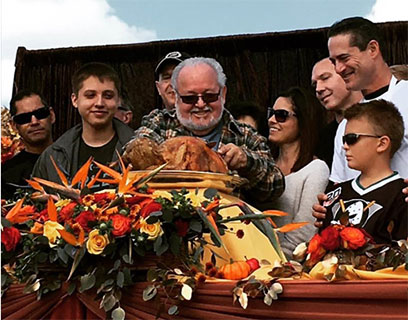 Supervisor Todd Spitzer with Frank Garcia and his family
Supervisor Todd Spitzer attended the annual We Give Thanks Event to help serve food on Thanksgiving to thousands of less fortunate Orange County families. Over 1,500 volunteers worked to prepare 3,000 pounds of stuffing, 600 turkeys, 6,000 pounds of mashed potatoes, 300 gallons of gravy and several thousand pies.

The event began twenty-nine years ago with 3,000 meals at Frank Garcia's La Casa Garcia Restaurant on Chapman Avenue in Anaheim. This year's crowd was 12,000-plus at the Honda Center as thousands gathered to enjoy a free Thanksgiving feast.

Irvine Ranch Heritage Day Officially Opens Historic Park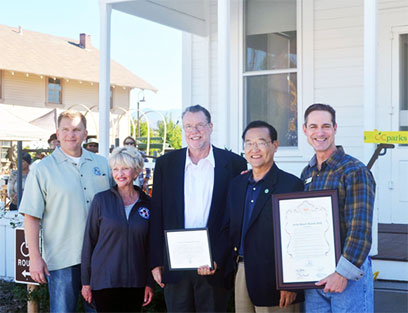 From left to right: Aliso Viejo Mayor Pro Tem Mike Munzing, Irvine Council Member Christina Shea, James Myford Irvine, Irvine Mayor Steven Choi, and Supervisor Todd Spitzer
(Portions courtesy of OC Parks)

OC Parks celebrated the official opening of Irvine Ranch Historic Park with a ribbon-cutting ceremony and a ranch-themed, family-friendly event with activities, music and site tours focusing on the park's agricultural history.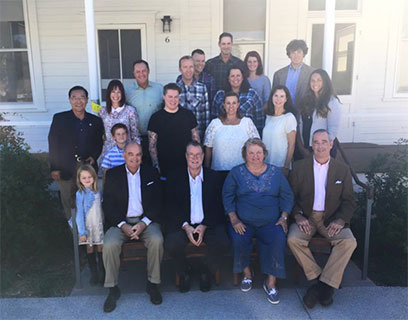 Supervisor Todd Spitzer, Mayor Steven Choi, and the Irvine family at the Irvine Ranch Heritage Day
From the late 1800s through the 20th century, the site served as the headquarters for the sprawling Irvine Ranch that covered one-fifth of Orange County. James Myford Irvine, grandson of James Irvine II, and many other members of the Irvine family joined the community in the celebration.

Supervisor Todd Spitzer Attends City of Irvine's Veterans Day Ceremony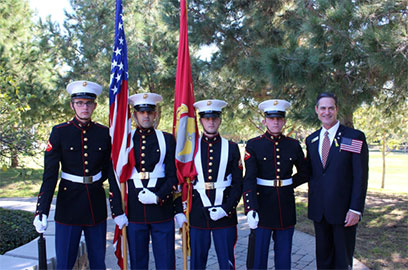 Supervisor Todd Spitzer with the 2nd Battalion, 11th Marine Regiment Joint Color Guard
Supervisor Spitzer attended the City of Irvine's Veterans Day Ceremony, which was held to honor all those who serve in the military to protect our freedom. The event included a special musical presentation by Dr. Ron Anderson and the Young Musicians Ensemble.

US Marine Corps Lieutenant Colonel Daniel Whitley and American Legion Post 838 Commander Michelle De La Cruz were featured speakers. The event drew over 600 people and veteran service organizations.

Chairman Todd Spitzer Presents at the Partners in Service Veterans Day Event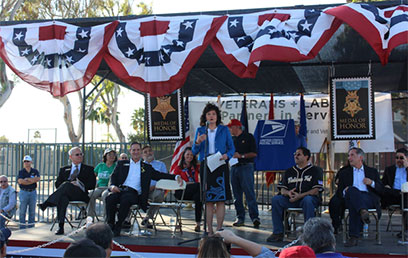 War Veteran and California Court of Appeal Justice Eileen C. Moore addresses veterans
Chairman Todd Spitzer honored the Orange County Veterans Service Office at the Veterans + Labor: Partners in Service event on Veterans Day that was held at the Orange County Fair & Event Center in Costa Mesa. He presented the office with their award from the California State Association of Counties.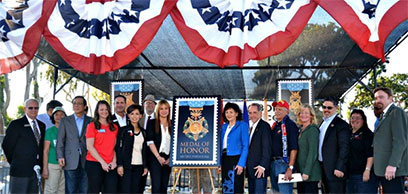 Chairman Todd Spitzer joins political and business leaders to help unveil the stamp
Chairman Spitzer joined with business and political leaders as the U.S. Postal Service commemorative Vietnam War stamp was unveiled at the ceremony. The United States Department of Defense Viet Nam War Commemoration Commission endorsed the Orange County event as an official commemorative event for Viet Nam war veterans.

More than 80 booths were open at the event offering veterans medical screenings, job placement and recruiting, counseling, and financial services. There was also live music, free hot dogs and a special pinning ceremony honoring Viet Nam veterans.

Board of Supervisors Honor the US Marine Corps 240th Birthday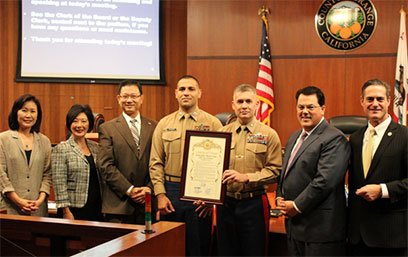 Supervisor Michelle Steel, Vice Chair Lisa Bartlett, Supervisor Andrew Do, Supervisor Shawn Nelson, and Chairman Todd Spitzer with the USMC Recruiting Command of Orange County
Supervisor Todd Spitzer and the Board of Supervisors commemorated the 240th Birthday of the United States Marine Corps by presenting a resolution to the USMC Recruiting Command of Orange County. Today there are more than 220,000 active-duty and reserve Marines.

Chairman Todd Spitzer Thanks Northgate Gonzalez Market for Food Donation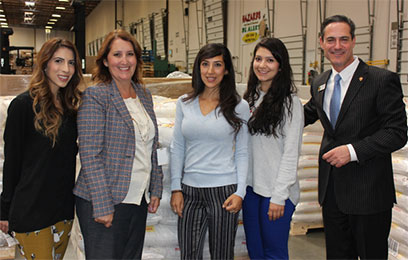 Chairman Todd Spitzer with members of the Gonzales Family
(Portions courtesy of OC Health Care Agency)

One out of five children in Orange County face food insecurity. Orange County is one of the top ten counties in the nation with the largest number of people facing food insecurity.

Northgate Gonzalez Market made a food donation equal to 58,000 meals through Waste Not OC, a public-private partnership committed to ending hunger and food waste in Orange County. Chairman Spitzer joined County Health Officer and Waste Not OC Coalition Member Dr. Eric Handler at the market distribution facility in Anaheim while the donated food was loaded on to trucks.

Waste Not OC was established in 2012 to focus on food recovery to end hunger in Orange County. This private public partnership includes the Health Care Agency, Food Finders, Second Harvest, Orange County Food Bank and the food service industry.

Chairman Todd Spitzer and the County of Orange Provide Books for OC Third Graders at the Gift of History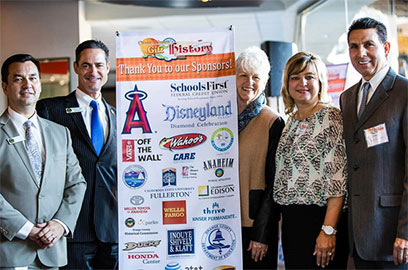 OC Clerk-Recorder Hugh Nguyen, Chairman Todd Spitzer, Gift of History Chair and Former City of Anaheim Council Member Gail Eastman; City of Anaheim Council Member Kris Murray and, Orange County Superintendent of Schools Al Mijares
The Gift of History is an educational program designed to make history come alive for Orange County's third graders. Every third grade student in Orange County is invited to take part in an 8-week Integrated Unit of Instruction, year round activities, final project, and an annual event at Angel Stadium. This year, Chairman Todd Spitzer and the County of Orange helped to provide a history book, Nothing Rhymes with Orange, for every participating student.

During the event held at Angels Stadium, students are given a history book on the County and are treated to an hour‐long program designed to illustrate that history is alive and all around them – from the buildings they see, to the streets they drive on, to the parks they play in, to the dynamic examples of leadership that show they can achieve anything if they believe in themselves.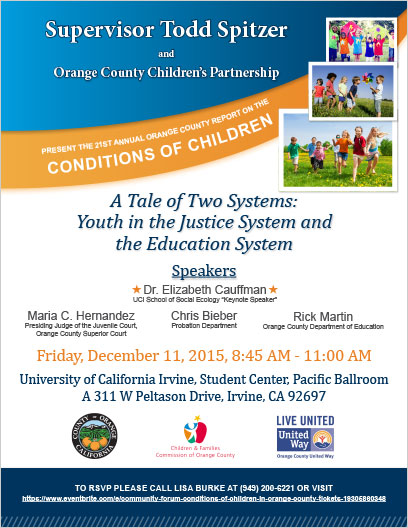 Click on the image above to view a PDF version.

For questions or comments regarding Spitzer's E-Newsletter
please contact the Supervisor's office staff at: (714) 834-3330 or Melanie.Eustice@ocgov.com