December 11, 2015
Volume 3

Issue 38

Supervisor Todd Spitzer and Orange Councilmember Mark Murphy Partner with CHOC, OC Harley Davidson, and Orange Coast HOG Chapter in 21st Annual Toy Drive and Ride for CHOC Children's Hospital

Free T-Shirt & Event Pin to First 500 Riders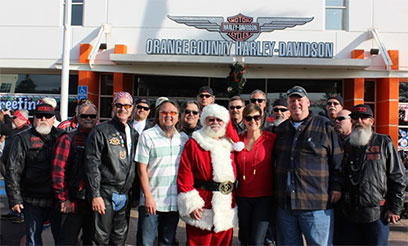 Supervisor Todd Spitzer, Wahoo's Co-Founder Wing Lam, Santa Claus, Whole Purpose Co-Founder Kelly Lam, Orange City Council Member Mark Murphy and riders at OC Harley Davidson
The 21st Annual Toy Drive and Ride for CHOC Children's Hospital will take place on Sunday, December 20, 2015. Over 1,000 riders, spectators and volunteers participated in the 20th Annual Toy Drive and Ride for the Children's Hospital of Orange County (CHOC).

The toys donated at the event are used by CHOC to create a holiday store where parents can select gifts especially for their children. The unexpected surprise of having toys brought in for their children is often overwhelming for parents, who are often not able to shop for gifts themselves. The donations allow CHOC to provide each child with gifts for the holidays as well as providing activities for months to come.

"The spirit of the holiday of season is one of hope, giving and family. I am inspired by the great staff at CHOC who will spend their holidays serving others and by the family members who will gladly be at their child's side," Supervisor Spitzer said.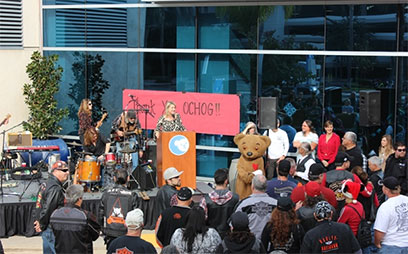 CBS 2/KCAL 9's Michele Gile addressing crowd
Michele Gile of CBS 2/KCAL 9 will again emcee the event, and Wing and Kelly Lam will serve as the Grand Marshals. Gifts are being collected at Orange County Harley Davidson located at 8677 Research Drive in Irvine.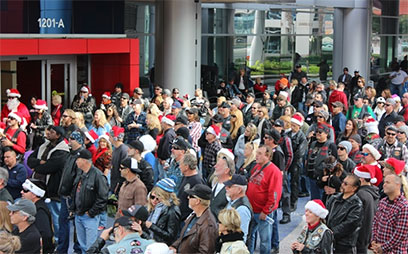 CHOC was the first hospital devoted exclusively to caring for children in Orange County and has one of only a handful of programs in the country uniquely dedicated to caring for adolescents and young adults with cancer. The CHOC emergency department recorded more than 71,000 visits in Fiscal Year 2014. CHOC cared for more than 111,000 patients in Fiscal Year 2014.

To register for this event or to get more information, click here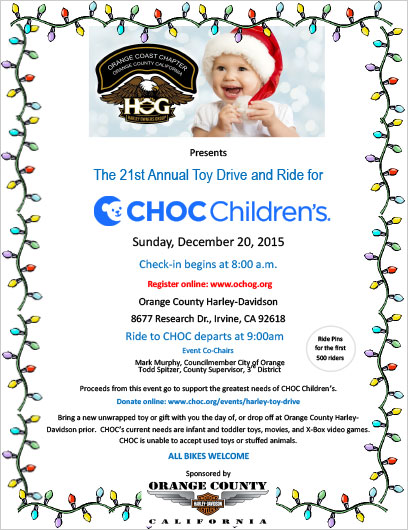 Click on the image above to view a PDF version.

Chairman Todd Spitzer Directs Comprehensive Safety Assessment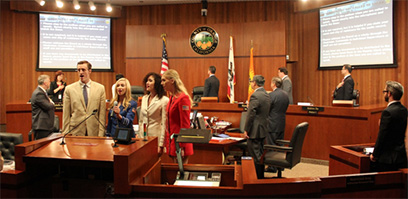 USO Show Troupe performs the national anthem, The Star-Spangled Banner, at the Board of Supervisors meeting
The Orange County Board of Supervisors held a moment of silence for the 14 people who were killed and for those who were wounded in the recent attack in San Bernardino County.

"We share in the sorrow that a group of dedicated public service professionals were the victims of such horrible violence," said Chairman Todd Spitzer. "We have offered our support to San Bernardino County, and we will reflect internally to increase employee safety by developing procedures and drilling for violent situations like a live shooter in the workplace."

Supervisor Andrew Do made a special adjournment in memory of his family friend, 31-year-old Santa Ana resident Tin Nguyen, the sole victim to reside in Orange County. "Tin Nguyen was a first generation immigrant from Vietnam who worked hard to achieve the American Dream. Words are not enough to describe the terrible loss suffered by her family and by the families of all of the victims," said Supervisor Do.

Vice Chair Lisa Bartlett read an adjournment in memory of 27-year-old Yvette Velasco, whose aunt, Denise, is a labor relations representative with the Orange County Employees Association.

Chairman Spitzer directed the County Executive Officer to work with represented employee groups, managers, and Orange County Sheriff-Coroner Sandra Hutchens to conduct a safety assessment and to develop a live scenario drill. Spitzer requested that the protocols include workplace violence policy and procedures, county building safety assessments, emergency protocols, ongoing training, employee safety and preparedness training and live drills. Spitzer will Chair the Safety Working Group.

The County anticipates the presentation of this action plan at the January 26, 2016 Board of Supervisors meeting.

Related Links:

After San Bernardino shootings, Orange County employees to be trained to use office items for self-defense http://www.ocregister.com/articles/county-695274-spitzer-family.html

Supervisor Todd Spitzer Attends City of Orange's 21st Annual Tree Lighting Ceremony and Candlelight Choir Procession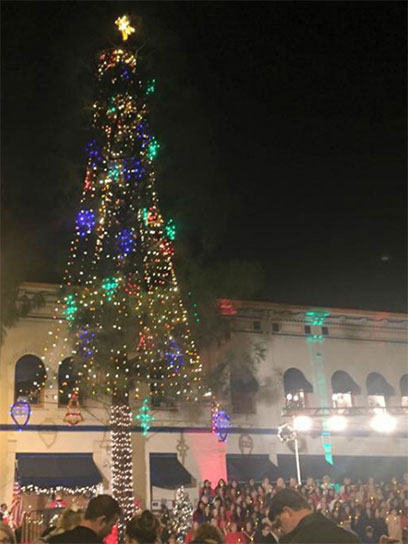 Supervisor Todd Spitzer attended the City of Orange's 21st Annual Tree Lighting Ceremony and Candlelight Choir Procession held in the city's Old Towne Plaza Area.

The Orange Community Master Chorale led by musical director Michael Short performed uplifting holiday music and local non-profit groups provided food and youth activities for a nominal charge. Hundreds of residents and community members attended the event.

Related Links:
http://www.ocregister.com/articles/bright-695119-orange-shiny.html

Board of Supervisors Award $102 Million Contract for John Wayne Airport Safety and Service Improvements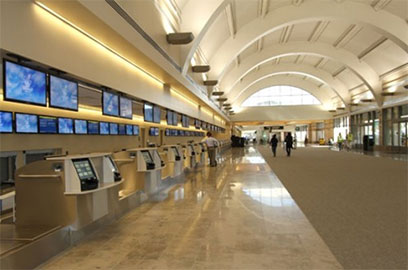 Terminal C, at John Wayne Airport
(Portions courtesy of JWA)

The Board of Supervisors has awarded a multi-year design-build contract to Swinerton Builders for $101,837,386 to complete a series of improvements to Terminals A and B at John Wayne Airport.

The upgrades focus on safety, code compliance, comfort, convenience and aesthetics to bring the airport's two older terminals in line with similar enhancements designed into Terminal C and Parking Structure C, which opened in 2011. Terminals A and B opened in 1990.

"The County of Orange works hard to provide passengers at JWA with the best travel experience possible. We're excited to be able to move forward with terminal improvements that will enhance the overall aesthetic and experience of Orange County's aviation gateway," said Board of Supervisors Chairman Todd Spitzer.

Construction is expected to begin in 2016 and will continue through 2019. The work includes carpet replacement, lighting renovation, restroom refurbishment and seismic retrofitting for the 25-year-old facilities. The planned improvements will enhance efficiency, provide tenants and visitors with a uniform level of quality and service throughout Riley Terminals A, B and C and extend the useful life of the terminal.

A phased work schedule will reduce impacts on travelers and tenants, said Supervisor Michelle Steel, whose Second District includes the airport. "We will work with Swinerton Builders to make sure passengers will be able to enjoy all of the upgrades we have planned with as little inconvenience as possible," she said. Funding for the project will come from passenger fees and operating funds, and is included in the Fiscal Year 2015-2016 airport budget, as well as provided for in future budgets. The project will be completed under the leadership of new John Wayne Airport Director Barry Rondinella.

Celebrate Christmas at the OC Zoo December 12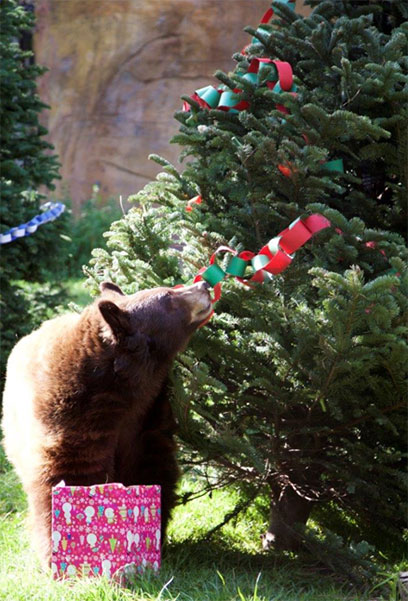 Yo-Yo the Bear
OC Parks is holding an event at the OC Zoo to celebrate the Christmas season on Saturday, December 12 from 10 am to 4 pm.

Christmas at the OC Zoo invites children to participate in various activities that will be held throughout the day. Guests will enjoy seasonally inspired crafts, and a photo area. Watch the animals of the OC Zoo receive treat-filled gifts hidden inside of Christmas trees and inside gift boxes throughout the day. Reservations are not required to enjoy Christmas at the OC Zoo. The holiday activities are free with paid zoo admission. Parking is $5.00 per vehicle.

While visiting the OC Zoo, shop for a Christmas tree or take a ride on Irvine Park Railroad's annual Christmas Train through Irvine Regional Park. The Christmas Train runs through December 23. Tickets must be purchased in advance.

The holidays are upon us so gather the family and ring in the winter season in celebration with OC Zoo and OC Parks.

10 am – 4 pm
Location: OC Zoo (inside Irvine Regional Park)
1 Irvine Park Road, Orange, CA 92869
Cost: $2 per person, ages 2 & under are free
Parking: $5 per vehicle
Contact: (714) 973-6847
http://www.ocparks.com/oczoo/

Pet of the Week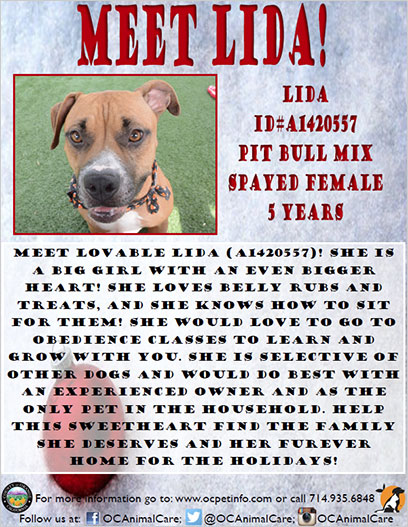 Click on the image above to view a PDF version.

Events Around the District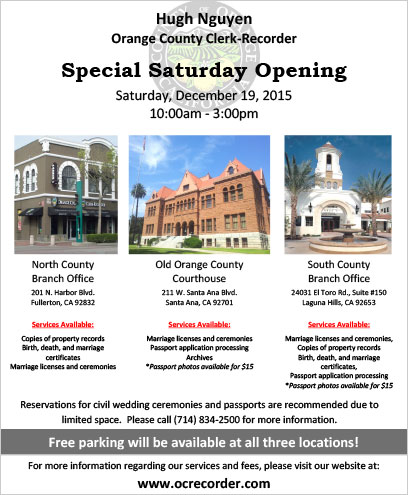 Click on the image above to view a PDF version.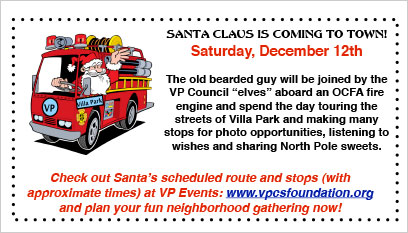 Click on the image above to view a PDF version.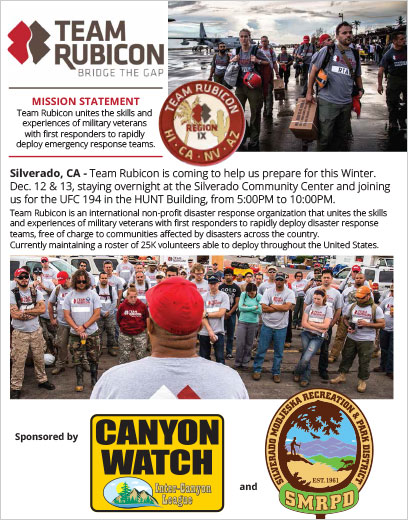 Click on the image above to view a PDF version.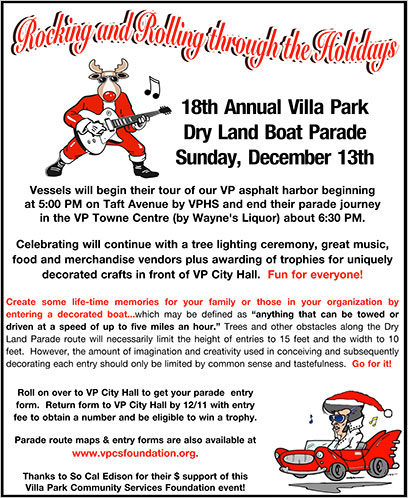 Click on the image above to view a PDF version.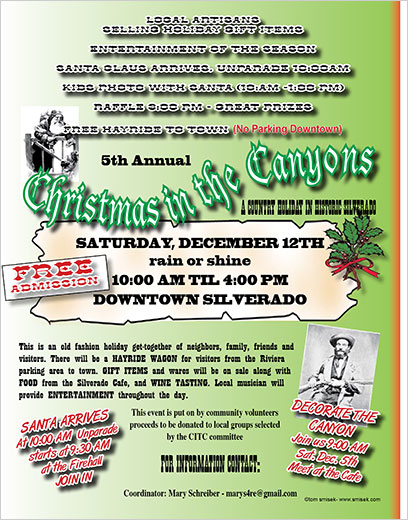 Click on the image above to view a PDF version.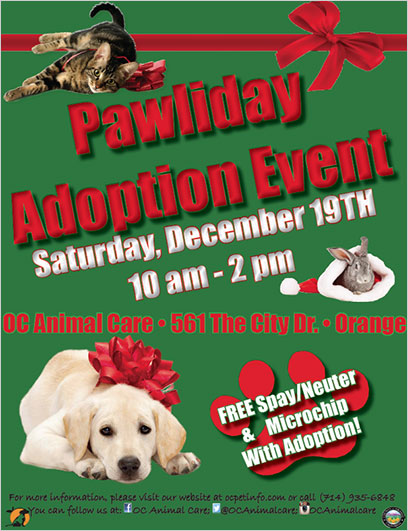 Click on the image above to view a PDF version.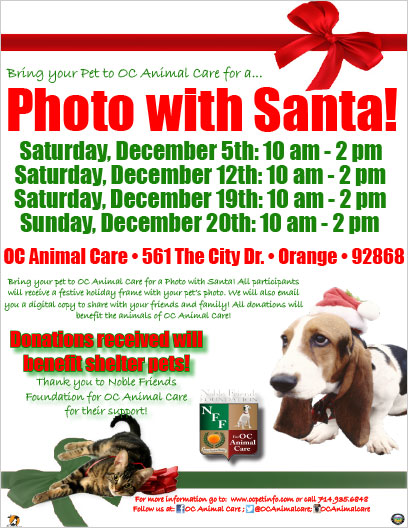 Click on the image above to view a PDF version.
Anaheim
Santa's Ornament Workshop at Canyon Hills
Friday, December 12, 10:30 AM
Anaheim Public Library – Canyon Hills Branch, 400 Scout Trail

Holiday Craft
Saturday, December 12, 11:30 AM
Anaheim Public Library – East Anaheim Branch, 8201 E. Santa Ana Canyon Rd.

Irvine
Ribbon-cutting Reopening of Irvine's Adventure Playground
Saturday, December 12, 11:00 am
Adventure Playground, 1 Beech Tree Ln.

El Nino Day
Saturday, December 12, 9:00 am
City's Operations Facility, 6427 Oak Canyon Rd.

Orange
Tech Talk Tuesday, December 15, 7:00 PM
Orange Public Library & History Center, 407 E. Chapman Ave.

Mystery Movie Matinee
Saturday, December 19, 2:00 PM
Orange Public Library & History Center, 407 E. Chapman Ave.

Silverado
Christmas in the Canyons
Saturday December 12, 10:00 am to 4:00 pm (rain or shine)
28192 Silverado Canyon Rd.


Tustin
Santa Sleigh
Friday, December 11, 5:00 PM (every weekday through Tuesday, December 22)
Click Here to Check Location

Tustin Talent Show
Saturday, December 12, 12:00 PM – 4:00 PM
Tustin Community Center, 2961 El Camino Real

Villa Park
18th Annual Villa Park Dry Land Boat Parade
Sunday, December 13, 5:00 PM
Parade begins at Villa Park High School, 18042 Taft Ave.
Click here for route map

Santa is Coming to Town
Saturday, December 12, 8:00 AM – 3:30 PM
Click Here to Check Location

Yorba Linda
Nixon Library Concert, Kid Singers Annual Christmas Concert, East Room, 12:30, Paul McNeff, Director,
Saturday, December 13, 1:30 PM
Richard Nixon Presidential Library & Museum, 18001 Yorba Linda Blvd.

Holiday Puppet Show
Thursday, December 17, 6:30 PM
Yorba Linda Public Library, 18181 Imperial Hwy.


For questions or comments regarding Spitzer's E-Newsletter
please contact the Supervisor's office staff at: (714) 834-3330 or Melanie.Eustice@ocgov.com


DISTRICT

STAFF
George Cardenas
Chief of Staff

Melanie Eustice
Communications Director

Chris Nguyen
Senior Policy Advisor

Carrie O'Malley
Senior Policy Advisor

Martin Gardner
Policy Advisor

Christine Richters
Executive Aide

Kassee Moseley
Executive Secretary



District Map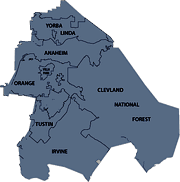 Anaheim, Irvine, Orange, Tustin, Villa Park, Yorba Linda, El Modena, North Tustin, Orange Park Acres, the Canyon Communities

Stay Updated!