February 9, 2015
Volume 3

Issue 5

Supervisor Andrew Do Sworn in and Welcomed by Chairman Spitzer and the Board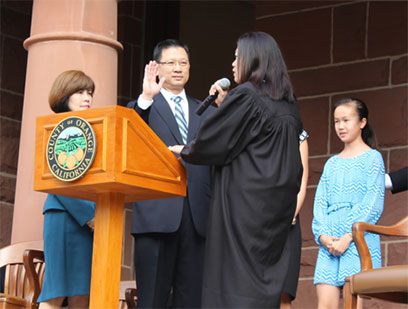 Senator and former Supervisor Janet Nguyen (R-Garden Grove), Superior Court Judge Cheri Pham (Supervisor Do's wife), Supervisor Andrew Do and daughter
Last week, Chairman Todd Spitzer emceed the swearing in ceremony for Andrew Do, who was elected as First District Supervisor in the January 27 special election. The First District encompasses over 600,000 residents in the communities of Garden Grove, Santa Ana, Westminster, Midway City, and parts of Fountain Valley. The seat was vacated on December 1 by Supervisor Janet Nguyen, who had been elected to the 34th State Senate District. Do previously served as Nguyen's Chief of Staff, a Garden Grove City Councilman, a Judge Pro Tem, a business attorney, and a Deputy District Attorney.

Supervisor Do took his seat on the dais after the Board of Supervisors declared the results of the election as presented by Registrar of Voters Neal Kelley.

"I welcome my friend Andrew to the Board – we went to UC Hastings College of the Law together, we were both prosecutors, and we are both married to judges," Chairman Spitzer said. "I've known him a long time, and I look forward to him being a colleague on the Board."

With Do joining the Board, Orange County becomes the first county governing board in the continental United States with an Asian-American majority. Supervisor Do is a Vietnamese immigrant, Supervisor Michelle Steel is a Korean immigrant, and Vice Chair Lisa Bartlett is the descendant of Japanese immigrants.

"This is a historic day with Asian Americans becoming a majority of the Board, and each Asian American Supervisor comes from a different ethnic group, showing that Orange County is truly a melting pot," Chairman Spitzer said. "While we acknowledge this historic fact, we should not overemphasize our individual differences, but rather we should focus on what brings us together as one county and one Board, as we work together on behalf of all the people of Orange County."

Supervisor Todd Spitzer Gives Guest Interview on Time Warner Local Edition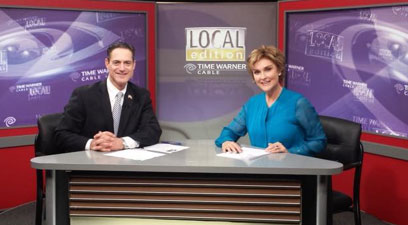 Supervisor Todd Spitzer and Local Edition Host Leslie Leyton
Supervisor Todd Spitzer recently gave an guest interview on Time Warner Cable Local Edition speaking about the need for improvements with the use of GPS tracking technology when it comes to tracking offenders.

GPS tracking of offenders is a "recent" technology. Twelve years ago this type of GPS surveillance/monitoring was nonexistent for tracking of offenders on probation or parole.

In April 2014, two sex offenders were arrested for the alleged killings of at least four women in Orange County while being monitored by separate parole agencies and tracked by GPS devices. Steven Dean Gordon, 45, and Franc Cano, 27, had cut off their GPS ankle bracelets without triggering an alert or notification to the jurisdictions where they were located.

"As we all know, GPS technology is not perfect. That is why I asked the County to sponsor legislation that would require offender tracking technologies to talk to each other so that law enforcement will be able to properly track parolees," said Supervisor Todd Spitzer.

The Orange County Board of Supervisors unanimously approved this GPS interoperability legislative concept as part of their legislative program and staff has been working diligently with Assemblyman Don Wagner (R-Irvine) and OC Probation to develop and advance legislation.

Board Commends Alan Murphy and Rich Adler on their Retirements from the County of Orange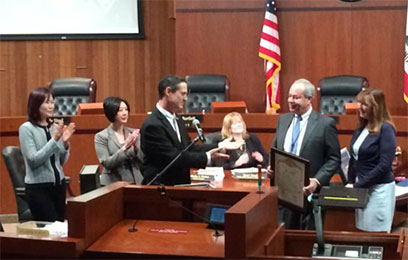 Supervisor Michelle Steel, Vice Chair Lisa Bartlett, Chairman Todd Spitzer, and Alan Murphy.
The Orange County Board of Supervisors honored Alan Murphy and Rich Adler for their long years of service to the County of Orange and wished them a happy and fulfilling retirement.

Alan Murphy began his career with the County in 1983 as an Accountant I in the Auditor-Controller's office. He became an Executive Assistant to Supervisor Thomas F. Riley in 1985, and moved to John Wayne Airport (JWA) as the Chief of Special Projects in 1986. He held various posts there until being appointed Director of John Wayne Airport in 2000.

During his tenure at the Airport, Murphy was directly involved in the management and oversight of multiple projects and initiatives, including the construction and operation of one of the first in-line baggage screening systems in the country; the construction of the Thomas F. Riley Terminal (Terminals A and B – opening in 1990 – and Terminal C – opening in 2011); and the growth from roughly 4 million annual passengers in 1986 to a high of 9.9 million annual passengers in 2007.

"Orange County residents and visitors have greatly benefitted from Alan's competence and innovation, and he's been steady at the helm during important times that required great leadership," said Supervisor Spitzer.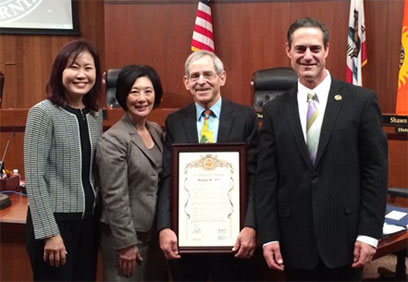 Supervisor Michelle Steel, Vice Chair Lisa Bartlett, Rich Adler and Supervisor Todd Spitzer
Richard Adler began his outstanding and distinguished career with the County of Orange in 1977. Has more than 37 years of service to the County.

Rich worked as a Planner IV and Senior Planner in the Environmental Management Agency from September 1977 until November 1992, when he transferred to Harbors, Beaches and Parks (now OC Parks) to initially head up the newly-established Revenue Development Section.

Then he worked in the Harbors, Beaches and Parks Lease Management Section and finally OC Parks' Real Estate Unit. At the Environmental Management Agency, Rich Adler was the planning manager on several important but highly controversial projects, including the Foothill-Trabuco Specific Plan, the John Wayne Airport Land Use Compatibility Program/Santa Ana Heights Specific Plan, and multiple Environmental Impact Reports for County jail projects, including the successful expansion of the Theo Lacy Jail and the never-built Gypsum Canyon mega-jail.

As OC Parks Real Estate Manager, Rich Adler was responsible for overseeing both a large portfolio of leases generating over $9,000,000 in annual revenue for OC Parks and all real estate transactions involving OC Parks, including the Irvine Company's donations of 20,000 acres of open space in 2010 and 2,500 acres of open space in 2014.

OC Parks, Rich Adler took on many other assignments not related to real estate, including being the principal staff person for the Orange County Parks Commission and a key member of the team that established and administratively supported the Orange County Parks Foundation.

"Rich Adler's professionalism, dependability and personable nature have sustained him well in all his service to the County of Orange. He offers an experience and dedication that will truly be missed," said Supervisor Todd Spitzer.

As the new Chairman, Supervisor Todd Spitzer created a time before regular scheduled Board meetings for special presentations. The presentations to Alan Murphy and Rich Adler were the first special presentations held in result of this effort.

CalOptima Clears Major Hurdle as Federal Regulators Lift the Sanctions on OneCare


(Portions courtesy of CalOptima)

After completing a rigorous audit, the Centers for Medicare and Medicaid Services (CMS) notified CalOptima that the sanction on OneCare is lifted, effective immediately. CMS identified major improvements in OneCare, a Medicare Advantage Special Needs Plan that currently serves about 14,000 Orange County residents eligible for Medicare and Medi-Cal.

Clearing this major hurdle is essential to CalOptima's proposed launch of a Cal MediConnect plan, a pilot program designed to combine and simplify Medicare and Medi-Cal benefits for vulnerable seniors and people with disabilities. CalOptima must undergo a final readiness review before offering the new managed care program this summer.

"We are thrilled that CMS has validated CalOptima's improvements," said Mark Refowitz, Chairman of the CalOptima Board of Directors. "Staff members and provider networks partnered to make the positive changes, yet the true beneficiaries of the effort are our members. OneCare now has a stronger model of care with better coordinated services for members."

First announced in January 2014, the CMS sanction suspended marketing and enrollment into OneCare and delayed the launch of Cal MediConnect in Orange County. CalOptima worked diligently to correct the problems that led to the freeze, and as a result, CMS permitted enrollment to resume in November 2014. Today's action now removes remaining restrictions.

"In the past year, CalOptima has implemented permanent enhancements to our compliance and oversight capabilities," said Todd Spitzer, Chairman of the Orange County Board of Supervisors and a member of the CalOptima Board of Directors. "We built a new Audit and Oversight department and can now monitor the performance of our delegated health networks on a regular basis."

Spitzer and Refowitz serve on the CalOptima Board of Directors Ad Hoc Compliance Committee, created in May 2014 to monitor the progress on audit remediation. The committee provided oversight and worked with CalOptima leadership and staff on a weekly basis to effectively resolve the issues.

County Names Lawrence G. Serafini Acting Director of John Wayne Airport


(Portions courtesy of John Wayne Airport)

The Orange County Board of Supervisors on Tuesday appointed Lawrence G. Serafini as Acting Airport Director of John Wayne Airport. The appointment was made as a result of the retirement of current Airport Director Alan L. Murphy.

"We are fortunate to have experienced and qualified Airport staff like Larry Serafini to step into the role of Acting Airport Director," said Supervisor Todd Spitzer, Chairman of the Orange County Board of Supervisors. "I'm confident that Larry will work to ensure that the communities who are affected by noise and growth know that they will be protected."

Mr. Serafini began his career with John Wayne Airport as Deputy Airport Director, Facilities in August 2001. In this position, he has been responsible for managing Airport Development, Engineering, Maintenance, Information Systems, Planning and Environmental Compliance.

Mr. Serafini holds a Master of Science in Civil Engineering from California State University, Long Beach and a Bachelor of Science in Civil Engineering from Rensselaer Polytechnic Institute. He is a registered California Professional Engineer in Civil Engineering. Mr. Serafini retired from the U.S. Navy as a Lieutenant Commander, Civil Engineer Corps. Mr. Murphy retired from the County of Orange on February 5 and Mr. Serafini will began as Acting Airport Director on February 6, 2015.

New Security Measures Planned for Board Meetings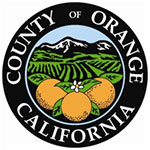 Metal Detectors Will Be Used Beginning March 3

(Portions courtesy of Orange County Executive Office)

Beginning March 3, 2015, those attending Orange County Board of Supervisors meetings will be required to pass through a metal detector before entering the Board Meeting Room, a move designed to boost security in line with other large urban California counties.

The recommendation to install metal detectors came from the Orange County Intelligence Assessment Center, a multi-jurisdictional network of law enforcement agencies that develops best practices to protect the residents, visitors and critical infrastructure of the county.

Courthouses in Orange County have used metal detectors since 1999.

"The safety of our employees and visitors to our meetings is my primary concern," Board Chairman Todd Spitzer said. "The minor inconvenience of metal detectors will assure that our meetings can be conducted in a safe and appropriate environment."

The metal detector inside the Hall of Administration will be staffed by two Sheriff's Department special officers. Purses and bags also will be subject to search.

Other counties using metal detectors for security purposes during Board of Supervisors meetings include Los Angeles, San Bernardino, San Diego and Alameda counties. In San Diego and Alameda counties, the metal detectors are located at the building entrances.

Security costs will be paid from the County Executive Office budget.

Officials Ask Public's Help to Stop Spread after Invasive Pest Found in Orange County



(Gold Spotted Oak Borer)
(Portions courtesy of Orange County Fire Authority)

Gold Spotted Oak Borer (GSOB), an invasive beetle that has killed thousands of oak trees in San Diego and Riverside counties in a short span of time, has now been detected in Orange County. The GSOB was discovered in approximately 60 trees on County park land in northern Orange County. Since GSOB is transported in oak firewood, it is critical that Californians keep firewood local and not move it out of the area.

This new detection of GSOB represents the second long-distance movement of the beetle from its known areas of infestation in San Diego and Riverside Counties. It is believed to have made the jump from either San Diego or Riverside to Orange County through the movement of infested firewood. "The public plays a key role in stopping the spread of the GSOB," said Orange County Board Chairman, 3rd District Supervisor and OCFA Board Member Todd Spitzer. "When choosing firewood make sure you buy it from a local source and not from out of the area. This infestation could have devastating effects on Orange County and all California and we all must work to stop its spread."

Here are some immediate steps to help stop the spread of GSOB:

"Buy it where you burn it"—use firewood from local sources.
Leave firewood at home.
Do not transport firewood to recreational cabins, campgrounds, or parks.
Go to www.gsob.org to learn the signs of GSOB. Inspect cut wood and if infested, refer to www.gsob.org for guidelines on management, handling, and reporting.
The infested trees are slated for immediate removal and disposal. Larvae extracted from under the tree bark were subjected to DNA analysis at the University of California Riverside and confirmed to be Agrilus auroguttatus, the scientific name for GSOB.

The Orange County Fire Authority is collaborating with the University of California Cooperative Extension, California Department of Forestry and Fire Protection (CAL FIRE), the U.S. Forest Service and the County of Orange to develop a response plan for GSOB in Orange County and OC Parks is currently evaluating firewood practices in their camping facilities. These infestations can be very destructive to our forests, communities, and individual properties, and are extremely costly to control. "This discovery of GSOB in Orange County is of great concern," said Orange County Fire Chief Jeff Bowman. "These mountain communities have endured years of drought and bark beetle infestation and we need to work collaboratively with the public and all stakeholders to stop the GSOB from further destroying oak woodlands."

Anyone planning to purchase or burn firewood is encouraged to visit www.firewood.ca.gov to learn how help stop the spread of GSOB and other pests through the movement of firewood. For more information on GSOB visit www.gsob.org.

Pet of the Week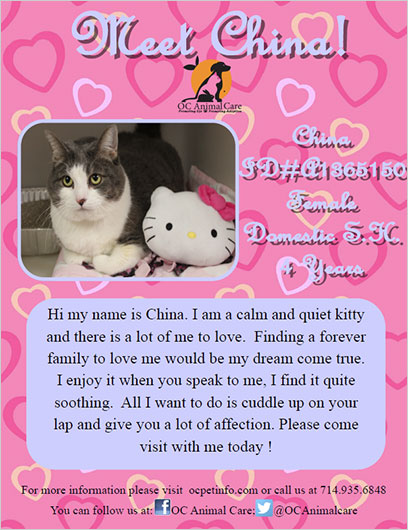 Click on the image above to view a PDF version.

Events Around the District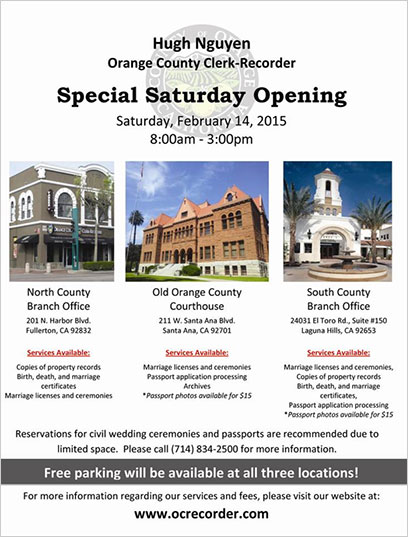 Anaheim
Family Story Time
Saturday, February 14, 2015, 11:30 AM
East Anaheim Branch Library, 8201 East Santa Ana Canyon Road

Overdrive Classes at Canyon Hills Library
Monday, February 21, 1:00 PM
Canyon Hills Branch Library, 400 Scout Trail

Irvine
Certified Farmers Market

Sunday, February 15, 10:00 AM – 2:00 PM
Orange County Great Park

Orange
Lego Movie
Saturday, February 14, 2:00 PM
Orange Public Library & History Center

Tustin
Farmers Market
Wednesday, February 18, 9:00 AM to 1:00 PM
El Camino Real & 3rd St.

Villa Park
Toddler Storytime
Tuesday, February 17, 9:30 & 10:30 AM
Villa Park Library, 17865 Santiago Blvd.

Yorba Linda
Nixon Library Concert, Chamber Music by the Aliant Trio, Piano: Beth Nam
Sunday, February 15, 1:30 PM
Richard Nixon Library, 18001 Yorba Linda Blvd.


For questions or comments regarding Spitzer's E-Newsletter
please contact the Supervisor's office staff at: (714) 834-3330 or Melanie.Eustice@ocgov.com


DISTRICT

STAFF
Martha Ochoa
Chief of Staff

Melanie Eustice
Communications Director

Chris Nguyen
Senior Policy Advisor

Carrie O'Malley
Senior Policy Advisor

Martin Gardner
Policy Advisor

Melissa March
Policy Advisor

Christine Richters
Executive Aide



District Map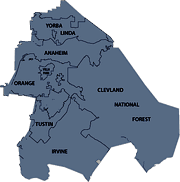 Anaheim, Irvine, Orange, Tustin, Villa Park, Yorba Linda, El Modena, North Tustin, Orange Park Acres, the Canyon Communities

Stay Updated!