February 20, 2015
Volume 3

Issue 7

Supervisor Spitzer Offers Invocation at Orange County Business Council's 2015 Annual Dinner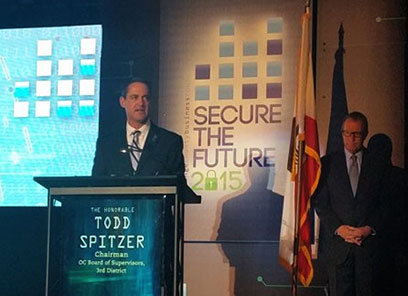 Supervisor Todd Spitzer
The Orange County Business Council (OCBC) held their 2015 Annual Dinner with the theme "Secure the Future". The event featured an interview with U.S. Senator Dianne Feinstein, Vice Chair of the Senate Intelligence Committee, which was moderated by OCBC President and CEO, Lucy Dunn. Western Digital President and CEO Steve Milligan also gave an address.

Supervisor Todd Spitzer offered the invocation and spoke about the importance of showing love and appreciation to God and families. During the gala at Hotel Irvine, the OCBC installed the 2015 Board of Directors, led by incoming Chair Laura DeSoto of Experian.

Spitzer Gains Adoption of Pension Reform Proposal at LAFCO and TCA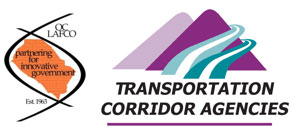 Last week, at the request of Supervisor Todd Spitzer, the Local Agency Formation Commission (LAFCO) and Transportation Corridor Agencies (TCA) each approved a pension reform proposal to permit newly-hired employees aged 60 or older to opt out of a pension. The proposals were made possible by a pension system regulation that was ratified at the urging of then-Supervisor/now-Senator Patricia Bates, who is also a former LAFCO Commissioner and former TCA Director.

"This is the closest state law allows LAFCO and TCA to go in moving employees into 401(k)-style retirement plans," LAFCO Commissioner/TCA Director Spitzer said. "Before LAFCO and TCA adopted this proposal, LAFCO and TCA employees did not even have the choice to decline enrollment in a pension plan. Now, new LAFCO and TCA employees who are at least 60 years old will be able to individually decide if they want a defined benefit pension plan or a 401(k)-style defined contribution plan."

The newly-adopted policy is the furthest possible step toward 401(k)-style retirement plans for LAFCO and TCA employees allowed by California Government Code Section 31552. "We owe a great deal of gratitude to Senator Bates for her work in obtaining approval of the regulations that made these policies possible," Spitzer said. "I have successfully brought this policy to the County, IHSS Public Authority, LAFCO, and TCA. I will continue working to get this proposal adopted by other government agencies across Orange County."

In November, Bates gained ratification for the regulations permitting employers like the County to adopt a policy allowing its new employees aged 60 or over to opt out of the pension system. In January, Spitzer gained approval of this policy for the County of Orange and for the In-Home Supportive Services Public Authority. Earlier this month, the Children and Families Commission unanimously approved this policy for its employees.

Assemblyman Brough Introduces AB 201, an act relating to Sex Offenders and Local Ordinances


(Portions courtesy of Assemblyman Brough)

Assemblyman Bill Brough (R-Dana Point) introduced a bill that will authorize local governments to enact their own ordinances relating to sex offenders. AB 201 is a response to a court ruling that invalidated local measures concerning the restriction of sex-offenders.

"This legislation protects children and helps remove the false sense of security in our community parks. Local authorities have the best ability to serve their populations. At the end of the day, it's about the safety of our kids," said Brough.

Orange County District Attorney Tony Rackauckas said, "I support this bill aimed at giving local communities the right to protect themselves from dangerous sex offenders. The number one goal with this bill is to protect our children."

"Cities and counties need to be able to defend our families from sex predators when California law fails to properly protect local communities." said Orange County Supervisor Todd Spitzer. "When I was in the Assembly, I authored the laws putting Megan's Law on the internet and creating the Sex Offender Management Board. Now that I am a County Supervisor, I see firsthand that law enforcement and local government need every possible weapon to restrict people who prey on our children."

The state of California has a complex system in place to register and monitor sex offenders. A succession of laws in the last few years, such as Megan's, Jessica's, and Chelsea's Laws, reminds Californians that monitoring registered sex offenders continues to be a public safety concern.

Audit Oversight Committee Forms Subcommittee to Study Future of County Audit Functions

On Thursday, the Audit Oversight Committee voted unanimously to form a subcommittee to study the future of Orange County's audit functions. AOC Chairman/Private Sector Member Mark Wille, CPA, was named Chairman of the subcommittee while Private Sector Member Dr. Dave Carlson was named Vice Chairman. Supervisor Todd Spitzer and Auditor-Controller Eric Woolery, CPA, were also named to the subcommittee. Staff support for the subcommittee will be provided by Internal Audit Director Dr. Peter Hughes, CPA, and Deputy County Counsel Ann Fletcher.

"This is a great step forward in the discussion of the County audit functions, where best practices will be recommended to best protect the interests of the people of Orange County," Supervisor Spitzer said. "The discussion of the County's audit function was heading down an adversarial road, but this subcommittee represents an opportunity to instead bring all parties together to study this issue."

After the 1994 Orange County bankruptcy resulting from risky investments in the County Treasury, the Board of Supervisors took the Internal Audit function away from Auditor-Controller Steve Lewis and set up a separate Internal Audit Department instead in 1995. In 2007, Auditor-Controller David Sundstrom regained responsibility of the County Treasury audit for his department, but was unsuccessful in his effort to take back the Internal Audit function.

In the wake of a 2014 state law regarding Orange County's Internal Audit function and the election of new Auditor-Controller Eric Woolery, there was much discussion about the future status of Orange County's audit function. At the November 25, 2014, Board of Supervisors meeting, the Board unanimously referred the issue to the Audit Oversight Committee to provide its expertise.

"I thank Auditor-Controller Woolery and Internal Audit Director Hughes for coming together to work with Chair Wille, Dr. Carlson, and me on this vital issue," Supervisor Spitzer said. "I thank Chair Wille for his leadership, and I look forward to working on this subcommittee to help determine the best options for Orange County."

Click here for a white paper prepared by new Auditor-Controller Eric Woolery. Click here for a study prepared by former Auditor-Controller Jan Grimes. Click here for a white paper prepared by Internal Audit Director Peter Hughes.

First District Special Election Recount Ends

(Portions courtesy of Orange County Registrar of Voters)

The recount in the Supervisorial First District Special Election has ended with no change in the original certification, which found that former Garden Grove City Councilman Andrew Do won the election by 43 votes. The recount began Monday, February 9, 2015 at the request of former Senator Lou Correa who made the original request following the certification of the election.

Do will serve the remainder of former Supervisor Janet Nguyen's term after Nguyen was elected to the State Senate. The regular election for a full four year term (2017-2021) as First District Supervisor will take place in 2016.

During the recount nearly 6,250 vote-by-mail ballots were recounted and election materials were reviewed. There were no changes to the vote totals - pursuant to California Elections Code § 15632 the original certification of the ballots cast remains as the official certification.
Election Results
Vote Count
Percentage
ANDREW DO
18,905
39.1%
LOU CORREA
18,862
39.0%
CHRIS PHAN
7,857
16.3%
CHUYEN VAN NGUYEN
1,879
3.9%
LUPE MORFIN-MORENO
834
1.7%
MARK I. LOPEZ (W)
2
0.0%

OC Sheriff's Department Provides Important Tips on Preventing Identity Theft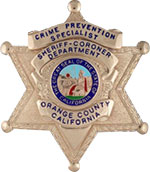 (Portions by OC Sheriff's Department)

The Orange County Sheriff's Crime Prevention Specialists provide education services and programs to help strengthen community and law enforcement partnerships to keep communities safe. Lately, identity theft prevention has been an educational focus. Identity theft is when someone uses another person's identifying information to obtain a credit card, loan or any other type of credit or service. Identity theft can include the use of stolen identifiers such as a name or social security number to obtain employment and/or file a bankruptcy case.

To protect credit, fraud alert options are available through the three major credit bureaus. Some helpful safety tips to prevent identity theft are:

Read all three credit reports. Every person has the right to a free credit report every 12 months from each of the three nationwide credit reporting companies. Order all three reports at once, or order one report every four months. To order, go to annualcreditreport.com or call 1-877-322-8228.
Cross shred all documents that contain personal, financial, and medical information before discarding them. This includes, debit & credit cards, health insurance statements, Federal and State tax forms, receipts or anything that contains personal information. Even if it only contains the last four digits of a social security number, SHRED IT! Check city websites for upcoming FREE Shredding Events
Never disclose social security numbers, credit card numbers, PINs, or any bank account details over phone, email, or text. Legitimate companies don't ask for information this way. Contact the business at the numbers listed on account statements and verify account information as needed.
Remember to store social security cards in a safe place, not in wallets or purses.
Don't use the same password for more than one account. Memorize and create passwords that mix letters, numbers, and special characters. If these MUST be stored, ensure they are in a safe location and not in a wallet or purse.
Victims of identity theft should call the Orange County Sheriff's Department Non-Emergency phone number at: (949) 770-6011.For more tips on reducing the risk of identity theft click here.

Chairman Todd Spitzer to Deliver State of the County Address on March 3



Pet of the Week


Click on the image above to view a PDF version.

Events Around the District


February 21 at 9:00 AM, the Vietnamese American Federation of Southern California will host the annual Tet Parade on Bolsa Avenue between Bushard Street and Magnolia Avenue.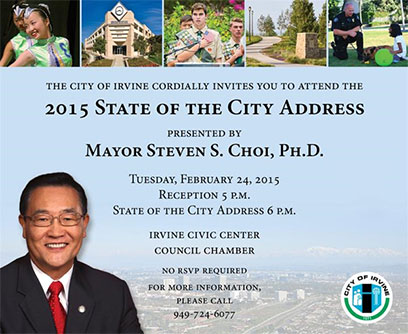 Anaheim
Family Story Time
Saturday, February 21, 2015, 11:00 AM
East Anaheim Branch Library, 8201 East Santa Ana Canyon Road

Overdrive Classes at Canyon Hills Library
Monday, February 21, 1:00 PM
Canyon Hills Branch Library, 400 Scout Trail

Irvine
Certified Farmers Market
Sunday, February 22, 10:00 AM – 2:00 PM
Orange County Great Park

State of the City
Tuesday, February 24, 5:00 PM
Council Chambers, Irvine Civic Center, 1 Civic Center Plaza

Orange
Chapman University Guitar Ensemble
Saturday, February 21, 3:00 PM
Orange Public Library & History Center, 380 South Hewes Street

Tustin
Farmers Market
Wednesday, February 25, 9:00 AM to 1:00 PM
El Camino Real & 3rd St.

Veteran's Memorial Design Forum
Monday, February 23, 4:30 PM
City of Tustin Council Chambers, 300 Centennial Way

Villa Park
Toddler Storytime
Tuesday, February 24, 9:30 & 10:30 AM
Villa Park Library, 17865 Santiago Blvd.

Yorba Linda
Diffuse Your Stress Away
Saturday, February 21, 2:00 PM
Yorba Linda Library, 18181 Imperial Highway

Nixon Library Concert, Violinist GaHyun Cho and Pianist Jiayi Shi
Sunday, February 22, 1:30 PM
Richard Nixon Library, 18001 Yorba Linda Blvd.


For questions or comments regarding Spitzer's E-Newsletter
please contact the Supervisor's office staff at: (714) 834-3330 or Melanie.Eustice@ocgov.com


DISTRICT

STAFF
Martha Ochoa
Chief of Staff

Melanie Eustice
Communications Director

Chris Nguyen
Senior Policy Advisor

Carrie O'Malley
Senior Policy Advisor

Martin Gardner
Policy Advisor

Melissa March
Policy Advisor

Christine Richters
Executive Aide



District Map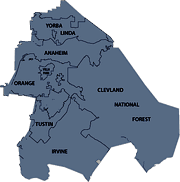 Anaheim, Irvine, Orange, Tustin, Villa Park, Yorba Linda, El Modena, North Tustin, Orange Park Acres, the Canyon Communities

Stay Updated!