March 27, 2015
Volume 3

Issue 9

Orange County Works with SoCalGas and 2-1-1 to Launch Internet Site to Help Veterans and their Families Gain Greater Access to Services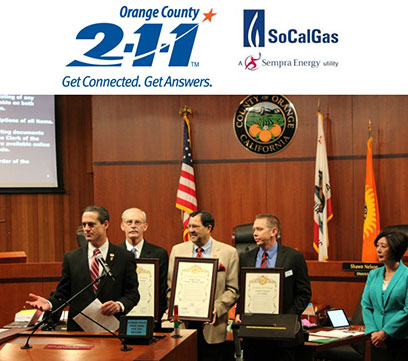 Chairman Todd Spitzer, 2-1-1 Chair Alan Roeder, OC Veterans Advisory Council Chairman Bobby McDonald, SoCalGas Public Affairs Manager Paul Simonds and Supervisor Lisa Bartlett
Southern California Gas Co. (SoCalGas) has supplied a $30,000 grant to help 2-1-1 Orange County develop and launch an internet site that will help Orange County veterans and their families gain greater access to services, it was announced this week at the Orange County Supervisors meeting.

The new portal is connected to 2-1-1 Orange County's extensive database of regional services that include housing, legal assistance, counseling, child care and other services. The portal will serve as a central location for the most current information and relevant services for veterans and their families. 2-1-1 Orange County is also working with the Orange County Veterans and Military Families Collaborative to make sure that area agencies are trained to work specifically with service men and women as they transition back from deployment.

There are about 6,500 veterans returning to Orange County each year with a current total population of 133,000. A recent study funded by the Orange County Community Foundation and conducted by the University of Southern California's Center for Innovation and Research on Veterans and Military Families found that Orange County veterans face significant barriers to finding services and support. The study also highlighted the fact that 44 percent of veterans said they did not know where to find help and that many veterans leave the service without a job, housing and/or services for physical and psychological needs.

"It is troubling to realize that many of the homeless are also veterans," said Todd Spitzer, chairman of the Orange County Board of Supervisors. "Expanding the 2-1-1 services to veterans and their families is a big step in the right direction in Orange County's effort to help end homelessness."

"After military life, skilled and resourceful veterans find themselves without health benefits, housing support, and sometimes without a job," said Karen Williams, president and CEO of 2-1-1 Orange County. "There are services and employment opportunities for veterans here at home; however, when re-entering back into society, identifying and securing these resources can be challenging. 2-1-1 Orange County can help provide veterans and their families with needed information to get connected to employment programs, food and utility payment assistance, as well as other resources they may need. Once the new portal is launched, this will allow veterans and their families to navigate the rich resource landscape in Orange County with confidence and anonymity and place necessary information at their fingertips."

"Most people know a veteran who can be helped by services, so we appreciate SoCalGas' help with this new way of providing this information to the public," she added.

"We are proud to help support this access to important information for our Orange County veterans," added Bret Lane, chief operating office of SoCalGas and also a veteran. "For years, SoCalGas has been a proud supporter of our veteran community. We provide our uniformed services employees with a variety of resources and career guidance when they return to work after active duty. We also take part in a variety of efforts to assist the veteran community.

Special Board Presentations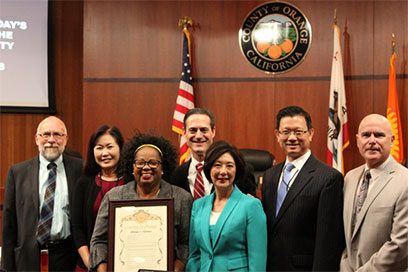 County Counsel Nick Chrisos, Supervisor Michelle Steel, retiring Assistant County Counsel Wanda Florence, Chairman Todd Spitzer, Vice Chair Lisa Bartlett, Supervisor Andrew Do, and County CEO Mike Giancola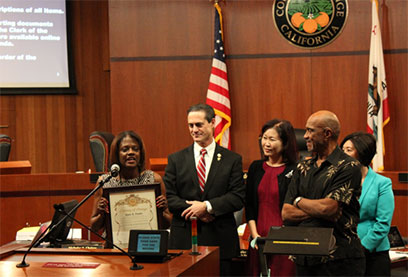 Retiring Deputy County Counsel Karen Prather, Chairman Todd Spitzer, Supervisor Michelle Steel, Prather's Husband Jerry Comer, and Supervisor Lisa Bartlett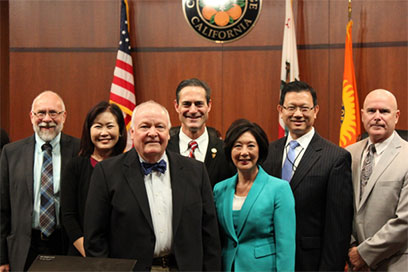 County Counsel Nick Chrisos, Supervisor Michelle Steel, retiring Supervising Deputy County Counsel Geoff Hunt, Chairman Todd Spitzer, Vice Chair Lisa Bartlett, Supervisor Andrew Do, and County CEO Mike Giancola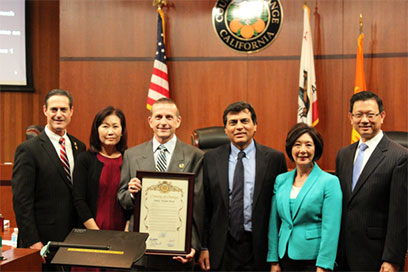 Proclaiming April 6-12, 2015 as Public Health Week: Chairman Todd Spitzer, Supervisor Michelle Steel, Deputy Health Care Agency Director for Public Health Services David Souleles, Assistant Health Care Agency Director Richard Sanchez, Vice Chair Lisa Bartlett, and Supervisor Andrew Do

Chairman Spitzer Delivers State of the County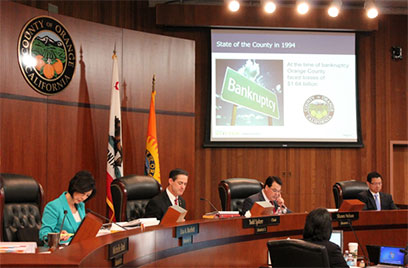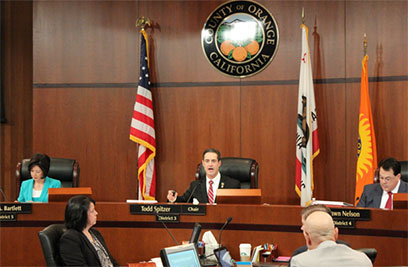 Chairman Spitzer delivered the State of the County address this week at the Board of Supervisors meeting. He provided a financial history of the County and announced that in 2014, the County is on course to pay off the General Fund obligations from the County's bankruptcy that started over 20 years ago. Orange County's programs and capital projects have been severely underfunded with the bankruptcy debt. However, with the debt paid off, the County of Orange will only be moderately underfunded. Orange County still owes the state Vehicle License Fee money, and still suffers from funding inequity issues. Overall, Orange County's financial situation is improving.

Recently, Supervisor Spitzer charged the Orange County Executive Officer, Mike Giancola to work with the Orange County Transportation Authority CEO, Darrell Johnson to form a "think tank group" comprised of CEOs from multi-governmental jurisdictions, members from the Orange County business community and elected officials. This new group will brainstorm, converse and problem solve on issues that face our respective organizations and opportunities to show visionary leadership.

In order to assist Supervisor Spitzer in facilitating these visioning discussions, the Board of Supervisors approved the appointment of Supervisor Spitzer to serve on the Association of California Cities (ACCOCC). Supervisor Spitzer expressed the value in the County of Orange working with Lacy Kelly, ACCOCC Chief Executive Officer and the member local officials.

"The future of Orange County is blooming before us with the climate of the post-bankruptcy and the improved economy but there are crucial questions that face us in terms of setting the vision of who we want to be in the County and in the region," said Chairman and Third District Supervisor Todd Spitzer.

Spitzer said that he will continue to work with the Board of Supervisors to develop a visionary direction for the County of Orange that serves the residents and business community and that will help position the County to "step up their game" as a leader in the region and the State.

Drug and Alcohol Prevention Meeting at Villa Park High School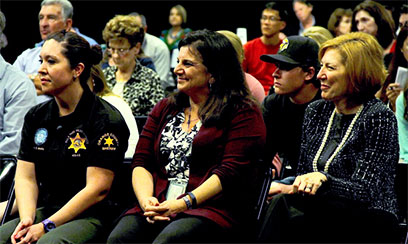 Presiding Juvenile Court Judge Maria Hernandez and OC Sheriff Sandra Hutchens (right) at the meeting in Villa Park
(Portions courtesy of Orange County Sheriff's Department)

On March 12, the Orange County Sheriff's Department held a presentation on alcohol abuse at Villa Park High School. This informational seminar, designed for parents and teens, focused on how to navigate through social pressures, examined the dangers of underage drinking and highlighted current laws and trends. Most importantly, attendees were provided with tools to resist social pressures. Featured speakers included Sheriff Sandra Hutchens and Judge Maria Hernandez. Supervisor Spitzer's staff attended the event. The presentation is a component of the Sheriff's Department 3Gs series. For more information on the 3Gs and other resource material please click here.

Irvine Police Department Holds 44th Annual Awards Banquet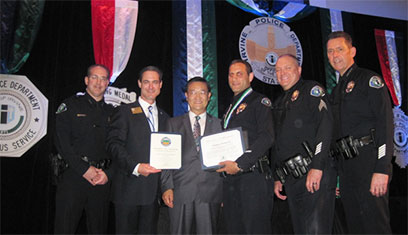 Chairman Todd Spitzer, Mayor Steven Choi, Police Officer of the Year Shaheen Jahangard, Lieutenant Frank Andersen, and Police Chief Dave Maggard
(Portions courtesy of the Irvine Police Department)



Congratulations to
Irvine Police Officer of the Year: Officer Shaheen Jahangard
Civilian of the Year: Kasandra Bowden
Rookie of the Year: Officer Agustina Arias
Lifesaving Award: Officers Keith Herter, Craig Huffmire, and Heather Phillips
Community Policing Award: Officer Joshua Assayag


The Irvine Police Department (IPD) Awards Banquet recognizes sworn police officers and civilian professional staff for outstanding contributions to the department and community. Award recipients embody IPD's core values of integrity, quality service, accountability, and respect. The 44th Annual event was attended by approximately 500 community members, including police personnel, elected officials, Exchange Club members, local business owners, religious leaders, academic institutions, and community organizations. Board of Supervisors Chairman Todd Spitzer and Mayor Steven Choi joined the IPD in congratulating the award recipients and are grateful to the many community partners who work side-by-side with IPD to ensure that Irvine remains a wonderful place to live and work.

Chairman Spitzer Honors Jeff Ferguson's 31 Years of Service at OC District Attorney's Office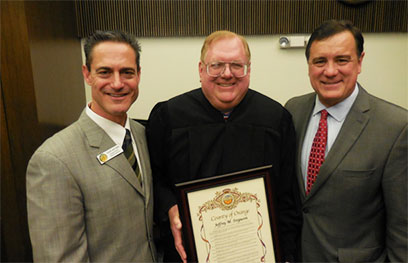 Supervisor Todd Spitzer, Judge Jeff Ferguson, and Assemblyman Don Wagner
Chairman Todd Spitzer honored Jeff Ferguson's 31 years of service with the Orange County District Attorney's Office. Ferguson began his career with the County of Orange in February 1983 and is retiring after nearly thirty-one years of service to the County, due to his election by the people of Orange County to be a Judge of the Superior Court of California.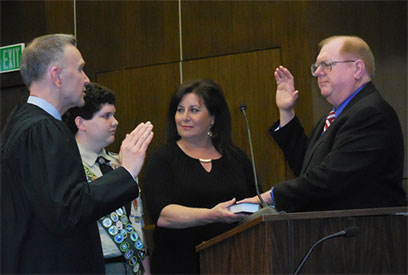 Judge James Rogan administers the oath of office to Judge Jeff Ferguson, who is joined by his family

Spitzer Gains Adoption of Pension Reform Proposal at OCTA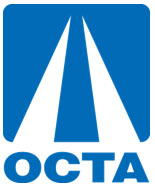 The Orange County Transportation Authority (OCTA) Board of Directors unanimously approved a pension reform proposal by Director Todd Spitzer to permit newly-hired OCTA employees aged 60 or older to opt out of a pension. The proposal had its origin in a pension system regulation that was ratified at the urging of then-Supervisor/now-Senator Patricia Bates, who is also a former OCTA Director.

"As far as possible under state law, this item helps move OCTA employees into 401(k)-style retirement plans," OCTA Director Spitzer said. "Before this proposal was adopted, OCTA employees could not refuse to participate in a pension plan. Now, new OCTA employees who are at least 60 years old will be able to decide on an individual basis whether they wish to be part of a defined benefit pension plan or a 401(k)-style defined contribution plan."

The proposal is the broadest possible move toward 401(k)-style retirement plans for OCTA employees permitted under California Government Code Section 31552.

"I am grateful to then-Supervisor/now-Senator Bates for her leadership in obtaining ratification of the regulations that paved the way for my proposal," Supervisor Spitzer said. "I have successfully gained adoption of this proposal at the County, IHSS Public Authority, LAFCO, TCA, and OCTA, and I will continue working toward the passage of this proposal by other government agencies throughout Orange County."

In November, Bates gained approval of the pension system regulations that permitted a number of public agencies to allow their new employees aged 60 or over to opt out of the pension system. In January, Spitzer successfully urged the adoption of this policy for the County of Orange and for the In-Home Supportive Services Public Authority. In February, the Children and Families Commission unanimously approved this policy for its employees, and Spitzer persuaded LAFCO and TCA to adopt this policy.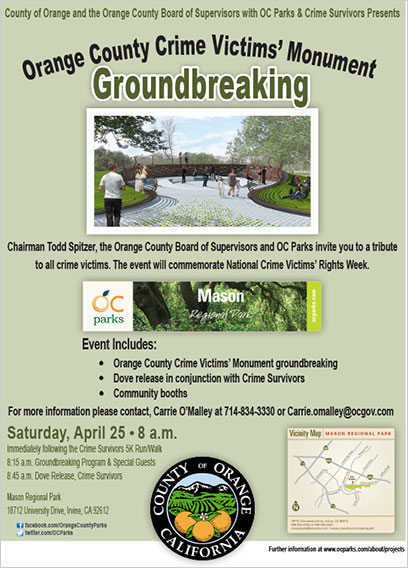 Click on the image above to view a PDF version.

3rd Annual Eco Challenge Angels Baseball Poster Contest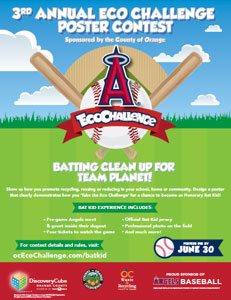 Batting Clean Up For Team Planet!

We are excited to announce the 3rd Annual Eco Challenge Poster Contest. Enter the County of Orange poster contest for the chance to be an Honorary Bat Kid at an Angels baseball game this year by creating a poster that clearly demonstrates how you personally 'Take the Eco Challenge'. Design a poster which shows examples of projects or activities that you have developed or engaged in that promote recycling, reusing, or reducing in your school, home or community. The poster should focus on your personal plan of action. Posters will be judged based on originality, visual clarity, relevance to theme, artwork, and effectiveness of message. Winners will be selected by the County of Orange, Discovery Cube of Orange County and Angels Baseball representatives.

Bring or mail your entry to Discovery Cube or OC Waste & Recycling Headquarters by June 30, 2015. One lucky winner from each of Orange County's five Supervisorial Districts will be awarded the status of Honorary Bat Kid during an Angels home game and receive other fabulous prizes. For contest details please visit ocEcoChallenge.com/batkid or by phone at (714) 834-4174.

Pet of the Week


Click on the image above to view a PDF version.

Events Around the District

Anaheim
Toddler Stories and Playtime
Monday, March 30, 2015, 11:00 AM
East Anaheim Branch Library, 8201 East Santa Ana Canyon Road

Family Storytime
Monday, March 30, 2015, 7:00 PM
Canyon Hills Branch Library, 400 Scout Trail

Irvine
Certified Farmers Market
Sunday, March 29, 10:00 AM – 2:00 PM
Orange County Great Park

Animal Care Center's Open Public Forum
Tuesday, March 31, 11:00 AM
Civic Center, 1 Civic Center Plaza

Orange
Tai Chi Yoga Class
Saturday, April 4, 3:00 PM
Orange Public Library & History Center

Water Conservation: California Friendly Landscaping
Wednesday, May 20, 6:30 PM
Orange Public Library & History Center

Silverado
Friends of the Library Swap Meet
Saturday & Sunday, April 11 & 12, 8:00 AM – 4:00 PM
Silverado Fairgrounds & Community Center, 27641 Silverado Canyon Road

10th Annual Chili Cook –Off and Cinco de Mayo Celebration
Sunday, May 2, 11:00 AM – 5:00 PM
Irvine Lake, 4621 Santiago Canyon Road

Tustin
Annual Easter Egg Hunt
Saturday, April 4, 8:30 AM – 11:30 AM
Tustin Sports Park, 12850 Robinson Dr.

Farmers Market
Wednesday, April 1, 9:00 AM to 1:00 PM
El Camino Real & 3rd St.

Villa Park
Villa Park's Great American Family Picnic
Sunday, May 24, 11:30 AM – 4:30 PM
Irvine Lake, 4621 Santiago Canyon Rd.

Yorba Linda
Nixon Library, Concert - The Krechkovsky/Loucks Duo performing works of Debussy, Mozart, and Vivier
Sunday, March 29, 1:30 PM
Richard Nixon Library, 18001 Yorba Linda Blvd.

For questions or comments regarding Spitzer's E-Newsletter
please contact the Supervisor's office staff at: (714) 834-3330 or Melanie.Eustice@ocgov.com


DISTRICT

STAFF
Martha Ochoa
Chief of Staff

Melanie Eustice
Communications Director

Chris Nguyen
Senior Policy Advisor

Carrie O'Malley
Senior Policy Advisor

Martin Gardner
Policy Advisor

Christine Richters
Executive Aide



District Map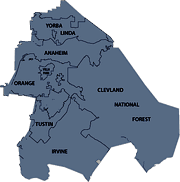 Anaheim, Irvine, Orange, Tustin, Villa Park, Yorba Linda, El Modena, North Tustin, Orange Park Acres, the Canyon Communities

Stay Updated!