July 15, 2016
Volume 4

Issue 19

Supervisor Todd Spitzer and Cal State Fullerton Host a Candlelight Vigil and Memorial in Honor of Those Who Lost Their Lives in a Tragic Shooting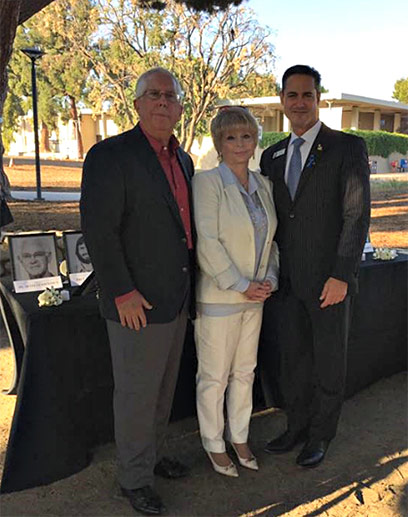 Paul Paulsen who lost his sister, Patricia Almazan who lost her father, and Supervisor Todd Spitzer
Supervisor Todd Spitzer and Cal State Fullerton hosted a candlelight vigil and memorial at the Cal State Fullerton Memorial Grove in commemoration of the 40th anniversary of those who lost their lives in the July 12, 1976, shooting tragedy.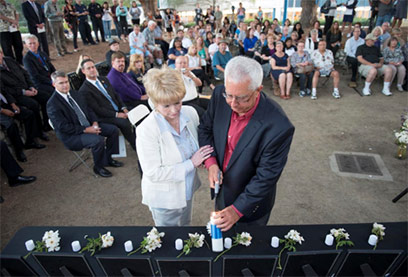 Patricia Almazan, who lost her father, and Paul Paulsen, who lost his sister. Photograph by Matt Masin, Staff Photographer. Orange County Register. July 12.
Forty years ago, on July 12, 1976, nine families were forced to accept the reality that their loved ones were either dead or critically injured after a tragic shooter incident. In 2001, victim's family members were facing the potential release of the murder. To assist in their effort to keep him locked up, Supervisor Spitzer helped to build a National campaign of victims' rights groups, law enforcement organizations and elected officials to oppose the release of the gunman.

Together they formed the group, Responsible Justice for Communities and they wrote letters to the judge and pledged to attend all hearings. They also organized a court house protest against the murderer's release with Paul Paulsen and Patricia Almazon who are the key victim family members who have kept this memory alive.

"At the time there was a void, where victims did not have rights and I knew that this call for justice needed organized support. The need to keep a murderer locked up and out of our community needed a voice so I got involved to help Paulsen, Almazan and the victim's families to ensure that a murderer would not be allowed back in our community," said Supervisor Todd Spitzer.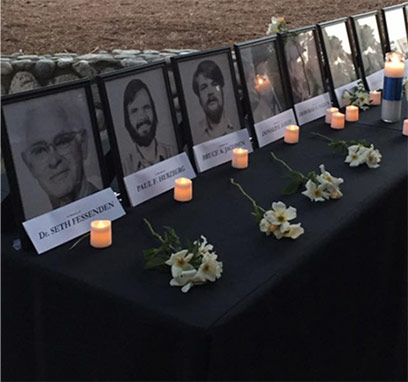 The nine victims of the 1976 California State University, Fullerton shooting. Seven were killed. Maynard Hoffman and Donald Keram were injured during the mass shooting.
"We stood together are we were vigilant. Because of that we turned the minds of a judge, a doctor and the State Department of Health. This was a huge victory," said Supervisor Todd Spitzer. "The system will run over victims. That is why we needed Marsy's Law for all."

Speakers included victim family members Pat Almazan and Paul Paulsen, CSUF President Mildred Garcia, Assistant District Attorney Dan Wagner and Supervisor Todd Spitzer. Paul Miller was Master of Ceremonies, Fullerton University Police Department Captain and Acting Chief John Brockie led the Pledge of Allegiance and the invocation was offered by Chaplain Brad Stetson.

Those who lost their lives were Stephen L. Becker, Seth Fessenden, Paul F. Herzberg, Bruce A. Jacobson, Donald E. Karges, Deborah D. Paulsen and Frank G. Teplansky.

Those wounded were Maynard W. Hoffman and Donald W. Keran.

For more information, contact Jeanne Tran at jetran@fullerton.edu or 657-278-7295.

Related article:

"40 years on, shooting victims remembered at Cal State Fullerton vigil," Orange County Register. July 12, 2016.

"40 years since a 5-minute shooting spree caused a lifetime of devastation, Cal State Fullerton remembers 7 lives lost," Los Angeles Times. July 1, 2016.

"Pain and purpose fill lives of victims' loved ones, 40 years after the Cal State Fullerton shooting," Orange County Register. July 12, 2016.

Spitzer Statement on $500,000 Settlements with Each Bustamante Victim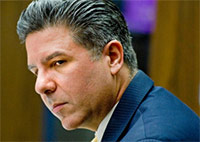 Orange County Supervisor Todd Spitzer made this statement after the Board of Supervisors approved settlements with the victims of former OC Public Works Manager Carlos Bustamante:

The Orange County Board of Supervisors acted to bring a legal close to the civil proceedings involving the criminal acts of a now disgraced former County manager, Carlos Bustamante. While our actions cannot erase the damage caused to his innocent victims, we hope the monetary settlement will ease the pain of the damage he caused. We offer our sincerest sympathies to those who suffered at the hands of this former County manager's criminal conduct.

The County does not tolerate acts of harassment or aggression against its employees by anyone. We are committed to a safe and healthy workplace. Bustamante's reprehensible actions are not accepted, expected or condoned within any Department of County government.

The County has done everything imaginable to assist those affected to become whole again after his acts. We offered to settle with the victims rather than requiring them to endure the stress and exposure of going through the civil litigation process to help right the wrongs against them committed by Bustamante.

The County has implemented safeguards with new policies and procedures, mandated routine and regular training of all employees in reporting and recognizing any form of harassment.

County employees in Bustamante's chain-of-command, who may have contributed to a culture which tolerated the defendant's acts, have all left the County or been terminated. The Board of Supervisors agendized the termination of the then-County Executive Officer, who subsequently resigned.

I have continued to demand that OCERS, the County's retirement system, terminate retirement benefits for County employees who so egregiously violate the trust of their constituents, being convicted of criminal acts committed during their employment. Numerous criminal charges were filed against the defendant. When Bustamante was convicted the County appeared at his sentencing to request restitution on behalf of both the County and the individual victims of his acts.

Our continued hope, is to move toward complete healing and restitution for all those affected by defendant's unwanted, illegal and immoral acts of misconduct. This concludes a dark chapter of our County's family history.

Related article:

"Bustamante Victims' Settlements OK'd by County Supervisors," Voice of OC. July 12, 2016.

"OC to pay $1M to Carlos Bustamante sexual misconduct victims," MyNewsLa. July 12, 2016.

"Orange County reaches settlement with sexual assault victims in Bustamante case," LA Times. July 12, 2016.

"Orange County to pay $1 million to two victims of Carlos Bustamante assaults, harassment," Orange County Register. July 12, 2016.

Supervisor Todd Spitzer Greets Crowd and Introduces Phil Shane at the OC Parks Summer Concert Series Event at Mason Park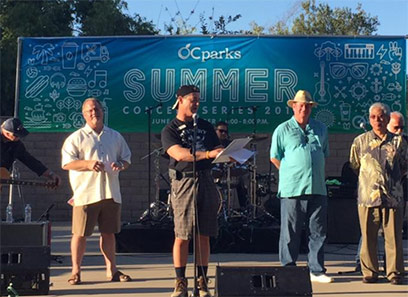 OC Parks Commissioner Dave Hansen, Supervisor Todd Spitzer, OC Parks Commissioner and Newport Beach Council Member Keith Curry and OC Parks Commissioner and Los Alamitos Council Member Warren Kusumoto
Supervisor Todd Spitzer welcomed the crowd and introduced the headlining band Phil Shane at the OC Parks Summer Concert at Mason Park. Supervisor Spitzer's staff also attended the City of Orange's and the City of Tustin's summer concerts and set up an informational booth for constituents to learn more about County government. Click here for information on future concerts.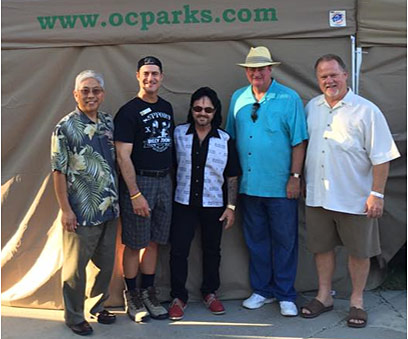 OC Parks Commissioner and Los Alamitos Council Member Warren Kusumoto, Supervisor Todd Spitzer, Phil Shane, OC Parks Commissioner and Newport Beach Member Keith Curry, and OC Parks Commissioner Dave Hansen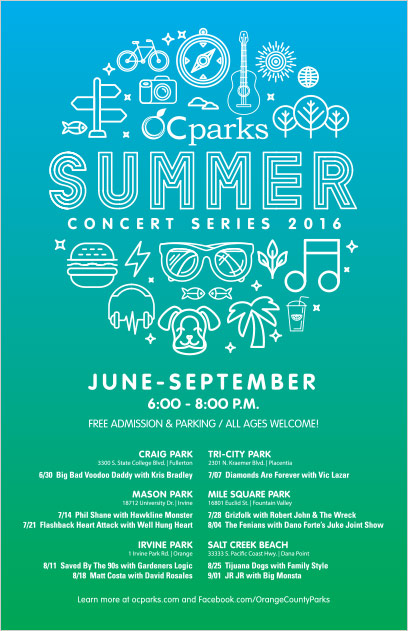 Click on the image above to view a PDF version.

New Public Defender Sharon Petrosino Earns Final Board Approval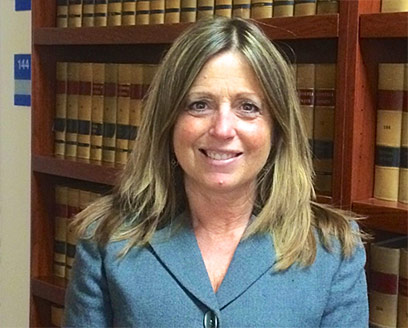 (Portions courtesy of County Executive Office)

The Orange County Board of Supervisors has made official its selection of Sharon Petrosino as Orange County's new Public Defender.

Petrosino has served as Interim Public Defender since former Public Defender Frank Ospino stepped down in December to become a Superior Court judge. She was the chief deputy in the office and has been an attorney with the County since 1985.

"We are pleased to welcome Sharon in her new and essential role as a part of Orange County's criminal justice system," Board of Supervisors Chairwoman Lisa Bartlett, Fifth District, said. "Sharon has shown true commitment and resolve on behalf of her clients and all of the residents of Orange County."

Petrosino will lead staff and contract attorneys who represent criminal defendants deemed by a court to be unable to afford legal representation on their own. As a deputy public defender, she represented indigent clients in a variety of cases, including charges of homicide and capital cases, as well as handled appeals. The office has 399 employees and a budget of $74 million.

A total of 36 candidates were evaluated following a wide recruitment, with eight candidates selected for interviews with an internal subcommittee that included Supervisors Andrew Do and Todd Spitzer. On June 28, the Board of Supervisors unanimously appointed Petrosino pending approval of her employment contract.

The contract, approved Tuesday, calls for a base salary of $216,362 – the same as that paid for the duties of District Attorney – with total annual compensation of $337,050, including benefits.

Petrosino received her Juris Doctor degree from Southwestern School of Law and her undergraduate degree from Rutgers University. She is a member of the Orange County Bar Association, the California Public Defender's Association and California Attorneys for Criminal Justice.

Board of Supervisors Awards Grants to CASA


(Portions courtesy of Montana Sudul)

As a measure of goodwill, in conjunction with the government's role of providing for the health and welfare of its community, the Board waived the annual fees for use of the OC Parks facilities to Court Appointed Special Advocates (CASA) of Orange County. CASA is a non-profit organization dedicated to serving neglected, abused, and abandoned children in Orange County by recruiting and training community volunteers who are matched with these youth. CASA volunteers develop a unique one-on-one relationship with the child they are paired with, and serve as mentors, friends, and advocates for the child they serve.

"We are so grateful of CASA volunteers for the time and energy they devote every single day to the children of Orange County, and we are so proud to grant these volunteers access to the OC Parks free of charge," said Supervisor Spitzer.

CASA volunteers spend countless hours with the child they are paired with, but must pay out of pocket for any outings, events, and educational enrichment opportunities for the child. By waiving annual pass fees for CASA volunteers, the Board has granted these volunteers and children with many chances to bond, connect, and learn by exploring the OC Parks.

The Memorandum of Understanding also waives CASA of charges for up to six events per year in the OC Parks. For more information, click here.

Keep Orange County Clean and Green at 4th Annual Eco Challenge Day at Angel Stadium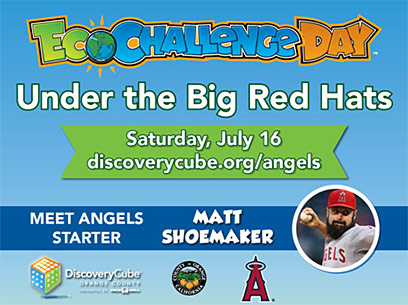 (Portions courtesy of OC Waste and Recycling)

Saturday, July 16, 2016 8 to 11 a.m.

Bring household hazardous waste, e-waste, gently used clothing and papers for shredding.
Arrive early for a chance to earn prizes – four FREE tickets to the Discovery Cube or an Angels Baseball game (while supplies last).
OC Waste & Recycling announces the 4th annual Eco Challenge Day at Angel Stadium. Residents are encouraged to bring household hazardous waste, e-waste, gently-used clothing and paper for shredding. Participants will have a chance to earn prizes.

E-Waste is any electronic equipment that is near or at the end of its useful life. Examples include computers, CPUs, laptops, home use photocopiers and printers, cell phones, digital cameras, televisions (CRTs & flat screens), VCRs, video game consoles and associated devices. More information can be found here.

Household Hazardous Waste is any household product that contains potentially hazardous elements. Corrosive, toxic, ignitable, or reactive ingredients cannot be safely disposed in landfills. Examples of household hazardous waste include paints (latex and oil based), cleaners, oils, batteries, herbicides, pesticides and solvents. Fluorescent tubes, compact fluorescent lamps are also hazardous.

Documents for Shredding: Any document that has personal information such as name, address, phone number, social security number, family information and personal records should be shredded OC Waste & Recycling, Angels Baseball, Discovery Cube and Goodwill of Orange County are participants in this eco-friendly family fun event, which takes place under the Big Red Hats. Activities include music, games, eco crafts, opportunity drawings and more.

The event takes place at the Angel Stadium parking lot from 8 to 11 a.m. The first 200 vehicles to arrive will be able to choose between four Angels Baseball tickets or four Discovery Cube tickets.

County Wins 10 NACo Achievement Awards


(Portions courtesy of County Executive Office)

Ten County of Orange programs earned the 2016 Achievement Award by the National Association of Counties (NACo). Founded in 1935, NACo represents the nation's 3,069 County governments in support of the pursuit of excellence in public service.

The County of Orange award-winning agency programs for 2016 are:

Orange County Community Resources, OC Libraries: Grow with STEM


Orange County District Attorney: OC GRIP


Orange County Waste & Recycling: Bowerman Power Landfill Gas to Energy Project


Orange County Probation: AB109 Program


Orange County Community Resources: Linking to Employment Activities Pre-release initiative


County of Orange Social Services Agency: No Wrong Door Service Delivery Model


CEO: OC Healthy Steps Wellness Program


Orange County Health Care Agency: OC Links


CEO Information Technology: OC Expediter Application


Orange County Community Resources, OC Libraries: Health & Flavor in your Kitchen
For more information, please click here.

County-Sponsored Budget Reform Bill Signed Into Law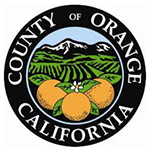 (Portions courtesy of Lauren Averill)

Senator Patricia Bates (R-Laguna Niguel), a former Orange County Supervisor, authored a bill to reform the budget approval process for all California counties. Governor Jerry Brown signed SB 1315 into law on Friday, July 1. This bill was first proposed this year by Supervisor Todd Spitzer and sponsored by the Orange County Board of Supervisors.

SB 1315 is an important budget reform that provides a new budget approval process for the Board of Supervisors. This new process will ensure that budgets are properly vetted before being passed. Previously, a recommended budget had to be passed before the Board of Supervisors held a budget hearing, after which a final budget could be approved and adopted two weeks later. The new bill allows the Board to reform this process by only passing a budget after the budget hearing, if that budget is approved on or before June 30.

"With this new law, we can properly assess and approve the budget, without the dangerous and unnecessary step of approving an unvetted budget before the hearings," said Supervisor Todd Spitzer. "SB 1315 will ensure the County operates with a properly vetted budget before the fiscal year begins."

SB 1315 was approved unanimously in April by the Senate Committee on Governance and Finance with a technical amendment to ensure that County budgets approved through this process still meet current statutory requirements. The bill was then unanimously passed on the Senate Floor, in the Assembly Local Government Committee, and on the Assembly Floor. On July 1, Governor Brown signed SB 1315 into law, effective January 1, 2017, in time for the next County budget.

Pet of the Week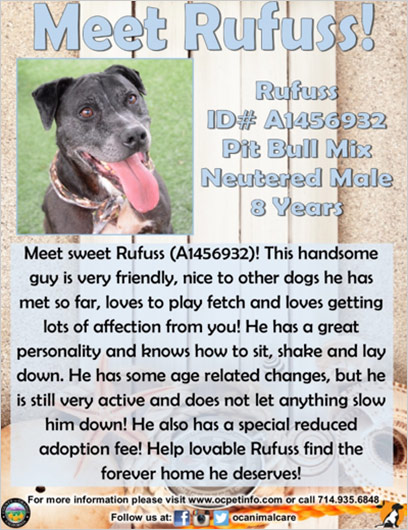 Click on the image above to view a PDF version.

Events Around the District

Anaheim
Toddler Stories
Monday, July 18, 11:00 AM
Anaheim Public Library – East Anaheim Branch, 8201 E Santa Ana Canyon Rd.

Explorers Club
Thursday, June 21, 11:00 AM
Anaheim Public Library – Canyon Hills Branch, 400 Scout Trail

Irvine
Farmers Market
Sunday, July 17, 10:00 AM
Orange County Great Park, 6950 Marine Way

Summer Concert, Identity Theft: 80's Variety
Saturday, July 17, 4:00 PM
Mike Ward Community Park, 20 Lake Rd.

Orange
Create Compete Mondays
Monday, July 18, 2:00 PM
Orange Public Library & History Center, 407 E. Chapman Ave.

Summer Concert Under the Stars, Kelly Rae Band
Wednesday, July 20, 7:00 PM to 8:30 PM
Hart Park Band Shell, 701 S Glassell St.

Silverado
Pilates
Wednesday, July 20, 5:30 PM
Silverado Community Center, Building A, 27641 Silverado Canyon Rd.

Silverado Summer Concert Series, featuring bands Jason Richards & Friends and Daze of Blue
Saturday, August 20, 6:00 PM
Silverado Fairgrounds, 27641 Silverado Canyon Rd.

Tustin
Farmers Market
Wednesday, July 20, 9:00 AM
El Camino Real & 3rd St.

Concert in the Park, The Walking Phoenixes
Thursday, July 20, 6:00 PM
Peppertree Park, 230 W. First Street

Villa Park
Let's Talk about It!
Thursday, July 21, 3:00 PM
Orange County Public Library – Villa Park Branch, 17865 Santiago Blvd.

Free Concert in the (Villa) Park, 59th Street Bridge, Tribute to Simon and Garfunkel
Friday, July 29, 7:00 PM
Villa Park High School Outdoor Amphitheater, 18042 E. Taft Ave.

Yorba Linda
Nixon Library Concert, Concert Pianist Young Artist, Jake Clayton
Sunday, July 17, 1:30 PM
Richard Nixon Presidential Library & Museum, 18001 Yorba Linda Blvd.

Classic Rock Concert in the Park, The Answer
Sunday, July 17, 5:30 PM
Yorba Linda Library, 18181 Imperial Highway


For questions or comments regarding Spitzer's E-Newsletter
please contact the Supervisor's office staff at: (714) 834-3330 or Melanie.Eustice@ocgov.com


DISTRICT

STAFF
George Cardenas
Chief of Staff

Chris Nguyen
Deputy Chief of Staff

Melanie Eustice
Communications Director

Martin Gardner
Policy Advisor

Christine Richters
Executive Aide

Kassee Moseley
Executive Secretary



District Map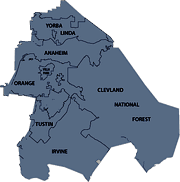 Anaheim, Irvine, Orange, Tustin, Villa Park, Yorba Linda, El Modena, North Tustin, Orange Park Acres, the Canyon Communities

Stay Updated!