July 22, 2016
Volume 4

Issue 20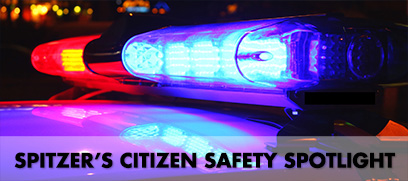 Parole for "Nonviolent" Offenders

On Sunday, July 17, 2016, The Orange County Register published an opinion piece by Lauren Krisai, "Consider parole for nonviolent offenders." The article begins, "Californians will have yet another opportunity to dramatically improve the way the criminal justice system works." In reality, what Californians have the opportunity to do is to save State money used to house violent offenders, by calling them nonviolent, while foisting on local governments additional responsibility for social programs such as reentry and homelessness, all while increasing crime in our local neighborhoods. This is another veiled and falsely labeled attempt to reverse public safety measures that have proven to keep our communities safe.

We should all be in favor of rewarding positive inmate conduct. Rewardable conduct involves attendance and measurable success in completing in-prison programs. Those programs should prove progress toward rehabilitation and skills that will produce successful living in the law-abiding community once released.

Krisai accurately reports that often prison terms are "tacked onto sentences for possession of a firearm during the crime or being a part of a gang." Karsai falsely uses this argument to imply that these enhanced sentences are unjustly and unproductively too long. What she fails to address is the reduction of violent crime and the enhanced safety to our neighborhoods when these violent offenders are kept off our streets. Karsai does not address the deterrent effects that lengthy sentences have on other predators on the streets. What better metrics could we use to determine that a criminal element is in fact NOT "nonviolent," than the facts that they were armed with or used a firearm in the commission of their felonies, or that they engaged in a criminal combination whose sole purpose for existing is the commission of crimes, routinely violent felonies?

In 1997, the electorate overwhelmingly passed the law which enacted the 10-20-life enhancement for use of firearms in the commission of felonies, California Penal Code Section 12022.53, an act to combat gun violence. Proposition 57, the false and misleadingly named Public Safety & Rehabilitation Act of 2016, would nullify the effect of that act approved by the voters.

The federal government has spent billions of dollars in the last fifteen years to stiffen penalties on crimes involving firearms and explosives. For example, the "Project Safe Neighborhoods (PSN) is a nationwide commitment to reduce gun and gang crime in America by networking existing local programs that target gun and gun crime and providing these programs with additional tools necessary to be successful. Since its inception in 2001, approximately $2 billion has been committed to this initiative. This funding is being used to hire new federal and state prosecutors, support investigators, provide training," (From the PSN website.) Proposition 57 reverses this trend toward eliminating use and possession of firearms and explosives in violent crimes.

Furthermore, California Penal Code defines two classes of more egregious felonies as "violent" and "serious." Violent are the worst felonies including murder, mayhem and forcible rape. Under Prop 57, serious felonies, which would no longer be classified as "violent," would then be eligible for earlier parole. These serious felonies include:

Rape of an unconscious, intoxicated or incompetent victim
Manslaughter
Battery causing serious bodily injury
Assault with a deadly weapon
Assault with a deadly weapon on a peace officer or firefighter
Discharging a firearm at a residence, vehicle or aircraft
Arson of a structure
Threats to harm crime victims
Residential burglary
Exploding a destructive device … and other enumerated crimes.
After the recent events in Dallas and Baton Rouge, do we really want to downgrade the criminal offenses of assault with a deadly weapon on a peace officer and exploding bombs? This is insanity, and insanity is still insanity even if you title it "the Public Safety & Rehabilitation Act of 2016."


Share this on:




Rating Agency Meetings in New York with Orange County Transportation Authority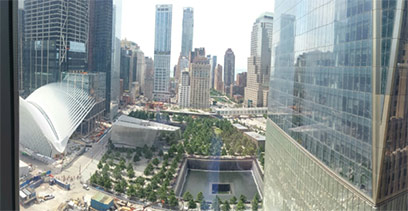 The 9/11 Memorial sits on the former site of the World Trade Center. Photo taken by Supervisor Todd Spitzer at the Moody's Rating Agency offices.
(Portions courtesy of Orange County Transportation Authority)

Orange County Transportation Authority (OCTA) Finance and Administration Committee Chairman Todd Spitzer joined OCTA Chair Lori Donchak, Vice Chair Mike Hennessey and staff in New York for OCTA's annual meetings with the rating agencies and investors.

The Finance and Administration Committee, where Supervisor Spitzer serves as the Chair, has direct oversight over all OCTA toll operations including the 91 Express Lanes and the 405 Express Lanes proposed project.

The meetings focused on the recent accomplishments and upcoming schedule for the I-405 Improvement project. The OCTA team also provided an update on the 91 Express Lanes, Measure M2 program, approved FY 2016-17 budget, and the Orange County economy. The meetings were well received, and there was a lot of interest and questions regarding the 405 Express Lanes project.

Supervisor Todd Spitzer Greets Crowd and Introduces Flashback Heart Attack at the OC Parks Summer Concert Series Event at Mason Park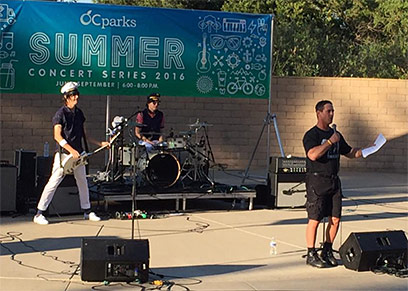 Supervisor Todd Spitzer welcomed the crowd and introduced headline band Flashback Heart Attack at the OC Parks Summer Concert at Mason Park. The band Well Hung Heart performed as the opening act. Supervisor Spitzer's staff also attended the City of Orange's and the City of Tustin's summer concerts and set up an informational booth for constituents to learn more about County government. Supervisor Spitzer and his staff also attended the City of Yorba Linda's Concert in the Park.

Summer attendance at the concerts at Mason Park have doubled now that the OC Summer Concert Series allows consumption of alcoholic beverages. In July 2015, Supervisor Todd Spitzer garnered Board approval of a resolution that allowed the County to use the 2015 OC Parks Summer Concert Series as a pilot program to test the new County Event Alcohol Ordinance. To date, no incidents related to alcohol have been reported at the events. Free concerts in the park are an annual tradition in Orange County that run on Thursday nights July through August and the public is invited to attend.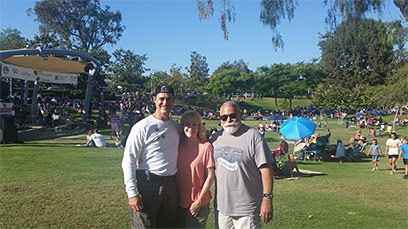 Supervisor Todd Spitzer, Louise Hernandez, and Yorba Linda Council Member Gene Hernandez, listening to The Answer at the Yorba Linda Concert in the Park
You are invited to future concerts in the park.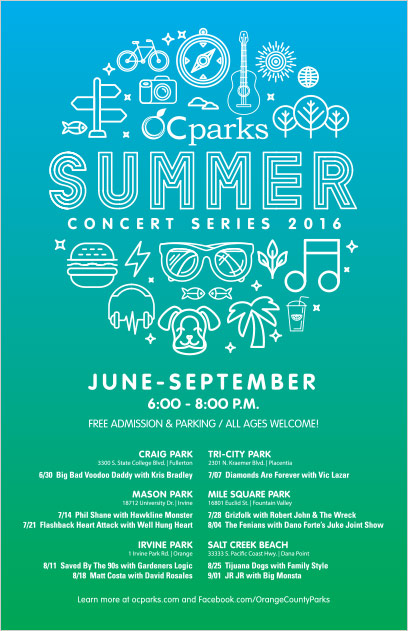 Click on the image above to view a PDF version.

Groundbreaking Ceremony for New OC Animal Shelter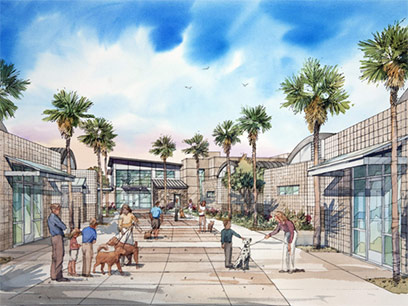 Representatives with the County of Orange and City of Tustin will celebrate the official groundbreaking for a new Orange County Animal Shelter. The state-of-the-art, 10-acre Animal Shelter site at the former Tustin Marine base will replace the current shelter in the city of Orange, which opened on 4.2 acres in 1941. The new shelter is being funded in part by the County, which will contribute $5 million toward its cost, and 14 partner cities. This effort comes thanks to an innovative land swap with the South Orange County Community College District.

WHEN: Friday, July 29, 2016, 9:00 am

WHERE: Former Tustin Marine base. Armstrong Avenue between Valencia and Warner

Bike and Pedestrian Enforcement Operation Aims to Increase Safety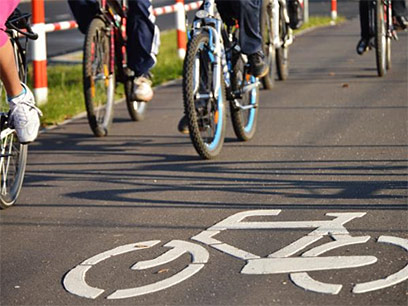 (Portions by Orange County Sheriff's Department)

The Orange County Sheriff's Department will increase Bike & Pedestrian Safety Enforcement Operations on Thursday, July 21, 2016, with focused enforcement on collision-causing factors involving motorists, pedestrians and bicyclists.

The department has mapped out locations over the past seven years where pedestrian and bike collisions have occurred, along with the violations that led to those crashes. Extra officers will be on duty patrolling areas where bike and pedestrian traffic and crashes occur in an effort to lower deaths and injuries.

Officers will be looking for violations made by drivers, bike riders and pedestrians alike that can lead to life changing injuries. Special attention will be directed toward drivers speeding, making illegal turns, failing to stop for signs and signals, failing to yield to pedestrians in cross walks or any other dangerous violation.

Additionally, enforcement will be taken for observed violations when pedestrians cross the street illegally or fail to yield to drivers who have the right of way. Bike riders will be stopped and citations issued when they fail to follow the same traffic laws that apply to motorists. All riders are reminded to always wear a helmet – those under 18 years of age must wear helmets by law. Pedestrians should cross the street only in marked crosswalks or at corners.

Bicycle and pedestrian fatalities are rising in California as more people use these non-motorized means of transportation. Locally, the Orange County Sheriff's Department has investigated 26 fatal and injury collisions involving pedestrians and bicyclists during the past three years. In 2013, California witnessed 701 pedestrians and 141 bicyclists killed, accounting for more than 28 percent of all traffic fatalities.

Funding for this program is provided by a grant from the California Office of Traffic Safety through the National Highway Traffic Safety Administration.

Pet of the Week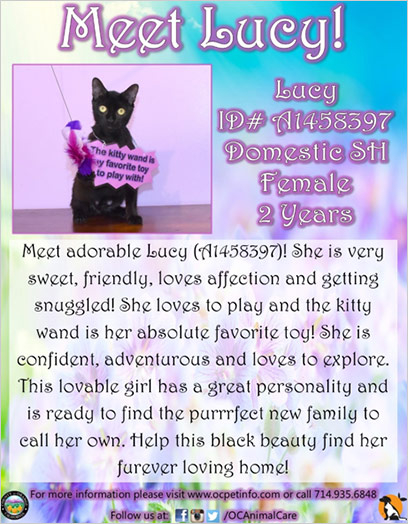 Click on the image above to view a PDF version.

Events Around the District

Anaheim
Interactive Martial Arts Demonstration
Wednesday, July 27, 11:00 AM
Anaheim Public Library – East Anaheim Branch, 8201 E Santa Ana Canyon Rd.

Preschool Storytime
Friday, July 29, 10:30 AM
Anaheim Public Library – Canyon Hills Branch, 400 Scout Trail

Irvine
Farmers Market
Sunday, July 24, 10:00 AM
Orange County Great Park, 6950 Marine Way

Summer Concert, Blue Breeze: Motown, R&B, Soul & Funk
Sunday, July 24, 5:30 PM
Mike Ward Community Park, 20 Lake Rd.

Orange
Create Compete Ice Cream Carnival
Monday, July 25, 2:00 PM
Orange Public Library & History Center, 407 E. Chapman Ave.

Summer Concert Under the Stars, Tom Nolan Band
Wednesday, July 27, 7:00 PM to 8:30 PM
Hart Park Band Shell, 701 S Glassell St.

Silverado
Pilates
Wednesday, July 27, 5:30 PM
Silverado Community Center, Building A, 27641 Silverado Canyon Rd.

Silverado Summer Concert Series, featuring bands Jason Richards & Friends and Daze of Blue
Saturday, August 20, 6:00 PM
Silverado Fairgrounds, 27641 Silverado Canyon Rd.

Tustin
Farmers Market
Wednesday, July 27, 9:00 AM
El Camino Real & 3rd St.

Concert in the Park, The Pettybreakers, Tom Petty Tribute
Thursday, July 27, 6:00 PM
Peppertree Park, 230 W. First Street

Villa Park
Let's Talk about It!
Thursday, July 28, 3:00 PM
Orange County Public Library – Villa Park Branch, 17865 Santiago Blvd.

Free Concert in the (Villa) Park, 59th Street Bridge, Tribute to Simon and Garfunkel
Friday, July 29, 7:00 PM
Villa Park High School Outdoor Amphitheater, 18042 E. Taft Ave.

Yorba Linda
Nixon Library Concert, Concert Pianist Young Artist, Jake Clayton
Sunday, July 17, 1:30 PM
Richard Nixon Presidential Library & Museum, 18001 Yorba Linda Blvd.

Classic Rock Concert in the Park, Surf's Up Beach Boys
Sunday, July 24, 5:30 PM
Yorba Linda Library, 18181 Imperial Highway


For questions or comments regarding Spitzer's E-Newsletter
please contact the Supervisor's office staff at: (714) 834-3330 or Melanie.Eustice@ocgov.com


DISTRICT

STAFF
George Cardenas
Chief of Staff

Chris Nguyen
Deputy Chief of Staff

Melanie Eustice
Communications Director

Dennis Bauer
Policy Advisor

Martin Gardner
Policy Advisor

Christine Richters
Executive Aide

Kassee Moseley
Executive Secretary



District Map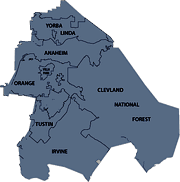 Anaheim, Irvine, Orange, Tustin, Villa Park, Yorba Linda, El Modena, North Tustin, Orange Park Acres, the Canyon Communities

Stay Updated!