July 29, 2016
Volume 4

Issue 21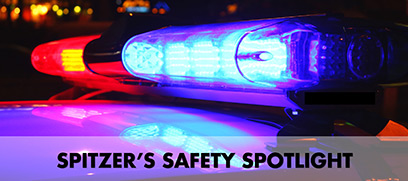 Biases Impact Community-Police Relations

On Wednesday, July 27, 2016, the Sheriff's Interfaith Advisory Council met with a diverse group of faith, law enforcement and community leaders, to discuss ways to enhance community relations, and address perceptions of police officers performing their duties in their neighborhoods. No one needs to highlight the tragic consequences in other communities across our nation, where interactions between police officers and members of the community, have broken down and the ensuing violence has divided the community.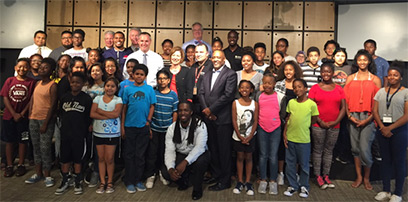 Community Development Corporation's Summer Enrichment Academy with Supervisor Spitzer's Policy Advisor Dennis Bauer, Orange County Sheriff's Department Undersheriff Don Barnes, Orange County Sheriff-Coroner Sandra Hutchens, Rev. Mark Whitlock, and COR Community Development Corp., Exec. Director Rev. Charles Dorsey
The Sheriff's Interfaith Advisory Council was created to establish a forum where ideas can be shared, understandings can be reached, and action plans can be formed, to address the issues of police and community relations, to prevent outbreaks of violence in Orange County, which have plagued other areas of our nation.

Reverend Mark E. Whitlock, II and his church, Christ Our Redeemer AME Church in Irvine, hosted this meeting. In attendance at Wednesday's meeting were Supervisor Todd Spitzer's representative Dennis Bauer and other representatives from law enforcement, police academy, Orange County Human Relations, religious leaders from diverse faiths including Catholic, Christian, Jewish, Mormon, Muslim, and Sikh.

Retired Huntington Beach Lt. Gary Meza, now an instructor at the Golden West Police Academy, gave a presentation on the current training offered new police recruits called "Fair and Impartial Policing." Officers are taught how all people develop implied or implicit bias. Bias that affect not only police perceptions of the community members they encounter, but also the perceptions and biases that community members have of police officers.

The training includes the five minute video of the first performance of 47 year old Susan Boyle on Britain's Got Talent. Most everyone's initial perception was a strong bias against her performance. Everyone expected a soon and resounding exit judgement. Once Susan Boyle began singing, the smirks were lost when jaws dropped and skeptics learned their biases were entirely inaccurate. If you haven't seen the video, google it.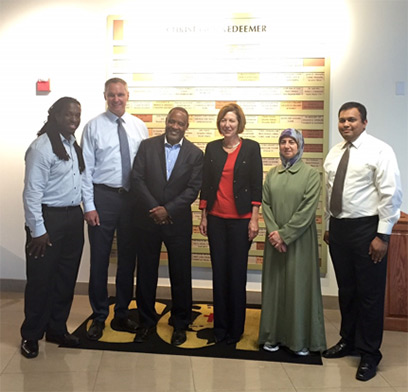 Christ Our Redeemer Community Development Corp., Exec. Director Rev. Charles Dorsey, Orange County Sheriff's Department Undersheriff Don Barnes, Christ Our Redeemer Rev. Mark Whitlock, Orange County Sheriff-Coroner Sandra Hutchens, Maria Khani and Mohideen Buharie
In today's world, training which enhances understanding and diffuses inaccurate perceptions and biases, is essential to relationships between police and members of the neighborhoods those police officers are sworn to protect and serve. I encourage other community leaders and policing agencies to join with Sheriff Hutchens and the Interfaith Advisory Council, in being part of the solution.

The next meeting is scheduled to be hosted by the Diocese of Orange at Christ Cathedral, 13280 Chapman Avenue in Garden Grove on September 8, 2016.


Share this on:




OC Parks Summer Concert Series Continues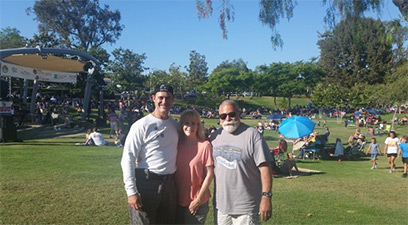 Supervisor Todd Spitzer, Louise Hernandez, and Yorba Linda Council Member Gene Hernandez, listening to The Answer at the Yorba Linda Concert in the Park
Supervisor Spitzer's staff attended the City of Orange's Concert in the Park and the City of Yorba Linda's Concert in the Park.

The County of Orange also hosts a summer concert series. Free concerts in the park are an annual tradition in Orange County that run on Thursday nights July through August and the public is invited to attend.

You are invited to future concerts in the park.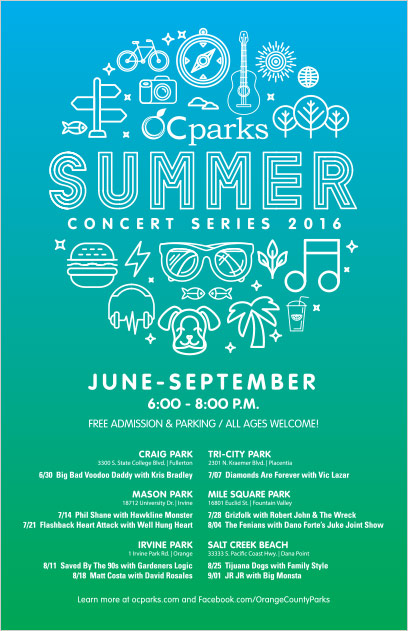 Click on the image above to view a PDF version.

Supervisor Spitzer Speaks at the OC Rescue Mission's Grand Opening of the Tustin Veterans Outpost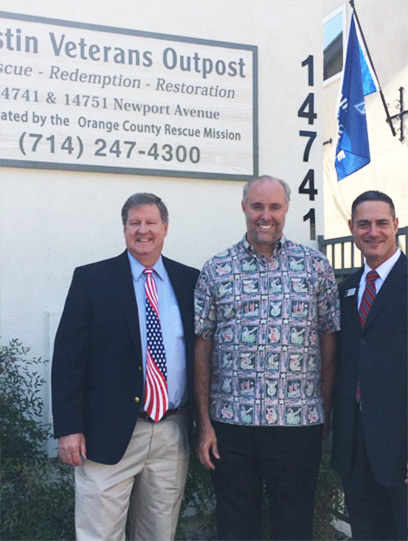 Tustin Mayor John Nielsen, OC Rescue Mission President Jim Palmer and Supervisor Todd Spitzer
OC Rescue Mission held a grand opening and dedication ceremony for the Veterans Outpost in the City of Tustin. The Veterans Outpost will house 26 veterans and their families. As residents, veterans are able to receive services and the training needed to help their transition back into civilian life.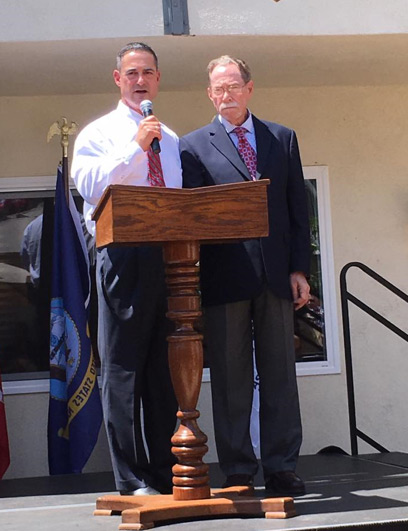 Supervisor Todd Spitzer with Tustin Veterans Outpost Chaplain Ray Johnson
Supervisor Todd Spitzer commended the OC Rescue Mission and the City of Tustin for their great work in building a model community to help veterans. Supervisor Spitzer challenged each Orange County city to follow this example of partnering with the non-profit community in serving the needs of the homeless and veterans. For more information about the OC Rescue Mission, click here.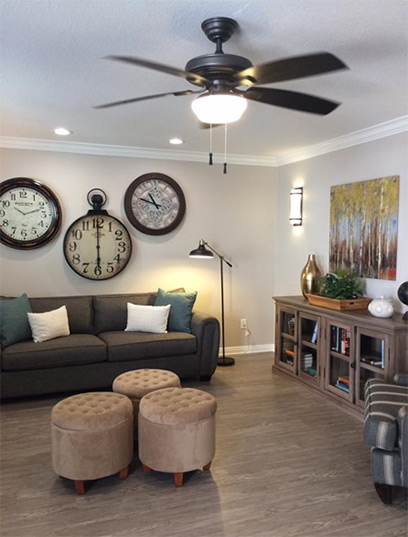 Apartments are provided furnished

Supervisors Honor 30-Year Promise to Dissolve Taxing Districts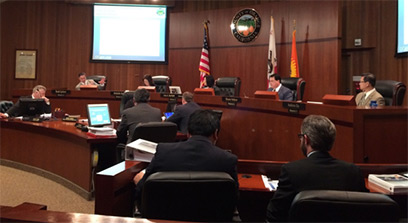 County Counsel Leon Page, Supervisor Todd Spitzer, Vice Chair Michelle Steel, Chairwoman Lisa Bartlett, Supervisor Shawn Nelson and Supervisor Andrew Do
(Portions courtesy of County Executive Office)

Orange County supervisors formally dissolved eight special taxing districts in South Orange County on Tuesday and ordered $4.3 million in property owner tax credits, ranging from $49.84 to $3,664.01 per parcel.

First formed in 1986, the Community Facilities Districts (CFDs) came to represent for many the cost of living in South County. The County collected so-called Mello-Roos fees from property owners to recover the costs of building schools, fire stations, sheriff substations, transportation improvements, parks, utilities and other public facilities. The special tax assessments are named after state Sen. Henry J. Mello and Assemblyman Mike Roos, authors of the Mello-Roos Community Facilities Act of 1982.

The abolished districts are among 24 County CFDs and another 68 CFDs formed by cities, school districts and special districts across Orange County. A ninth County CFD will be dissolved in the coming months. Property owners will receive a one-time property tax credit on their next year's tax bill ranging from $49.84 to $3,664.01 based on surplus amounts remaining in district accounts; special tax liens recorded on the affected properties also will be removed.

CFDs remain a viable way to fund the construction of major public improvements. In March, the County formed its newest CFD to fund $90,845,000 in facilities and infrastructure for the Village of Esencia in the new Rancho Mission Viejo development.

More information about the remaining CFDs in Orange County can be found here: http://ocgov.com/gov/ttc/proptax/infofaq/mello_roos_information/
default.asp

A list of Orange County CFDs, excluding the most recent Esencia CFD, can be found here from a periodic report published in 2012: http://ocgov.com/civicax/filebank/blobdload.aspx?BlobID=34828

Rating OC Residents Hit it Out of the Park at ECO Challenge at Angel Stadium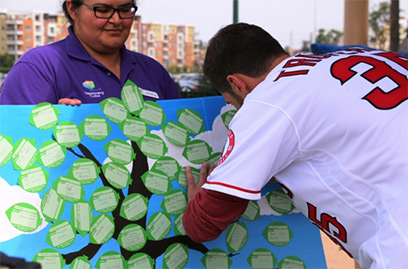 Angels Pitcher, Nick Tropeano posts his recycling pledge at the Angels Eco Challenge Day on Saturday, July 23
(Portions courtesy of OC Waste and Recycling)

OC Waste and Recycling welcomed hundreds of county residents Saturday, July 16, for the fourth annual Eco Challenge collection event at Angel Stadium. Cars lined the gates with household hazardous waste, e-waste, documents for on-site shredding, and donations of gently used clothing and home goods – all for a day of eco-friendly activities and prizes, including the chance to score an in-person autograph with Angel starting pitcher, Nick Tropeano.

In four short hours, more than 18 tons of recyclable materials were collected. This year's fan favorites collected at the event were household hazardous waste and home goods, tipping the scales at more than 10 tons.

Attendees enjoyed music, visited educational booths, played games and most importantly, took the Eco Challenge Pledge in the Family Fun zone beneath the big red hats. Many families made their recycling the first step toward completing Summer Eco Challenge, a program designed to show how small changes in recycling can make a big impact for our community and environment.

For more information about the Summer Eco Challenge, visit OC Waste and Recycling or call Isabel Rios-Kahn at (714) 834-4118.

The Fair Housing Foundation will be holding a Tenant Rights Workshop at the Tustin Library


(Portions courtesy of Fair Housing Foundation)

The Fair Housing Foundation will be holding a Tenant Rights Workshop at the Tustin Library at 345 E. Main Street, Tustin, CA 92780 from 1:00 pm to 3:00 pm on Tuesday, August 9, 2016. This workshop is free and open to the public. Attendees will learn about how they are protected under fair housing laws, what their rights and responsibilities as tenants are, and how to deal with tenant-landlord disputes. A housing counselor will also be on hand to answer any questions from participants.

The Fair Housing Foundation services residents of the city of Tustin. We are contracted by Tustin, and receive funds through the Community Development Block Grants. We educate the public about Fair Housing rights and responsibilities through workshops, trainings, and community events. FHF provides mediation and counseling services through our housing assistance hotline 1-800-446-FAIR and walk-in clinics. We also investigate issues of discrimination related to housing.

For more information or to RSVP for the Tenant Rights Workshop, call 1-800-446-FAIR.

Caltrans Proposes Modifications to State Route 55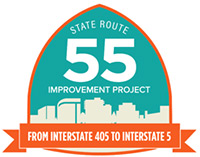 (Portions courtesy of Lauren Averill)

The California Department of Transportation (Caltrans) and the Orange County Transportation Authority (OCTA) have agreed on a path forward to reduce congestion on State Route 55. Orange County voters approved Measure M in 2006, a half-cent sales tax for transportation improvements and the SR-55 was included as one of the projects. The project will add new highway lanes in each direction between I-405 and I-5, generally within the existing right-of-way. Several alternatives have been reviewed as part of the environmental process. Both agencies have recently agreed on a new approach.

On May 6, 2016, Caltrans offered a new idea, suggesting the addition of two traffic lanes and an HOV lane on each side of the freeway. Adding this many lanes would require a reduction of shoulder and lane widths, requiring exceptions to some of Caltrans' current highway standards. Along with existing OCTA funds, Caltrans has $46.8 million in their State Highway Operation and Protection Program that can be used towards the project. However, further design and analysis of this project's environmental impact will have to occur before anything can officially be determined. Caltrans and OCTA will continue to work together throughout the process to ensure safe and efficient highway operations.

Pet of the Week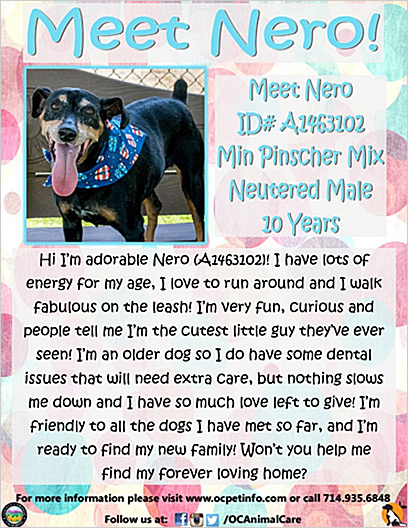 Click on the image above to view a PDF version.

Events Around the District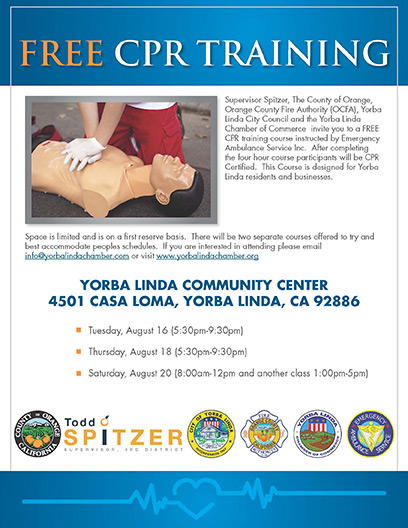 Click on the image above to view a PDF version.
Anaheim
Tech Help
Wednesday, July 27, 11:00 AM
Anaheim Public Library – East Anaheim Branch, 8201 E. Santa Ana Canyon Rd.

Book Olympics Kick Off
Monday, August 1, 3:30 PM
Anaheim Public Library – Canyon Hills Branch, 400 Scout Trail

Irvine
Farmers Market
Sunday, July 31, 10:00 AM
Orange County Great Park, 6950 Marine Way

Summer Concert, Symphony in the Cities, Pacific Symphony
Sunday, July 31, 5:30 PM
Mike Ward Community Park, 20 Lake Rd.

Orange
Paws to Read with Pita
Tuesday, August 2, 10:00 AM to 10:30 AM
Orange Public Library & History Center, 407 E. Chapman Ave.

Summer Concert Under the Stars, Wiseguys, Big Band
Wednesday, August 3, 7:00 PM to 8:30 PM
Hart Park Band Shell, 701 S Glassell St.

Silverado
Pilates
Wednesday, August 3, 5:30 PM
Silverado Community Center, Building A, 27641 Silverado Canyon Rd.

Silverado Summer Concert Series, featuring bands Jason Richards & Friends and Daze of Blue
Saturday, August 20, 6:00 PM
Silverado Fairgrounds, 27641 Silverado Canyon Rd.

Tustin
Farmers Market
Wednesday, August 3, 9:00 AM
El Camino Real & 3rd St.

Movies in the Park, E.T.
Thursday, August 4, 6:00 PM
Peppertree Park, 230 W. First Street

Villa Park
Free Concert in the (Villa) Park, 59th Street Bridge, Tribute to Simon and Garfunkel
Friday, July 29, 7:00 PM
Villa Park High School Outdoor Amphitheater, 18042 E. Taft Ave.

Book Club
Thursday, August 17, 10:00 AM
Orange County Public Library – Villa Park Branch, 17865 Santiago Blvd.

Yorba Linda
Nixon Library Concert, A Celebration of Frank Sinatra's 100th Birthday, Hershel Green baritone, Ann Patrick Green, pianist
Sunday, July 31, 1:30 PM
Richard Nixon Presidential Library & Museum, 18001 Yorba Linda Blvd.

Tweens Make Garden Art
Sunday, August 1, 4:15 PM
Yorba Linda Library, 18181 Imperial Highway


For questions or comments regarding Spitzer's E-Newsletter
please contact the Supervisor's office staff at: (714) 834-3330 or Melanie.Eustice@ocgov.com


DISTRICT

STAFF
George Cardenas
Chief of Staff

Chris Nguyen
Deputy Chief of Staff

Melanie Eustice
Communications Director

Dennis Bauer
Policy Advisor

Martin Gardner
Policy Advisor

Christine Richters
Executive Aide

Kassee Moseley
Executive Secretary



District Map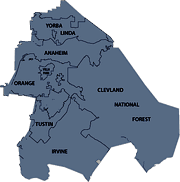 Anaheim, Irvine, Orange, Tustin, Villa Park, Yorba Linda, El Modena, North Tustin, Orange Park Acres, the Canyon Communities

Stay Updated!