August 19, 2016
Volume 4

Issue 24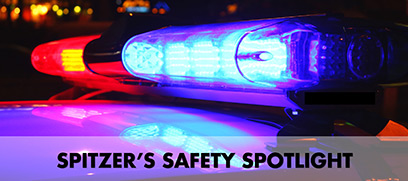 DROWNINGS IN ORANGE COUNTY
YEAR
DROWNING INCIDENTS
FATALITIES
2016*
61
24
2015
118
50
2014
86
43
*2016 data is for January through August 19, 2016
OC Sheriff's Department Hires First Constitutional Policing Advisor Mary Izadi


Mary Izadi to serve as OCSD's first Constitutional Policing Advisor
(Portions courtesy of the Orange County Sheriff's Department)

Sheriff Sandra Hutchens has hired Mary Izadi as the Orange County Sheriff's Department's first Constitutional Policing Advisor. Ms. Izadi was selected from a group of well-qualified applicants by an outside panel of constitutional policing experts after an open recruitment process. The panel included Erwin Chemerinsky, dean of the UC Irvine School of Law, Robert Gerard, attorney and former Orange County Bar Association President, and Laurie Levenson, professor at Loyola Law School.

As the Constitutional Policing Advisor, Ms. Izadi will advise the Sheriff on best practices, policies and procedures, provide guidance on personnel investigations and disciplinary matters, review investigations for objectivity and thoroughness, evaluate current training, provide input regarding critical incidents, and perform research and analysis in regard to precedents, case trends, rulings and laws affecting law enforcement and custody operations.

"I look forward to the contributions that Mary will make to the department," said Sheriff Sandra Hutchens. "I am impressed by her background and know that she will bring a vital perspective."

Ms. Izadi brings a wealth of experience as a former Deputy District Attorney for the County of San Bernardino, Calif. She graduated from the University of California, Hastings College of the Law and has extensively studied Constitutional Law. She has significant experience advising law enforcement on matters pertaining to procedure in criminal investigations, court proceedings and best legal practices.

"I am excited about the Constitutional Advisory position and to continue my career in the law and justice community," said Ms. Izadi. "As a longtime resident of Orange County, I have a vested interest in assisting the department in maintaining trust and respect between law enforcement and the residents of Orange County. In my training and experience as a Deputy DA in San Bernardino County, I always maintained a focus on the ethical practice of law. In my opinion, doing the right thing is not optional. I will continue to be vigilant in maintaining the highest ethical standards in this role."


Share this on:




Supervisor Spitzer Recognizes SOCAL Water Polo at the Tustin City Council Meeting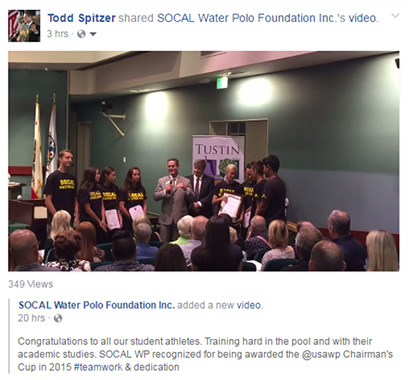 Supervisor Spitzer attended the Tustin City Council meeting to congratulate and present a resolution to SOCAL Water Polo for receiving the 2015 USA Water Polo Chairman's Cup for excellence in Men's, Women's and Overall club performance.

Click here to view video.

Supervisor Todd Spitzer Helps Cut the Ribbon at the La Pata Connector Ribbon Cutting Ceremony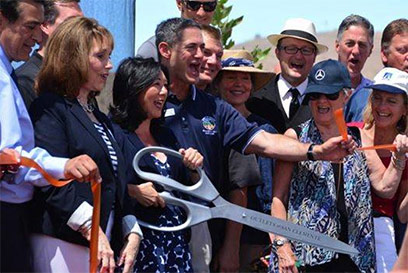 Congressman Darrell Issa, State Senator Pat Bates, Chairwoman Lisa Bartlett, Supervisor Todd Spitzer, Aliso Viejo City Council Member Mike Munzing and his wife, Assemblyman Matt Harper, San Juan Capistrano Councilwoman Kerry Ferguson, Rancho Santa Margarita Council Member Brad McGirr and San Clemente City Councilwoman Lori Donchak
(Portions by Montana Sudul)

Supervisor Todd Spitzer participated in the La Pata Gap Connector Project ribbon cutting ceremony. In addition to a special ribbon cutting ceremony, the event featured a classic car show, live music, food trucks, fun family activities, several vendor booths and exhibits.

The La Pata Gap Connector is a new 2.27-mile, four-lane roadway extension and offers residents a convenient, direct route between San Juan Capistrano and San Clemente. Until now, residents were limited to the route of the I-5 and were faced with heavy traffic and delays even for local trips around South County. For students and parents of San Juan Hills High School, not having to take the roundabout I-5 and Ortega Highway means getting to school is a breeze! The project was completed ahead of schedule and just in time for the school year. The project also provides an alternative route for emergency vehicles, providing greater safety for residents across South County.

The $126.5 million project is fully funded through a combination of funding sources from Rancho Mission Viejo, Communities Facilities Districts, State Measure M and Proposition 1B Funds, the La Pata Road Fee Program, OC Waste & Recycling, County Road Fund (State gas tax) and utility reimbursements. The Orange County Board of Supervisors unanimously voted on December 10, 2013 to authorize the construction of all three phases for the La Pata Extension Project.

Related Articles:
La Pata connector fills the gap

Avenida La Pata Gap Connection Opens with Fanfare

Yorba Linda Residents Receive CPR Training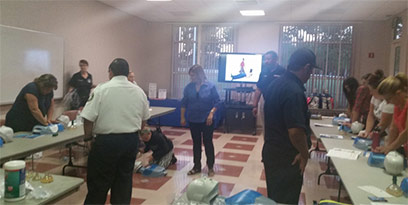 Instructors from OCFA and Emergency Ambulance Service instructing students on how to perform CPR on dummies
Residents were invited to participate in CPR Training at the Yorba Linda Community Center. The free class was offered to residents to obtain CPR certification in four hours. The classes were sponsored by Supervisor Todd Spitzer, the County of Orange, the Orange County Fire Authority, the Yorba Linda City Council (Mayor Thomas Lindsey, Mayor Pro Tem Peggy Huang, and Councilmembers Gene Hernandez, Mark Schwing, and Craig Young), and the Yorba Linda Chamber of Commerce.

See the flyer below for information on future classes available to Yorba Linda residents.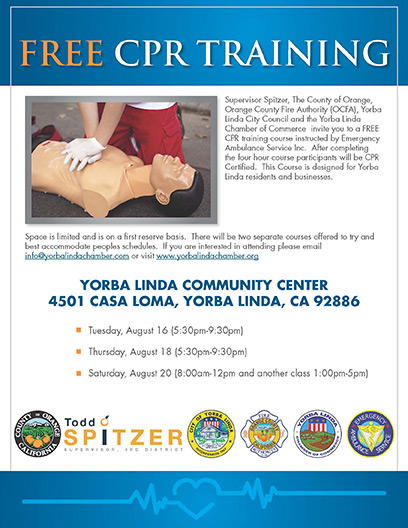 Click on the image above to view a PDF version.

Foothill/Eastern Board of Directors Approve Striping and Signage Project at 241 Toll Road Connection to Eastbound 91 Freeway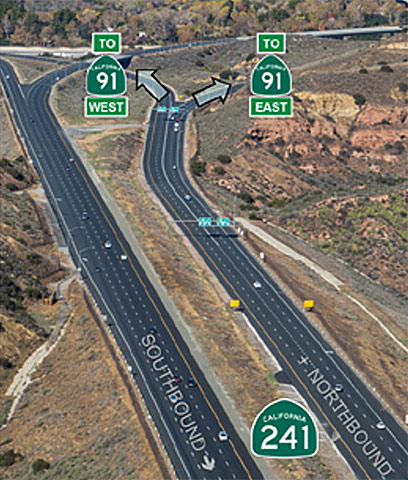 Striping and Signage Project
(Portions courtesy of TCA)

The Foothill/Eastern Transportation Corridor Agency (F/ETCA) Board of Directors approved a project to address customer and safety concerns caused by drivers who cross a solid white line to bypass the peak period queue that develops from the northbound 241 Toll Road to the eastbound 91 Freeway. During the evening commute hours, drivers bypass the queue by driving across the solid white line, an unsafe move that slows down traffic and creates delays for drivers traveling westbound. In the last 10 months, 25 accidents have occurred within the connector area, according to the California Highway Patrol (CHP).

The Transportation Corridor Agencies (TCA) are working with Caltrans and CHP to enhance safety for drivers on the 241 Toll Road with the following improvements:

Adding two warning signs and four regulatory roadside signs directing traffic to merge to the proper lane
Installing pavement stencils on the road to indicate "91 West" and "91 East" lanes
Installation of a double eight-inch solid white stripe with reflective markers, a change from the current single eight-inch solid white stripe that separates the westbound and eastbound lanes
Messages on current 241 Toll Road changeable message signs to alert drivers that traffic violations will be enforced by CHP
The project is anticipated to be completed this Fall. For more information regarding TCA, click here.

Funding Approved for Design of Peters Canyon Bikeway Extension Project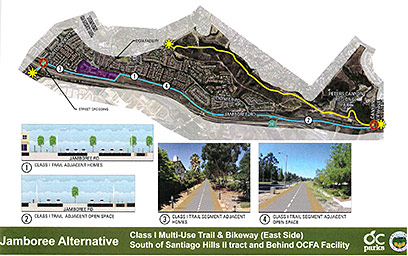 (Portions courtesy of OC Parks)

The Orange County Transportation Authority formally announced the 13 Bicycle Corridor Improvement Program (BCIP) projects recommended for funding, which included the Peters Canyon Bikeway Extension project. OC Parks will receive $883,520 in BCIP Tier 1 program funds with a 12% County match of $120,480 totaling $1,004,000 for the Final Design phase of the project.

Since Supervisor Todd Spitzer and OC Parks held the Peters Canyon Regional Park Planning Public Workshop in October 2015, which discussed alternatives for a regional Class I Bikeway, OC Parks has been successful in moving forward the alternative route for the bikeway to the east side of Jamboree Road.

In June 2016, OC Parks and The Irvine Company formalized an agreement which accommodates land needed for the proposed 3.1 mile Class I Bikeway (Peters Canyon Bikeway Extension Project) on the east side of Jamboree from Canyon View Ave. south to Portola Parkway. This alignment goes through The Irvine Company's Santiago Hills II development, cities of Tustin and Orange parcels, and behind the Orange County Fire Authority's (OCFA) facility linking to the existing Peters Canyon Trail and Bikeway south of the 261 toll road closing a major gap along the Mountains to Sea bikeway.

The proposed Class I Bikeway will provide cyclists and pedestrians a dedicated multi-use bikeway and allow for safe passage along Jamboree Road. When complete, this regional corridor would total 13.8 miles from Yorba Linda to Newport Beach encompassing an off-street bicycling and pedestrian facility. Within a quarter-mile, this regional corridor would ultimately serve approximately 116,000 residents, nine schools, and eight parks.

The project schedule is as follows:

Draft Environmental Document – early 2017
Final Environmental Document – mid 2017
Start Design / Engineering – end of 2017
Complete Design / Engineering – mid 2018
For more information regarding Peters Canyon Regional Park click here.

Supervisor Todd Spitzer to Host Pet Adoption Event on Labor Day Weekend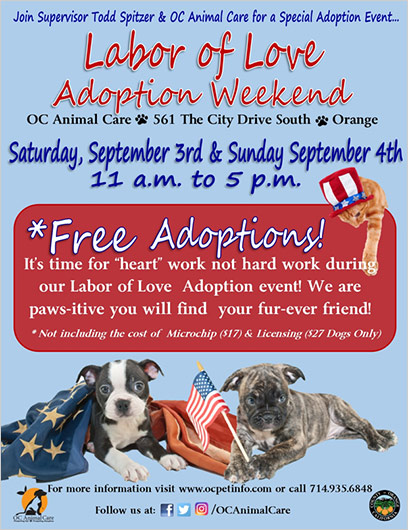 Click on the image above to view a PDF version.
Supervisor Todd Spitzer is pleased to announce a free pet adoption weekend for Saturday, September 3 and Sunday, September 4. The event will be held at the OC Animal Shelter located at 561 The City Drive South, Orange, CA 92868 during the OC Animal Shelter's normal working business hours from 11:00 am to 5:00 pm.

"I am really excited and pleased to announce this free pet adoption! This is a great opportunity for the pets in the shelter to be rescued and to go to great homes. Please come out and support this event and bring home a new family member," said Supervisor Spitzer.

The event will feature free pet adoption, a savings of $89 to $124, but adopters will still need to pay the microchip fee of $17 and the licensing fee of $27.

OC Parks Summer Concert Series 2016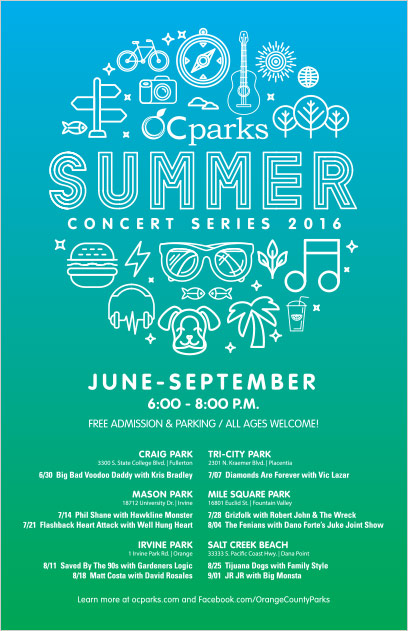 Click on the image above to view a PDF version.

Pet of the Week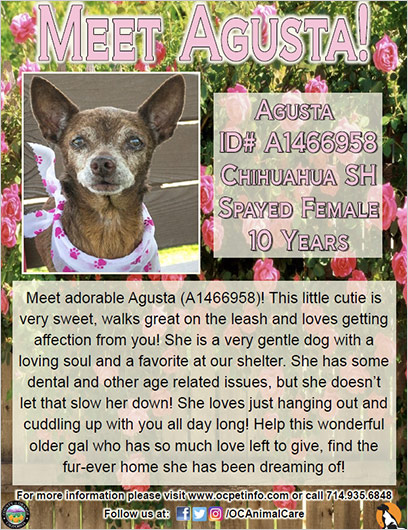 Click on the image above to view a PDF version.

Events Around the District

Anaheim
Computer Instruction Class
Monday, August 15, 6:00 PM
Anaheim Public Library – Canyon Hills Branch, 400 Scout Trail

Toddler Stories and Playtime
Monday, August 22, 11:00 AM
Anaheim Public Library – East Anaheim Branch, 8201 E Santa Ana Canyon Rd.

Irvine
Splash-In Movie & Recreation Swim
Saturday, August 20, 6:30 PM
William J. Woollett, Jr. Aquatics Center 4601 Walnut Ave.

Farmers Market
Sunday, August 24, 10:00 AM
Orange County Great Park, 6950 Marine Way

Orange
Author Visit: Sandra Brown
Sunday, August 21, 3:00 PM
Orange Public Library & History Center, 407 E. Chapman Ave.

Manners Matter
Friday, August 26, 3:30 PM
Orange Public Library & History Center, 407 E. Chapman Ave.

Silverado
Silverado Summer Concert Series, featuring bands Jason Richards & Friends and Daze of Blue
Saturday, August 20, 6:00 PM
Silverado Fairgrounds, 27641 Silverado Canyon Rd.

Pilates
Wednesday, August 24, 5:30 PM
Silverado Community Center, Building A, 27641 Silverado Canyon Rd.

Tustin
Broadway in the Park
Saturday, August 20, 7:00 PM
Peppertree Park, 230 W. First Street

Farmers Market
Wednesday, August 24, 9:00 AM
El Camino Real & 3rd St.

Villa Park
Free Concert in the (Villa) Park, The Fenians, ShamRock
Friday, August 19, 7:00 PM
Villa Park High School Outdoor Amphitheater, 18042 E. Taft Ave.

Let's Talk about It!
Wednesday, September 21, 9:00 AM
Orange County Public Library – Villa Park Branch, 17865 Santiago Blvd.

Yorba Linda
Fantastic Family Storytime
Saturday, August 20, 10:30 AM
Yorba Linda Library, 18181 Imperial Hwy.

Nixon Library Concert
Sunday, August 21, 1:30 PM
Richard Nixon Presidential Library & Museum, 18001 Yorba Linda Blvd.


For questions or comments regarding Spitzer's E-Newsletter
please contact the Supervisor's office staff at: (714) 834-3330 or Melanie.Eustice@ocgov.com


DISTRICT

STAFF
George Cardenas
Chief of Staff

Chris Nguyen
Deputy Chief of Staff

Melanie Eustice
Communications Director

Dennis Bauer
Policy Advisor

Martin Gardner
Policy Advisor

Christine Richters
Executive Aide

Kassee Moseley
Executive Secretary



District Map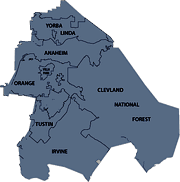 Anaheim, Irvine, Orange, Tustin, Villa Park, Yorba Linda, El Modena, North Tustin, Orange Park Acres, the Canyon Communities

Stay Updated!