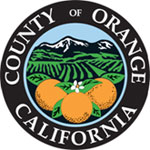 Property Tax Due Monday

As a reminder, the First Installment Property Tax Payment deadline is Monday, December 10. The payment must be received by 5:00pm. A 10% penalty is added after the deadline. For more information, please contact the Orange County Treasurer-Tax Collector at (714) 834-3411 or online here.
---

Board Opens Recruitment for Elected Vacancies

Supervisors decided to fill three countywide elected offices currently vacant through a recruitment process. The successful candidate will receive a two-year appointment, after which they will stand for election in 2014. The deadline for applying is January 15. To view the job descriptions and other application information online, as well as other current County of Orange job openings, visit www.ocgov.com/jobs.

Appointments Press Release

Appointments Timeline
---

2012 Election Results

The Board received and filed the certification of the November 2012 General Election by the Registrar of Voters. Of the 1,683,001 registered voters in Orange County, there were 1,133,204 ballots cast, or a turnout of 67.3%. Of those ballots cast, 575,843 (34.2%) were Vote-by-Mail and 552,018 (34.2%) were at the polls. In addition, 5,343 (0.3%) early voters cast ballots at several City Halls and the Registrar of Voters office between October 22 and October 30.

Following redistricting based on the 2010 census, Orange County has seven Congressional districts, with three of the representatives newly representing the area: one San Diego County district moving north slightly; a newly-drawn district with no incumbent split with Los Angeles County; and a Los Angeles County district moving south slightly.

Beginning Monday, following the state legislators' swearing-in and new session, there are five State Senate and seven Assembly districts in Orange County. There are three Senators returning to the County delegation, one new representative whose district moved south slightly from Los Angeles County and one current vacancy. With all 80 districts in the Assembly up for election, Orange County had four returning members and three new representatives.

In Orange County's 34 cities, there were 88 council seats up for election, including five directly elected mayors. Three cities chose not to hold a city council election because the number of candidates equaled the number of seats up for election: La Habra, Seal Beach and Villa Park. These results have been or will be certified by each respective city council at their scheduled meeting.

All the results can be found at ocvote.com.
---

On Second Round, Board Makes Public Speaking Changes

By a 4-1 vote, the Board imposed changes to its Rules of Procedure governing Public Participation. Previously, members of the public could speak for up to three minutes per item on any agenda items. By adopting the new rules, members of the public are limited to nine total minutes of speaking time during each meeting. The new limits took effect immediately upon adoption.

The procedure changes are included below. As noted, the only modification to the proposal was to Rule 47 eliminating the automatic three-minute speaking forfeiture regardless of any unused portion of time remaining. In effect, this would have limited each person to a maximum of three items per meeting.

A similar proposal failed 2-3 during the November 13 special meeting of the Board of Supervisors.

Exhibit 1

Exhibit 2
---

Federal Update

The County's federal advocate delivered a presentation covering the federal election results and what the balance of power means for the "fiscal cliff" negotiations, pension reform and preservation of the Affordable Care Act. Please see the full presentation below.

Federal Board Presentation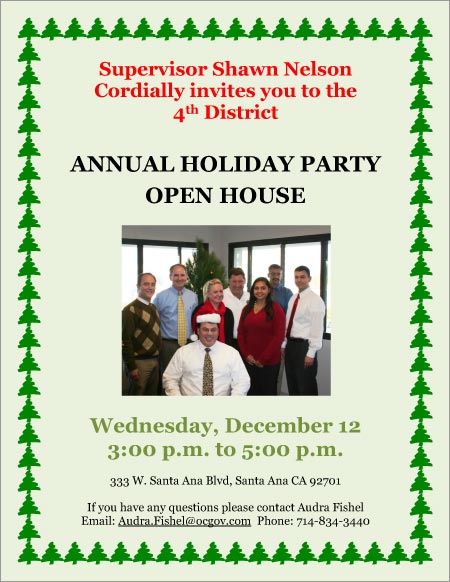 Click on the image above to view a larger version.
---
WOW Nutritional Center Dedication in Downtown Fullerton

Supervisor Nelson welcomed the brand new WOW nutritional center to downtown Fullerton with honors and congratulations presented by Policy Advisor Steve Spernak. In cooperation with the Fullerton Chamber, the ribbon cutting opened the doors to new customers who can purchase protein-rich shakes, juices and herbal teas for health and maintenance routines and all-natural ailment recovery.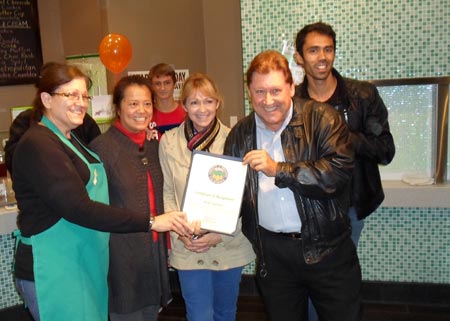 (Right) Nelson Staffer Steve Spernak presents a certificate of recognition to WOW owner Robin Meckley and her staff
---
Fourth District Gives Thanks

On Thanksgiving Supervisor Nelson, along with staff members Denis Bilodeau and Steve Spernak, were on hand to lend support for the 27th Annual "We Give Thanks" at the Honda Center. Casa Garcia Restaurants owner Frank Garcia along with "We Give Thanks" Director Kent French led the annual event that fed 20,000 hungry residents of Orange County which was the culmination of a year long drive to gather food and resources to make the event a success. Over 700 turkeys were prepared and served along with the other traditional Thanksgiving meal items. Supervisor Nelson and staff were proud to support the event by assisting with the service of the desserts to ensure no attendee went hungry.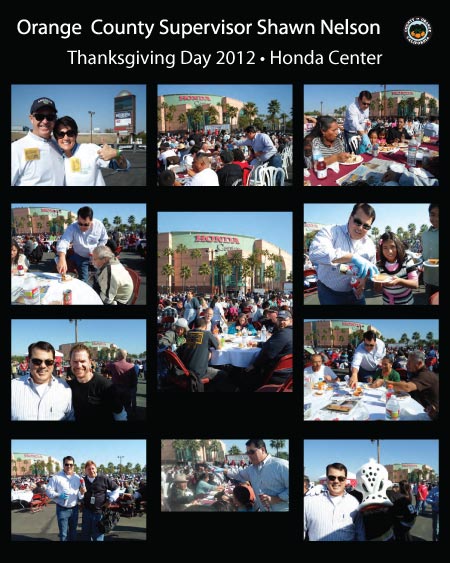 Click on the image above to view a larger version.
---
Las Posadas Tamale Festival Christmas Fun - Placentia

Congratulations to Rosalina Davis and the Santa Fe Merchants Association for another incredible night of food, fun and family activities at their popular Las Posadas Tamale Festival in Old Town. Over 15,000 attended and enjoyed the home-made tamales and open dining from local restaurants and the incredible performances by the Latin Grammy winning Mariachi Divas. For more information, please click the link below to view an article from the OC Register:
http://www.ocregister.com/news/santa-379864-downtown-place.html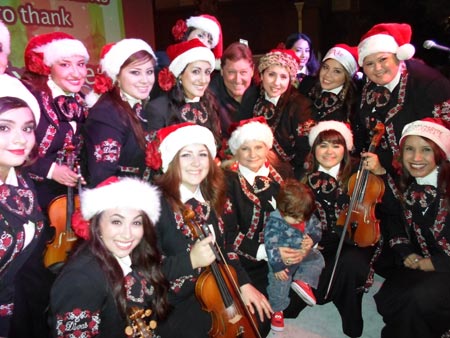 Fourth District Staffer Steve Spernak (center of photo) surrounded by the Mariachi Divas
---
13th MEU Marines Enjoy Nelson Toy Delivery for Pendleton Christmas

As part of his personal donations to 4th District charities and military-Veterans, Supervisor Nelson was proud to have donated a pride of lions to the Anaheim 13th MEU Marine Corps Adoption Committee to deliver to their annual Christmas Party at Camp Pendleton. The City of Anaheim and Supervisor Nelson partner to help with Veterans Day, Christmas and scholarship fundraising for this active non-profit of volunteers and community-corporate patrons.

The 13th MEU adoption committee works tirelessly to support the 13th MEU Marines and Sailors and their families on an ongoing basis, both when the unit is at home and deployed. In return, the USMC will provide community support by participating in local school programs and various city functions. To learn more about the 13th MEU adoption committee and how to support Anaheim's adopted military unit, please click here or visit www.anaheim.net/13thMEU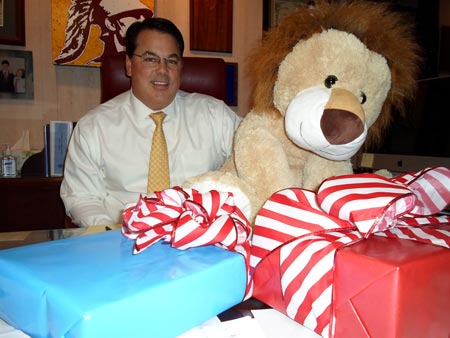 ---
Supervisor Nelson Recognizes "Orange County Crime Stoppers" One Year Anniversary

Fourth District Staff Member Steve Spernak joined Orange County Crime Stoppers President and Founder Patricia Wenskunas to honor their accomplishments on the one year anniversary of operation. In just one year Crime Stoppers has received 685 anonymous tips that has led to 101 arrests, recovered 9 firearms, seized $272,000 dollars worth of narcotics and stolen property and other crime prevention. Supervisor Nelson's office has worked closely with Crime Stoppers and the Anaheim Police Department over the past year on operations to stop prostitution, drug sales and human trafficking on Beach Blvd.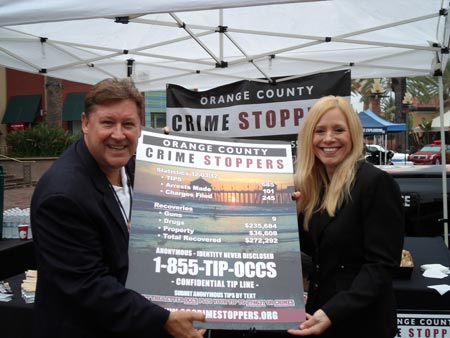 Fourth District Staffer Steve Spernak (Left) and Crime Stoppers Founder Patricia Wenskunas
---
Supervisor Nelson Honors Richard Davenport's Service to Orange County Parks Commission

After nearly a decade of service to the Orange County Parks Commission, Fourth District appointee Richard Davenport resigned his post last week. Nelson staff member Steve Spernak presented Richard with a proclamation thanking him for his service. In addition to his civic contributions as a Parks Commissioner, Mr. Davenport has dedicated time to the Tahquitz Pines Conference Center, Young Life and the Evangelical Free Church in Fullerton.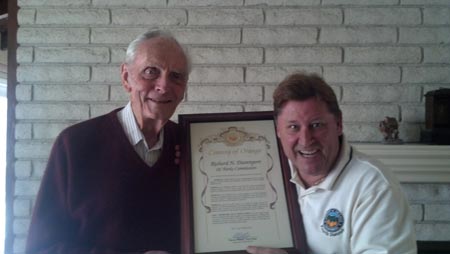 Steve Spernak (Right) visits Mr. Davenport at his home in Fullerton to present his certificate of achievement
COUNTY COMMISSIONS AND COMMITTEES

The 4th District has vacant appointments on the following commissions or committees:


Human Relations Commission
Development Processing Review Committee
Assessment Appeals Board No. 1
If you are interested in serving on one of these committees, please call Audra Fishel at (714) 834.3440



Christmas Train Comes to Irvine Park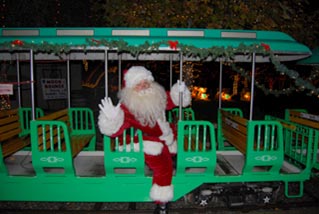 Come with family and friends and take this enchanting night ride through historic Irvine Regional Park to meet Santa Claus. The train will depart from the brightly lit station and drop passengers off at the North Pole.

Children can share their wish list with Santa and have their photo taken with him, too. Pictures may be taken with personal cameras or you may purchase a picture taken by Irvine Park Railroad. Each 5" x 7" photo will be presented with an Irvine Park Railroad border and available for pickup shortly after being taken.

Refreshments including coffee, hot chocolate, freshly-popped popcorn and cookies are available at the Elf House Snack Bar at the North Pole. A full kitchen menu is also available at the Train Station.

When visiting the Christmas Train, remember to dress warmly, bring a camera and arrive early to avoid crowds.

Santa will visit Irvine Park Railroad Nov 30, Dec. 1-2, Dec. 7-9 and Dec. 14-23. Please check the Events & Programs section for specific times, at www.ocparks.com/irvinepark.

The cost to ride the Christmas Train is $10 per person. Children younger than 24 months ride free. Tickets may be purchased in person or online.

Parking for Irvine Regional Park is $3 per vehicle on weekdays and $5 per vehicle on weekends. Parking for the Christmas Train is free after 5 p.m.

Please visit www.irvineparkrailroad.com or call (714) 997-3968 for more detailed information and directions.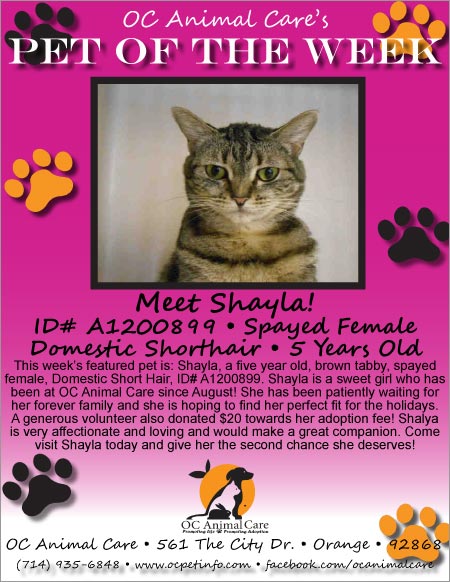 Click on the image above to view a larger version.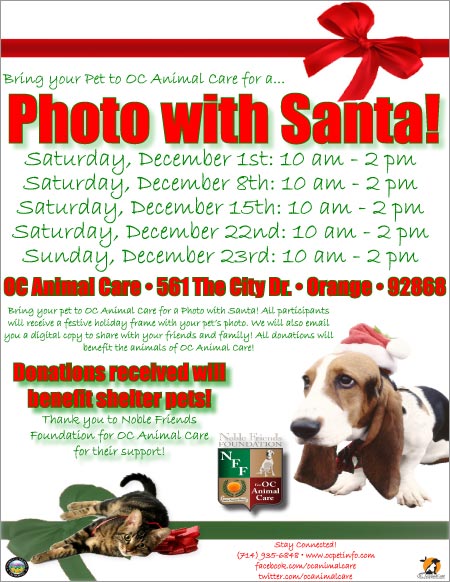 Click on the image above to view a larger version.


Disneyland Resort Scholarship Program Applications Now Available

For the first time, the Disneyland Resort is awarding ten (10) $7,500 scholarships to high school seniors in Orange County. The Disneyland Resort Scholarship Program underscores the Resort's dedication to volunteerism and community support, while furthering opportunities for students to attend college or a professional trade school. Scholarships are awarded to students who demonstrate excellence in volunteerism, academics, and overall leadership.

Qualified applicants, who apply through Jan. 31, will receive two Disneyland Resort Park Hopper Tickets. If you know a qualified high school senior in Orange County, direct him or her to the Disneyland Resort Public Affairs website to apply.


Anaheim

What: 15th Annual WAND West Anaheim Holiday Magic Christmas Tree Lighting
Where: Twila Reid Park, 3100 W. Orange Avenue
When: December 7, 2012
Time: 5:30 pm

What: Victorian Holiday Celebration
Where: Founder's Park, 418 N. West Street
When: December 8, 2012
Time: 9:00 am – 12:00 pm

What: Harbor HeART Arts & Crafts Festival
Where: 520 W. South Street, Anaheim, CA 92805
When: Saturday, December 8, 2012
Time: 10:00 am – 4:00 pm

What: Downtown Anaheim Farmer's Market
Where: Center Street Promenade and Lemon Street, Anaheim
When: December 13 and 20, 2012
Time: 12:00 pm – 7:00 pm

Brea

What: Farmer's Market
Where: W. Birch Street in Brea Downtown
When: December 11 and 18, 2012
Time: 4 pm – 8 pm

What: Breakfast with Santa
Where: Coyote Hills Golf Course, 1440 E. Bastanchury Road, Fullerton
When: December 16, 2012
Time: 9:00 am - 12:00 pm

Buena Park
What: Annual Community Chorus Concert
Where: Ehlers Community Center, 8150 Knott Ave, Buena Park, CA 90620
When: December 9, 2012
Time: 3:00 pm

What: Metrolink Holiday Toy Express
Where: Buena Park Metrolink Station, 8400 Lakeknoll Dr, Buena Park
When: December 22, 2012
Time: 7:45 pm – 8:15 pm

Fullerton

What: Woodcrest Family Fun Day
Where: Woodcrest Park, 444 W. Orangethorpe Ave, Fullerton, CA
When: December 8, 2012
Time: 12:00 pm – 3:00 pm

What: Ugly Sweater Party
Where: Maverick Theater, 110 E. Walnut, Fullerton
When: December 16, 2012
Time: 7:00 pm – 8:00 pm

What: Bootlegger's Brewery Holiday/End of the World Party
Where: Bootlegger's Brewery
When: December 21, 2012
Time: 4:00 pm – 10:00 pm

What: Muck Holiday Festival
Where: Muckenthaler Cultural Center, 1201 West Malvern Avenue, Fullerton
When: December 23, 2012
Time: 12:00 pm – 1:00 pm

La Habra

What: Operation Santa Toy Drive Classic Car Show
Where: CVS Pharmacy Distribution Center, 777 S. Harbor Blvd
When: December 9, 2012
Time: 10:00 am – 2:00 pm


For questions or comments regarding Nelson's E-News
please contact the Supervisor's office staff:
Audra Fishel Ph: 714-834-3440 Email: Audra.Fishel@ocgov.com.