Board of Supervisors

Welcome to Nelson's E-News!

The Board of Supervisors held its first regular meeting of 2013 on Tuesday for the Election of Officers for the year. I am honored to have received the unanimous support from my colleagues to serve as the Chair for the next twelve months, even as I continue to be a resource to residents in the cities of Anaheim, Brea, Buena Park, Fullerton, La Habra and Placentia. Please continue reading for more information, including portions of my interview following the vote and the Board's meeting calendar.

In addition to a busy week at the County of Orange, the OCTA Highways Committee on which I sit saw several important Fourth District-related items decided on Wednesday morning. Many of these involve the OC Bridges program located in the cities of Anaheim, Fullerton and Placentia. Please scroll down for brief descriptions and to see maps of the affected locations.

Finally, I recently had the privilege of recognizing the immediate past Mayor of the City of Brea, Don Schweitzer. Photos and a description are below. I wish him the best in his future endeavors.

The next Board of Supervisors meeting will be Tuesday, January 15 at 9:30am in the Hall of Administration, 333 West Santa Ana Blvd., Santa Ana 92701. As a reminder, the County of Orange will be closed on Monday, January 21 in observance of Martin Luther King, Jr. Day. As a result, the Board meeting will be dark on Tuesday, January 22.

Sincerely,
Shawn Nelson

Board Updates



Shawn Nelson Elected Chairman of the Orange County Board of Supervisors

On January 8th, I was elected Chairman of the Orange County Board of Supervisors. I am honored to be elected by my colleagues to serve. I am looking forward to a productive year. The work begins immediately with the selection of our County Executive Officer.

To view a 2013 schedule of the board's meetings, please click the link below:

Board 2013 PDF schedule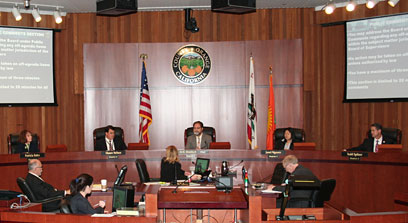 (Left to Right) Vice Chair Pat Bates, Chair Shawn Nelson, Supervisor Moorlach, Supervisor Janet Nguyen and Supervisor Todd Spitzer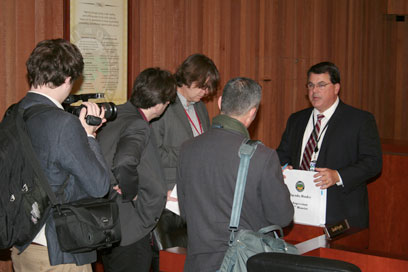 (Above) Supervisor Nelson addresses the press after his first meeting as Chair of the Board

Affordable Housing – OC Register Article

During the last Board meeting of 2012, Supervisors addressed possible options for the County's affordable housing issue. The article below summarizes the meeting discussion, particularly some of the concerns Chairman Nelson expressed regarding its implementation.

Please click link below to view the article provided by the OC Register:
http://www.ocregister.com/articles/county-382586-housing-affordable.html

OCTA



Highways Committee

The OCTA Highways Committee held its first meeting of 2013 on Wednesday to decide several important items related to the Fourth District.

The first was a request to take action to allow portions of Nutwood Avenue and Commonwealth Avenue in Fullerton to transition to a pedestrian-friendly area adjacent to Cal State Fullerton. Eventually, this means eliminating road access to this part of the campus. Click here to see a map of the proposed changes and affected location.

There were also several changes to the OC Bridges project spanning seven sites in the Fourth District, which will significantly improve traffic flow and safety while reducing pollution and noise in the area.

Since OCTA took over from Fullerton as the lead agency on the Raymond Avenue and State College Boulevard grade separations, it is now responsible for acquiring right-of-way for the projects. This requires purchasing property from current nearby owners. The cost is estimated to be approximately $43 million to cover appraisals, demolition and relocation assistance. Please click here to see the costs for the budget amendment and new totals.

The Committee also approved a contract change order in the amount of $71,000 for maintenance along the Tustin Avenue/Rose project bordering the cities of Anaheim and Placentia. The latest change, along with two previous costs, can be found here.

In addition, the Committee approved a vendor for construction of the Orangethorpe Avenue grade separation for $45 million. This price is almost 12 percent below the $51 million project estimate. An item to remove contaminated materials from near the Placentia crossing will cost up to $500,000. Information on the location and other details is available here.

OC Bridges



Construction Notification

The Orange County Transportation Authority has begun construction of the Placentia Avenue and Kraemer Boulevard undercrossings. In accordance with federal railroad safety regulations, residents should expect to hear an increase in the frequency of train horns because of construction activities on and around the railroad tracks, regardless of quiet zone designation.

Regular work hours are Monday through Saturday, 7 a.m. to 8 p.m.

The following construction activities are anticipated to begin during the next two weeks:

Placentia Avenue


Continue installing shoring for bridge construction


Installation of shoring for pump station


Continue installing shoring for retaining wall construction along Placentia Avenue north of tracks


Continue excavating portions of Placentia Avenue and Fender Avenue north of BNSF shoofly for shoring activities


Continue installation of traffic signals at intersection of Placentia Avenue and Crowther Avenue


Continue construction of Home Depot Driveway (2nd half)


Kraemer Boulevard
Continue installation of 60" RCP storm drain at Kraemer Boulevard / Orangethorpe Avenue intersection


Continue placing the storm drain behind retaining wall 1


Begin form, reinforce, and pouring pump station retaining walls


Continue installation of bridge abutment piles


Orangethorpe Avenue
Utility work continues:

SC Gas - relocation work complete and awaiting tie-in (scheduled for late January)
AT&T - Working to complete the easterly section of ductwork to Rose Drive, on the north side of Orangethorpe Avenue. Will proceed across Orangethorpe Avenue towards Carbon Canyon after tie-in complete. Should be another 6 - 8 weeks of work until ready to pull fiber and begin splicing. Should be complete by the end of February.

In the Community

Supervisor Nelson Honors Brea Mayor's Leadership

Supervisor Nelson was honored to recognize outgoing Mayor Don Schweitzer who completed his second term as Mayor at Council ceremonies. A third generation resident of Brea, Schweitzer had been on the council since 2004 and was instrumental in attracting Farrell's Ice Cream Parlor and other major businesses to the downtown area along with work on developing the site at the old Brea Community Hospital and issues with Canyon Crest. Schweitzer's grandfather and father also served as city council members. Ron Garcia will take over duties as Mayor for 2013.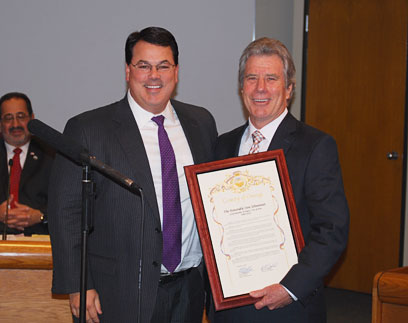 Supervisor Nelson (Left) presents Don Schweitzer with a certificate of recogntion

Supervisor Nelson Hosts Fourth District Report on the Conditions of Children

The Orange County Children's Partnership published the 18th Annual Report on the Conditions of Children in Orange County last month. As a way to spread the word and promote the report's findings, five forums are being held throughout Orange County to discuss and analyze the report. This past Wednesday, Supervisor Nelson welcomed the community engagement presentation in the Fourth District at Cal State Fullerton. The program was organized by the Orange County Social Services Agency, Orangewood Children's Foundation, The Children and Families Commission, Cal State Fullerton and the United Way. During the presentation a variety of topics were discussed including: Good Health, Economic Well-Being, Education and Safe Homes and Community. A special presentation was later given on the Global IT Academy program at Brea Olinda High School. Following the event, participants and attendees were given the opportunity to provide comments and feedback.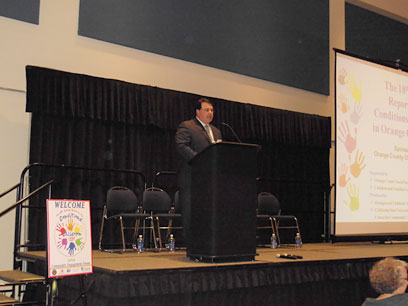 Supervisor Nelson addresses the crowd at the Conditions of Children in Orange County community report

County Commissions and Committees

The 4th District has vacant appointments on the following commissions or committees:


Human Relations Commission
Development Processing Review committee
Assessment Appeals Board No. 1
If you are interested in serving on one of these Committees, please call Audra Fishel at (714) 834.3440

Job Center

Need help finding a job? Have you been to the One-Stop Satellite Center in Buena Park?

Click here to check out the OCWIB Orientation and Workshop Schedule.

OC Parks


Into the Wild OC Trail Run

Location: Black Star Canyon

Date: January 12, 2013 @ 8 am

New to our lineup of races in 2013 we are excited to offer Black Star Canyon, Southern California's permanently protected wild land located in eastern Orange County. With two newly added trails this stunning region is known for soaring sandstone cliffs, Red-tailed Hawks flying overhead, and majestic panoramas of the Santa Ana Mountains, as well as diverse sage scrub and chaparral habitats with many rare species of plants and animals.

Register for the race online:
Online Registration

Fitness Hike at Little Sycamore

Location: Laguna Coast Wilderness Park

Date: January 31, 2013 @ 8:30 am

Raise your heart rate and your spirits on his difficult, strenuous and fast-paced, 4.8 mile hike (400-ft. elevation gain) over very steep, uneven terrain with Laguna Canyon Foundation volunteers.


Ages 15 and up.
Not for beginners. Hiking poles suggested.
Laguna Coast Wilderness Park, Little Sycamore Canyon Staging Area/Nix Nature Center (west side of Laguna Canyon Road/SR-133, approximately 3.5 miles south of I-5/405). Online reservations required.
Parking: $3
Donation: $2/person.
Register for the hike online:
Online Registration

OC Animal Care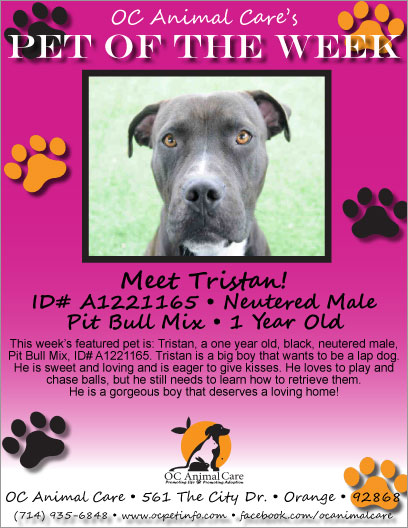 Click on the image above to view a larger version.

Announcements
2013 Point in Time Count and Survey of the Homeless

The County, in collaboration with OC Partnership and the Commission to End Homelessness, is preparing to conduct Orange County's one-day "Point in Time Count and Survey of the Homeless" on the morning of January 26, 2013. The effort is to help ensure all of our homeless residents are counted so we can help be a part of systems change needed to address this important regional issue.

We encourage our District residents to consider how to support this important effort beyond the holiday giving season to ensure people living in desperate circumstances are "counted" and that we as a community can help be a part of the solution.

SATURDAY, JANUARY 26th – meet at 4:00 am at one of five (5) Deployment Centers, deploy to areas at 5:00 am and return around 8:00 am

There are five Deployment Centers located throughout Orange County:

OC Partnership - 1505 E. 17th Street, Ste. 100, Santa Ana, CA 92705


Collette's Children Home - 17301 Beach Blvd., Suite 23, Huntington Beach, CA 92647


Orange County Rescue Mission - One Hope Drive, Tustin, CA 92782


Fullerton Community Center - 340 West Commonwealth Avenue, Fullerton, CA 92832


Family Assistance Ministries - 1030 Calle Negocio, San Clemente, CA 92673



Over 1,000 volunteers are needed, to serve as:

FIELD TEAMS (identify and count homeless in predetermined mapped areas)
FIELD SURVEYORS (getting to know those in need by administering a short survey)
SUPPORT CREW (helping those in the field at a "Deployment Center")
HOMELESS GUIDES (if you are a Service Agency, we ask that you recommend responsible people)

TRAINING

Training is required and will be provided, starting on January 13th and running throughout the week, at the five (5) Deployment Centers, which are aligned with the Districts. A makeup session will be held the week of January 20th.

HOW TO SIGN UP & TRAINING INFORMATION

Go to the Homeless Count website www.pointintimeoc.org and sign up to Volunteer.

FOR MORE INFORMATION

Call Sharon McKeag Ash of OC Partnership at: 714-288-4007 ext. 1116


New Congressional Delegation

On January 3, the 113th Congress was sworn-in. Seven members of the House of Representatives now represent Orange County. Some are completely new to the County while others' district lines have shifted. Below, see the new delegation and the cities they represent:

District 38, Linda Sanchez, D-Lakewood, represents the City of La Palma.


District 39, Ed Royce, R-Fullerton, represents parts of Anaheim, Brea, parts of Buena Park, Fullerton, La Habra, Placentia and Yorba Linda.


District 45, John Campbell, R-Irvine, represents parts of Anaheim and Orange and the entire cities of Irvine, Laguna Hills, Laguna Woods, Lake Forest, Mission Viejo, Rancho Santa Margarita, Tustin and Villa Park.


District 46, Loretta Sanchez, D-Santa Ana, represents parts of: Anaheim, Garden Grove, Orange and Santa Ana.


District 47, Alan Lowenthal, D-Long Beach, represents portions of the cities of Buena Park, Garden Grove, Westminster and the entire cities of Cypress, Los Alamitos and Stanton.


District 48, Dana Rohrabacher, R-Costa Mesa, represents Aliso Viejo, Costa Mesa, Fountain Valley, parts of Garden Grove, Huntington Beach, Laguna Beach, Laguna Niguel, Newport Beach, parts of Santa Ana, Seal Beach and parts of Westminster.


District 49, Darrell Issa, R-Vista, represents the cities of Dana Point, San Clemente and San Juan Capistrano.

To find the district that you live in, visit the House website. To see the new statewide Congressional district lines, click here. Below is the map for all the Congressional districts in Orange County.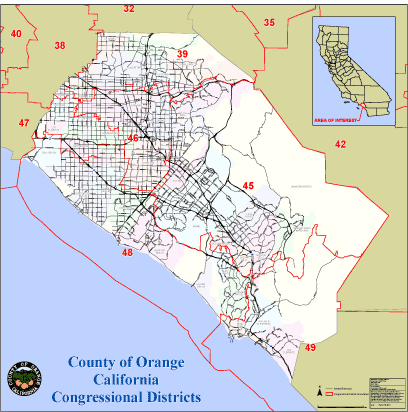 Click on the image above to view a larger version.

Events
Anaheim

What: Public Kickball Pick Up Game by World Adult Kickball Association
Where: Ross Park, 1300 W. Santa Ana Street, Anaheim, CA
When: Tuesday, January 22, 2013
Time: 7:00 pm

Brea

What: Farmers Market
Where: W. Birch Street in Brea Downtown
When: Every Tuesday
Time: 4:00 pm – 8:00 pm

What: Cocktails and Conversation
Where: The Wine Depot, 200 W. Imperial Highway, Brea, CA
When: Thursday, January 17, 2013
Time: 5:00 pm – 7:00 pm

What: Joseph and the Amazing Technicolor Dream Coat
Where: Curtis Theatre, 1 Civic Center Drive, Brea, CA
When: January 17, 2013 – February 3, 2013
Time: Various Showtimes

Buena Park

What: Sugar Plum Arts and Crafts Festival
Where: Buena Park Downtown Mall, next to Walmart
When: January 31 – February 2, 2013
Time: 9:30 am – 6:00 pm

What: E-Waste Disposal Day's Free Electronic Recycling
Where: Buena Park City Yard, 6955 Aragon Circle, Buena Park, 90621
When: Saturday, February 2, 2013
Time: 8:00 am – 2:00 pm

Fullerton

What: Fly Tying Day
Where: Bob Marriott's Flyfishing Store, 2700 W. Orangethorpe Ave, Fullerton, CA 92833
When: Saturday, January 12, 2013
Time: 10:00 am – 3:00 pm

What: Business Tool Box Workshop: HR Regulations
Where: Fullerton Chamber, 444 N Harbor Blvd., Suite 200, Fullerton, CA
When: Friday, January 18, 2013
Time: 11:30 am – 1:00 pm

What: Fullerton Family YMCA Open House
Where: Fullerton Family YMCA, 2000 Youth Way, Fullerton, CA 92835
When: Saturday, January 26, 2013
Time: 11:00 am – 2:00 pm

La Habra

What: Fuel Up for Fun Program
Where: Children's Museum at La Habra, 301 S. Euclid St., La Habra, CA 90631
When: Tuesday, January 15, 2013
Time: 10:30 am - 11:00 am

What: Give Kids a Smile Day
Where: Children's Museum at La Habra, 301 S. Euclid St., La Habra, CA 90631
When: Friday, February 1, 2013
Time: 10:00 am – 12:00 pm

Placentia
What: Sam's Club Open House
Where: 629 So. Placentia Ave., Fullerton, CA 92831
When: Saturday, January 12, 2013
Time: 10:00 am – 6:00 pm

What: Miss Placentia/Miss Placentia Outstanding Teen Pageant
Where: Valencia High School Auditorium, 500 No. Bradford Avenue, Placentia, CA 92870
When: Saturday, February 9, 2013
Time: 2:00 pm

For questions or comments regarding Nelson's E-News
please contact the Supervisor's office staff:
Audra Fishel Ph: 714-834-3440 Email: Audra.Fishel@ocgov.com.


Denis Bilodeau
Chief of Staff

Audra Fishel
Policy Advisor /
Communications Director

Steve Spernak
Policy Advisor

David Zenger
Policy Advisor

Scott Carpenter
Policy Advisor

Mark Lopez
Policy Advisor

Neha Sata
Executive Aide


Stay Connected!