Board of Supervisors

Welcome to Nelson's E-News!

After more than nine months without a permanent County Executive Officer, the Board appointed Michael B. Giancola to the County's top non-elected position, overseeing a $5.4 billion budget and nearly 17,000 employees.

I recently spoke to the Orange County Visitors Association in the Fourth District regarding the importance of tourism. Speaking of tourism, if you were unable to visit some of our community's other fun-filled events that are described further down the newsletter, I hope you will check the calendar at the end of this edition. One of the many upcoming events to participate in is OC Parks' Summer Concert Series. Please continue reading for more information on dates, times and artists.

The next regular meeting of the Board of Supervisors will be Tuesday, May 21 at 9:30am in the Hall of Administration located at 333 W. Santa Ana Blvd., Santa Ana 92701. The Board will be dark on Tuesday, May 28 and Tuesday, June 4. Budget meetings will take place on Tuesday, June 11 and Wednesday, June 12. As a reminder, County offices will be closed on Monday, May 27 in observance of Memorial Day.

Sincerely,
Shawn Nelson

Board Updates



Supervisors Approve Appointment of Michael B. Giancola as County Executive Officer

On May 7th, The Orange County Board of Supervisors unanimously selected Michael B. Giancola to serve as County Executive Officer (CEO) effective immediately.

Giancola has served as Director of OC Waste & Recycling since 2009 and has been employed by the County of Orange for more than 30 years. "Mike's long career with the County shows that someone can rise from an entry-level position to head an organization with more than 17,000 employees," said Shawn Nelson, Chairman of the Board of Supervisors. "He has proven at each level of the organization that he has the skills, leadership abilities and drive needed to succeed."

Mike Giancola

During his 27 years with OC Waste & Recycling, Giancola served in several management capacities, including as the first manager of the County's recycling program and as Deputy Director for both the department's Central and South Regions. During his four year tenure as Director of OC Waste & Recycling, the department secured revised solid waste permits to provide Orange County with long term disposal capacity, expanded renewable energy opportunities at the County's landfill sites and has developed an educational outreach partnership that resulted in the award winning EcoChallenge exhibit at the Discovery Science Center.

Giancola first joined the County in 1977 as a Park Attendant at Mile Square Park. He served in the U.S. Navy from 1980-85 and rejoined the County's Harbor, Beaches and Parks Department upon his discharge from military service. He began working for the County's Integrated Waste Management Department, now known as OC Waste & Recycling, in January 1986. Giancola received his Bachelor of Arts degree in Business Administration from the University of Phoenix and is a former President of the Southern California Founding Chapter of the Solid Waste Association of North America. He is also a graduate of the Orange County Leadership Academy.

The employment agreement approved by the Board of Supervisors sets Giancola's annual salary at $245,000. The agreement also requires that he pay the employee's share of the normal cost of his pension benefit plus the complete reverse pick-up pension contribution.

Supervisors Approve IT Contract

This week the Board of Supervisors approved a contract with SAIC. Through the first of two IT Sourcing contracts, SAIC will provide data center, service desk, desktop support and application development and maintenance services. The contract with SAIC is for five years with two one-year renewal options, and is expected to save the County approximately $10 million compared to costs for current operations while providing improved service. The second IT sourcing contract for countywide voice and data network services will be reviewed by the Board of Supervisors in early summer.

Please view the presentation delivered to the Board of Supervisors here. For more information on the CEO IT Department, please click here.

Vehicle License Fee Lawsuit

After Orange County declared bankruptcy in 1994, it issued bonds in order to pay back Orange County Treasurer pool participant deposits. Legislation was passed by the State in 1995 to direct a portion of car registration revenue, or Vehicle License Fees (VLF) as a secure payment stream to the bondholders. In 2004, the State swapped, on a dollar-for-dollar match, the VLF money with the other 57 counties in California in exchange for property tax revenue, with the exception of Orange County due to its special arrangement to repay its creditors.

The County refinanced its bonds in 2005 to take advantage of lower interest rates. This refinance uncoupled the special VLF payment stream from the bonds, which was unfortunately not reestablished through legislation. The County continued to get VLF instead of the additional property tax. In 2011, the State legislature took away the dedicated revenue stream of approximately $50 million per year, but refused to provide the dollar-for-dollar swap given to all other California counties. Thereafter, the Orange County Auditor-Controller consulted the State Revenue and Taxation Code to figure out what the County of Orange should be receiving in property tax from the state in order to be treated like all other 57 counties. It was determined that the County of Orange should actually be receiving $73.5 million per year. The State disagreed with this conclusion and sued the County of Orange.

On May 7, the Orange County Superior Court tentatively ruled in favor of the State in its VLF lawsuit against the County. This means that Orange County may be required to retroactively repay nearly $150 million in revenue for the last two fiscal years and approximately $75 million every year thereafter. Given this ruling, Orange County would receive neither VLF revenue nor property tax revenue, unlike all the other counties in California.

The reduced revenue will require difficult decisions at the budget hearings and every department throughout the County is preparing for the potential of cuts up to 5%. No layoffs are contemplated at this time.

In the Community

Orange County Visitors Association hosts its Annual Tourism Conference

This year, the Orange County Visitors Association (OCVA) hosted their annual Tourism Conference "The OC Experience – Linking the World: Building a Global Brand through Partnerships" at the Anaheim Hilton in the Pacific Ballroom.

The OC Tourism Conference is held each year in conjunction with National Travel & Tourism Week in recognition of the important role tourism plays in the local, regional and national economy. The purpose of the conference is to showcase the Orange County Visitors Association role in efforts to increase domestic and international tourism through enhanced brand recognition and lucrative partnership formations, and to serve as a resource venue for visitor businesses.

Supervisor Nelson was on hand to give the opening address and spoke about the importance of tourism in Orange County and the positive impact that OCVA has had with marketing and promoting the OC brand.

Also in attendance was Supervisor Nelson's wife, Sharon Nelson, who serves on the Orange County Tourism Council as an ex-officio member and Fourth District representative. The council is a non-profit agency that represents a wide variety of local tourism-related organizations including accommodations, arts & culture venues, attractions, chambers of commerce, convention & visitor bureaus, retail & shopping center and visitor services.

For more information please visit http://visittheoc.com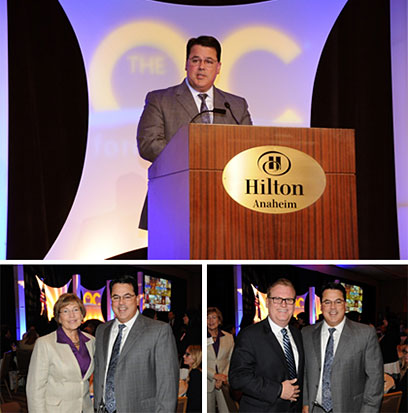 Top: Supervisor Nelson addressing the crowd (Left) Buena Park Councilwoman Beth Swift and Supervisor Nelson (Right) Gary Sherwin, Chairman of the OC Visitors Association and Supervisor Nelson

Brea Mayor Honors Military at National Day of Prayer

The Fourth District congratulated Brea Mayor Ron Garcia, the Brea Kiwanis Club and The Brea Ministerial Association for their delivery of the 32nd Annual Brea Mayors Breakfast hosted at the Brea Embassy suites last week. As part of the National Day of Prayer Mayor Garcia thanked city leaders, business and corporate attendees and introduced active- duty military who were hosted at the morning breakfast.

With each of their introductions, the Marines, Sailors, Airmen and Soldiers stood to sing their respective service-branch songs. Major Jeremy Johnson, United States Army National Guard inspired the audience with his Story of Prayer segment. Johnson told the attending that their prayers were answered when his battalion came under a heavy Taliban mortar barrage at his forward operating base. Fearing the worst in casualties and fatalities he waited for incoming after-action calls from his commanders reporting the damage. To Johnson's astonishment, not one Soldier was killed or injured and the entire barrage of mortars impacted outside their base. Johnson said the divine protection of prayer saved their lives that night.

Retired Admiral Vernon Clark, chief of naval operations closed the program with a keynote address explaining how prayer and trust in God sustained him through unspeakable trials and wartime conflicts thru his 30+ years of service in the Navy. Mayor Garcia and Admiral Clark finished the morning memorial for the military by placing a wreath at the Brea War Memorial.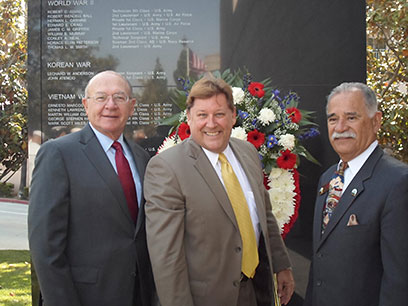 (Left) Admiral Vernon Clark, former Chief of Operations, United States Navy, joins Fourth District Representative Steve Spernak (center) and Brea Mayor and Navy Veteran Ron Garcia (Right) at wreath-presentations following the National Day of Prayer breakfast honoring America's military.

Capriana Senior Living Ribbon Cutting

On May 3rd The Fourth District was proud to congratulate Capriana on their grand opening. Capriana is a premier retirement community situated on a lush 5 ½ acre campus in Brea. Developed by Oakmont Senior Living, Capriana provides quality, comfort and a continuum of care with five-star services and amenities. Capriana is located at 460 La Floresta Dr., Brea, CA 92823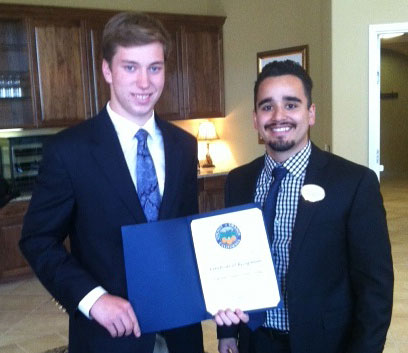 Fourth District staffer Chandler Daily presents a certificate of recognition to Capriana's Manager

Anaheim Cinco De Mayo

Cinco de Mayo 2013 was the Fourth District office's third year of participation at the incredibly popular weekend of food, friends and fiesta for over 100,000 attendees at La Palma Park in Anaheim. The weekend's event allows community, church and civic charities to showcase their missions and raise money for coming projects and unite the neighborhoods in a spirit of cultural cooperation.

Supervisor Nelson staffer Steve Spernak spent Sunday morning at the festival meeting residents and introducing the Supervisor's office with Crime stopper brochures and County Resources Guides. The meet and greet outreach effort in the community is an on-going effort to show the Supervisor's concern for their quality of life and rally support and new membership into the newly-formed Beach Blvd. Crime Task Force. The Task Force is made up of residents, police and elected officials from the City and County and focused on deterring gangs, human trafficking, drugs and prostitution on Beach Blvd. between Lincoln and Ball Rd. The appearance at La Palma Park also allows the Supervisor's office to secure citizen comments and research that will help the Supervisor and the Anaheim City Council craft better remedies for the homeless & transients who live at the park.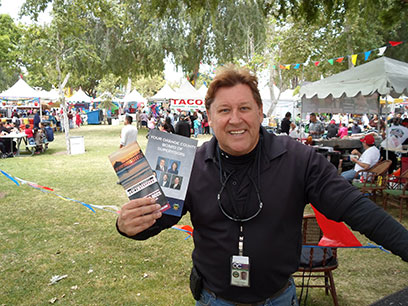 Cinco de Mayo Sunday had Fourth District Staffer Steve Spernak busy with his delivery of County Resource Guides and Crime stopper brochures. 100,000 attended the popular fiesta at La Palma Park in Anaheim

Council on Aging - Caregivers Luncheon

The Fourth District extended congratulations to the staff, members and Board of Directors of the Council on Aging Orange County as they celebrated their 40th year of services to seniors in Orange County last week. The gala at the Irvine Marriot raised $50,000 from attendees who committed to the three year agreements to keep compassion and cash flow going into efforts of 84 Ombudsmen who advocate for 28,000 seniors and disabled.

The Council proudly announced their teams instructed 4,800 seniors through their Financial Abuse Specialist Team (FAST) and the huge efforts of doing 8,100 home visits to 600 isolated and frail seniors. The Council also does educational seminars to 20,000 individuals and delivers over 70,000 of the popular Senior Guides to OC residents in all 34 cities.

As part of his support for the Council and helping Seniors Supervisor Nelson has staffer Steve Spernak deliver the Senior Guide magazines to the six Senior Centers in our district and the 25 residential, skilled nursing or assisted living Senior care sites that house thousands of elderly needing referrals and health tips.

Supervisor Nelson will again be active with the Council on Aging when they start the Smilemakers Guild that wraps 2,600 presents for lonely seniors during the Christmas holidays. Residents who want to anonymously donate simple gifts and clothing to lonely seniors can contact the Council on Aging at 1971 E. 4th St, Santa Ana or call 714 479-0107.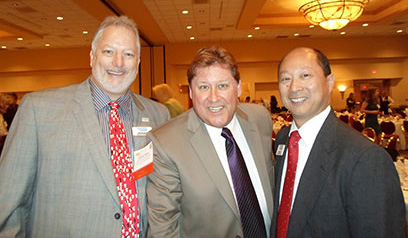 Council on Aging Board of Director Michael Bader (left) joins Fourth District Staffer Steve Spernak (center) and Daryl Yeelitt, Chairman of the Council's Board of Directors, at the Irvine Marriott Luncheon that raised $50,000 to help OC Seniors.

Taste of Anaheim

Congratulations to the Anaheim Chamber of Commerce team who put together the 18th Annual night of magic for some 5,000 attending the Taste of Anaheim at Garden Walk. With 50 vendors, restaurants, brew houses and community organizations layered into the two top levels of Garden Walk it was truly a fun night to meet with friends and sample foods of the world that are made fresh at the grills and Chef stations at the event. Part of the experience were the four bands that mesmerized several thousand cheering fans who watched Aero rocks, DSB, Detour 91 and Bostyx replica bands. For more photos and information on how your restaurant, community group or company can sponsor this terrific event go to www.tasteofanaheim365.com or contact the Anaheim Chamber of Commerce at (714) 758-0222.


(Left) Fourth District Staffer Steve Spernak visiting the MEU booth (Right) Steve Spernak with Anaheim legend Frank Feldhaus

17th Annual West Anaheim Neighborhood Development (WAND) BBQ - Anaheim

Supervisor Shawn Nelson extended his congratulations to the planning staff and community participants who made the 17th Annual WAND BBQ community festival another terrific success in 2013. The Fourth District booth manned by staffers Steve Spernak, Neha Sata and Mark Lopez enjoyed the Saturday event and used the time to introduce county services, resource directories, Senior Guides and programs the County offers for job-finding and health-care.

Hosted at Twila Reed Park on Orange Ave, the entire park was full of food courts, car shows, community groups along with Anaheim Police and Fire representatives and exhibits. Included in the day-long gala was the ever-popular Opportunity Drawings that put attendees in the running for donated City Council suite seats at coming Angel games, OC Symphony seats, In-and-Out dinners, Wal-Mart gift cards and 50 other treasures.

Supervisor Nelson's staff fielded questions about County and city projects and programs throughout the day and secured business cards from civic groups and community leaders interested in promoting their events in the 4th District newsletter. The WAND BBQ raised money for schools, bands, youth sports teams, churches, foundations and arts council and the Boys and Girls Club of Anaheim, all of which are critical components lending to the quality of life in West Anaheim.


Fourth District staffer Steve Spernak (left) delivered Council on Aging Senior Guides while Staffer Neha Sata handed out County Resources and Services Directories to hundreds of residents who visited the Shawn Nelson booth at the 17th Annual WAND BBQ at Twila Reed Park.

Spiked Paint Grand Opening

On May 10th the County of Orange was proud to welcome the new business Spiked Paint. Spiked Paint is an upbeat creative place for both the artistic and not so artistic. You can learn the basics of acrylic painting while enjoying the company of friends and well priced beer and wine. While one of the owners Erin teaches the class, her husband and business partner Ian bartends. If you are looking for a new, fun night out spiked paint is the place to go! Spiked Paint is located at 126 W. Wilshire Ave. (Unit A) Fullerton, CA 92801.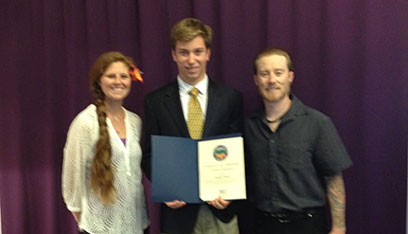 (Center) Fourth District Chandler Daily presents a certificate of recognition to owners Erin & Ian Bennett

OC Parks


OC Parks Presents the 2013 Summer Concert Series

Craig Regional Park in Fullerton will kick off the summer concert series with three free concerts. Thursday, June 6 welcomes acclaimed Oingo Boingo tribute band Dead Man's Party performing with Michael Michael. June 13 presents '80s sensation Flashback Heart Attack with DJ Velvet Touch. The O.C. Supertones will bring ska to the park on June 20 performing with Mike Vitale.


Details:
Location: 3300 State College Blvd., Fullerton, CA 92835
Contact: (714) 973-3180, craigpark@ocparks.com
Date: Thursday, June 6
Artist: Dead Man's Party with Michael Michael
Date: Thursday, June 13
Artist: Flashback Heart Attack with DJ Velvet Touch
Date: Thursday, June 20
Artist: O.C. Supertones with Mike Vitale
Time: All concerts 6 – 8 p.m.
Cost: Free Parking: Free

County Commissions and Committees

The 4th District has vacant appointments on the following commissions or committees:


Community Action Partnership of Orange County
If you are interested in serving on this Committee, please call Audra Fishel at (714) 834-3440

OC Animal Care
Pet of the Week

Leila came to the shelter in March with a fractured leg. She was immediately put into the shelter's Medical Program - in conjunction with Noble Friends Foundation, funds are raised to perform life-saving surgeries for special needs animals. Leila's leg is now healed and she's ready for a new forever home!

Please visit www.ocpetinfo.com for more details

Ranger finds a home!

| | | |
| --- | --- | --- |
| Ranger was impounded by one of our animal control officers, who owns several bull dogs herself. When she picked him up, she felt there was something special about him. We worked with Ranger for 6 weeks trying to make him adoptable to the public. The officer walked him and socialized him during her break times. Unfortunately he was too insecure and reacted in a negative way to some people. The whole time he was here, he was also actively being promoted to rescue groups | | |
all over the country. Finally a rescue in Idaho offered to take him but needed transportation. Our officer was so dedicated to him, she drove him all the way to Idaho so he could get into their program and receive the training and the socialization he will need to eventually find his forever home.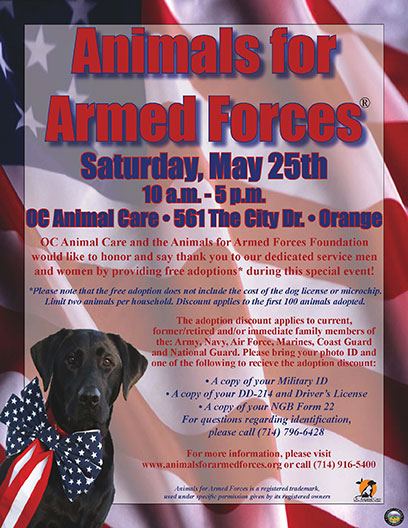 Click on the image above to view a larger version.

Events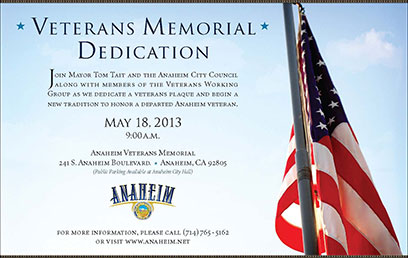 Click on the image above to view a larger version.

Anaheim

What: Veterans Memorial Dedication
Where: Anaheim Veterans Memorial, 241 S Anaheim Blvd.
When: Saturday, May 18th
Time: 9:00 am

What: Children's Festival
Where: Center Street Promenade
When: Saturday, May 18th
Time: 10 am – 4 pm

Brea

What: Community Appreciation Luncheon
Where: Brea Dentists, 2500 E. Imperial Hwy, Ste.120, Brea
When: Saturday, May 18th
Time: 11 am – 2 pm

What: Brea Young Professionals
Where: Black Gold Golf Course, 1 Black Gold Drive, Yorba Linda
When: Saturday, May 23rd
Time: 5 pm – 7:30 pm

Buena Park

What: Memorial Day Remembrance Service
Where: George Bellis Park, 7171 8th St
When: Monday, May 27
Time: 10 am

Fullerton

What: Mom's Club Fullerton – West Yard Sale
Where: Richman Teen Center / Boys & Girls Club-410 S. Richman Avenue
When: Saturday, May 25th
Time: 8 am – 1 pm

What: Stroller Brigade
Where: Fullerton Museum Center
When: Wednesday, May 29th
Time: 10 am – 12 pm

La Habra

What: Arts Festival Day
Where: 301 S Euclid St., La Habra,
When: Saturday, May 18th
Time: 10 am – 4 pm

What: Car Show at the Muckenthaler
Where: 1201 W. Malvern Ave, Fullerton, CA 92833
When: Saturday, May 18th
Time: 8 am - 2 pm

Placentia

What: Breakfast Network
Where: Angelo's Burgers, 510 W. Chapman Avenue (at Murray Street), Placentia, CA 92870
When: Tuesday, May 21, 2013
Time: 7:30 – 8:45 am

What: Focus on Youth Scholarship Awards Breakfast
Where: Black Gold Golf Club
When: Wednesday, May 29th
Time: 7:30 am – 9 am


For questions or comments regarding Nelson's E-News
please contact the Supervisor's office staff:
Audra Fishel Ph: 714-834-3440 Email: Audra.Fishel@ocgov.com.