Board of Supervisors

Welcome to Nelson's E-News!

The Board of Supervisors held its annual public hearing on the FY 2013-14 budget on Tuesday. The recommended base budget is $5.4 billion, a decrease of $200 million from the previous fiscal year. For more information and points of interest from the hearing, please see the Board Update below.

This summer, please take advantage of the OC Parks Summer Concert Series, occurring Thursdays through the end of August at four select county parks. These great outdoor events are already in progress. I hope you will continue to take advantage of the wonderful amenities and picturesque views at our OC Parks system, not only this summer, but year-round.

The next Board of Supervisors meeting will be Tuesday, June 18 at 9:30am on the first floor in the Hall of Administration, 333 West Santa Ana Blvd., Santa Ana 92701. As an early reminder, County offices will be closed on Thursday, July 4 in observance of the Fourth of July holiday.

Sincerely,
Shawn Nelson

Board Updates



Public Budget Hearing

The Board held its annual public budget hearing on Tuesday, finishing all seven programs by the end of the day, and provided "straw votes" to staff for guidance and intention on the budget direction. While the straw votes are not binding, they are helpful in preparing the final budget for adoption. The Board will adopt the final budget later this month.

Some highlights of the budget include:

Of the $5.4 billion budget, $2.2 billion will go to Community Services and $1.1 billion to Public Protection departments. The single largest expenditure in the budget is salaries and benefits at nearly $2 billion.
Following adjustments, the overall budget decreased by $33.3 million.
The General Fund, the Board's discretionary funding, comprises 11.5% of the overall budget, or $622 million. Property taxes represent over 90% of the General Fund.
Regarding AB 109 and the shift of certain public safety responsibilities from the State to counties, there is a possible funding shortfall of $11 million to offset costs.
Proposition 172, the public safety ½-cent sales tax, is expected to be $275 million for FY 2012-13, the highest in the last five years. Revenue is projected to increase to $287 million in FY 2013-14 and funds the Sheriff and District Attorney departments on an 80/20 split, respectively.
All Board of Supervisors offices will remain unaffected by the 5% department budget reductions, instead voluntarily returning any unspent money to the County General Fund at the end of FY 2013-14. Supervisor Nelson opposed this decision. Each Supervisorial budget is nearly $1 million for the year and includes salaries, benefits and office supplies.
The County will renew its membership to the Association of California Cities-Orange County (ACC-OC) for a full year at a cost of $25,000, which Supervisor Nelson also opposed.
More information on the budget may be found on the Clerk of the Board website.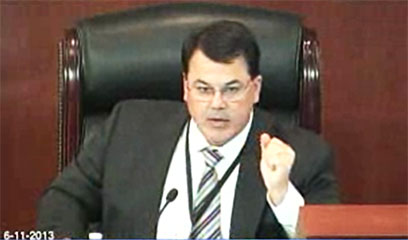 Supervisor Shawn Nelson

Six County Programs Receive NACo Achievement Awards

Six County of Orange programs were selected to receive a 2013 Achievement Award by the National Association of Counties (NACo).

"We are honored to have been recognized by NACo and appreciate the opportunity to share innovative County programs that best demonstrate our efforts to provide efficient, quality services to the residents of Orange County," said Chairman Shawn Nelson, Orange County Board of Supervisors.

The Orange County programs to receive Achievement Awards are:

Child Support Services Leadership Development Program: Child Support Services created its Leadership Development Program to provide professional development tools and resources to staff for workforce development and succession planning.


Family Centered Services Community Resource Initiative: Child Support Services implemented this model to link customers to community resources to help resolve issues that may prevent parents from paying their child support obligation and from being an active part of their children's lives.


Irvine Ranch Natural Landmarks Activity Guide: To communicate to the public about the land and the recreation opportunities available, the Irvine Ranch Conservancy worked with OC Parks to create an expansive activity guide to not only the activities in the OC Parks open space, but a guide to all of the activities in the historic Irvine Ranch. From 2010 to 2011, participation in these programs increased by 66%.


OC Animal Care License Collection Process: In May of 2011, OC Animal Care sent an automated file of delinquent licenses to the Orange County Treasurer-Tax Collector for follow-up and collection. This file represented the first time that OC Animal Care had proactively attempted to collect on a large group of expired dog licenses. As a result, there has not only been an increase of 7% in licensing compliance rates, but also a 10% reduction in the number of dogs impounded.


OC Public Libraries' Book Talk Blog: OC Public Libraries' Book Talk is a readers' advisory blog written and maintained by OC Public Libraries' staff. The purpose of this blog is to extend the Readers' Advisory service provided in the branches. More than a critical review, Book Talk's task is to help patrons find books they want to read in an online environment.


Vegetation/Hazard Reduction Accounting Database: OC Public Works sends annual notices to all affected property owners in the unincorporated areas instructing them to remove weeds and combustible vegetation identified as a public nuisance. If the removal is not accomplished by a specified date, the County or contracted crews will abate these properties. The Vegetation Hazard Reduction Application was created in order to greatly increase the efficiency of related data processing.
To learn more about the NACo Achievement Awards program, please visit http://www.naco.org/programs/recognition/Pages/AchievementAwards.aspx.

OCTA



Bravo! Bus Route Provides More Efficient Options For Commuters on Harbor Blvd.

Orange County commuters may now find a faster way of getting to their destinations with the new Bravo! Route 543 bus service that made its public debut June 10.

With cake, surprise streamers, festive balloons and a distinctive Bravo! bus, OCTA CEO Darrell Johnson and Chairman Greg Winterbottom joined Directors Gail Eastman, Matt Harper, Steve Jones, John Moorlach and Al Murray to officially launch the new service.

Johnson expressed his enthusiasm at the service addition that is the first of three routes to be implemented in the next year.

"We have listened to our riders, looked at ways to improve our service and are very happy to see them begin to come to fruition," Johnson said. "Without question, the next 12 months are going to be incredibly productive and launching Bravo! is the first of many improvements coming to our streets, highways and railways."

The new service along Harbor Boulevard features fewer stops for the more than 13,000 riders on average who take advantage of the 12-mile route each weekday. Beginning at the Fullerton Transportation Center, the Bravo! route passes through the cities of Anaheim, Garden Grove and Santa Ana, and ends at MacArthur Boulevard in Costa Mesa.

Prior to the launch, OCTA also hosted a media briefing on Friday, June 7, where nearly a dozen members of the media gathered at the Garden Grove operations base to see the new buses and report about the new service firsthand.

Chairman Winterbottom and Director Janet Nguyen highlighted Bravo! as marking OCTA's continued effort to improve bus service and create more efficient ways for passengers to travel throughout the county.

After managing through the recession, OCTA has started increasing bus service by adding back approximately 60,000 service hours on the most heavily traveled routes. "At the core, OCTA's business is delivering bus service and this new offering gives riders another option to speed up their daily commute," Winterbottom said.

OCTA also offered free rides on the Bravo! Route 543 Monday, June 10, through Wednesday, June 12, to allow passengers to experience the new service.

The new route shares some of the same stops as current Route 43, with stops farther apart at major transfer points and major destinations. Route 543 only stops at the 15 Bravo! stops identified by the unique "B!" bus stop signs.

The fare remains the same as regular OCTA service: $2 per boarding or $5 for a day pass. Service runs between 5 a.m. and 6 p.m. on weekdays only.

OCTA Outreach Team Informs Residents About Upcoming Riverside Freeway Work

This past weekend of June 8, the OCTA's public outreach team hosted two neighborhood information meetings to update residents on the Riverside Freeway (SR-91) Westbound Lane Widening Project.

Held on Burton Street in Anaheim and Houston Avenue in Fullerton, the neighborhood meetings were an opportunity for area residents to get the latest information on the overall freeway improvement project as well as to learn about anticipated construction activities in their areas.

In addition to getting an overview of the project, participants learned about the project's anticipated schedule as well as road, bridge and wall work. The outreach team also provided residents with updates on the project's transportation management plan, including details on detours and potential off-peak and/or overnight lane and ramp closures.

Since December 2010, OCTA and Caltrans have worked together to add 18 lane miles to SR-91 in Orange County. The 91 Westbound Lane Widening Project is the third in a series of freeway improvement projects intended to increase capacity, improve operations and enhance safety along this critical west-east commuter and commercial corridor.

Funded by Orange County's Measure M half-cent sales tax and State Prop 1B, the project will add a fourth general purpose lane to westbound 91 from the Orange Freeway (SR-57) to the Santa Ana Freeway (I-5).

When completed, the project will boost the number of lane miles on SR-91 in Orange County to 22.

If you'd like a presentation on the project, please contact Fernando Chavarria by email at fchavarria@octa.net or by phone at (714) 560-5306.

In the Community

18th Annual Anaheim Flag Day

Supervisor Nelson was honored to have his office participate in last weekend's 18th annual Flag Day celebration and musical tribute to "Old Glory" in downtown Anaheim. With a parade of dignitaries, marching bands, Dapper Tappers patriotic ensemble and emergency services vehicles leading the way, the morning kicked off with thousands enjoying the food booths and community associations information booths. The highlight of the morning was the presentation of certificates of recognition from the Fourth District to winners of the essay contests who each wrote an incredible thesis about this year's topic: 'What the American Flag means to me". Winners from Anaheim Union High School District, Magnolia, Anaheim School District, and Fairmont Private Schools took home the trophies and engraved proclamations for all their hard work, research and composition accomplishments. Special notes of appreciation from the Supervisor were extended to the Flag Day committee in Sally and Frank Feldhaus, Maria McFarland, Hoagy Holguin for the cake and ice cream, Paul Kott Realty, Anaheim Kiwanis for the parade flags and Disneyland Resorts for day-passes given to each 1st place winner. In the spirit of Flag Day, all attending were given flags and programs to take home and display courtesy of the City of Anaheim.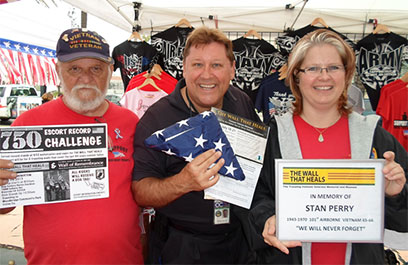 OC Veteran Greg Gillespy (left) shares information about the coming Vietnam "Wall that Heals " with Fourth District Staffer Steve Spernak (middle) and Mrs. Yeung (right) at their Flag Day booth.

Mission Market Grand Opening

On June 13th, Fourth District Staffer Brandon Wong was proud to congratulate Roland Foss on the grand opening of the brand-new Mission Market located at 130 East Chapman Avenue in Fullerton. Mission Market, unlike other convenience stores, aims to provide customers a welcoming environment offering a variety of products ranging from pre-packaged salads and sandwiches to European sodas and fresh artisan coffees. Mission Market can be contacted at 714-526-3610.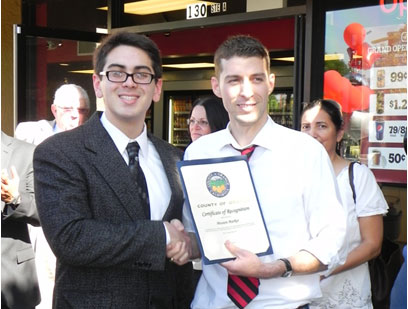 Fourth District Staffer Brandon Wong (left) presents the certificate of recognition

Salts family honored with prestigious Buena Park Rotary Awards

Supervisor Nelson was honored to recognize five distinguished women and one incredible man this month at the June 5th Buena Park Service Awards Reception for the Buena Park Rotary Club.

In front of some 100 members and guests, the club recognized Darlene Minnie with their 2013 Citizen of the Year award for her years of service and for developing volunteer programs for the police department.

Christiane Salts was recognized for her lifetime achievements of service as the Rotarian of the Year. Rose Diaz garnered the Community Service Award for her hours of service with the seniors at the Buena Park Senior Center and Michael Kim was proudly presented the Vocational Services Honoree Award for his business contributions, working on community boards and committees and helping the police department operations.

Ceylon Dugas, recipient of the New Generations High School Award, was introduced by Rotary member and Buena Park Mayor Elizabeth Swift for her outstanding 'friendship program' she inspired at Buena Park High School. Ms. Dugas will continue her collegiate studies at UC Berkeley.

The highlight of the evening was Carrie Salts receiving the New Generations Community Services Awards for her work providing in-home support services through the OC Social Services Department. She has been active all her life with Girl Scouts and active for the past nine years with operations and event management with the Buena Park Rotary Club. She is also a Sunday school teacher at Good Shepherd Lutheran Church and volunteers for the summer reading program at the Buena Park Library. Christiane Salts has enjoyed a 37 year teaching career, and had command and leadership titles in Rotary, including Club President, Secretary, Executive Secretary and Newsletter Editor.

Ms. Salts stays busy organizing club activities including Co-Chair for Teacher of the Year Luncheon 2011, Presidential Distinguished Club Citation 2011, District Assembly Presenter, Cliff Dochterman International Scouting Rotarians Award 2010, and District 5320 Co-Chair Leadership Awards Committee 2009 and has attended 4 International Conventions and 2 Zone Institutes. Christiane is too shy to brag about this, but she also has been honored by both the Anaheim and Fullerton Joint Union High School Districts for her distinguished service and honored by the Anaheim UHS PTA Council and Centralia PTA Councils in addition to her Life Member recognition for helping the Buena Park Historical Society.

Congratulations to these fantastic Rotary Members and best wishes for continued success in their organizations, community service groups and commitments to public safety as volunteers with the Buena Park Police Department.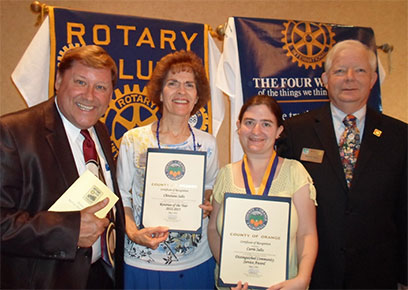 Fourth District Staffer Steve Spernak presented honors to Christiane and Carrie Salts at the Buena Park Rotary Awards Dinner with Dennis Salts.

OC Parks


OC Parks Presents the 2013 Summer Concert Series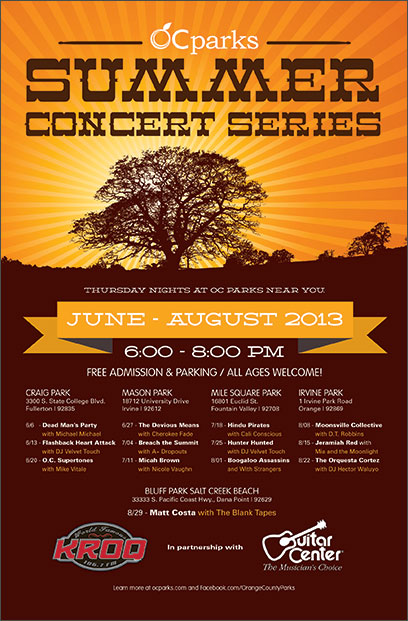 Click on the image above to view a larger version.

County Commissions and Committees

The 4th District has vacant appointments on the following commissions or committees:


Community Action Partnership of Orange County
Oversight Board of the Successor to the City Redevelopment Agency (Buena Park and Anaheim)
If you are interested in serving on one of these committees, please call Audra Fishel at (714) 834-3440

OC Animal Care
Pet of the Week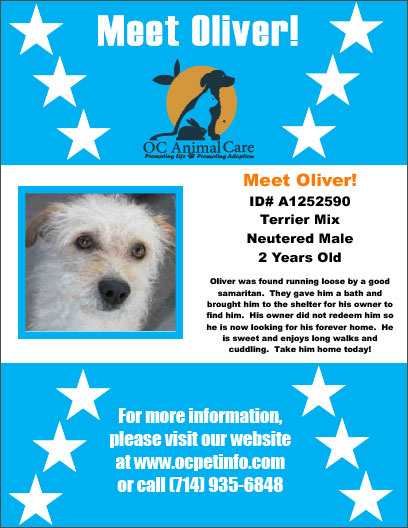 Click on the image above to view a larger version.

Pet Tag Awareness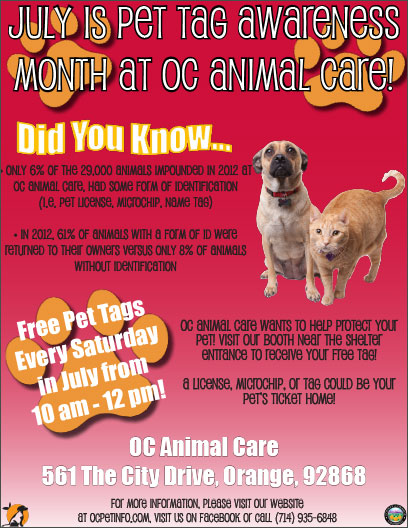 Click on the image above to view a larger version.

Events
Anaheim

What: Orange County Fire Services Association Annual Summer Show
Where: 1425 East Lincoln Avenue, Anaheim, CA 92805
When: Sunday, June 16th
Time: 6:30 pm

What: "Spies, Traitors, and Saboteurs: Fear and Freedom in America"
Where: The Muzeo Museum – 241 South Anaheim Boulevard, Anaheim, CA 92805
When: Saturday, June 15th
Time: 10 am – 5 pm

Brea
What: Family Films at Arovista Park: "Shrek"
Where: Arovista Park – 502 East Imperial Highway, Brea, CA 92821
When: Friday, June 21st
Time: 8 pm

What: Cruisin' Brea Classic Car Show
Where: Brea Downtown – 330 W Birch St., Brea, CA 92821
When: Sunday, June 16th
Time: 10 am – 4 pm

Buena Park
What: Outdoor Summer Concert Featuring "Wiseguys Big Band Machine"
Where: Boisseranc Park, 7520 Dale St.
When: Wednesday, June 19th
Time: 7 – 9 pm

Fullerton
What: 4th Annual Summer Solstice Festival and Fullerton Sister City Association's International Taco Fest
Where: Muckenthaler Cultural Center – 1201 W Malvern Ave., Fullerton, CA 92833
When: Sunday, June 23rd
Time: 12 – 4 pm

What: Downtown Historic Fullerton Walking Tours
Where: Fullerton Museum Center – 301 N Pomona Ave., Fullerton, CA 92832
When: Saturday, June 22nd
Time: 9 am

La Habra
What: Chamber Lunch Mob – Vietnamese Pho
Where: 634 E. Whittier Blvd., La Habra, CA 90631
When: Wednesday, June 19th
Time: 11:30 am – 1 pm

What: Greystone Manor Tour
Where: 1441 Whittier Boulevard, La Habra, CA 92833
When: Wednesday, June 19th
Time: 8:30 am – 4:30 pm

Placentia
What: Bon Voyage Party Miss Placentia/Miss Yorba Linda
Where: Emerald Isle, 660 North Rose Drive, Placentia, CA 92870
When: Wednesday, June 19th
Time: 5:30 – 7 pm

What: "Androids, Cyborgs, and Robots" Mad Science Camp for Children
Where: Hurless Barton Park
When: Monday, June 17th
Time: 9 am – 12 pm

For questions or comments regarding Nelson's E-News
please contact the Supervisor's office staff:
Audra Fishel Ph: 714-834-3440 Email: Audra.Fishel@ocgov.com.


Denis Bilodeau
Chief of Staff

Audra Fishel
Policy Advisor /
Communications Director

Steve Spernak
Policy Advisor

Scott Carpenter
Policy Advisor

Mark Lopez
Policy Advisor

Neha Sata
Executive Aide


Stay Connected!