Board of Supervisors

Welcome to Nelson's E-News!

I hope you all had a safe Fourth of July last week.

The County Board of Supervisors meetings have been dark for the past two weeks. The next meeting will be Tuesday, July 16 at 9:30am. Click here to view the agenda.

Despite the lack of Board meetings, there has been plenty of other activity this summer. First, please see below for details on OC Parks' third annual Sports Day in Fullerton.

Earlier today, the South Coast Air Quality Management District, the air pollution control agency for all of Orange County and the urban portions of Los Angeles, Riverside and San Bernardino counties, voted on a policy regarding fire pits along the beaches of the region. Please continue reading for details on this rule change.

Sincerely,
Shawn Nelson

AQMD

Supervisor Nelson fights to Preserve Beach Fire Pits

The Air Quality Management District (AQMD) board held a meeting today, July 12th at 9 A.M. to consider a rule banning fire rings at Southland Beaches under certain circumstances. The 13-member board voted to approve a rule that allows cities to prohibit fire pits in their jurisdictions if they make a determination that they are causing a nuisance.

Supervisor Nelson, serving as Orange County's member of the AQMD board, voted against the ban. Unfortunately, it passed on a 7-6 vote. Following the AQMD meeting, Supervisor Nelson concluded "It was unnecessary for the agency to pursue this ban as there are many more relevant issues that this board should be focusing on. If the AQMD is true to its mission to clean up the air, banning fire pits only in selected areas is not conducive to that goal."

For more detail on the board meeting please see article written by OC Register reporter Deepa Bharath: http://www.ocregister.com/articles/fire-516707-beach-rings.html

Under the new adopted plan, the SCAQMD would continue to allow beach bonfires in Los Angeles and Orange Counties as long as:

Beach fire pits are located at least 700 feet from the nearest residence; or
Fire pits are at least 100 feet apart (If a city has 15 or fewer fire pits, they must be separated by at least 50 feet.); and
Air quality for fine particulates (PM2.5) in coastal areas is not forecast to exceed 100 on the Air Quality Index. (This is expected to occur infrequently under special meteorological conditions.)
This past Sunday, July 7th, Supervisor Shawn Nelson attended a Bonfire Rally hosted by Assemblyman Travis Allen in support of the fire rings at Huntington Beach. Hundreds attended the rally to listen to speeches, enjoy free food and entertainment, and express their backing for a beloved beach tradition Supervisor Nelson was interviewed by KTLA 5 news reporter Elizabeth Espinosa regarding the fire rings and the AQMD's proposed ban. The report can be viewed by clicking here.

To sign the petition to demand that AQMD Board Members stop the efforts to remove the beach fire rings, please visit: http://savethefirerings.org/

Other related articles:

Fox News:
http://www.foxnews.com/politics/2013/07/11/california-regulators-look-to-curb-beach-bonfires-citing-climate-change/

KTLA:
http://ktla.com/2013/07/12/key-vote-expected-in-beach-fire-rings-debate/#axzz2YqgwYLWK

Good Day LA: http://www.myfoxla.com/story/22825001/southern-california-smog-agency-to-consider-fire-pit-regulations

Press Release from Friends of the Fire Rings: please click here.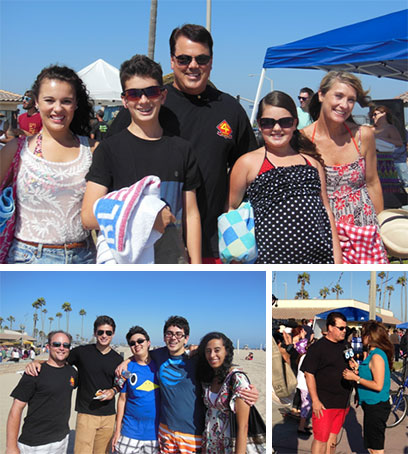 Top: Supervisor Nelson and his family enjoying a day at the beach and fire pits
Bottom Left: Nelson staff and family gather at the fire pits to roast smores
and enjoy the day
Bottom Right: Supervisor Nelson interviewed by Elizabeth Espinosa Channel 5

OCTA



SR-57 Special Alert - Three-Week On-Ramp Closure at Imperial Highway

Beginning Sunday, July 14, the northbound SR-57 on-ramp for commuters traveling eastbound on Imperial Highway will be closed for 3 weeks. The on-ramp for commuters traveling westbound will remain open during this time.

Once completed, the northbound SR-57 project will add a new 8-mile lane from Katella Avenue in Anaheim to Lambert Road in Brea, as well as widen the existing lanes and shoulders. The project is intended to improve mobility, facilitate the movement of goods and enhance safety on the 57 freeway.

Board Updates



County Parks Director Named Chief Operating Officer

County Executive Officer Michael B. Giancola has selected Mark R. Denny, formerly Director of OC Parks, to become the County's first Chief Operating Officer effective July 5, 2013. "Mark's ten years of experience with the County of Orange will be invaluable in his role as Chief Operating Officer," said Giancola. "The Chief Operating Officer will provide direct supervision over all appointed County agencies and departments, ensuring consistency in direction and aiding in the development of coordinated strategies to implement County goals."

Denny has served as Director of OC Parks since April 2008, with responsibilities for developing and managing an annual budget in excess of $100 million. During his tenure, he facilitated the largest real estate transaction in Orange County history, the donation to the County of 20,000 acres of open space that was part of the historic Irvine Ranch. Denny first joined the County in February 2003, serving as Chief of Staff to then Third District Supervisor Bill Campbell. His private sector management experience includes positions with Allergan, Inc., the American Watercraft Association and as a public affairs consultant.

A graduate of California State University, Fullerton, with a Bachelor of Arts Degree in Political Science, Denny currently serves as President of the National Association of County Park and Recreation Officials and represents the County on the Board of the Nature Reserve of Orange County, where he is the President and Executive Committee Chair. Denny is also a member of the Board of Directors of the National Association of Counties. He is a graduate of the Orange County Sheriff's Reserve Level III Academy and the Orange County Leadership Academy.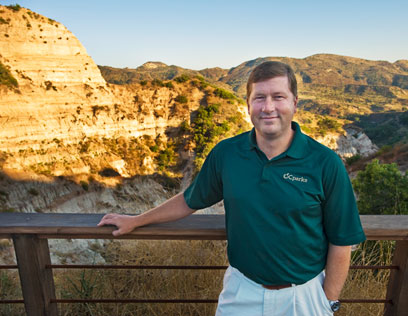 Mark Denny, Chief Operating Officer

Registrar of Voters Election Academy

The Orange County Election Academy is a great way to discover how elections are produced amidst an environment where transparency is a critical component. Our unique program offers a broad range of election specific sessions. As a result we have developed a curriculum to match our award-winning operations. We're committed to making elections in Orange County the highest quality and our Election Academy reflects these values.

We offer up-to-the-minute details about the specific dates, times and length of each class. We hold all of the sessions in the evening, making it easy on individuals working so that they can attend all sessions.

Due to the composition of the courses and the format of the program the Registrar of Voters requires mandatory attendance at all sessions. Although students may not pick and choose which classes to take, there are limited exceptions. For the full experience it is important to attend every class. There is no cost to attend the Election Academy - it is a complimentary program provided by the Orange County Registrar of Voters. Those interested in applying for the Election Academy must first read details on the application process and complete an application form.

For additional details contact our Election Academy Coordinator at 714-567-5197, or download a free brochure describing the program in detail.

In the Community

Supervisor Nelson Speaks to Orangewood PALS

On Tuesday July 9th Supervisor Nelson was invited to speak to the Orangewood PALS and a group of children in foster care at the Orangewood Children's Home. Supervisor Nelson enjoyed meeting with PALS volunteers and the children and answered a wide variety of questions ranging from operations of John Wayne Airport to his dog's name. Orangewood PALS is a volunteer group established in 1996 with the goal of providing assistance, love, and support to Orange County's children. The mission remains to have a positive impact on the issues of child abuse and neglect in Orange County and to show abuse victims that they matter and provide them with unconditional love and support. It was a true privilege for Supervisor Nelson to visit PALS on Tuesday and the Fourth District Office applauds them for their good work. For more information on Orangewood PALS, please visit: http://www.orangewoodpals.org/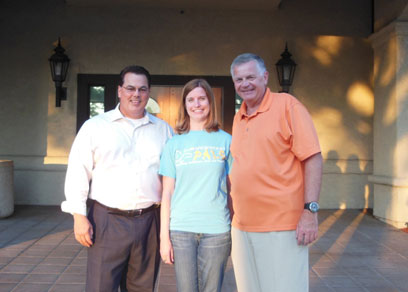 Pictured: Supervisor Shawn Nelson with PALS Board Member Jessica O'Hare and Cal Winslow with the Orangewood Foundation

Nelson Celebrates 25th Anniversary of Anaheim's July 4 Gala

Supervisor Nelson was proud to be part of the 25th Annual City of Anaheim 4th of July celebrations at Canyon High School last week. Congratulations were extended to Mayor Tait and his wife Julie for their support and finishing the 5-10k run with 1,300 other participants. The highlight of the day was not only the 10k run, dog show, and afternoon parade, but seeing the incredible coordination of 40 sponsors and donors who pulled together another morning of magic with pancake breakfasts by the Anaheim Hills Rotary and Influence Church who brought 80 members to handle the logistics and event management efforts.

Special thanks to Michelle White Laizure for her work behind the scenes with Influence Church congregation and updates she provided on how the day was coming together. The publicity and planning was a terrific blend of the Anaheim Chamber of Commerce, the Canyon Hills Community Council and Influence Church that was enjoyed by over 10,000 people who later enjoyed the parade from Peralta Park and night-time fireworks.

The Anaheim Chamber of Commerce will take over most of the management for the 2014 Independence Day event. Sponsors and donors are invited to contact Chamber events manager Sandy Morales at (714) 758-0222.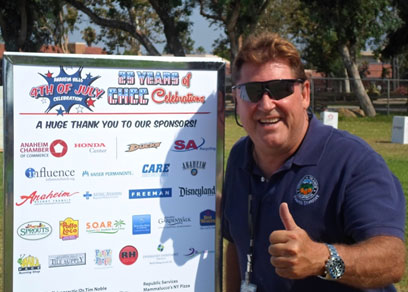 Policy Advisor Steve Spernak walked the post-10k runners' venue to thank supporters, donors and community teams for their participation July 4th.

JP23 BBQ & Smokehouse Grand Opening

JP23 Restaurant & BBQ celebrated their grand opening on Friday afternoon, June 21, to great fanfare from friends, dignitaries and fellow chamber members. The restaurant offers multiple flat screen televisions for every sports fan to enjoy games throughout the year. Specializing in BBQ, JP23 has its own smoke house and more than twenty wing flavors from which to choose, platters to share and even a few vegetarian options.

JP23 Restaurant & BBQ is located at 101 S. Harbor Blvd., Unit A, in Fullerton. For more information, please call (714) 888-5055. The proud CEO, Jacob Poozhikala, has lived in Orange County with his family for more than a decade.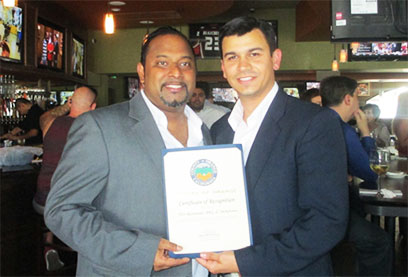 Supervisor Nelson staffer Mark Lopez congratulates CEO Jacob Poozhikala on his restaurant's launch.

OC Parks


Sports Day Event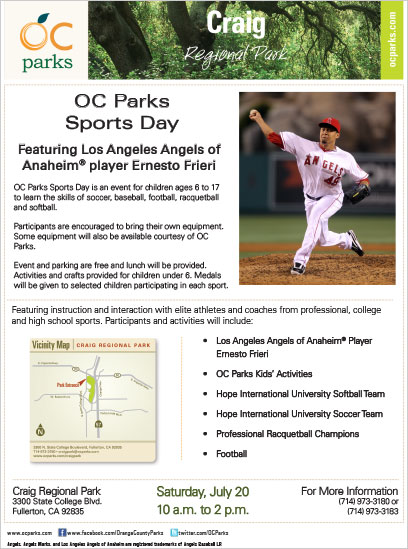 Click on the image above to view a larger version.

County Commissions and Committees

The 4th District has vacant appointments on the following commissions or committees:


Community Action Partnership of Orange County
Oversight Board of the Successor to the City of Redevelopment Agency (Buena Park and Anaheim)
If you are interested in serving on one of these Committees, please call Audra Fishel at (714) 834.3440

OC Animal Care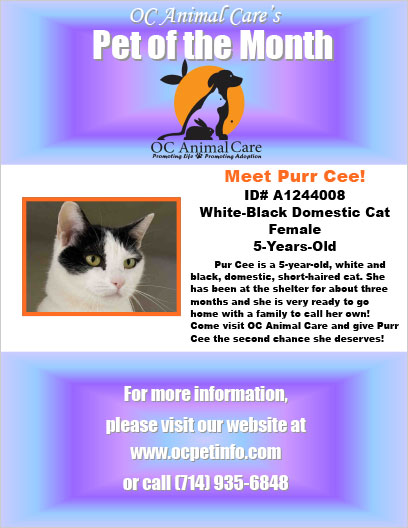 Click on the image above to view a larger version.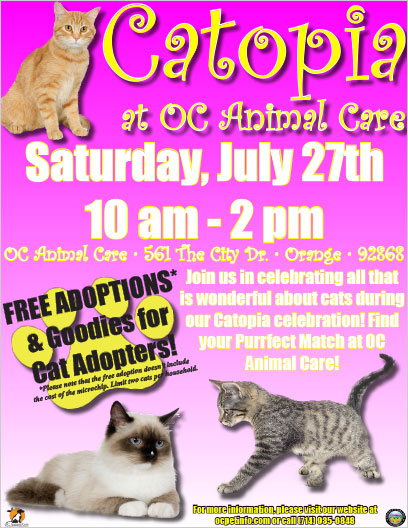 Click on the image above to view a larger version.

Library Corner
Bento Box Workshop for Teens at the Buena Park Library

Teens can make their own delicious bento box lunch on Saturday, July 20th from 2:30-4:00 p.m. Bento boxes are yummy, healthy lunches that are all the rage in Japan. Space is limited to 30 participants.

For more information, please call the library at (714.) 826.4100 x125, or visit our virtual branch at www.buenaparklibrary.org. The Buena Park Library District is located at 7150 La Palma Ave., Buena Park, CA. The Library is open Tuesday through Thursday, 10:00 a.m. – 8:00 p.m. and Friday and Saturday, 10:00 a.m. – 5:00 p.m.

Announcements
Nelson Intern graduates from UCI

Supervisor Nelson and his staff would like to congratulate Policy Intern Chris Barber for graduating from UCI this past week. Chris will use his B.A. degrees in Urban Studies and Classical Civilization to pursue a career in city and strategic planning while continuing to advance the Supervisor's agenda of service and communications to constituents of the 4th District. In addition to interning at the Board offices, Chris is also an intern at the OC Public Works Planning Department. Seen below, Chris in his moment of accomplishment: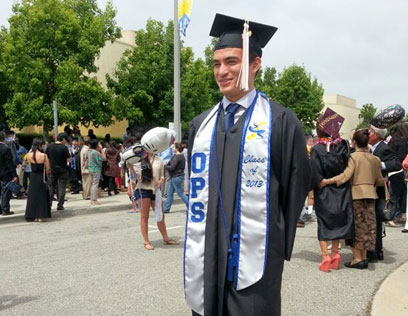 Christopher Barber

Events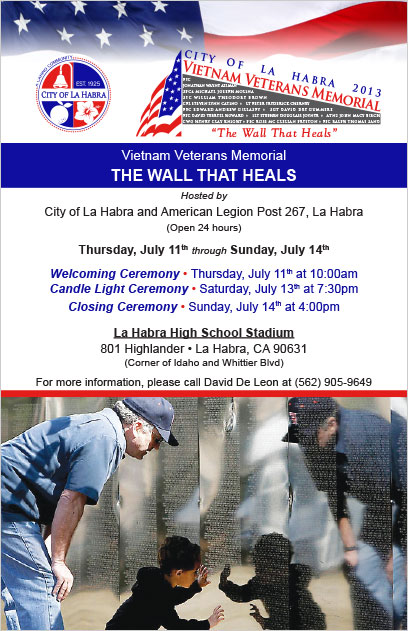 Click on the image above to view a larger version.

Anaheim

What: Concerts in the Canyon featuring "DSB," a "Journey" Tribute Band
Where: Ronald Reagan Park, 945 S. Weir Canyon Rd.
When: Thursday, July 18th
Time: 6:30 p.m.

What: Island Hoppin' Steel Drum Band
Where: Pearson Amphitheatre: 401 N Lemon St. , Anaheim, CA 92805
When: Saturday, July 20th
Time: 6:30 p.m.

Brea

What: Farrell's 4th Annual Splendiferously Superific Summer Spectacular Ice Cream Eating Challenge
Where: Farrell's Ice Cream Parlour, 215 S. Brea Blvd., Brea, CA 92821
When: Sunday, July 21st
Time: 11 a.m.

What: Family Films: "Finding Nemo"
Where: Arovista Park, 502 E. Imperial Highway, Brea, CA 92821
When: Friday, July 19th
Time: 8 p.m.

Buena Park

What: Outdoor Summer Concert Featuring "Mariachi Tesoro de San Fernando"
Where: Boisseranc Park, 7520 Dale St.
When: Friday, July 17th
Time: 7 - 9 p.m.

Fullerton

What: "The Legends and Legacies: The First 100 Years of Fullerton College"
Where: Fullerton College, 321 E. Chapman Avenue, Fullerton, California, 92832
When: Sunday, July 14th
Time: 12 p.m.

What: "Walk and Talk Around Town" with Mayor Bruce Whitaker
Where: Laguna Lake Park, 3120 Lakeview Road
When: Tuesday, July 23rd
Time: 6:30 p.m.

La Habra

What: Tissue Paper Turtle Art Making Event
Where: Family Art Center in La Habra
When: Tuesday, July 16th
Time: 12 p.m.

What: Vietnam Veterans Memorial: The Wall that Heals: Day 4
Where: La Habra High School Football Stadium, 801 W. Highlander Ave.
When: Saturday, July 13th
Time: 7:30 – 8:30 p.m.

Placentia

What: Movies in the Park: "The Lorax"
Where: Placentia Champions Sports Complex, 505 S. Jefferson St., Placentia, CA 92870
When: Friday, July 12th
Time: Dusk

What: Concerts in the Park: 'The Doo-Wah Riders"
Where: Tri-City Park, 2301 N. Kraemer Blvd., Placentia, CA 92870
When: Thursday, July 18th
Time: 6:30 p.m.



For questions or comments regarding Nelson's E-News
please contact the Supervisor's office staff:
Audra Fishel Ph: 714-834-3440 Email: Audra.Fishel@ocgov.com.