Board of Supervisors

Welcome to Nelson's E-News!

Thank you to everyone who participated in the fourth annual OC Parks Sports Day at Craig Park in Fullerton. This year was the highest turnout of attendees since we began in 2010 and included multiple sports geared toward teaching children the fundamentals in each game. In addition, we are grateful and fortunate to the county staff, food vendors, coaches and the Angels for helping to create an educational and memorable experience for the youth in Orange County. Please join us again next year and in the meantime visit the parks year-round to enjoy all the amenities offered.

There have been several outreach events taking place to highlight the many transportation improvements occurring in the Fourth District. Namely, I attended the groundbreaking of the Orangethorpe and Tustin/Rose grade separation projects this week. In addition, OCTA staff hosted a booth at a recent Anaheim Farmers' Market to update the public on the widening of the 57 northbound and 91 westbound freeways. Please continue reading for more detailed information.

Sincerely,
Shawn Nelson

Board Updates



Legislative Update

The Board received a quarterly update on the federal budget and its effects on Orange County. Among the highlights, the Army Corps of Engineers dedicated an additional $5.5 million to the Santa Ana River project.

There are several funding discrepancies for programs by the House and the Senate that will need to be reconciled. By the end of FY 2013 on September 30, the federal deficit will have decreased by 25% from FY 2012, from just over $1 trillion to about $750 billion. Additionally, further spending cuts of around $110 billion could occur to domestic and defense programs next year.

Regarding the Affordable Care Act, enrollment begins October 1 in advance of the January 2014 implementation. However, the Administration has announced a delay in enforcing penalties next year on employers with 50 or more employees if they do not provide health insurance by the January deadline. This is expected to benefit approximately 5% of employers in that category who do not already provide health insurance to their employees. In response, legislation has been proposed to also exempt individuals from penalties in 2014 if they do not purchase insurance.

Please click here for the full presentation.

Announcement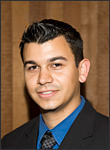 Congratulations to Mark A. Lopez of my office, who has recently been promoted to Deputy Chief of Staff. Previously serving the Fourth District as an aide to former Supervisor Chris Norby, Mark contributed critical assistance and guidance in the transition following my 2010 election. His portfolio includes:

Southern California Association of Governments (SCAG)
Orange County Council of Governments (OCCOG)
Clerk-Recorder
Office of Independent Review
Registrar of Voters
Sheriff's Department
Mark graduated from California State University Fullerton with a B.A. and M.A. in Political Science. An Orange County native, he is also a Fourth District resident, having lived in the City of Anaheim for the past twelve years and presently serves on the Anaheim Sister City Commission.

OCTA



Outreach Team Highlights SR-57 Project at Anaheim Farmer's Market

The Orange Freeway (SR-57) outreach team participated Thursday, July 18 in the Anaheim Farmer's Market, a weekly event in downtown Anaheim that draws thousands of residents.

More than 20 people visited the OCTA booth where the project team shared information about the bridge work taking place at Katella Avenue and Douglass Road in Anaheim as part of the SR-57 Northbound Widening Project.

Residents inquired about construction work near the Honda Center and other project details. When completed in 2014, the SR-57 project will add an eight-mile, northbound general-purpose lane from Katella Avenue to Lambert Road. It also will include several operational improvements including new striping, lighting and realigned ramps.

The outreach team also shared information on other projects currently under way in central and northern Orange County, including the O.C. Bridges program and the widening of the westbound Riverside Freeway (SR-91).

Updated OC Bikeways Guide Now Available

OCTA has released the 2013 edition of the OC Bikeways Guide to help cyclists navigate every inch of Orange County's 1,000 miles of bikeways.

The comprehensive guide includes:

A large map of the county's bikeway system
Tips on bicycle safety and sharing the road
Information about taking bikes on OCTA buses or Metrolink trains
Excerpts of the California Vehicle Code related to cyclists
A list of bike locker locations, for cyclists who want to store their bikes for a short period of time
The 2013 guide has been revamped to include these new features:

A new design to enhance readability
80 local bike shops have been listed and plotted on the map, making it easy for cyclists to find the shop closest to them when they need to pick up supplies or repair a flat tire
Steep grades are identified along popular routes, helping cyclists to plan their trip according to their comfort level and riding ability
OCTA would like to thank everyone who provided feedback and helped identify local bike shops. To request printed copies of the 2013 OC Bikeways Guide, please email the rideshare team at sharetheride@octa.net

OC Bridges Update

Sitting at rail crossings in north Orange County will soon be a thing of the past as the Orange County Transportation Authority held a groundbreaking this week on two more projects that will separate street traffic from trains.

The Orangethorpe Avenue and Tustin Avenue/Rose Drive grade separation projects form the second segment in a series of projects in Anaheim, Fullerton and Placentia known as the OC Bridges program. Once complete, OC Bridges will reduce driver wait times, decrease pollution from vehicle idling and improve safety.

At a cost of $117 million, the Orangethorpe project will require reconstructing the street and building a bridge over the railroad tracks, which is anticipated to finish by 2017. With a price tag of $103 million, the Tustin/Rose project has an expected completion date at the end of 2016 and will also be an overpass.

The entire OC Bridges program is $600 million and funded through Measure M, Orange County's half-cent sales tax for transportation improvements, in addition to state and federal dollars.

Placentia Avenue and Kraemer Boulevard began construction in early 2012 and are slated to re-open in mid-2014. Work on Lakeview Avenue, Raymond Avenue and State College Boulevard is anticipated to begin early next year.

For more information on locations, street closure alerts and recommended detours, please visit www.ocbridges.com.

Please click here for the program map.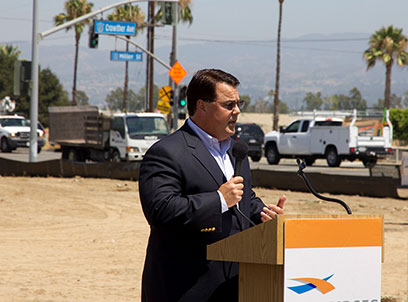 Supervisor Nelson at the Orangethorpe Avenue Groundbreaking

In the Community

OC Parks Sports Day

On Saturday, July 20th OC Parks was pleased to host the fourth annual OC Parks Sports Day at Craig Regional Park in Fullerton. The event welcomed renowned athletes and teams from seven different types of sports for an action packed day of activities.

Children and teens were taught athletic skills from the pros in soccer, baseball, football, racquetball, and softball at Sports Day. Los Angeles Angels® of Anaheim pitcher Ernesto Frieri was on-site coaching kids in the techniques of the sport. Hope International University Soccer and Softball teams along with players from the World Outdoor Racquetball are just a few of the athletic groups that were instructing the children that day.

Orange County 4th District Supervisor Shawn Nelson joined the event to coach the football portion of the event and present the awards at the end of the day.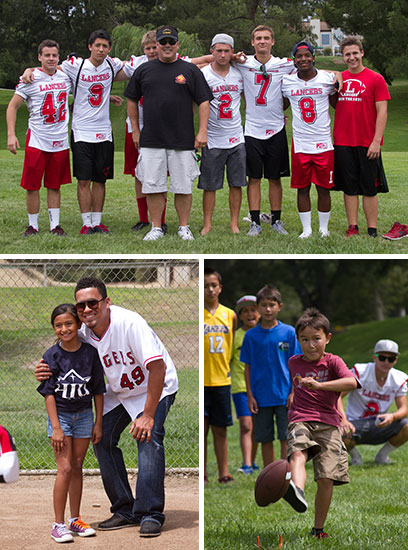 Top: Shawn Nelson surrounded by Orange Lutheran Football players
Bottom: (Left) Ernesto Frieri poses for a photo (Right) Enthusiastic sports day participant at the football station

Ribbon Cutting – 601 Bar and Grill

On July 12, 601 Bar and Grill celebrated its official launch surrounded by supportive friends, local dignitaries and loyal chamber members. Featuring a full bar, 16 large flat-screen televisions and multiple pool tables, the 601 Bar also hosts live bands several times a week. Open daily until 2:00 a.m., Fullerton's newest addition is located at 601 South Raymond Avenue 92831, north of Orangethorpe Avenue. For more information, including directions, menu items and special promotions, please visit www.the601club.com or call (714) 871-7390.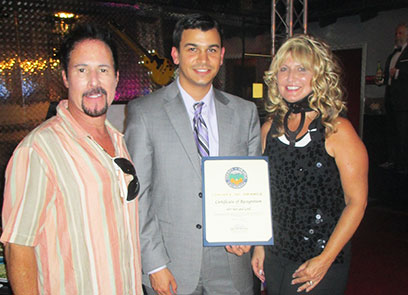 Pictured above, Policy Advisor Mark Lopez (center) congratulates co-owners and happily married couple Brad and Pam Wessler on the opening of 601 Bar and Grill.

Celebrating 60 Years of Renick Cadillac

Supervisor Nelson was honored to recognize an industry legend in car sales with his Certificate of Recognition presented this week to General Sales Manager Joe Patterson as celebrations taking place this week honored the 60th anniversary of Renick Cadillac. The agency hosted the Fullerton Chamber of Commerce on July 19th with a ceremonial ribbon cutting that can be seen on their website at www.FullertonChamber.com.

Renick Cadillac, located at Euclid and Orangethorpe in Fullerton, delivers their motto of 'Life, liberty and the Pursuit' with an outstanding sales staff and service center that is run by some of the most outstanding professionals in the industry.

Renick is a 21st century company that even offers the buyer the option to request a quote or inquire about financing options before you even make an appointment. For more information on how you can be part of the legendary Cadillac owner's family, call GM Joe Patterson at Renick at (714) 871-9300.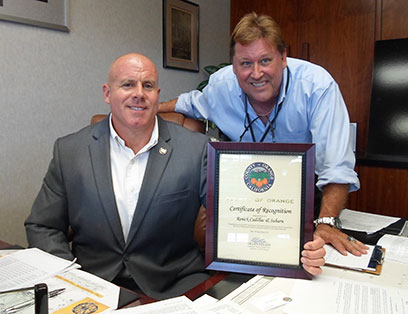 Renick Cadillac General Manager Joe Patterson accepted the 60th anniversary Certificate of Recognition from Policy Advisor Steve Spernak.

Ribbon Cutting – Sue Ann's American Kitchen

Sue Ann's American Kitchen brings classic recipes to life. This is the great American food that once graced the owner's dining rooms and dinner parties when her mother – inspired by a cooking show or magazine – stretched her culinary ability to put something fabulous on the table. Sue Ann's is fancy food that's down to earth. Sue Ann's is located at 1450 N. Kraemer Blvd. in Placentia at Yorba Linda Blvd. For more information, please contact (714) 961-1377.

Owner Robin Smith poses for a photo with Supervisor Nelson's Policy Advisor, Mark Lopez, in front of a bank of vintage televisions on display to complement the antique feel of the restaurant's interior.

CSUF Benefits Forum

With 50 Veterans in attendance, Supervisor Nelson was honored to attend the OC Veterans Advisory Council hosted by Assemblywoman Sharon Quirk-Silva. Supervisor Nelson introduced the new OC Veterans Resource Directory that was produced in cooperation with the OC Community Services Agency and the Veterans Service Office. The guide offers a variety of contact and networks that aid Veterans of all ages.

Supervisor Nelson also introduced a new collaborative called the Veterans and Military Families Coalition which is under the direction of Christine Lopez of the American Red Cross and Deanne Tate of Veterans First of OC. The coalition is a collaborative of almost 100 agencies, non-profits, churches, caregivers, government agencies and individual technicians who specialize in helping Veterans or their families. For information on this innovative OC Veterans project please contact Christine Lopez at (714) 481-5238 or Steve Spernak with the office of Supervisor Nelson at (714) 834-3542.

Dr. Kandy Mink-Salas, associate vice president of student affairs at CSUF covered all the details of their offices mission to help Veterans on their academic journey with info on grants and scholarships as well as courses and specialties that compliment their transition to civilian life.

The conclusion of the briefing included a legislative update on efforts to give Veterans in-state tuition fees for their first year in a California college as both an incentive and benefit for serving America.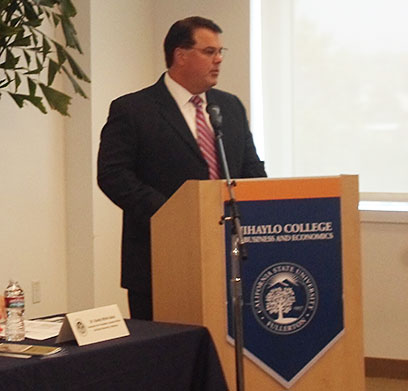 Supervisor Nelson addresses the group at Cal State Fullerton

OneOC Awards

Supervisor Nelson was honored to recognize 111 senior volunteers at the annual awards luncheon of OneOC at the Hacienda Restaurant in Santa Ana this past week. The awards were presented in two stages, with anniversary certificates to volunteers for their stages of community service from 5 to 20 years-given first. The second stage of honors then went to 111 members who accomplished the incredible accomplishment of donating over 4,000 hours of their lifetime as community volunteers.

Each honoree received an individualized Certificate of Recognition from Supervisor Nelson to recognize their selflessness and commitment to the safety and quality of life of residents in their respective communities throughout Orange County. After an inspiring keynote address Sister Eileen McNerney, the final presentations by Ursula Walsh, Executive Director of OneOC and Cindy Braun, OneOC Project Manager, went to three distinguished legends of volunteerism in Ken Katz, Claire Ness and Altha Gardner.

This year, OneOC will be honoring our RSVP members that have earned the "Lifetime Achievement Award" for serving 4,000 or more hours in the retired senior volunteer program. To be a volunteer or get more information on how you or your friends can be part of this fantastic program, please call the OneOc at (714) 953-5757 or email Cindy Braun at cbraun@oneoc.org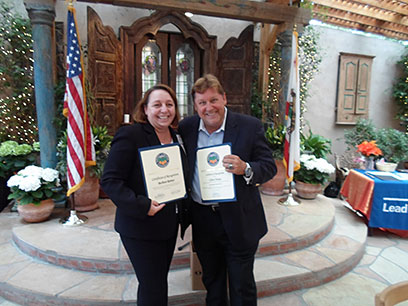 OneOC Executive Director Ursula Walsh and Fourth District policy advisor Steve Spernak

La Habra Presents "The Wall That Heals" Vietnam Memorial

A journey in time and tears took place this past weekend as Gold Star Moms and families attended the City of La Habra presentation of "The Wall That Heals" Vietnam Memorial traveling replica at La Habra High School stadium. Two years of planning by City Recreation Director Dave DeLeon, Executive Chairman Raul Luna, Chuck Morse and the members of the American Legion 267 brought the engraved monument of 58,267 names of patriots who paid the ultimate sacrifice for freedom during the Vietnam War.

Supervisor Nelson presented a keynote on how the war touched his family in his story of Dennis W. Patterson. Patterson was a Navy helicopter pilot and rescue specialist who went to the aid of downed American pilots shot down in combat over Vietnam. Patterson was married and unbeknownst to him, a father –to-be, when he made his last deployment in 1966. Patterson was part of the rescue of a downed pilot when his aircraft took enemy fire and his life in the jungles of Vietnam. He never was to meet his infant daughter, Denise, who went on to be best friends of the Supervisor's wife, Sharon. Denise never knew the heroics of her dad until recently when she was notified by the Department of Defense that her dad's remains had been located and returned after 40 years. Sharon and Shawn found the Patterson name etched on the wall and placed a candle and a copy of Psalm 91 at his marker to send a prayer and promise that he would never be forgotten for the courage and sacrifice he made trying to save the life of another American in peril.

Supervisor Nelson's office was honored to donate candles to the Gold Star parents and widows who later placed them at the names of their sons and husbands. The candles that glowed in the ink-black night sent a signal to heaven that their lives will be celebrated for all eternity as heroes of their families, communities and this nation.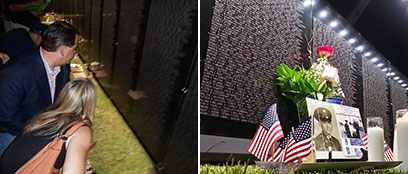 (Left) Supervisor Nelson joins his wife Sharon at the memorial site of Navy Pilot and patriot Dennis W. Patterson. (Right) Gold star Moms and wives received candles to place at their son's and husbands memorials at the emotional Saturday night candle light vigil

OC Veterans Advisory Council

On Thursday, July 18th, the Orange County Veterans Advisory Council hosted its annual off-site meeting at the City of Brea Civic and Cultural Center. In attendance was Supervisor Shawn Nelson, who expressed his utmost appreciation to Member at Large and US Navy Veteran Ron Garcia during opening remarks. The Supervisor extended his commendations to Lee Dorman for his legacy of service with OCVAC as an outgoing Chairman and lifetime advocate for Veterans rights and communications. Supervisor Nelson also commended Lou Jones for her 29 years of service to OCVAC in which she handled event planning, communications and committee administration. Ms. Jones is currently serving the county on a new assignment at the Office on Aging.

Some highlights at the meeting included Chairman of OCVAC Bobby McDonald's introduction of John Kraft, field director for California Veterans, Veterans Services Division. Kraft shared with all attending that the State of California is ranked number 1 in the nation for backlogs of Veteran casework and benefits filings. That said, Kraft offered hope by announcing that the CalVet program will be establishing a 12- man committee, which will streamline the filings in the OC Veteran Service Office and work to better explain the front-end portion of applications to its clients. It will assist veterans by eliminating minor registration mistakes that ultimately results in stacks of pending files. It was announced that Gabe Caganap will be the new CalVet LINC representative for Orange County and will be available soon to help with Veteran claims and benefits. Also highlighted was the announcement from presenter Bobby Ortiz of Volunteers of America that his grant was accepted and that he will soon open an OC office where on-site staff will assist Veterans in securing housing and prevent homelessness. Bobby Ortiz can be reached at (213) 389-1500, extension 7679.

Chairman McDonald thanked Policy Advisor Steve Spernak for his attendance at the Memorial Day Wheelchair for Warriors giveaway at the Long Beach Veterans Hospital and for Shawn Nelson's participation & support at the City of La Habra "Wall that Heals" Vietnam memorial event.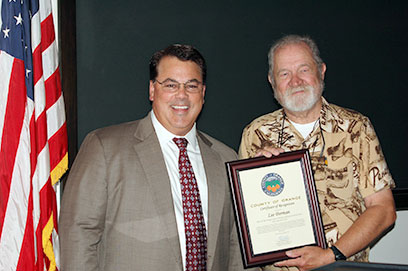 Supervisor Nelson and Lee Dorman

OC Parks


Birding Hike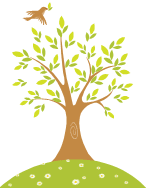 Spot local native and summer resident birds with Laguna canyon Foundation volunteer naturalists on this slow and easy 2-mile walk through a landscaped suburban parkland setting at Laguna Niguel Regional Park. Wear hiking or walking shoes; bring binoculars!

Age: 12 and up
Parking: $5 per car, per entry
Donation: $2 per person
Online reservations required
Location: Enter park and make a right turn at the T intersection. Make a left into the first parking lot and meet at the far end.
Location: Laguna Niguel Regional Park
Date: 7/28/2013
Time: 7:00AM – 10:00AM
Click Here For Online Reservations

County Commissions and Committees

The 4th District has vacant appointments on the following commissions or committees:


Community Action Partnership of Orange County
Oversight Board of the Successor to the City of Redevelopment Agency (Buena Park and Anaheim)
If you are interested in serving on one of these Committees, please call Audra Fishel at (714) 834-3440

OC Animal Care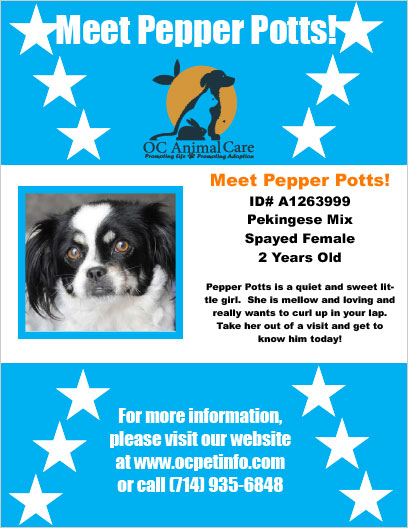 Click on the image above to view a larger version.

Announcements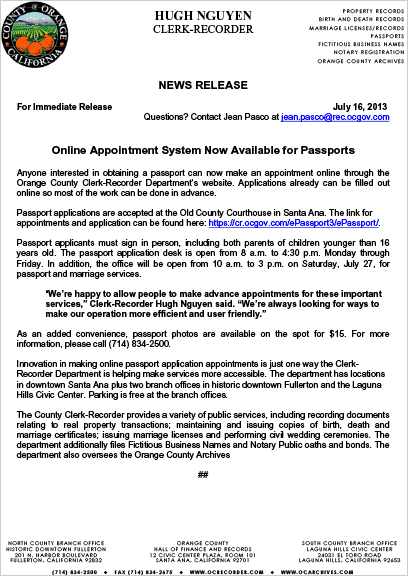 Click on the image above to view a larger version.

Events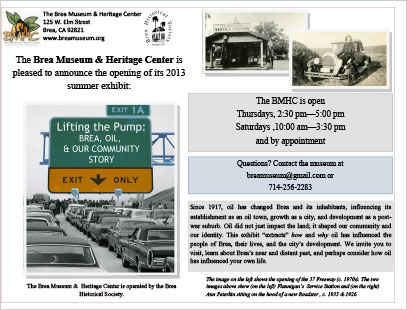 Click on the image above to view a larger version.

Anaheim

What: Sky Zone Anaheim Ultimate Dodgeball Qualifier
Where: 1301 North Kellogg Street
When: Thursday, August 1st
Time: 6 p.m.

What: National Nightout Anaheim Celebration
Where: Eucalyptus Park, 100 North Quintana Drive
When: Tuesday, August 6th
Time: 5 – 8 p.m.

Brea

What: Family Films in the Park: "Wreck It Ralph"
Where: Arovista Park, 500 W. Imperial Highway
When: Friday, July 26th
Time: 8 p.m. – 10 p.m.

Buena Park

What: The Great Splash
Where: Peak Park, 7225 El Dorado D
When: Thursday, August 1st
Time: 12 p.m.

Fullerton

What: Fullerton Library Presents "Partners in Chime"
Where: Fullerton Public Library, 353 W. Commonwealth Ave.
When: Monday, July 29th
Time: 7 p.m.

What: Dog Days at the Fullerton Market
Where: Fullerton Museum Center, 301 N. Pomona Ave.
When: Thursday, August 8th
Time: 4 p.m. – 8:30 p.m.

La Habra

What: Target Free Day: Critter Quest
Where: The Children's Museum, 301 S. Euclid St.
When: Sunday, August 4th
Time: 1 p.m. - 5 p.m.

Placentia

What: Movies in the Park – "Wreck It Ralph"
Where: Tri-City Park, 505 S. Jefferson St.
When: Friday, July 26th
Time: 6:30 p.m.

What: Concerts in the Park – Placentia Symphonic Band
Where: Tri-City Park, 505 S. Jefferson St.
When: Thursday, August 1st
Time: 6:30 p.m.

For questions or comments regarding Nelson's E-News
please contact the Supervisor's office staff:
Audra Fishel Ph: (714) 834-3440 Email: Audra.Fishel@ocgov.com.