Board of Supervisors

Welcome to Nelson's E-News!

In this week's newsletter, there are multiple events to bring to your attention. Below, please find some information on next weekend's traffic schedule affecting the I-405. In the community, my office participated in an annual County Clean-Up Day in unincorporated Anaheim. This offered County residents the opportunity to rid themselves of any unwanted belongings that may have accumulated over the years. I also had the chance to attend the 65th annual La Habra Corn Festival.

The Board of Supervisors meeting was dark this week. The next meeting will be on Tuesday, August 13 at 9:30am in the County Hall of Administration, 333 West Santa Ana Blvd., Santa Ana, 92701.

Sincerely,
Shawn Nelson

OCTA



I-405 Full Shutdown Planned For 'Bridge Bash' in Orange County Aug. 17-18

Orange County's "Bridge Bash" will be a 20-hour closure of the San Diego Freeway (I-405) in both directions from 9 p.m. on Saturday, Aug. 17 through 5 p.m. on Sunday, Aug. 18, between the San Gabriel River Freeway (I-605) and Valley View Street in Westminster.

Crews will demolish the bridge linking the southbound I-405 to eastbound Garden Grove Freeway (SR-22) as part of the West County Connectors project. Construction of a new connector bridge was completed late last month and is now being used by drivers.

Traffic on I-405 between Orange and Los Angeles counties averages approximately 370,000 vehicles each day, making it one of the busiest in the nation.

Caltrans also will be taking advantage of this 20-hour closure to conduct maintenance activities that would normally require separate closures over a seven-day period.

Drivers heading north on I-405 should use one of the following detours:

Exit Beach Boulevard and turn right; take the westbound SR-22 on-ramp to reconnect with northbound I-405
Exit Westminster Avenue (east) and turn left; turn right on Bolsa Chica Road; take the westbound SR-22 on-ramp to reconnect with the northbound I-405
Exit Valley View Street and turn left on Garden Grove Boulevard; turn right on Valley View Street; take the westbound SR-22 on-ramp to reconnect with northbound I-405
Drivers heading south on I-405 should use one of the following detours:
Exit Studebaker Road and turn right; turn left on E. 2nd Street / Westminster Avenue; continue on Westminster Avenue to access southbound I-405
Merge onto northbound I-605; exit Katella Avenue and turn right; turn right on Valley View Street to access southbound I-405
Drivers traveling south on I-605 should use the following detour:
Exit Willow Street and turn right; turn left on Studebaker Road; turn left on E. 2nd Street / Westminster Avenue; continue on Westminster Avenue to access southbound I-405
Drivers traveling on 7th Street / eastbound SR-22 should use the following detour:
Merge on northbound I-605; exit Katella Avenue and turn right; turn right on Valley View Street to access southbound I-405

The $277-million West County Connectors project will improve traffic flow by directly connecting carpool lanes on I-405, I-605 and SR-22. In addition, a second carpool lane will be constructed on I-405 between SR-22 and I-605.

The 6-mile project traverses the cities of Garden Grove, Westminster, Seal Beach, Los Alamitos, Long Beach and the community of Rossmoor.

Started in 2010, construction on the West County Connectors project is expected to be complete in late 2014 or early 2015.

For more information regarding the upcoming closure, visit www.octa.net/bridgebash

In the Community

Anaheim Community Cleanup at Independencia Center

Congratulations to the staff and friends of the Anaheim Independencia Center of Garza Street for coordinating with OC Public Works for another successful Community Cleanup Day on July 27th.

The program is funded with special grants through the OC Waste and Recycling Department that used the day-long project as part of their OC Planning and Neighborhood Preservation Services under the direction of Eric Hull and Isabel Rios at the County of Orange.

Thanks to the delivery of door-hanger informational print pieces put on hundreds of residences by Agriculture Commissioner Rick Lefeuvre there was plenty of advance notice for the residents.

For this year's deployment, the 8 dumpsters, measuring 40 ft each, were brought in by partner Republic Services and left at 6 streets surrounding the Independencia Center. Residents took full advantage of the free refuse and recycling pickup and brought out several tons of used appliances, swing-sets, canoes, cement block, tree stumps and roofing debris to be taken out of their yards and driveways at no cost.

After the morning's cleanup efforts, Fourth District Policy Advisor Steve Spernak, joined by Teresa Martinez from the Community Center, delivered their traditional onions-bacon-pickles-tomatoes bratwurst classics on French rolls with potato salad and sodas for the volunteers, staff and residents who walked up for the lunch.

For more information on how you can be part of the next Community Cleanup project, please call Erica Carlos at 714 667-8896 or Steve Spernak at the 4th District offices of Shawn Nelson at (714) 834-3542.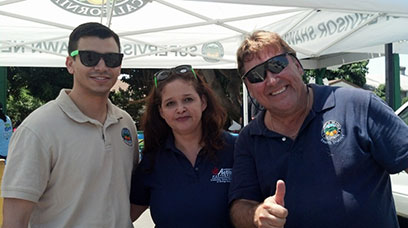 (Left to Right) Mark Lopez, Teresa Martinez, and Steve Spernak

La Habra Corn Festival 2013

Congratulations to the La Habra Host Lions, City Council and Chamber of Commerce for delivering the 65th edition of the Corn Festival this past weekend. With thousands of residents and guests from all over the southland lining La Habra Blvd., Supervisor Nelson enjoyed the morning meeting friends and families before making the 1 mile ride on the Corn Festival Parade.

Thanks to Chamber Director Mark Sturdevant, the Supervisor was able to secure the services of John Manifor who drove Shawn in his 1910 Overland classic antique car. The parade went super with marching bands and community groups enjoying the morning and cheers from thousands who lined La Habra Blvd.

The Corn Festival has been a success for decades and continues to be the highlight of the social calendar in La Habra. The Corn Festival, located centrally in La Habra at El Centro /Lions Park has been expanded to cover an entire weekend and now includes numerous rides and attractions, independent food, game and craft booths, live music, a car opportunity draw contest, Miss La Habra, our queen and her court! The weekend kicked off on Friday evening then continued on Saturday morning with a traditional mile long parade which is the oldest and one of the largest summer parades in Southern California. Afterwards the fun continues through Sunday evening at the park with traditional contests and entertainment.

The net proceeds from the festival are their largest fundraiser and are donated to support various La Habra based non profits agencies as well as regional, National and Global Lions International focus charities and causes. A partial list includes Lions Clubs International Foundation, Lions Eye Foundation, Southern California Lions Eye Institute, City of Hope, Canine Companions for Independence, Teen Recognition, the La Habra Boys and Girls Club, Help for Brain Injured Children, The Gary Center, Advance!, On to College, Youth Sports, Senior Citizen Programs and many others. With individual and corporate giving at a historic low, funds provided by Lions are vital dollars to help sustain these important social service programs.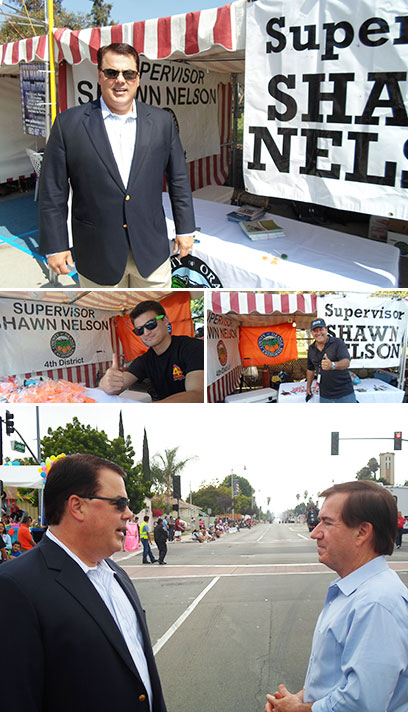 (Top) Supervisor Nelson manning the County Information Booth
(Middle) Fourth District Staffers Christopher Barber and Steve Spernak
(Bottom) Supervisor Nelson and Congressman Ed Royce having a chat before the parade begins

OC Parks


Become a one time volunteer!

One Time Volunteers serve on a one time or short term basis. Becoming a One Time Volunteer is as easy as 1-2-3:

Pick a Volunteer Event: Volunteer events on VolunteerMatch. In the title of each volunteer event, it will state if it is a One Time or General Volunteer opportunity
Register as a One Time Volunteer, it's easy! You can complete the on line volunteer application below: One Time Volunteer Application *All volunteer applications will be processed Monday-Friday at 2 pm. Volunteer applications received on Friday after 2 pm and on Holidays will be processed the next business day
Confirm your attendance with the Park Ranger.
To contact OC Parks Volunteer Services, call (714) 566-3067 or email Matthew.le@occr.ocgov.com If you do not see a volunteer opportunity that fits your skills or interests, please download the One Time Group Volunteer Form, complete and submit to OC Parks Volunteer Services to schedule a tailored volunteer opportunity.

County Commissions and Committees

The 4th District has vacant appointments on the following commissions or committees:


Community Action Partnership of Orange County
Oversight Board of the Successor to the City Redevelopment Agency (Buena Park and Anaheim)
If you are interested in serving on one of these Committees, please call Audra Fishel at (714) 834-3440

OC Animal Care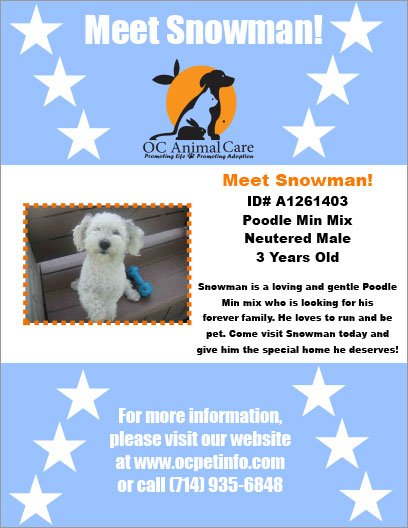 Click on the image above to view a larger version.

Announcements
Titanic The Experience and Bodies…The Exhibition Open at Buena Park The Premier Exhibition Center

Center Titanic The Experience recently opened its Buena Park location on August 1, 2013. The exhibit brings visitors back in time to experience the wonder and tragedy of the world's most famous ocean-liner, Titanic. It features an interactive exhibition with trained actors adorned in period costume, who work together to bring Titanic ever so closer to life. 250 authentic artifacts have been recovered from the wreck site of Titanic and will offer visitors an educational and moving look at what passengers had at once experienced. Along with the artifacts, visitors get the opportunity to experience full scale room re-creations.

Buena Park also welcomed the opening of Bodies…The Exhibition. The Exhibition offers an intimate and informative view into the human body by featuring 200 actual human bodies. The human bodies have been preserved using an innovative preservation process and have been meticulously dissected and respectfully displayed.

Both Exhibitions will be on display at the historic Movieland Wax Museum site on Beach Boulevard.

The Premier Exhibition Center at the Former Movieland Wax Museum
7711 Beach Blvd.
Buena Park, CA 90620
http://www.BuenaParkExhibitions.com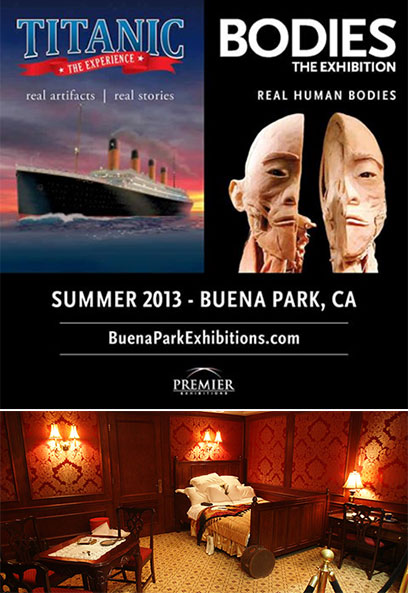 A re-creation of one of Titanic's elegant and luxurious staterooms.

Library Corner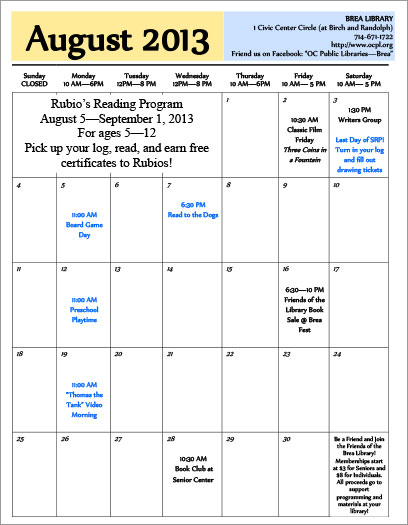 Click on the image above to view a larger version.

Events
La Habra Lions Club
You are invited to learn more about the La Habra Host Lions Club and how you can make a difference in your community and life by becoming a member.

The club meets each Tuesday at 7 pm at Portofino's Italian Restaurant in La Habra. You are welcome to sit in as our guest to see if membership is a fit for you.

The club facilitates various annual events and members can be as active as they want to be. Just by becoming a member you are contributing to Lions mission and focus programs.

For more information, please visit:
http://e-clubhouse.org/sites/lahabrahost/

Anaheim

What: D23 Expo, The Ultimate Disney Fan Event
Where: Anaheim Convention Center (Arena, Ballroom, Halls A-D, Room 201-213 Room 303 & 304), 800 W Katella Ave, Anaheim, CA 92802
When: Friday, August 9th – Sunday, August 11th
Time: 9 am - 8 pm

Brea

What: 21st Annual Colored Pencil Society of America International Juried Exhibit
Where: Brea Art Gallery, 1 Civic Center Cir., Brea, CA 92821
When: Saturday, August 10th
Time: 12 – 5 pm

What: Brea Fest – A Taste of the Arts
Where: Brea Civic and Cultural Center, 1 Civic Center Cir., Brea, CA 92821
When: Friday, August 16th
Time: 6:30 – 10 pm

Buena Park

What: "Yosemite's Unsung Heroine", a free lecture and slideshow about Yosemite's history
Where: 6688 Beach Blvd.
When: Monday, August 12th
Time: 6:30 pm

Fullerton

What: Summer Concert Series Featuring "Ronny and the Classics"
Where: Fullerton Sports Complex, 560 E. Silver Pine
When: Wednesday, August 14th
Time: 6:30 – 8:30 pm

What: Fullerton Library Hosts Book Launch Party
Where: Fullerton Public Library, 353 W. Commonwealth Ave.
When: Sunday, August 18th
Time: 2 pm

La Habra
What: Rogers, Hammerstein, and Gershwin at Disney Concert Hall
Where: Trip departs from La Bonita Parking Lot, 1440 W. Whittier Blvd., La Habra
When: Sunday, August 11th
Time: 11 am – 5 pm

What: Tall Tale Tuesdays
Where: The Children's Museum, 301 S. Euclid St.
When: Tuesday, August 13th
Time: 11 am

Placentia
What: Movies in the Park – "Madagascar 3"
Where: Tri-City Park, 505 S. Jefferson St.
When: Friday, August 9th
Time: 6:30 pm

What: Movies in the Park – "Paranorman"
Where: Tri-City Park, 505 S. Jefferson St.
When: Friday, August 16th
Time: 6:30 pm



For questions or comments regarding Nelson's E-News
please contact the Supervisor's office staff:
Audra Fishel Ph: 714-834-3440 Email: Audra.Fishel@ocgov.com.


Denis Bilodeau
Chief of Staff

Mark Lopez
Deputy Chief of Staff

Audra Fishel
Policy Advisor /
Communications Director

Steve Spernak
Policy Advisor

Scott Carpenter
Policy Advisor



Stay Connected!