Board of Supervisors

Welcome to Nelson's E-News!

This past week, OCTA and Caltrans completed the demolition of the bridge linking the southbound I-405 to eastbound Garden Grove Freeway (SR-22) as part of the West County Connectors project. The demolition took place during Orange County's "Bridge Bash," a 20-hour closure of the San Diego Freeway in both directions. Work was completed ahead of schedule, prompting the opening of the freeway two hours early, with relatively minor traffic backups.

In this week's newsletter, there are multiple events to bring to your attention. In the community, I was happy to present the newly renovated Senior Activity Center of Buena Park's Walter D Ehlers Community Recreation Center a certificate recognizing its grand re-opening.

Please read about these updates and more below in this week's edition of the Nelson E-News!

The Board of Supervisors will be dark on Tuesday, August 27 and the following Tuesday, September 3. The next meeting will be on Tuesday, September 10 at 9:30am in the County Hall of Administration, 333 West Santa Ana Blvd., Santa Ana, 92701. Please check the Clerk of the Board website for more information and upcoming agendas.

Sincerely,
Shawn Nelson

OCTA



I-405 Freeway Reopens Ahead of Schedule Following Successful "Bridge Bash" Demolition

Crews successfully reopened the San Diego Freeway (I-405) to traffic two hours ahead of schedule at 2:20 p.m. Sunday, Aug. 18 after an 18-hour overnight full freeway closure between the San Gabriel River Freeway (I-605) and Valley View Street in Westminster. The northbound I-405 also reopened to traffic at 3 p.m.

The construction team had shut down the freeway in order to safely and efficiently demolish a 50-year-old bridge that had linked the southbound I-405 to eastbound Garden Grove Freeway (SR-22). Crews had recently completed constructing a new, replacement bridge for motorists in late July.

During the estimated $700,000 demolition, approximately 70 workers utilized more than 50 pieces of equipment, including 10 excavators, to chip away at the bridge, while 120 steel plates protected the freeway surface below. Crews will recycle the concrete from the old bridge and use the material on other parts of the project.

Caltrans also took advantage of the closure to perform maintenance activities that would normally require separate closures over a seven-day period. Crews performed crack sealing, weed abatement and median drainage cleaning during the closure. This work helped save taxpayer dollars and prevented future additional inconvenience for drivers.

Throughout the demolition process, unprecedented numbers of news outlets covered the "Bridge Bash." With near-constant coverage on multiple live television and radio stations, media members helped OCTA raise public awareness about the freeway closure and provide detour information to mitigate traffic congestion on one of the busiest freeways in the nation.

Live updates using the #BridgeBash hashtag on social media sites also helped advise hundreds of thousands of motorists to avoid the area or plan their detours ahead of time, and OCTA captured the entire demolition process on a time-lapse video.

More information about the ongoing West County Connectors project is available online.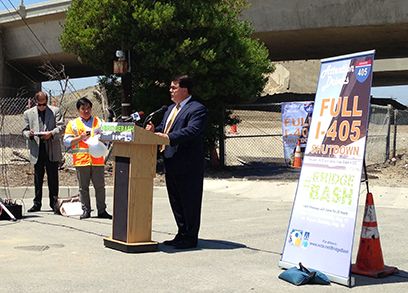 Supervisor Shawn Nelson addressing the crowd at the I-405 Bridge Bash

In the Community

Ribbon Cutting – Buena Park Senior Activity Center

On August 15, the Senior Activity Center in Buena Park celebrated its Grand Re-Opening and Ribbon Cutting Ceremony surrounded by community members, senior center members and local dignitaries. After presenting a certificate of recognition to the director of the facility, Chairman Shawn Nelson was kindly given a tour. The Buena Park Senior Center features newly renovated ballroom dance rooms, an up to date computer room, a game room with pool tables, and a large outdoor activity area. It also features a French leave legacy tree, where one, with a donation, can have a loved one's name engraved on the French leaves or mini trees to memorialize their life. Open Monday through Friday from 8:00 am to 4:00 pm, the Senior Center offers recreational, educational, social and human services programs to promote later life enrichment for seniors of the Buena Park community. It is located at 8150 Knott Avenue, Buena Park 90620 in the Walter D. Ehlers Community Recreation Center. For more information, please visit www.buenapark.com, or call 714-236-3870.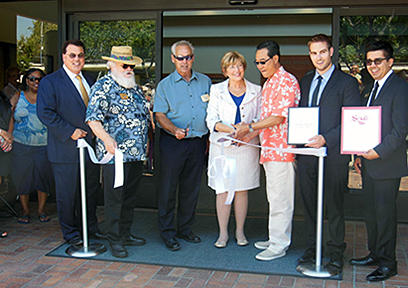 Chairman Shawn Nelson (far left) joining Buena Park City Council members and representatives from the California State Legislature in the Senior Center Activity Center's Ribbon Cutting

Opening Day ceremonies: Fullerton Junior All American Bears Football and Cheer Program

On Saturday, August 17th Orange County Supervisor Shawn Nelson was pleased to present Certificates of Recognition to members of the Fullerton Junior All American Bears Football and Cheer Program. The program's cheerleaders were once again, for the second year in a row, national cheer champions at the JAMZ National Cheer Competition held annually in Las Vegas. Supervisor Nelson joined coaches and parents in celebration of the cheerleaders' triumph, and commended the programs values of healthy competition, the importance of school work, and of team spirit. The Bears Junior All-American Football and Cheer is now accepting registrations for the 2013 Fall Football and Cheer season. Information about the program and registration can be found at www.fullertonbears.com.

The list below is the list of participants (cheerleaders) and coaches:

CHEERLEADERS: Carissa Alejandre, Margarita Barajas, Kristen Collins, Sunshine Covarrubias, Kaylee Drysen, Alyssa Galvez, Melissa Galvez, Savannah Giddens, Leala Jung, Marlene Lemus, Alyssa Palafox, Ruth Park, Jennifer Rivera, Alena Uhamaka, Jocelyn Valdez, Autymn Weary, Chloe Zabecki

COACHES: Mandy Jung, Nichole Kinnamon, Tokilupe Uesi, Andrea Valdez, Allan Zabecki, Fay Zabecki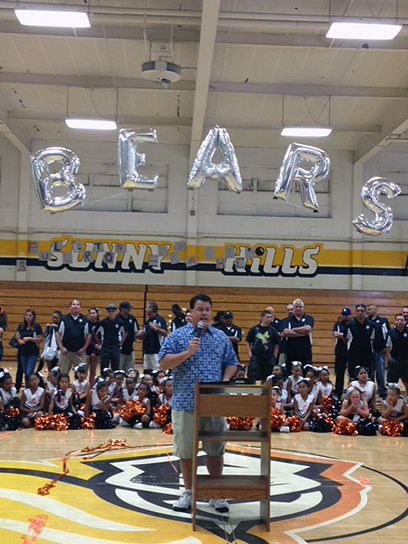 Supervisor Nelson addressing the crowd in the Sunny Hills High School Gym

La Habra Chamber Awards

Each year the La Habra Chamber hosts their annual awards and installation banquet to honor individuals, businesses and organizations that have demonstrated exceptional achievements and service to our community. They also install their new Board of Directors and Chair for 2013 - 2014. Supervisor Nelson staffer, Audra Fishel, was on hand to congratulate the honorees. For more information on how to become involved with the La Habra Chamber, please visit http://www.lahabrachamber.com/

Awards:

Citizen of the Year - Randy McMillan
Tim McAdam, Chair 2012-2013 Board of Directors
Youths of the Year - Andrew Cooley and Elijah Wilson
Lifetime Achievement - John Campos, retired, Senor Campos Restaurant
Business of the Year - Pacific Community Credit Union
Entrepreneur of the Year – La Habra Dental
President's Award - Ron Shepard, Shepard Bros.
George Rochester - Kwan Lee, Martplan Insurance
Scott Lawrence Award - Elisa Werdeman, Goodwill Ambassador
Revitalization Award - Wal-Mart La Habra, Imperial Hwy
Chamber Award - La Habra Community Services Department Legacy Awards - Martha Lester, The Gary Center and Eddie Evans, Landmark Certified Development
Golden Apple Award - Susie Hango, Retired LHCSD Trustee
Chamber Appreciation Award- Sandi Baltes, La Habra Collaborative Director & LHCSD Trustee
Special Recognition Awards: Chuck Morse, Andrea Ramirez, American Legion Post 267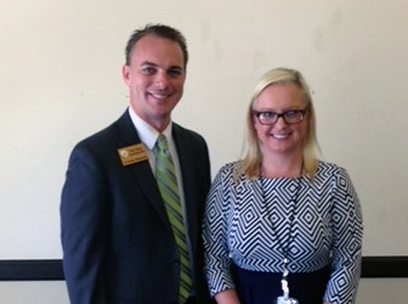 La Habra Councilman Tim Shaw and Fourth District Policy Advisor Audra Fishel

OC Parks


Beginning Fitness Hike
Laguna Coast Wilderness Park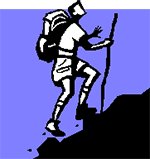 Date: 9/3/2013
Time: 8:00am – 9:30am

Now is a great time to start a new fitness routine with this easy 2-mile hike over moderate and uneven terrain to Barbara's Lake and back (100-ft. elevation gain). LCF naturalist will point out local flora and fauna along the way.

Wear walking or hiking shoes, hat, sunscreen, and bring water.
Ages 12 and up.
James Dilley Preserve (405 South to 133 south to stoplight at 73 turn-off; make a U-turn, go 1 block . Dilley is on the right)
Online reservations required.
For questions call: 949-497-8324.
Parking: $3. Donation: $2/person.
Online Registration

County Commissions and Committees

The 4th District has vacant appointments on the following commissions or committees:


Community Action Partnership of Orange County
Oversight Board of the Successor to the City of Redevelopment Agency (Buena Park and Anaheim)
If you are interested in serving on one of these Committees, please call Audra Fishel at (714) 834.3440

OC Animal Care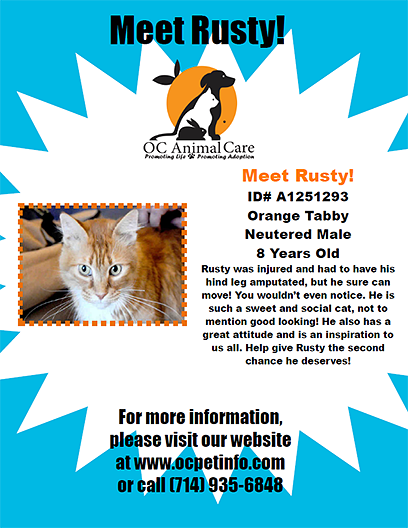 Click on the image above to view a larger version.

Library Corner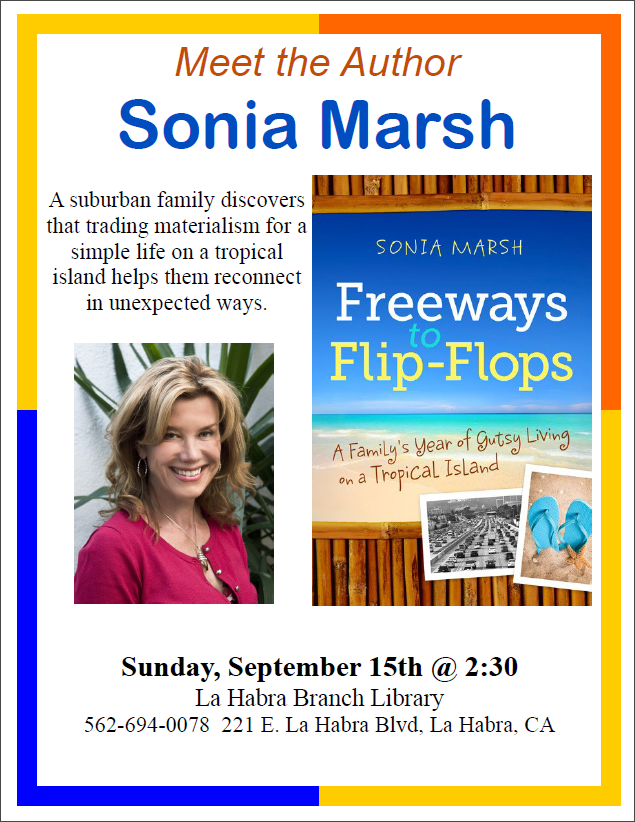 Click on the image above to view a larger version.

Announcements
California Coastal Cleanup Day is Saturday, September 21, 2013!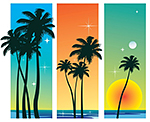 Every year, on the third Saturday in September, people join together at sites all over California to take part in the State's largest volunteer event, California Coastal Cleanup Day. 2013 represents the 29th Annual Coastal Cleanup Day. OC Parks, OC Public Works and the City of Laguna Niguel are co hosting an invasive species removal project and trash clean up at Narco Channel/Laguna Niguel Regional Park.

Visit https://media.ocgov.com/gov/occr/ocparks/about/volunteer/cleanup.asp for more information and to sign up to volunteer.

Events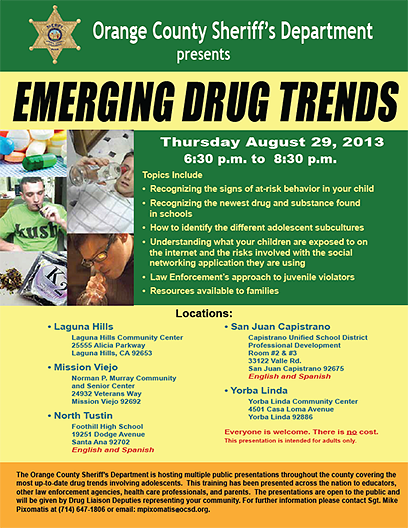 Click on the image above to view a larger version.

Anaheim

What: Great Gatsby Weekend Fundraiser for APACF
Where: Lost World Estate, 191 S. Cobblestone Lane, Anaheim, CA 9280
When: Saturday, August 24th – Sunday, August 25th
Time: Saturday at 5:30pm, Sunday at 12 Noon to 4:00pm

What: Packard, Picnic & Pies
Where: Anaheim Packing District, 400 S Anaheim Blvd., Anaheim, CA 92805
When: Sunday, August 25th
Time: 4:00pm – 7:00pm

Brea

What: "It's Your Estate"; A FREE 8-week workshop series is designed to provide you with valuable information about estate planning.
Where: Brea Senior Center, 500 S. Sievers Ave., Brea, CA 92821
When: Tuesdays, September 3rd to October 22nd
Time: 1:30-3pm

What: Our Bodies, Health & Relationships – A Women's Series; Join us for an exciting 4 week class series addressing common questions and issues that arise as women age. This class will identify myths and facts about the aging process and learn how to thrive with the changes that occur.
Speakers will cover a variety of topics.
Where: Brea Senior Center, 500 S. Sievers Ave., Brea, CA 92821
When: Wednesdays, September 3rd to 24th
Time: 1pm-2:15pm

What: Senior Health Fair & Flu Shots; This fair offers older adults valuable health services, free screening opportunities, info on health, wellness. Flu shots are free to adults 60+ with a Medicare Part B card.
Where: Brea Senior Center, 500 S. Sievers Ave., Brea, CA 92821
When: Friday, October 18
Time: 9am – 1pm

Buena Park

What: Free Outdoor Summer Concerts Series, Pam Loe and Hipshot
Where: Buena Park Downtown Courtyard
When: Wednesday, August 28th
Time: 7:00pm

Fullerton

What: Noted Restaurateur Zov Karamardian Featured at Fullerton Library's Author Luncheon
Where: Coyote Hills Golf Course, 1440 E. Bastanchury Road, Fullerton, CA 92835
When: Saturday, August 24th
Time: 11:30am – 1:30pm

What: All-Star Community Pop Band at the Fullerton Library
Where: Fullerton Public Library, 353 W Commonwealth Ave, Fullerton, CA 92832
When: Monday, August 26th
Time: 7:00pm

La Habra

What: Read to Dogs Program
Where: Nannies Travels Gallery Exhibit, Children's Museum at La Habra, 301 S Euclid Street, La Habra
When: Friday, August 23rd
Time: 11:00 am

What: Marion Davies Beach House & Santa Monica History Museum
Where: 1440 W. Whittier Blvd., La Habra, CA 90631
When: Wednesday, August 28th
Time: 9:00am – 4:30pm

Placentia

What: Movies in the Park – "Escape from Planet Earth"
Where: Tri-City Park, 505 S Jefferson St, Placentia, CA 92870
When: Friday, August 23rd
Time: 6:30 pm

For questions or comments regarding Nelson's E-News
please contact the Supervisor's office staff:
Audra Fishel Ph: 714-834-3440 Email: Audra.Fishel@ocgov.com.


Denis Bilodeau
Chief of Staff

Mark Lopez
Deputy Chief of Staff

Audra Fishel
Policy Advisor /
Communications Director

Steve Spernak
Policy Advisor

Scott Carpenter
Policy Advisor



Stay Connected!