Board of Supervisors

Welcome to Nelson's E-News!

The Board of Supervisors took action last Tuesday to fill a vacancy on the County's retirement system board. Please join me in congratulating Mr. David Ball on his recent appointment. More information on his background may be found below.

It's always good to see signs of economic recovery and stability in the community. As a sign of this, my office welcomed several new businesses to the neighborhood at ribbon cuttings throughout the district. This included Gandolfo's New York Delicatessen. Please continue reading for a description and photo of the event.

The Board will be dark Tuesday, September 24. The next meeting will be Tuesday, October 1 at 9:30 am in the County Hall of Administration, 333 W. Santa Ana Blvd., Santa Ana 92701.

Sincerely,
Shawn Nelson

Board Updates



OCERS Board Appointment

Congratulations to Mr. David Ball on his unanimous appointment to a three-year term on the Board of the Orange County Employees Retirement System, or OCERS, on Tuesday. One of four OCERS appointments made by the Board of Supervisors, he is a native of Orange County and brings decades of financial experience and expertise to the ten-member board.

Most recently, Mr. Ball spent nearly 30 years working as Chief Financial Officer and on real estate projects at Arnel Development Company. Prior to that, he was employed in the banking industry for seven years in a variety of capacities. He graduated from CSUF in 1975 with a Business Administration degree with a concentration in Finance and is a licensed California Real Estate Broker.

OCERS, which includes the County of Orange, provides retirement and disability benefits and information concerning those benefits to its members. For more information on OCERS, visit their website.

No Parking on Fourth District Street

The Board unanimously approved the Traffic Committee's recommendation for no parking any time on Cerritos Avenue in unincorporated Anaheim, between Brookhurst Street and Gilbert Street. Signage informing drivers of this change will be posted beginning today. This has been a safety and traffic congestion concern for years, according to many residents. The County Traffic Committee recommended the modification in July.

Please click here for a map of the area and description of the change.

Anaheim Charter Review Committee

On May 28, 2013, the Anaheim City Council established a seven member Charter Review Committee by resolution, to serve as an advisory body to the Council. This Committee was tasked with conducting a comprehensive review of the City's Charter, which serves as the City's fundamental governing document and outlines certain authority and restrictions the City has over municipal affairs.

The Committee will meet at least twice a month during the review process. At the end of the review, the Charter Review Committee will present the City Council with recommendations, which could be placed to the ballot for voter approval during the next statewide primary election. Please note that no changes can be made to the City's Charter without the vote of the people.

The Anaheim Charter Review Committee will have its next meeting on Thursday, September 26 at 6:00pm in the Anaheim City Council Chambers at 200 S. Anaheim Blvd. For upcoming meetings and topics up for discussion, please visit the Charter website.

OCTA



OCTA Bikeways Planning Workshop Generates Public Input

(Courtesy of OCTA)

OCTA hosted a second Bikeways Workshop on Sept. 11 at the Costa Mesa Community Center. The workshop was a vital component of the community outreach for the 1st and 2nd District Bikeways Collaborative. More than 50 people attended the meeting, which outlined the regional bikeways corridors, near term projects, and available bikeways funding.

OCTA Director and 2nd District Supervisor John Moorlach began the meeting by thanking the many agencies, staff, and bicycle advocates who contributed to the collaborative process.

One of the leaders of the bikeways collaborative process is OCTA Vice Chair and 4th District Supervisor Shawn Nelson. He guided workshop participants through the bikeways planning process and highlighted the success of the effort in the 4th District.

The 1st and 2nd District Bikeways Strategy identifies eleven bikeway corridors for the region. The corridors were chosen based on a number of factors, including public input, an analysis of existing bikeway gaps, and to connect schools and employment centers. OCTA staff and consultants presented the corridors, highlighting areas that were revised based on public input.

OCTA Director and Garden Grove Councilmember Steve Jones summarized the next steps and available funding for bikeways improvements. The workshop concluded with public comments and an interactive comment forum with corridor maps that were placed around the room. Also on hand to provide feedback was OCTA Director Gary Miller, who represents the Seal Beach Community as Mayor.

To learn more about the project, please visit www.octa.net/d1-2bike.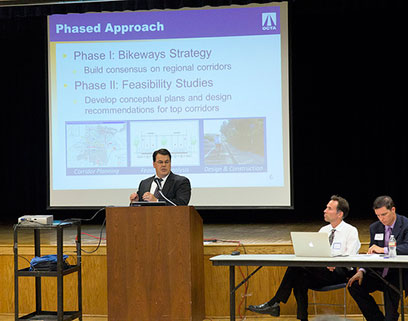 Supervisor Nelson presents the Fourth District Bikeways Strategy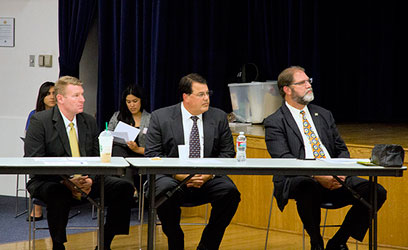 Garden Grove Councilman Steve Jones, Supervisor Shawn Nelson, Supervisor John Moorlach

In the Community

Local Edition - Time Warner Interviews Shawn Nelson

Orange County Supervisor Shawn Nelson talks to Time Warner Cable Local Edition host, Leslie Leyton, about the competition between Sacramento and Orange County and the vehicle licensing fees, among other topics. To view the video, please click below:

http://www.youtube.com/watch?v=XWvwu1qPUYo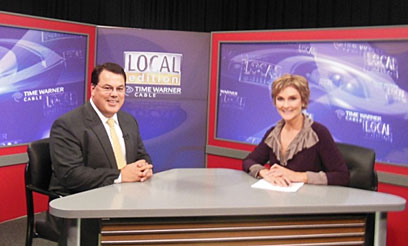 Supervisor Nelson and host Leslie Leyton

Fullerton Chamber of Commerce Welcomes Gandolfo's New York Deli

The Fullerton Chamber of Commerce hosted a Ribbon Cutting on Thursday, September 12th for their newest member Gandolfo's New York Delicatessen. Located at 444 N. Harbor in Fullerton, the new restaurant is one of two Gandolfo's in Orange County and the only one in the Fourth District. Chamber representatives, fellow business owners and representatives from local elected officials were on hand to congratulate Gandolfo's and wish them the best of luck in the new venture. The deli features authentic New York style sandwiches, hot dogs, salads and is ideal for a quick lunch, casual meeting and catered events. For more information please visit: http://www.gandolfosdeli.com/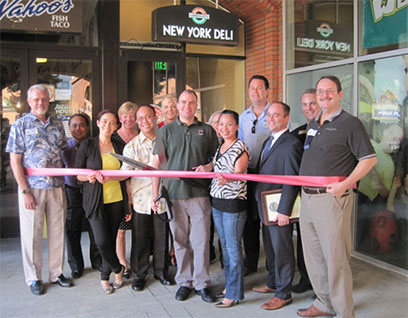 Fourth District staff member Scott Carpenter joins with Chamber of Commerce representatives and Gandolfo's owners to cut the ribbon on their newest location.

The Fourth District Welcomes Flame Broiler

If you are looking for a top quality, healthy meal, Flame Broiler is the new place to go! On Thursday, September 12, Flame Broiler celebrated their grand opening in Brea. Fourth District staffer, Natalie Wieckert, is pictured with the owner, Jane Wabs, at the ribbon-cutting hosted by the Brea Chamber of Commerce. Jane is passionate about the restaurant business and strives to provide excellent customer service along with a great tasting meal. This new franchise offers to cater events and provide fundraising opportunities to its customers. The Fourth District wishes Jane success in her new business endeavor.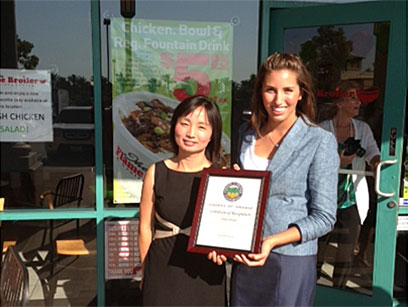 (Left to Right) Owner Jane Wabs and Nelson Staffer Natalie Wieckert

Fullerton Library Gets New Senior Guides from NOCSC

The first of what will be several hundred copies of the North Orange County Senior Collaborative services guides were delivered last week to the Fullerton Library. Fullerton Library Director Chaunacey Dunklee received the first editions to hand out to her collective of seniors and caregivers who frequent the library next to Fullerton City Hall. The directory is produced through the Collaborative and the St Jude Community Services Center located at 130 W. Bastanchury just across the street from Panera Bread restaurant.

Special thanks to Director Karyl Dupee from St Judes and Dan York, Chairman of the NOCSC team of technicians, gerontologists, health, diet, legal and financial advocates and professional caregivers who meet monthly to address the needs of an aging Orange County. The NOCSC team will be completing a survey of senior needs and concerns in North OC in October. The survey is the genius of Jim Cenname of Nightingale Senior Care and will soon be going out to 2500 seniors, Senior Centers and caregivers. The survey responses will define what programs and communications techniques can be done better or how technicians can better administer explanations and protections for the elderly through NOCSC.

If you have questions about NOCSC or the survey, please call Karyl Dupee at 714-446-7035 or Steve Spernak in the offices of Supervisor Shawn Nelson at 714-834-3542.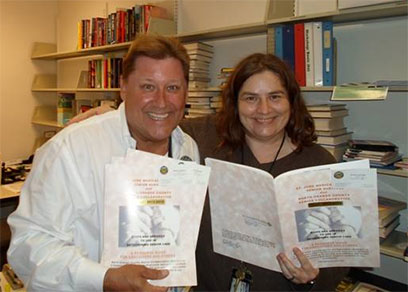 Supervisor Nelson Staffer Steve Spernak and Fullerton Library Director Chaunacey Dunklee

The Fourth District Honors OC Veterans in Business at Black Chamber Gala

Congratulations were delivered to Bobby McDonald, president of the Orange County Black Chamber of Commerce, which presented its prestigious awards to organizations and individuals who help Veterans and their families in OC. Several hundred people attended the patriotic venue at the Grand Ballroom of the Disneyland Hotel that recognized the incredible legacy of service to active military, Veterans and families. After introductions by McDonald, who is also chairman of the Orange County Veterans Advisory Council, special presentations were made to each of the following honorees by the Black Chamber which celebrated and presented the following awards:

2013 Community Service Award: Orange County Knights of Columbus, Goodwill Industries, Veterans First, and the 100 Black Men of Orange County for their efforts to help educate and serve those who have served.

2013 Business Person of the Year Award: Earl Daniel Dearing of Dearing Brokerage Service

2013 Michael R. Jones Business Impact Award: Michael Dolphin, Chief of Los Angeles-Ventura Counties EDD, and Leila Mozaffari and Elizabeth Arteaga of the Orange County Small Business Development Center.

2013 Distinguished Service Award: Harry E. Johnson, CEO of Dr. Martin Luther King Jr. Memorial Foundation, who was the leader behind the building of the Dr. Martin Luther King memorial in Washington DC and his lifetime service to improving the quality of life for African Americans in the military.

Policy Advisor Steve Spernak presented the certificates of recognition on behalf of the Supervisor.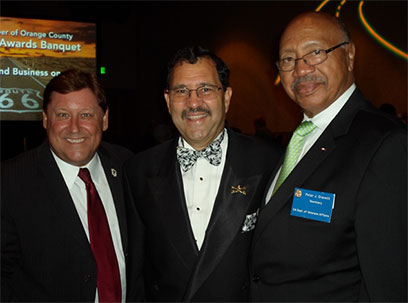 Policy Advisor Steve Spernak joins Bobby McDonald, president of the OC Black Chamber of Commerce and General Peter Gravett, California Secretary of Veterans Affairs at recognition event.

Anaheim High School 9-11 Memorial

Congratulations were delivered to Debbie Vidana of the Anaheim High School Alumni Association to recognize a years' worth of planning and coordination for their "Salute to Anaheim High School Fallen Heroes" memorial presented on 9-11-13. Over 500 people attended the solemn services that recognized the incredible legacy of 57 Anaheim High School alumni who served in the military and gave the ultimate sacrifice for the defense of their country.

After introductions by AHS Principal Anna Corral and a vocal tribute by the AHS Chorus, AUHSD Superintendent Elizabeth Novak welcomed 1959 graduate Gary Shepard who talked of the heroism of fallen alumni who perished in WWI and WWII. 1950 graduate Minard Duncan talked of the sacrifices of classmates lost in the Korean War and Ronald Basset, class of 1963, presented power-point photos and wartime biographies of each of the Colonists who died in the Vietnam War.

The final presentation was a tearful 10 minute tribute by Brad Burlingame to his brother, Captain Charles "Chip" Burlingame, who was command pilot of one of the planes commandeered by terrorists on 9-11-2001. Chip, AHS graduate class of 1967, was a former fighter pilot and one of the first casualties of the War on Terror when he was killed and his aircraft was flown into the Pentagon by terrorists, according to Brad Burlingame.

Anaheim Fire Chief Randy Bruegman closed the 90 minute memorial with an explanation of the Fire Service Bell Ceremony that sounded honors for fallen alumni and the Firemen and Police Officers lost at the 9-11 World Trade Towers attack.

Policy Advisor Steve Spernak joins Anaheim Fire Dept Battalion Chief Mark John and members of the Honor Guard at the Veterans Memorial dedication ceremonies at Anaheim High School on 9-11

OC Parks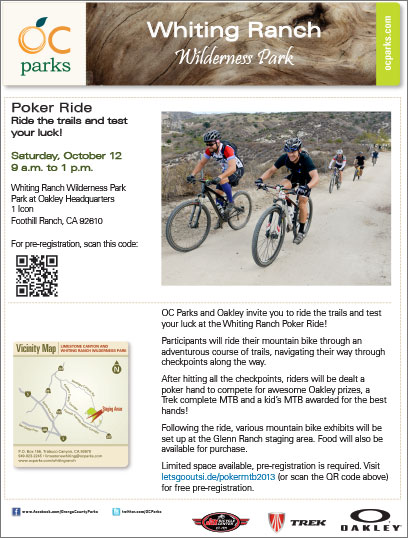 Click on the image above to view a larger version.

County Commissions and Committees

The 4th District has vacant appointments on the following commission or committee:


Oversight Board of the Successor to the City Redevelopment Agency (Buena Park and Anaheim)
If you are interested in serving on this Committee, please call Audra Fishel at (714) 834.3440

OC Animal Care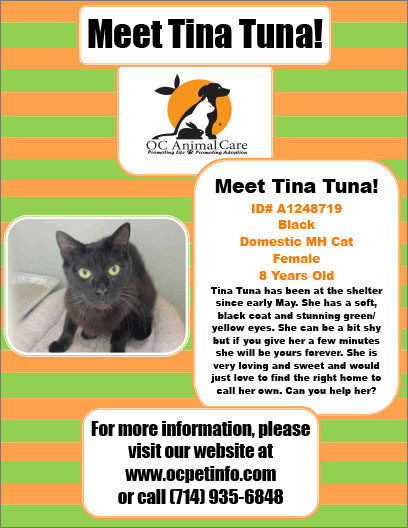 Click on the image above to view a larger version.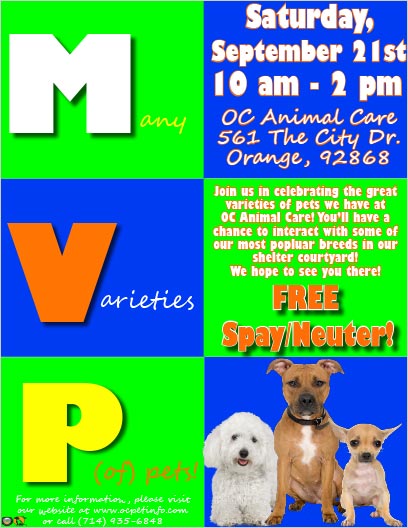 Click on the image above to view a larger version.

Library Corner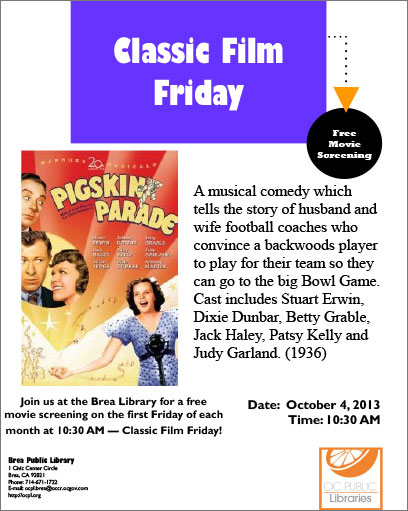 Click on the image above to view a larger version.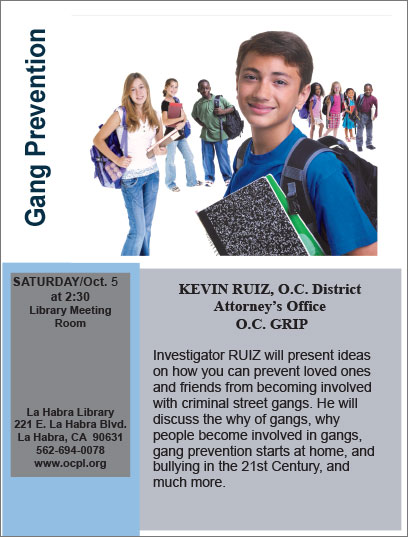 Click on the image above to view a larger version.

Events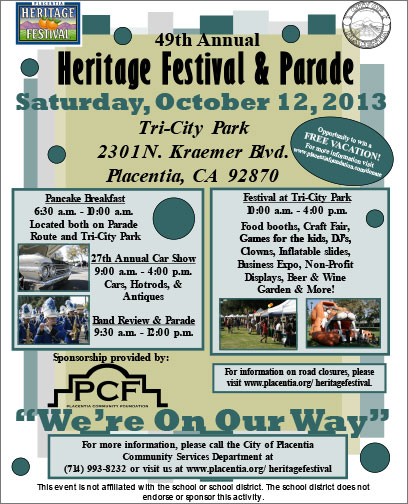 Click on the image above to view a larger version.

Anaheim

What: The Murphy Family Band in Concert
Where: Anaheim Downtown Community Center
When: Saturday, September 21
Time: 7:30 p.m.-9:45 p.m.

What: Leads Lunch
Where: Manhattan Steak and Seafood
When: Wednesday, September 25
Time: 11:30 am to 1:00 pm

Brea

What: Brea Jazz Festival
Where: Downtown Brea
When: Every Saturday and Sunday, Sept. 7 – 29
Time: 4 pm on Saturdays and Noon on Sundays

What: Jazz Funk Dance Class
Where: Brea Fitness Center
When: Saturday, September 21
Time: 6:30 p.m.-7:30 p.m.

Buena Park

What: Annual Memorial Grove Ceremony
Where: Boisseranc Park, 7520 Dale Street
When: Saturday, September 21
Time: 10:00 a.m.

What: Breakfast with the educators
Where: Holiday Inn: 7000 Beach Blvd
When: Wednesday, September 25
Time: 7:15 am – 9:00 am

Fullerton

What: St. Juliana Fall Festival
Where: 1316 N. Acacia Ave.
When: Friday, September 27-Sunday, September 29
Time: Friday 5:00 p.m.-7:00 p.m., Saturday 3:00 p.m.-11:00 p.m., Sunday 3:00 p.m.-11:00 p.m.

La Habra

What: Polo Buddies Water Polo Class (entry level water polo class for kids with Autism and ADHD)
Where: Splash La Mirada
When: Friday, September 27
Contact: Coach David Farkas 714-525-9651

Placentia

What: Historical Committee Meeting
Where: Administrative Conference Room, 401 E. Chapman Ave., Placentia, CA 92870
When: Tuesday, September 24
Time: 7:00 p.m.

For questions or comments regarding Nelson's E-News
please contact the Supervisor's office staff:
Audra Fishel Ph: 714-834-3440 Email: Audra.Fishel@ocgov.com.