Board of Supervisors

Welcome to Nelson's E-News!

Many new and exciting changes are happening already in the first month of 2013.

Following my first meeting as Chair of the Board of Supervisors, I am pleased to announce that Orange County has taken a tremendous stride toward caring for our homeless population on a year-round basis. After several years of discussion, the conversation has finally become action as a facility that both welcomes homeless individuals and families and prepares them for permanent housing has taken a crucial first step. Please continue reading for more details.

I am honored to receive the unanimous support and backing of my colleagues on the Orange County Transportation Authority, who last week selected me to serve as the Vice Chair of the agency for the next twelve months. I look forward to working with the rest of the Board to serve our constituents while maintaining a balanced, fiscally responsible budget at OCTA, just as I do at the County of Orange.

I am also proud to welcome the businesses that have made the Fourth District their home and contribute to the economic vitality of Orange County. Recently, my staff visited some of these new additions and continuing companies to thank them for their investment in the County. Please see below for descriptions.

The next Board of Supervisors meeting will take place on Tuesday, January 29, 2013 in the Hall of Administration, 333 West Santa Ana Blvd., Santa Ana 92701.

Sincerely,
Shawn Nelson

Board Updates



Improving How We Address Homelessness

Over the course of the last several decades it has become vividly clear that the way we attempt to manage the issue of homelessness is not sufficient. To address this, Supervisor Shawn Nelson convened the North County Roundtable on Homelessness in February 2012. The group was comprised of stakeholders from north county cities, county agencies, Commission to End Homelessness members, the Fullerton Task Force, nonprofit organizations, and others. The Roundtable unanimously agreed that the lack of a year-round emergency shelter and multi-service center for homeless families and individuals has been the impediment to more effectively managing issues related to homelessness in North O.C.

Currently, the County rents the National Guard armory from December-April. It utilizes approximately 7,000 square feet and serves 200 clients. Additional costs are associated with the daily setting up and tearing down of a shelter program inside of a military facility. If the County acquires permanent emergency shelter sites, efficiencies will be achieved, thus significantly reducing operating costs. Further, the homeless can only access existing shelter from 6pm to 6am, which often creates more problems than it solves.

Subsequent to examining the current operations, Supervisor Nelson requested Roundtable Members and other community leaders to submit potential sites. After an exhaustive search for a location, Supervisor Nelson convened meetings with representatives from the City of Fullerton, OC Community Resources, Vanguard Commercial Real Estate and the Commission to End Homelessness. The group identified a number of potential sites that were proposed and reviewed. The property at 301 S. State College was ultimately identified as the best location.

The new location will be far more functional than the existing armory location because it will be open all year, it will not require all staff and guests to vacate every day for 12 hours and it will allow a permanent presence for service providers to address issues during the work day.

On January 15, 2013, the Board of Supervisors unanimously approved an Agreement for the one-story, 29,000 square foot building. This began a 150-day due diligence process.

The facility will partner with schools, cities, churches and other community stakeholders to find resources to move families and individuals out of crisis and into stability. Clients will be immediately connected to critical emergency shelter and services including job training, health care, mental health care, case management and transitional assistance to permanent housing and self-sufficiency. The 24/7 multi-service center will also be used to deliver an array of homeless prevention services for low-income, at-risk populations such as eviction prevention, food, clothing and alternative housing prior to a family actually becoming homeless.

OCTA



OCTA Vice Chairmanship

On Monday, January 14, the Orange County Transportation Authority (OCTA) Board of Directors unanimously selected Supervisor Shawn Nelson to serve as the agency's Vice Chairman for 2013. Supervisor Nelson has served on the Board of Directors since 2010, when he was elected to the Orange County Board of Supervisors. Separately, the Board of Directors selected Greg Winterbottom to be Chairman.

The new membership of the 18-member Board of Directors can be viewed here.

OC Bridges



North Orange County Update

The O.C. Bridges program continues to move forward with plans to begin construction of the Orangethorpe Avenue and Tustin Avenue/Rose Drive overpass projects this spring. Construction management teams are in place and Orange County Transportation Authority (OCTA) staff are finalizing construction contracts with project contractors. Residents and those who travel along Orangethorpe Avenue are aware of utility company construction moving the utilities found in and adjacent to the roadway (electric, gas, water & telecommunications) in preparation for project initiation.

The Lakeview Avenue project is also moving forward with negotiations with property owners to acquire the necessary access for project construction. Utility relocations will also be necessary in advance of project construction which will begin at the end of 2013.

Construction activities continue on the Placentia Avenue and Kraemer Boulevard undercrossing projects. The new railroad bridges construction will be a major activity this spring.

The City of Fullerton and OCTA continue to collaborate to bring the Raymond Avenue and State College Boulevard projects to readiness to secure a contractor before the end of 2013, in accordance with the funding requirements.

For more information and to follow the progress of these projects, please visit www.ocbridges.com or contact Tresa Oliveri, Sr. Community Relations Specialist at (714) 560-5374 or toliveri@octa.net.

In the Community

National Charity League - Dads and Daughters Car Rally

Supervisor Nelson enjoyed a fun filled morning last weekend as part of the coordinating team that hosted the Fullerton National Charity League (NCL) Dads and Daughters Car Rally and Bar-B-Q. The NCL is a membership of Mom's and daughters that raise funds for local charities like the Meals on Wheels and Boys and Girls Clubs. The Car Rally began with photos under the theme of "Going to the Super Bowl" where dads and daughters dressed in their favorite NFL team jerseys for photos before the road-rally where they drove the city to collect points and souvenirs. Pictured in the center is Supervisor Nelson with his daughter and NCL member, Kathryn, along with Fourth District Policy Advisor Scott Carpenter.

Please click here for NCL Photo Collage.

H&R Block Grand Re-Opening

Just in time for tax season, H&R Block in Fullerton has re-launched their location in the Orangefair Mall area of Fullerton. Thriving for nearly a decade at its current site, H&R Block offers a variety of unique and specialized services, including a "free second look" at the three most recent tax returns prepared elsewhere, free 1040 EZ form returns until February 15 and postponing payment until your returns are processed, eliminating up-front costs. Agents also possess detailed knowledge on how the coming healthcare changes will affect your taxes, undergoing an average of 40 hours per year in continuing education to keep up to date on tax changes.

In addition to personal income tax returns, H&R Block also provides services to small businesses and corporations. The office is located at 1577 S. Harbor Blvd., Fullerton 92832, just north of the 91 freeway.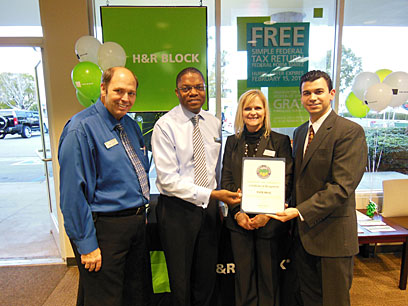 Office Manager Jerry Hatch, Regional Director George Gaskins, District Manager Lori Coelho and Policy Advisor Mark Lopez.

La Habra Heroes

Supervisor Nelson was honored to recognize three amazing gentlemen for their integrity and moral courage that lead to the recovery of $800 they found in a parking lot in La Habra. Pictured with commendations from the City of La Habra and Supervisor Nelson's Certificates of Recognition are Greg Martorella (left), Jesse Mercado (center) and Gerardo Marquez (right) who found the envelope in the parking lot of MetroPCS on Harbor at Stearns. Marquez made the call to La Habra Police to turn in the money that had been accidently dropped by a local businessman.

To read more, please click on the OC Register article link below: http://www.ocregister.com/news/marquez-382201-money-envelope.html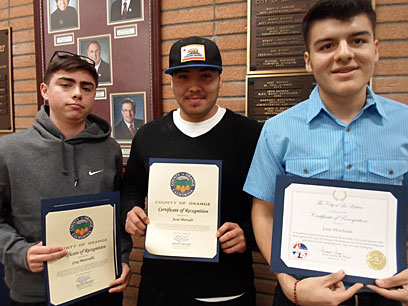 (Left to Right) Greg Martorella, Jesse Mercado and Gerardo Marquez

Fuoco Pizzeria Napoletana

A little taste of old-fashioned Italian cuisine has arrived in downtown Fullerton. The new Fuoco Pizzeria Napoletana restaurant, featuring oven-baked pizza, pastas and traditional desserts, offers patrons a truly authentic menu. Once prepared, the hand-built oven imported straight from Naples can bake a pizza in only 90 seconds.

Open since November 15, 2012, the family-owned and operated Fuoco Pizzeria just held its ribbon cutting ceremony last Friday, January 18 to a host of Chamber members, elected officials and the public. Fuoco Pizzeria Napoletana is located at 101 N. Harbor Boulevard in downtown Fullerton.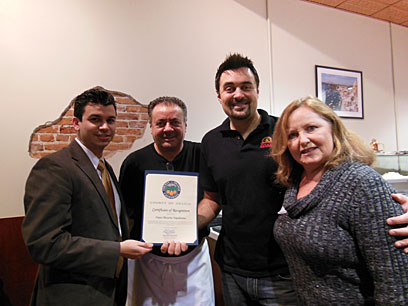 Pictured above after the ribbon cutting are Supervisor Nelson's Policy Advisor Mark Lopez, owner Franco Ceccarelli, son Tullio and wife Elisabetta. Also present, but not pictured, is their daughter, Sabrina.

Tinker Bell Half Marathon – Anaheim

Fourth District staff member, Steve Spernak, attended the annual Tinker Bell Half-Marathon that was hosted by Disney and a variety of sponsors to encourage women's health, exercise and charity-service clubs in Orange County. Thousands of participants enjoyed the pasta parties and kids events that culminated with the half-marathon run through Disneyland and the streets around the park. The procession down the street included runners from 14 countries and all 50 states, taking more than a half hour to launch everyone. This year, more than 2,000 additional runners signed up for the 5 a.m. run through Disney parks and surrounding streets.

For more information please visit: http://www.rundisney.com/tinker-bell-half-marathon/


(Left) Policy Advisor Steve Spernak passes out water bottles to marathoners as OCTA member Lori Donchak (Right) pauses at station 12 on Anaheim Blvd.

Access California

This past week Supervisor Nelson visited with Access California which is a culturally oriented community-based organization that is dedicated to empowering the under-served Arab-American and Muslim-American Communities. To read more about their services, please click the link below to view their fact sheet.

Please click here to view "Facts About Us."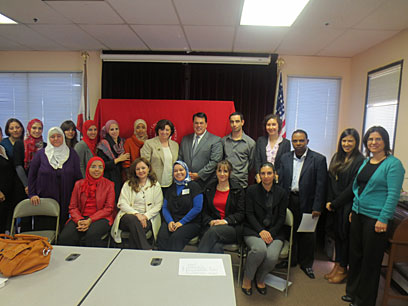 Supervisor Nelson (middle) and the Access California team gather for a picture after their meeting

Announcements
California Secretary of Veterans Affairs to Lead OC Black History Parade

Anaheim, California (January 24, 2013)

Grand Marshall, California Secretary of Veterans Affairs, Major General Peter J. Gravett (Ret), will lead the 33nd Annual Orange County Black History Month Parade and Cultural Fair that will be held Saturday, Feb. 2, 2013, from 10 a.m. – 4 p.m. in Downtown Anaheim. The event celebrating African American heritage and history begins with the parade, which starts at Anaheim Boulevard at 10 a.m., and concludes with the cultural fair at the Center Street Promenade, after the parade. Featuring a new Healthy Village, there will also be food vendors, retail booths, entertainment, a History Walk, community organizations and a Youth Village. The fair promises a day of delicious food, good fun and great entertainment. Admission and parking are free.

Major General Peter J. Gravett, (Ret.) was the commander of the 40th Infantry Division, United States Army, which is part of the California Army National Guard, with headquarters at the Joint Forces Training Base, Los Alamitos. In his more than 30-year military career he served in a myriad of command and staff positions. General Gravett is the first African American National Guard Division Commanding General in the 360-year history of the National Guard in the United States.

Additionally, this year's parade will feature and highlight several Orange County City Mayors, including Al Murray, Mayor of Tustin, the 1st African American Male Mayor in Orange County History. Scheduled to attend are Mayor Tom Tait, Anaheim, Mayor Karthryn McCullough, Lake Forest; Mayor Ron Garcia, Brea; Mayor Rose Espinoza, La Habra; Mayor Acquanetta Warren, Fontana; and Mayor Walt Allen, Covina.

"We are extremely pleased and happy to have the parade here in Anaheim again" said an excited and energetic Cathy Woodard, a longtime Anaheim resident and employee. "The city and community has really rallied around this year's event."

While spectators of the parade will have prime viewing on Anaheim Boulevard, between Lincoln Avenue and Broadway, they will also see members of the famed Buffalo Soldiers, Tuskegee Airmen and the recently honored by Congress, Muntford Point Marines. The US Army Recruiting Team with Capt Ann Ayers and Capt. Emily Norton will also be in attendance, along with several Orange County Olympians and the dazzling Crenshaw High School Band.

Local dignitaries and key leaders waving down the parade route will include, Channel 2 and Channel 9's Amy Johnson and Suraya Fadel; Senator Lou Correa; Sachiko (Sachi) White, 2013-2014 Disneyland Resort Ambassador; Orange County Supervisors Shawn Nelson and Todd Spitzer; and Anaheim City Council members, Jordan Brandman, Gail Eastman, Kris Murray and Lucille Kring.

The event is sponsored by the Orange County Heritage Council and is organized by the black community as a commemoration of African American contributions to the strength of Orange County. This countywide celebration is enjoyed by families, churches, community groups, businesses, schools and elected officials of all ethnicities.

The Orange County Black History Parade and Cultural Fair is organized by the Orange County Heritage Council. Log on to the event website at OCHeritageCouncil.org, "Like" Orange County Heritage Council on Facebook and follow @OCBlackHistory on Twitter for more details.

County Commissions and Committees

The 4th District has vacant appointments on the following commissions or committees:


Human Relations Commission
Development Processing Review Committee
Assessment Appeals Board No. 1
If you are interested in serving on one of these Committees, please call Audra Fishel at (714) 834.3440

OC Parks


Caspers Trail Work Day

Date: January 26, 2013

Time: 8:00 AM

Come join Caspers Wilderness Park Rangers and other enthusiastic CPF volunteers for our monthly trail work day. You will work with our Park Rangers and trail leaders in maintaining and brushing Caspers Wilderness Park trails.

Cost: Free
Parking: Free
Ages 16 years and up.
Please bring water, leather work gloves, sun protection/sunscreen and sturdy work/hiking shoes. Lunch will be provided.
To sign up call Cindi Morgan at 949-923-2207 or email cindi.morgan@ocparks.com.
If rain, event cancels. For cancellation or more information, please call 949 923 2210.

Scales, Feathers & Fur – OC Zoo

Date: February 15, 2013

Time: 10:00 AM-11:00 AM

Learn about the differences between reptiles, birds, and mammals. Class includes hands-on learning, fun crafts, and meeting animals up close. Please see special instructions.

3-4 years old
Fee: $5 per child (One parent included)
Parking: $3
PHONE REGISTRATION REQUIRED. Call Marcy Crede-Booth, Education Coordinator at (714) 973-6846.
Additional parents/siblings/family/friends must pay admission fee to enter zoo. Please note spaces fill quickly for toddler classes

OC Animal Care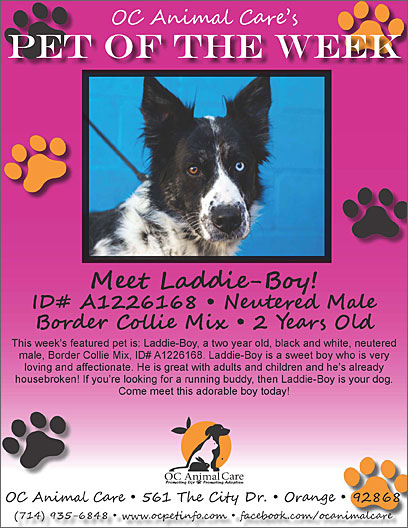 Click on the image above to view a larger version.

Library Corner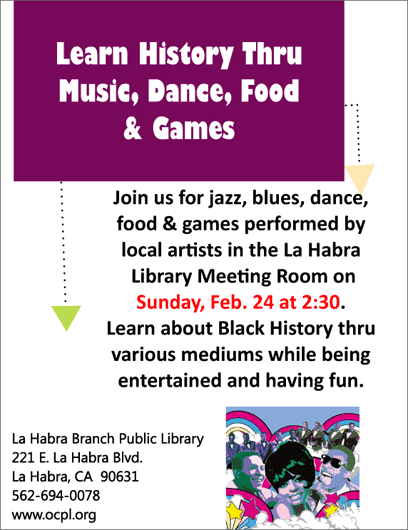 Click on the image above to view a larger version.

Events
Anaheim

What: Good Morning Anaheim Breakfast
Where: Clarion Hotel Anaheim Resort, 616 Convention Way, Anaheim, CA 92802
When: Friday, February 1st, 2013
Time: 7:30 am – 9:00 am

What: State of the City Luncheon
Where: City National Grove of Anaheim, 2200 E. Katella Ave., Anaheim, CA 92806
When: Tuesday, February 5, 2013
Time: 11:30 am – 1:30 pm

What: Enterprise Zone Vouchering Workshop - Be Prepared for Tax Season
Where: Embassy Suites Anaheim North, 3100 E. Frontera, Anaheim, CA 92806
When: Tuesday, February 12, 2013
Time: 3:00 pm – 4:00 pm

Brea

What: Farmers Market
Where: W. Birch Street in Brea Downtown
When: Every Tuesday
Time: 4:00 pm – 8:00 pm

What: Leads Lunch
Where: El Torito Grill, 555 Pointe Drive, Brea, CA
When: Wednesday, January 30, 2013
Time: 11:45 am – 1:15 pm

Buena Park

What: "Heirlooms of Our Ancestors" Exhibit
Where: California Welcome Center, 6601 Beach Blvd, Buena Park, CA 90621
When: January 1 – March 31, 2013
Time: 9:00 am – 5:00 pm

What: You Can Make a Difference – Canned Food Drive
Where: Knott's Berry Farm, 8039 Beach Blvd, Buena Park, CA 90620
When: January 7 – January 31, 2013
Time: Park Hours

Fullerton

What: Fullerton Arboretum Heritage House Tours
Where: Fullerton Arboretum, 1900 Associated Rd., Fullerton, CA
When: Saturday, January 26, 2013
Time: 2:00 pm – 3:00 pm

What: Networking at Noon
Where: Colette's Catering at the Meridian Club, Second Floor, 1535 Deerpark Drive, Fullerton, CA
When: Tuesday, February 5, 2013
Time: 11:30 am – 1:00 pm

La Habra

What: ConnectUp at Corner Bakery
Where: Corner Bakery Cafe, 1040 W. Imperial Highway, La Habra, CA 90631
When: Thursday, January 31, 2013
Time: 8:00 am – 9:00 am

What: Chamber Bowling Night
Where: La Habra 300 Bowl, 370 W. Whittier Blvd., La Habra, CA
When: Wednesday, February 6, 2013
Time: 6:30 pm – 8:30 pm

Placentia

What: Miss Placentia/Miss Placentia Outstanding Teen Pageant
Where: Valencia High School Auditorium, 500 No. Bradford Avenue, Placentia, CA 92870
When: Saturday, February 9, 2013
Time: 2:00 pm – 9:00 pm

For questions or comments regarding Nelson's E-News
please contact the Supervisor's office staff:
Audra Fishel Ph: 714-834-3440 Email: Audra.Fishel@ocgov.com.


Denis Bilodeau
Chief of Staff

Audra Fishel
Policy Advisor /
Communications Director

Steve Spernak
Policy Advisor

David Zenger
Policy Advisor

Scott Carpenter
Policy Advisor

Mark Lopez
Policy Advisor

Neha Sata
Executive Aide


Stay Connected!