Board of Supervisors

Welcome to Nelson's E-News!

A few highlights as you read:

This weekend marks the 57th annual Silverado Days in Buena Park. This traditional community event runs all weekend, beginning this evening at 5:00pm at William Peak Park. See the flyer below for more information. Please come by and visit us at our County information booth, hope to see you there!

William Peak Park
7225 El Dorado Drive, Buena Park, CA 90620
For more information please visit www.silveradodays.com

Tomorrow, there is an exciting event hosted by OC Parks. Acorn Day returns to O'Neil Regional Park! This FREE event will feature crafts, a puppet show, and hikes and events for the entire family. Please read below for details. Also please note we included information on how to become an OC Parks volunteer.

Lastly, you can read about my recent collaboration with Anaheim Mayor Tom Tait and county staff aimed at making the process of opening a craft brewery less restrictive and more appealing to potential brewers.

The next Board of Supervisors meeting will be Tuesday, October 22 at 9:30 am in the County Hall of Administration, 333 W. Santa Ana Blvd., Santa Ana 92701.

Sincerely,
Shawn Nelson

Board Updates



OC Treasurer - Secured Bills Mailing

The Orange County Treasurer has mailed approximately 850,000 secured property tax bills for 2013-14, and all secured tax bills should be in the mail by October 18. The printed tax bills now include a QR code that takes you directly to your parcel information on our website using your Smartphone. The tax bills are now available on our website at ocgov.com/octaxbill, and these online secured tax bills now include the property location. In addition, the tax bills for the previous four years are also available on our website so that if you need to get a copy for your 2013 State or Federal tax return, just go online to view and print them.

The last day to make your timely payment for the first installment will be December 10, 2013 and for the second installment will be April 10, 2014. Timely payment will be accepted up to midnight on the County payment site. Payments made after these dates will be assessed a 10% late penalty. We encourage you to save postage and "Go Green Electronically" by choosing the ease and convenience of paying your bill electronically by eCheck (no cost) or by debit/credit card (service fee applies) from our secure website at ocgov.com/octaxbill.

If you do not receive a property tax bill by November 1, you can obtain a copy of the property tax bill by going to ocgov.com/octaxbill, e-mailing a request to ttcinfo@ttc.ocgov.com, coming into the Office of the Treasurer-Tax Collector at 625 North Ross Street in Santa Ana or calling us at (714) 834-3411. Government Code states that not receiving a tax bill does not relieve you from your responsibility to pay it timely. Please note that if you are making payment by mail, the envelope must have a United States Post Office ("USPS") postmark on or before the last payment date to avoid the late penalty fee. For important information about postmarks, please visit our website at ocgov.com/postmarks.

Tax payments processed by midnight using the County Treasurer's website at ocgov.com/octaxbill will be accepted as timely payment of taxes. Consider joining thousand of taxpayers by paying your property tax bills on-line at ocgov.com/octaxbill by eCheck (your bank account) at no cost. Also, don't forgot to sign up at ocgov.com/taxreminder to receive a reminder email to pay property taxes approximately 10 days before each installment's final timely payment due date.

Some Mello-Roos Districts' assessments, including assessments in Trabuco Canyon Water District and Aliso Viejo CFD 88-1, have expired, and will no longer appear on the tax bills.

County of Orange and Anaheim Look to Make Anaheim Destination for Craft Breweries

Anaheim Mayor Tom Tait and Supervisor Nelson formed a collaboration with city and county staff aimed at making the process of opening a craft brewery less restrictive and more appealing to potential brewers. Gathered at the County Hall of Administration, Supervisor Nelson and Mayor Tait welcomed officials from the County Health Department and Anaheim zoning and code officers who oversee the permitting process to brainstorm to see how the usual two year process of obtaining a permit could be streamlined significantly.

After going on a tour and meeting brewers from Noble Ale Works in Anaheim several weeks ago, Mayor Tait also invited representatives from the Bruery and Bottle Logic Brewing to give their insights and tell about challenges they have experienced when opening their brewing business. The meeting served as a great collaboration for all parties to get on the same page and for the city and county to develop a system that will make Anaheim an attractive location to open and operate a brewery. Anaheim is home to several food and beer festivals that are held annually; with all parties working together Supervisor Nelson is hopeful that future festivals will feature many new craft beers that call Anaheim home.


Brewery Equipment

Board Changes Meeting Schedule

The Board of Supervisors meeting will begin at 8:00 am on Tuesday, November 19, as opposed to its regular 9:30 am time. Below is the entire 2013 meeting schedule.

Please click here to view the board meeting schedule.

Anaheim Charter Review Committee

On May 28, 2013, the Anaheim City Council established a seven member Charter Review Committee by resolution, to serve as an advisory body to the Council. This Committee was tasked with conducting a comprehensive review of the City's Charter, which serves as the City's fundamental governing document and outlines certain authority and restrictions the City has over municipal affairs.

The Committee will meet at least twice a month during the review process. At the end of the review, the Charter Review Committee will present the City Council with recommendations, which could be placed on the ballot for voter approval during the next statewide primary election. Please note that no changes can be made to the City's Charter without the vote of the people.

The Anaheim Charter Review Committee will have its meetings in the Anaheim City Council Chambers at 200 S. Anaheim Blvd. at 6:00 pm. For upcoming meeting dates and topics to be discussed, please visit the Charter website.

OCTA



Metrolink and OCTA "USC Football Express" A Big Hit for Fans

On Thursday, October 10th the USC Trojans hosted a rare Thursday night game at the LA Coliseum against the Arizona Wildcats. Because of regular weekday traffic and classes in session parking and traffic surrounding the Coliseum promised to be a nightmare. To alleviate the stress for many fans, the Orange County Transportation Authority (OCTA) and Metrolink teamed up to provide special Metrolink service from Orange County to LA to cut down the hassle for Orange County based Trojan fans. Supervisor Nelson and two members of his staff rode the train and attended the game, which USC won 38-31, and observed the thousands of Orange County residents who also took advantage of the unique transportation opportunity. For less than the cost of gas and parking near the Coliseum fans got to travel to the game and back without having to stress about transportation concerns.


(Left) Supervisor Nelson assists a fellow Trojan fan purchasing a ticket at the Fullerton station.
(Right) Fourth District Staff Members Scott Carpenter and Denis Bilodeau with OCTA Board Member Matthew Harper heading to the game after riding the USC Football Express.

OCTA ACCESS Service

ACCESS is OCTA's shared-ride service within Orange County for people who are unable to use the regular, fixed-route bus service because of functional limitations caused by a disability. These passengers must be certified by OCTA to use the ACCESS system by meeting the Americans with Disabilities Act (ADA) eligibility criteria.

For more information on determining eligibility, hours of service and cost, please visit the ACCESS website.

In the Community

OC Business Journal Interview

This past week Kari Hamanaka from the OC Business Journal stopped by the Hall of Administration to interview Supervisor Shawn Nelson for their latest Delta Spotlight that runs in the issue of Delta Sky distributed on Delta flights. The Delta Spotlight is an entertaining article that focuses on favorite local food, music, and happenings particularly those not found in guidebooks. Supervisor Nelson touched on a couple of his favorite local hangouts such as Bootleggers Brewery and Heroes Restaurant in his hometown of Fullerton. Please visit http://deltaskymag.delta.com/ to subscribe to the free Delta Sky e-newsletter and receive editor tips on Delta destinations and updates on new restaurants, nightlife, attractions, shops, events, contest alerts and more!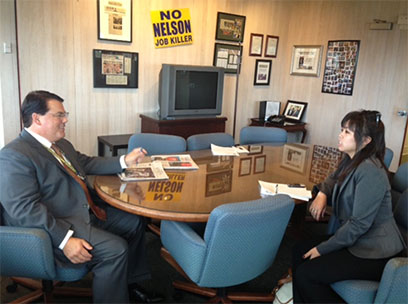 Supervisor Nelson and Kari Hamanaka chat about the charms of OC

Buster the Bus Ribbon Cutting

The Children's Museum at La Habra unveiled its highly acclaimed and recently renovated Buster the Bus on October 7 to a crowd of local dignitaries and community leaders. Buster received a complete make-over in September during the museum's annual renovation. Buster, a real bus that was once in service in Orange County, was donated to the Museum over 20 years ago by the Orange County Transportation Authority. After providing great delight to countless visitors over the years, it was time for a much-needed repair session.

The OCTA staff performed all of the repairs, which included new upholstery, updated signage, a brand new driver's seat, a working flip square sign, and a nice shiny buffing! MV Transportation paid for the renovations. The Children's Museum at La Habra is thankful to OCTA and MV Transportation for their generous support and continued partnership.

The Children's Museum at La Habra opened in December 1977, and is located in a historic 1923 Union Pacific Train Depot. The Children's Museum at La Habra was one of only a few such museums open on the West Coast during the 1970's. The Children's Museum at La Habra is a hands-on learning facility for children from infancy through age 12.

The Museum is located at 301 S. Euclid Street in La Habra. General admission is $8 per person; children under two are free, and La Habra residents pay $7. The Museum is open to the public from Tuesday through Friday 10 a.m. - 4 p.m., Saturday 10 a.m. - 5 p.m.; Sundays 1 - 5 p.m. and is closed Mondays and major holidays. Reservations are required for groups of 15 or more. For further information, call (562) 905-9793.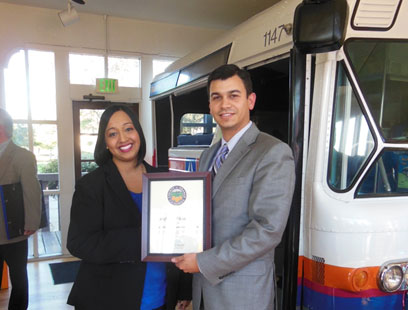 Nelson staffer Mark Lopez presents the Managing Director of the Children's Museum at La Habra Museum, Lovely Qureshi, with a certificate of recognition.

Placentia Heritage days

Supervisor Nelson enjoyed the morning kickoff at the 46th Annual Placentia Heritage Days festivities where thousands of Orange County residents shared a day of fun and perfect weather while celebrating their city's history and contributions to OC. This year's theme of "Pride of Placentia" set the tenor for the 200 entrants of bands, civic groups, cars and public safety members who made their way up Kraemer Blvd to Tri-City Park.

The day kicked off with a pancake breakfast at Tri-City Park, hosted by the Placentia Rotary and Placentia Chamber of Commerce. At 9:30 a.m., starting at Morse Avenue and heading north along Kraemer Boulevard, the parade was led by Grand Marshal Wendy Burch of the KTLA-TV morning news show and by celebrity grand marshal, the Girl Scouts of America, which is celebrating its 100 anniversary. Along with Snoopy, local dignitaries and community organizations, the parade featured 21 high school and middle school marching bands.

At Tri-City Park, more than 200 cars – antiques, customs, hot rods, classics – were on display at their 24th annual car show. The day ended with thousands enjoying the game area for children, a business expo, and a large variety of food vendors that sponsor local community groups and entertainment.

Supervisor Nelson had staff hand out resource brochures from the North Orange County Senior Collaborative and were available to answer questions about County administration, operations, projects and accomplishments that add to the quality of life in Placentia and North OC.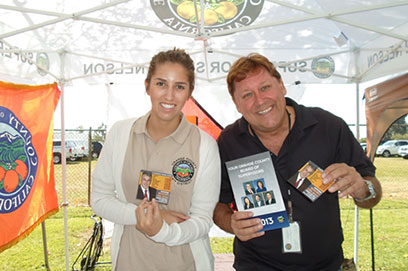 Staff Aide Natalie Wieckert joins Policy Advisor Steve Spernak at Supervisor Nelson's Public Info Booth at Tri-City Park during Heritage Days in Placentia.

The Fourth District honors Nicolas Jr. High School Teacher

Supervisor Nelson was honored to recognize the City of Fullerton's own Nicolas Jr. High School teacher, Robyn Clemente, for her heroism displayed on Thursday, September 26th when an intruder entered her classroom. The man appeared to be under the influence and was in a very paranoid state of mind. Robyn Clemente responded in a very calm and comforting manner in order to ensure the safety of her 8th grade classroom. It was through her efforts the intruder was arrested and her students were led to safety without injury. A celebration of recognition was held this past week and Supervisor Nelson's staff was on hand to honor and support Mrs. Robyn Clemente.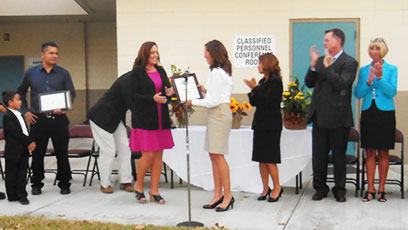 Fourth District Staffer Natalie Wieckert presents Certificate of Recognition to Robyn Clemente

Placentia Chamber Celebrates New Headquarters

Congratulations to the Placentia Chamber of Commerce which completed their move from the Yorba Linda Blvd offices to their new headquarters at 117 N. Main (at Chapman by the Foster's Freeze). The move will allow more operational space, ample parking, and proximity to Old Towne, and the backdrop of having a large city park adds to the opportunity to host BBQ's and summer sunset mixers on their back patio.

Executive Director Susan Wan-Ross welcomed the attending and expressed how proud she was with having Cal State Fullerton's school of business partnering with their membership. Wan-Ross advised this will serve as an incubator for students to learn business and introduce member- professionals to new concepts on marketing and social media to promote their products and services.

Members of the Chamber will also enjoy having retired business and corporate leaders affiliating with the Chamber and the Governor's office making themselves available for help and counsel. Jeff Malin, Senior Business Development Specialist with the Office of Governor Jerry Brown announced that he is the regional contact person for business questions and technical support from the State level. Mr. Malin can be reached at his office at (213) 620-2978.

For more information on how the Placentia Chamber can help your business please contact Pam Tancordo at their new office number (714) 528-1873.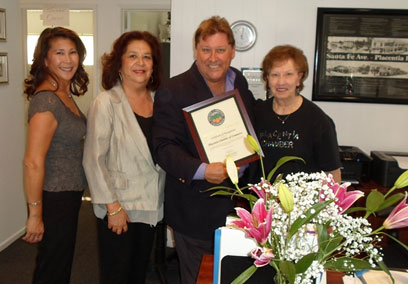 Policy Advisor Steve Spernak (center) presents a Supervisor's commendation to Chamber Executive Director Susan Wan-Ross (left) with Board Member Rosalina Davis and Assistant Executive Director Pam Tancordo at their ribbon- cutting grand opening.

Nelson Nominee Wins State Firefighter's Medal of Valor

Congratulations were delivered this past weekend to Chuck Rees who received the prestigious Medal of Valor from the California State Firefighters Association at their annual awards night in Sacramento. Rees received Supervisor Nelson's "Profiles in Courage" award last December at the Buena Park City Council meeting, along with commendations for heroism from the Orange County Fire Authority and the City of Buena Park.

Rees, as you recall, made a dynamic entry into a burning residence last year that resulted in his saving the life of an 80 year old woman. Much to people's amazement, Rees left the scene of the rescue without speaking to Police or Fire personnel, having the sentiment that he'd done a good deed and didn't need anything further in the way of thanks or appreciation. Supervisor Nelson was so taken by his humility and the extreme bravery Rees portrayed in rescuing the elderly woman that he nominated Rees for the statewide recognition.

Steve Spernak submitted the commendation application in April of this year with attachments from official reports, newspaper articles and photos of the heroism presentations at the Buena Park City Council.

Rees was joined by Laurie, his wife and Ann Marie, his mother-in-law, at the Sacramento Holiday Inn for the awards dinner and presentations where 12 other recipients received the Medals of Valor for their incredible life-saving episodes where they risked their lives to save those they saw in peril.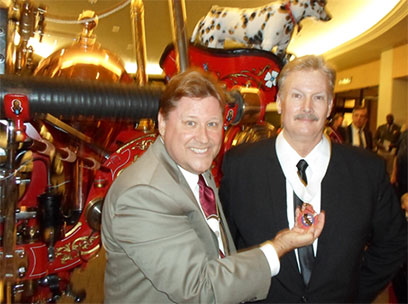 Fourth District Policy Advisor Steve Spernak celebrates with Medal of Valor honoree Chuck Rees at State Firefighters Awards

Announcements
CalOptima PACE Facility

The Program of All-Inclusive Care for the Elderly (PACE) provides comprehensive medical care and social services to frail seniors in a single location. An interdisciplinary team of professionals coordinates Medicare and Medi-Cal services for PACE participants, creating an improved health care experience. This comprehensive care enables participants to continue living independently in the community rather than receiving their care through a nursing home. Additionally, PACE participants have been shown to experience shorter hospital stays, lower mortality rates, and better self-reported quality of life.

CalOptima PACE is the first program of its kind in Orange County. The new facility, in Garden Grove, officially opened its doors to serve members on October 1, 2013. CalOptima is thrilled to operate a nationally successful program in our community.

For more information or to set up an enrollment appointment, please contact Alison Patt-Insinna, Manager, PACE Marketing and Outreach at apinsinna@caloptima.org or 714-468-1044.

OC Parks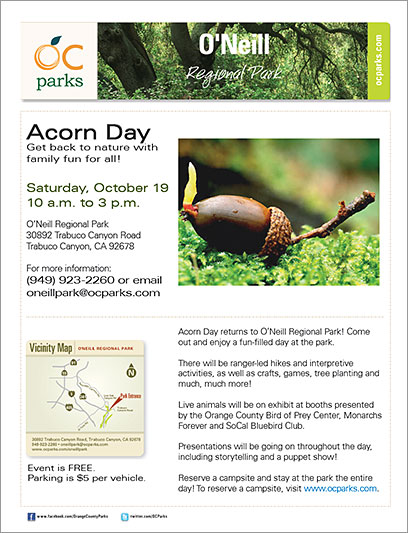 Click on the image above to view a larger version.

Volunteer Opportunities

Volunteers are the heartbeat of OC Parks. The types of work a volunteer can perform are many and varied; the only tasks a volunteer cannot carry out are those associated with law enforcement. Your skills and talents are matched with your work preference to obtain a role that satisfies you and best fulfills the mission of OC Parks. You may work on a part-time basis. You can participate in a one-time project or serve over several months, seasons or year-round. The commitment you make is up to you. Training will be provided to you if your job requires it. If you are retired or have days free, you may like to join our naturalist group. College students may perform volunteer service related to their coursework for college credit. A variety of jobs are available if you prefer the office environment. There are also numerous opportunities to perform vigorous but satisfying physical labor outdoors.

Some volunteer activities include:

Greeting visitors at nature centers
Working with computers in administrative offices
Taking photographs
Planting trees and seeding damaged areas as well as seed collecting for new plant growth
Presenting environmental education programs/nature walks and programs
Building and repairing nesting boxes, picnic tables, and other structures
Building and repairing trails.
How to apply:

Register as a General Volunteer Application or One Time Volunteer Application

To contact OC Parks Volunteer Services, call (714) 566-3067 or email Matthew.le@occr.ocgov.com

County Commissions and Committees

The 4th District has vacant appointments on the following commissions or committees:


Oversight Board of the Successor to the City Redevelopment Agency (Buena Park and Anaheim)
If you are interested in serving on this committee, please call Audra Fishel at (714) 834.3440

OC Animal Care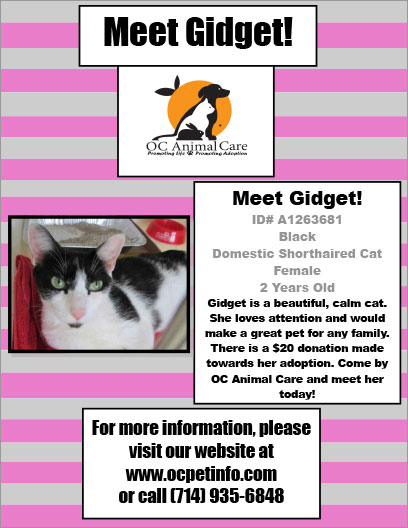 Click on the image above to view a larger version.

Library Corner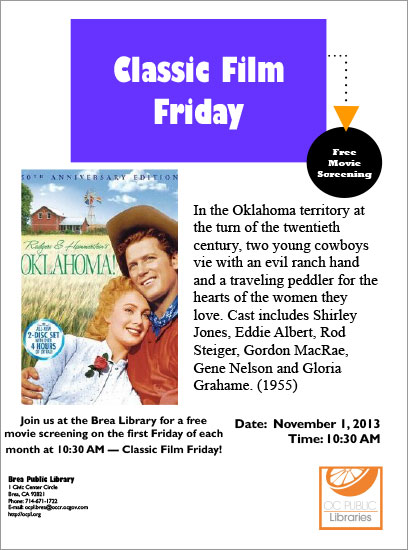 Click on the image above to view a larger version.

Halloween Fear Factor Event for Teens - Buena Park Library


Teens are invited to celebrate Halloween at the Buena Park Library on Saturday, October 26th from 2:30 p.m. to 3:30 p.m. during our Halloween themed Fear Factor Challenge. Teens will compete in teams of two as they face our freaky, fun games and challenges. We will also have some scary, gross food to tantalize every brave teen's appetite.

A prize will be awarded to the team who demonstrates that fear is not a factor for them. Teens have the option of wearing their costumes to the event, though it is not mandatory.

For more information, please contact the library at 714.826.4100 x125, or visit our virtual branch at www.buenaparklibrary.org. The Buena Park Library District is located at 7150 La Palma Avenue, Buena Park, California. The Buena Park Library is open Tuesday through Thursday, 10:00 a.m. – 8:00 p.m. and Friday and Saturday, 10:00 a.m. – 5:00 p.m.

Attention Seniors
Fourth District Seniors Projects Update

Two important missions took place this week in the Fourth District. The first is the successful distribution of the Senior Survey provided by the North Orange County Senior Collaborative (NOCSC). The survey is a composite of questions that cover essential needs of seniors in the categories of Housing, Legal Issues and Healthcare. The partnership with 31 members of NOCSC, St Jude's Medical and the Office of Supervisor Nelson designed the survey to provide us with insight to the unmet- needs of seniors. The results of the survey are being collated and responses will be published in the Nelson Newsletter, NOCSC website and provided in print to each of the Fourth District Senior Centers. A copy of the survey is available to review, print and send to the office of Supervisor Shawn Nelson by clicking on the link here.

The second mission for Supervisor Nelson involved his sitting down with each director or senior center administrator in the district and reviewing needs, concerns, finances and communications to better the County's performance. The meetings this week involved the Independencia Center of Anaheim, the Buena Park Senior Center and the La Habra Senior Center. Three more conferences with Anaheim, Placentia and Fullerton are scheduled for the near future. Conclusions from the meetings this week suggest that transportation remains the most critical need for seniors along with maintaining health and wellness. The generation of seniors who were content with sitting idle and doing bingo seems to be on the outs. Most seniors now want to travel, socialize, remain active with community groups and find meaning in the end-years of their lives by making a difference in the quality of life of their peers and themselves. Discussed was the concept of 'aging in place' or making sure that most seniors stay in the homes they have lived in for 50 years and yet be open to changes in living arrangements by renting out empty rooms or the unused upstairs to offset expenses and the costs and challenges of living as a senior.

Efforts will be made by the Shawn Nelson staff to assist the Senior Centers with outreach and communications which will include getting County resource phone numbers and programs out to more seniors. Policy Advisor Steve Spernak will be the contact person for both projects and be available to answer your questions for services, resources, education and communications at his direct number (714) 834-3542.

Events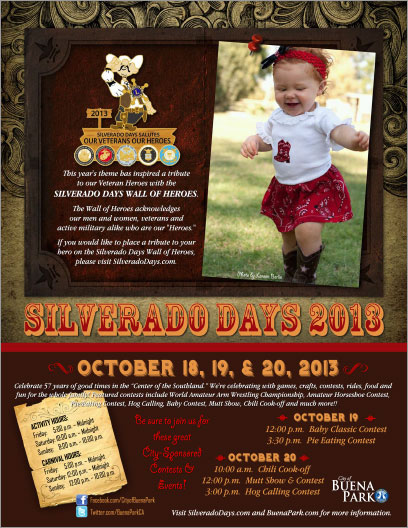 Click on the image above to view a larger version.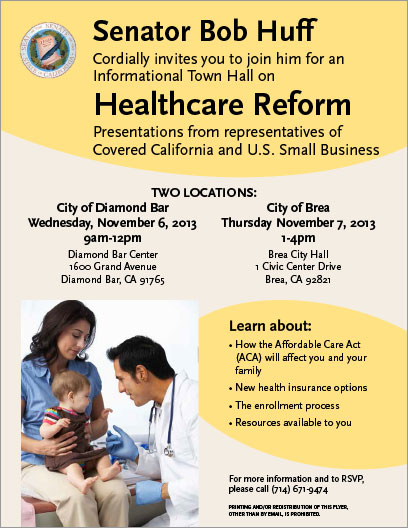 Click on the image above to view a larger version.

Anaheim

What: Cooking for Kids
Where: Ponderosa Library-240 E. Orangewood Ave.
When: Saturday, October 19
Time: 11:30 am-1:00 pm

What: Halloween Extravaganza
Where: Servite High School Theatre-1952 W. La Palma Avenue
When: Sunday, October 27
Time: 6:00 pm-8:00 pm

Brea

What: Mosaic Art Workshop
Where: Brea Art Gallery-1 Civic Center Circle
When: Tuesday, October 22
Time: 6:30 pm-9:00 pm

What: Thoroughly Modern Millie
Where: Curtis Theatre-1 Civic Center Circle
When: Sunday, October 27
Time: 2:00 pm-4:00 pm

Buena Park

What: Silverado Days
Where: William Peak Park-7225 El Dorado Dr.
When: Friday, October 18; Saturday, October 19; Sunday, October 20
Time: Friday 5:00 pm-Midnight, Saturday 10:00 am-Midnight, Sunday 12:00 pm-10:00 pm

What: Titanic & Bodies Exhibit
Where: Premier Exhibition Center-7711 Beach Blvd.
When: Monday-Sunday
Time: Monday-Thursday 10:00 am-7:00 pm, Friday-Saturday 10:00 am-8:00 pm, Sunday 10:00 am-6:00 pm

Fullerton

What: Civil Air Patrol Falcon Squadron 40
Where: Fullerton Airport-AFI Hangar 2, 419 W. Commonwealth Avenue
When: Thursday, October 24
Time: 7:30 pm

What: "Talk Around Town" with Mayor Bruce Whitaker
Where: Hillcrest Park, Red Cross Building-1200 N. Harbor Blvd.
When: Tuesday, October 22
Time: 6:30 pm-7:30 pm

La Habra

What: Red Ribbon Breakfast
Where: La Habra Community Center-101 W. La Habra Blvd.
When: Thursday, October 24
Time: 6:00 am-8:00 am

What: Viejas Casino Trip
Where: La Bonita Park parking lot-1440 W. Whittier Blvd.
When: Tuesday, October 29
Time: 8:00 am-6:00 pm

Placentia

What: Historical Committee Meeting
Where: Administrative Conference Room-401 E. Chapman Ave.
When: Tuesday, October 22
Time: 7:00 pm

For questions or comments regarding Nelson's E-News
please contact the Supervisor's office staff:
Audra Fishel Ph: 714-834-3440 Email: Audra.Fishel@ocgov.com.