Board of Supervisors

Welcome to Nelson's E-News!

As we near the end of 2013 and my Chairmanship on the Board of Supervisors, I am also reminded of those less fortunate. On Thanksgiving Day, the annual We Give Thanks will provide Thanksgiving Day meals for those in need. Volunteers are welcome to assist. In addition, the Council on Aging Orange County is providing services to needy seniors. Please continue reading to see how you can help.

In the last couple weeks, I spent a significant amount of time in my hometown of Fullerton speaking to a class at Cal State Fullerton, a community group and about the Conditions of Children in Orange County. Please read more for brief descriptions and photos of these events.

County offices will be closed tomorrow, Thursday, November 28 and Friday, November 29 in observance of the Thanksgiving holiday. The Board of Supervisors will be dark on Tuesday, December 3.

The Board's next meeting will be Tuesday, December 10 at 9:30 am in the Hall of Administration, 333 West Santa Ana Blvd., Santa Ana 92701. To view the upcoming agenda when available, please check the Clerk of the Board website.

Have a happy and safe Thanksgiving!

Sincerely,
Shawn Nelson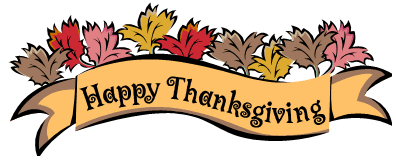 Board Updates



Good News for Orange County's Older Adults: Pacific Life Foundation Awards $985,000 for Senior Programs

Funding cuts resulting from the Federal sequester have had across-the-board impacts throughout Orange County. Decreased funding for the County Office on Aging older adult programs, such as the Elderly Nutrition Program that delivers meals to home-bound seniors and provides congregate lunches at senior centers and the Ombudsman Program that provides patient rights advocates for those living in long term care facilities, caught the attention of a local private foundation, Pacific Life.

Karen Roper, Director of OC Community Services, along with her Office on Aging team met with Pacific Life Foundation to educate them on the exponential growth of the aging population in Orange County through a presentation called "The Age Tsunami." In that meeting, Karen outlined the challenge of a dramatic increase in the aging population of Orange County coupled with budget cuts to critical programs. Consistent with the County's values, Karen and her team emphasized the need for strong public/private partnerships to support the aging system of care.

On Thursday, November 7, 2013, Karen received an email announcement from the Pacific Life Foundation. The announcement indicated their Board of Directors approved $310,000 for the Elderly Nutrition Program in 2013, and $675,000 to the Ombudsman Program to be paid over the next three years. Pacific Life is awarding these funds directly to the following Office on Aging contracted providers: Community SeniorServ $200,000; Age Well Senior Services $100,000; City of Irvine $10,000; and Council on Aging $675,000.

Property Tax Time

As a reminder, the first installment for your 2013-2014 property tax bill was due on November 1. However, you can still pay without any penalty until Tuesday, December 10 by 5:00 pm. After December 10, your account will be delinquent and include a 10% penalty. For more information about your property tax bill, including making an online payment, visit the Orange County Treasurer-Tax Collector's website.

OCTA



Freeway Construction On Hold For Thanksgiving

Drivers traveling Orange County freeways will enjoy easier rides to Thanksgiving feasts as Orange County Transportation Authority (OCTA) construction project closures will be suspended for the holiday weekend.

Closures associated with the West County Connectors, SR-91 widening and SR-57 lane addition projects will be halted by 5 p.m. Wednesday, Nov. 27 and will not take place through Sunday, Dec. 1. Regular construction schedules and associated closures will resume on Monday, Dec. 2.

The Thanksgiving Weekend is among the busiest travel periods of the year on Orange County freeways and OCTA wants help people get to their destinations and enjoy time with family and friends.

The freeway projects represent nearly $450 million in improvements and when completed will enhance traffic flow and safety for hundreds of thousands of drivers that travel along Orange County's freeways each day.

For more information or to sign up to receive construction alerts, the public can call the construction helpline at (800) 724-0353 or visit the following websites:


In the Community

Supervisor Nelson Keynotes Neighbors United for Fullerton Monthly Meeting

Neighbors United for Fullerton (NUFF) welcomed Supervisor Nelson last Monday to keynote their monthly meeting at the Fullerton Main Library. The Supervisor took the opportunity to update attendees on key topics of interest which included the county's effort to improve bike paths, concerns over prisoner realignment, efforts to address homelessness and of course fielded a wide variety of questions from the audience. Speaking to NUFF was part of a continuing effort Supervisor Nelson is making to reach out to as many community groups as possible as the county is working to address a wide variety of issues that affect the lives of Orange County residents. To invite Supervisor Nelson to speak please contact the Fourth District office at (714) 834-3440.

For more information on Neighbors United for Fullerton please visit: www.nuffpac.org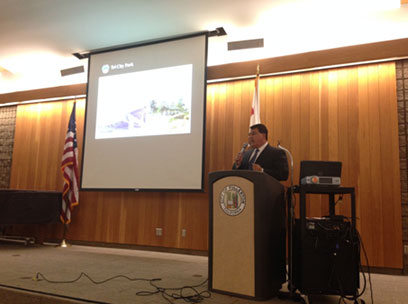 Supervisor Nelson speaking to NUFF

Nelson Visits CSUF Politics Class

Last Wednesday, Supervisor Nelson spoke to a class of 35 junior and senior public administration and political science majors at Cal State Fullerton (CSUF). The Introduction to Metropolitan Politics course examines the operations of local and regional governments.

After informing the students on how significant Orange County truly is, as the country's sixth largest county, he relayed many of the important functions and roles the county performs. These include holding property and vital records for county residents and providing healthcare services for the poor.

The Supervisor also discussed his own background, from growing up not far from the campus and attending law school just across the street from CSUF to being a partner in a law firm and holding office on the Fullerton City Council. After discussing some recent county issues and his typical week, Supervisor Nelson encouraged students to apply for internships, specifically with the Air Quality Management District, and took several questions on local politics and government.


(Left) Supervisor Nelson poses with Professor and Titan alum Chris Reese after speaking at CSUF. (Right) Supervisor Shawn Nelson answers a student's question in the Introduction to Metropolitan Politics class.

Buena Park Mayors Breakfast

On November 21st, Buena Park hosted the 35th Annual Buena Park Mayor's Prayer Breakfast. The breakfast was sponsored by Steve Knott and family who kindly introduced Jim Morris as the keynote speaker. Jim Morris's story is quite unique and was a pleasure to listen to at the Mayor's Breakfast. As a child Jim Morris dreamed of being a professional baseball player, but with multiple injuries that dream seemed impossible to attain. It was not until after college, when Morris began coaching baseball in Texas, that he was able to make his dream a reality. He bet that if his high school baseball team won a district title, he would try out for Pro baseball again. His team won and at age 35 Morris tried out for professional baseball. He made the team and eventually Disney turned this magnificent story into the movie, The Rookie, which has inspired many to continue to pursue their dreams at any age.

Pro Baseball player Jim Morris keynoted Mayor Beth Swift's 35th Annual Mayor's Prayer Breakfast.

Nothing Bundt Cakes – Grand Opening

Congratulations to Nothing Bundt Cakes on their Grand Opening in Brea! Nothing Bundt Cakes are available in numerous sizes to accommodate gatherings both large and small, from bite-sized Bundtinis, to single serving Bundtlets, to larger 8" and 10" cakes and even double-tiered cakes. In addition to cakes, the bakery features an assortment of artfully designed gifts and decorations with a playful, timeless quality to help make any occasion ever more special. They are located at 1050 E. Imperial Blvd in Brea. Supervisor Nelson staffer Audra Fishel was on hand to present a certificate of recognition to the Bundt cakes team. For more information on how to get involved or join the Brea Chamber of Commerce, please visit: http://www.breachamber.com/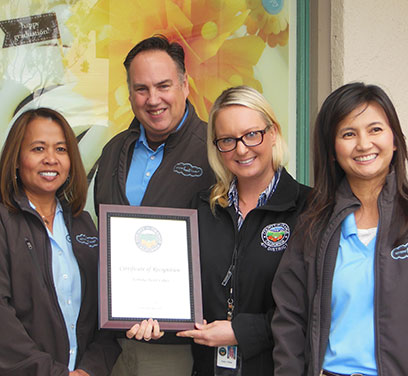 Nelson Staff Member Audra Fishel presents a certificate of recognition to Brea's Nothing Bundt Cakes Staff

Supervisor Nelson Hosts Fourth District Report on the Conditions of Children

The Orange County Children's Partnership published the 19th Annual Report on the Conditions of Children in Orange County earlier this month. As a way to spread the word and promote the report's findings, five forums are being held throughout Orange County to discuss and analyze the report. Yesterday, Supervisor Nelson welcomed the community engagement presentation in the Fourth District at Cal State Fullerton. The program was organized by the Orange County Social Services Agency, Orangewood Children's Foundation, The Children and Families Commission, Cal State Fullerton and the United Way. During the presentation a variety of topics were discussed including: Good Health, Economic Well-Being, Education and Safe Homes and Community. A special presentation that focused on improving the education and opportunities for children in foster care highlighted the morning's report. Following the event, participants and attendees were given the opportunity to provide comments and feedback.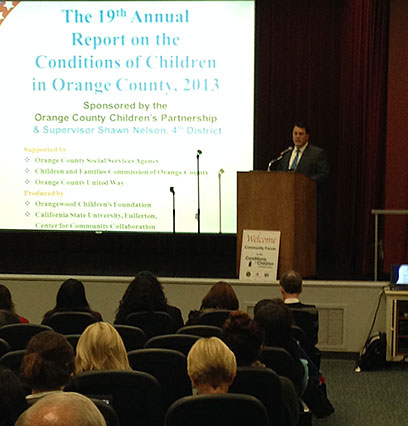 Supervisor Nelson addressing the crowd at Cal State Fullerton

Nelson Kicks Off New Senior Guides for 2014

The 2014 edition of Answers is now available at the Council on Aging office located at 1971 E. 4th Street, Santa Ana, along with 4th District Senior Centers, county libraries and The OC Register. Also, copies will be handed out at the City of Placentia Tamale Festival on December 4th during Old Towne Christmas celebrations. If your organization would like copies of the new Senior Guides, please call Steve Spernak at Supervisor Nelson's office at 714-834-3542 to arrange delivery.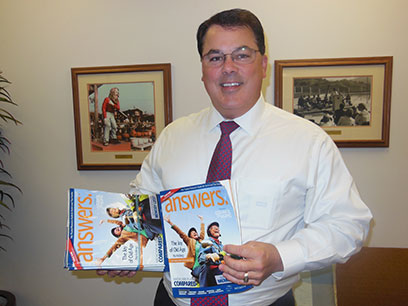 Chairman Shawn Nelson helps distribute the new 2014 Council on Aging "Answers" Senior Guides.

OC Parks


Wild Tales at Upper Newport Bay Nature Preserve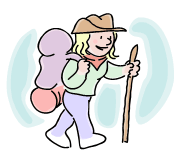 Visit with Preserve staff for story-telling fun! After a story, learn more about the natural history of the Bay through crafts, hands-on activities and nature walks. Come prepared for an exciting outdoor experience!

Cost: $5 per student
Parking: Free
Age: 2-8 years
Space is limited and pre-registration is required. Please call (949) 923-2275, or email unbic@ocparks.com to register.
Date: 11/29/2013
Time: 10:30 am – 11:30 am

Announcements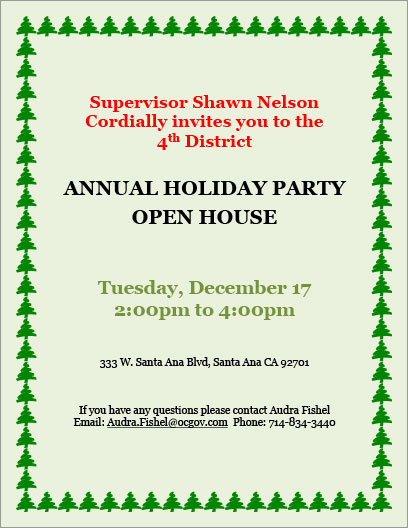 Click on the image above to view a larger version.

Bring holiday joy to needy seniors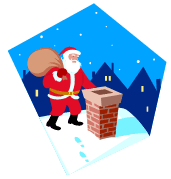 The SmileMakers Guild of the Council on Aging Orange County provides an opportunity to bring smiles and holiday cheer to some seniors who would otherwise be forgotten by delivering a personal gift to them. This year we have received requests from more than 3,400 lonely seniors. To adopt a senior, email coaoc@coaoc.org. You will be contacted with information for a special senior. Or, donate an item of personal comfort such as sweat suits, colored men's T-shirts, sweaters, pajamas, robes, lap blankets, CD players, wrapping paper, or gift certificates to K-Mart, Wal-Mart, Kohl's, Sears, or JC Penney. Click here for additional information on the SmileMakers Holiday Project. Deadline for gifts to the Council on Aging Christmas gifts for seniors project is Dec 1. Donors may contact Steve Spernak from the office of Supervisor Shawn Nelson at 714 834 3542 for questions or Secret-Santa donations or Ms. Charlotte Finklea of the Council on Aging, who is listed below.

Charlotte Finklea
Director of Development and Community Relations
Council on Aging-Orange County
1971 E 4th St., Suite 200
Santa Ana, CA 92705
(714) 479-0107 x 268
cfinklea@coaoc.org

County Commissions and Committees

The 4th District has vacant appointments on the following commissions or committees:


Oversight Board of the Successor to the City Redevelopment Agency (Buena Park and Anaheim)
Waste Management Commission
If you are interested in serving on one of these Committees, please call Audra Fishel at (714) 834.3440

OC Animal Care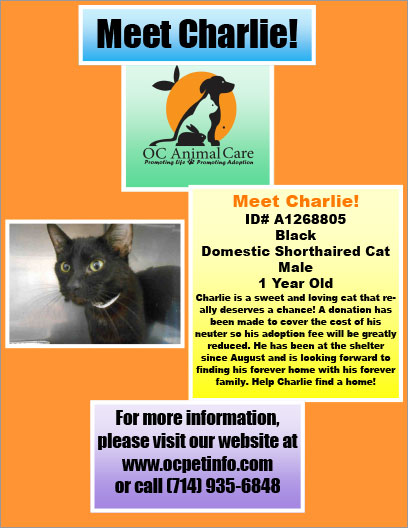 Click on the image above to view a larger version.

Library Corner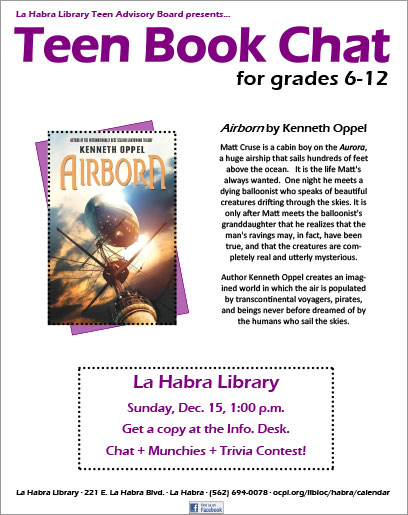 Click on the image above to view a larger version.

Events
2013 We Give Thanks – Honda Center

Thursday, November 28, 2013 at 12:00pm – Thanksgiving Day at the Honda Center

For over 20 years, We Give Thanks has been helping those in need in the greater Orange County and Los Angeles areas. Frank Garcia, founder of We Give Thanks, felt blessed that his family had food and shelter but he knew that many families lacked his good fortune. Believing Thanksgiving is a special day to give thanks for God's gifts, Garcia decided to serve a free Thanksgiving Day dinner to families in need in the parking lot of his family owned restaurant, La Casa Garcia. Each year the number of persons increased and soon surpassed 15,000.

This upcoming Thanksgiving will mark the 27th Annual Thanksgiving Dinner. Although the location has changed from the parking lot of La Casa Garcia to Honda Center, the purpose of the dinner has remained the same: To serve a free Thanksgiving dinner to individuals and families in need.

For more information please visit: http://www.wegivethanksinc.org/home/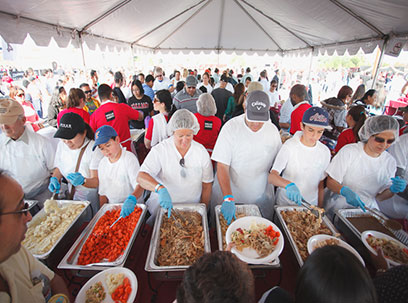 We Give Thanks Volunteers in 2012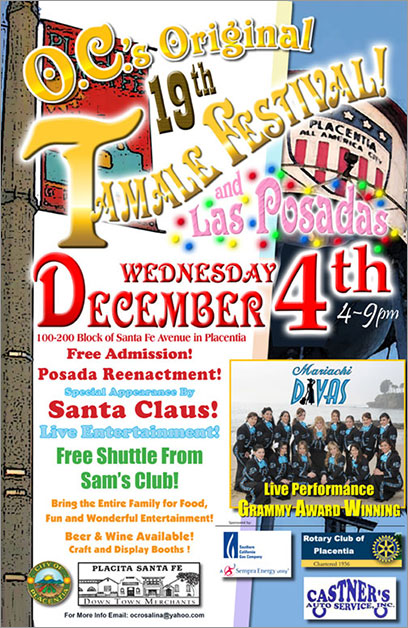 Click on the image above to view a larger version.

Anaheim

What: Santa Arrival Parade
Where: Anaheim Town Square, 2002 Lincoln Avenue
When: Friday, November 29
Time: 12:00 pm-3:00 pm

What: Ladies Night at Center Street Anaheim
Where: 201 Center Street Promenade
When: Thursday, December 5
Time: 6:00 pm-8:00 pm

What: Nutcracker Christmas Tree Lighting and Holiday Village
Where: Downtown Anaheim
When: Saturday, December 7
Time: 10:00 am-7:00 pm

Brea

What: Thanksgiving Day Body Blast
Where: Brea Fitness Center, 695 East Madison Way
When: Thursday, November 28
Time: 8:00 am-10:00 am

What: Tree Lighting Ceremony
Where: Brea Civic & Cultural Center, 1 Civic Center Circle
When: Thursday, December 5
Time: 6:30 pm-8:00 pm

What: The Alley Cats in a Doo Wop Christmas
Where: Curtis Theatre, 1 Civic Center Circle-Plaza Level
When: Sunday, December 1
Time: 2:00 pm-4:00 pm

Buena Park

What: Holiday Tree Lighting
Where: 6650 Beach Blvd.
When: Tuesday, December 3
Time: 6:00 pm-7:00 pm

What: 43rd Annual Candy Cane Land & Craft Faire
Where: 8150 Knott Ave
When: Saturday, December 7
Time: 10:00 am-4:00 pm

Fullerton

What: Fullerton Museum Host "Shopping Soiree"
Where: 301 N. Pomona Ave., east of Harbor Blvd., in downtown Fullerton
When: Friday, December 6
Time: 6:00 pm-10:00 pm

What: "Winter Market" Festivities Starts December 7
Where: Wilshire Avenue, between Harbor Boulevard and Pomona Avenue
When: Saturday, December 7
Time: 12:00 pm-4:00 pm

What: Stroller Brigade
Where: 301 N. Pomona Ave
When: Wednesday, December 11
Time: 10:00 am-12:00 pm

La Habra

What: Black Friday Kid Drop/Parent Shop
Where: La Habra Community Center, 101 W. La Habra Blvd.
When: Friday, November 29
Time: 6:00 am-5:00 pm

What: Breakfast with Santa
Where: 301 S. Euclid St.
When: Saturday, December 7
Time: 8:00 am-12:00 pm

What: Christmas at Castle Green with Optional Tea Lunch
Where: Departs from La Bonita Park parking lot, 1441 W. Whittier Blvd.
When: Sunday, December 8
Time: 10:00 am-5:30 pm

Placentia

What: Recreation and Parks Commission Meeting
Where: City Hall Meeting Room
When: Monday, December 9
Time: 7:00 pm

What: Oversight Board to the Successor Agency Meeting
Where: Council Chambers
When: Wednesday, December 11
Time: 4:00 pm


For questions or comments regarding Nelson's E-News
please contact the Supervisor's office staff:
Audra Fishel Ph: 714-834-3440 Email: Audra.Fishel@ocgov.com.