Board of Supervisors

Welcome to Nelson's E-News!

In our last edition before the Christmas holiday I would first like to wish all readers the warmest of Christmas greetings and holiday cheer. A lot has been happening recently with 2014 winding down both at the Board of Supervisors and in the community. The Board has reviewed the County Strategic Financial Plan, accepted the First Quarter Budget Report, approved the 2014 Legislative Platform and considered several other important items working toward accomplishing county priorities.

In addition to tending to the regular work of the Board of Supervisor my staff and I have been busy attending meetings and events in the Fourth District. I had the opportunity to co-host the Free Speech Forum, my Chief of Staff helped serve holiday dinners to needy citizens in at the Honda Center at the Annual "We Give Thanks" event and two Fourth District Team Members toured the Orangewood Children's Home at Orangewood's Holiday Tea. Fourth District Staff and I also attended several other community ceremonies and events highlighted below.

As always please see below for important updates from county agencies and be sure to check out the Annual Fourth District Open House this TUESDAY DECEMBER 17th FROM 2:00 pm-4:00 pm!

Sincerely,
Shawn Nelson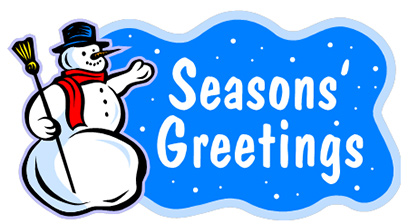 Board Updates



First Quarter Budget Report

The Board accepted the First Quarter Budget Report for FY 2013-14, from July 1 to September 30. The Quarterly Budget Report provides the Board of Supervisors, members of the public, County departments, and other interested parties with an overview of the current status of revenues, expenditures, Net County Cost (NCC), total budgeted positions and various departmental issues requiring recommended changes to the County's budget.

The Board unanimously approved six of the report's recommended actions. In one, the Board voted to approve up to $200,000 in State reimbursement for an annual public safety conference, with the clarification that the actual reimbursement is only a fraction of that amount, last year totaling approximately $850. However, the Board voted 3-2 in one of the actions, with Chairman Nelson in opposition, to terminate supplemental judicial benefits for all judges sworn in after December 10, 2013, in Orange County Superior Court. The County currently spends $2.6 million in these benefits.

Some of the budget highlights thus far in the year include establishing a fund balance of $150 million for Vehicle License Fee repayment to the State and several department requests having a General Fund impact. Property tax revenue is 21.5% ($2.5M) above projections due to higher supplemental and penalty collections. Meanwhile, public safety sales tax is approximately 6.25% ($1.4M) under budget. Regarding staffing levels, a net total of 186 positions were added, with a new total of 17,967. HCA added the most positions at 148. An electronic copy of the FY 2013-14 First Quarter Budget Report is available here.

Strategic Financial Plan

At last Tuesdays Board of Supervisors meeting, the following was considered:

The Strategic Financial Plan (SFP) is a document that provides an operational link between the County's Strategic Plan, the budget process and departments' operating plans to allow a focus on department needs and to ensure that the County's financial position is sufficient to support ongoing services and long-term needs.

The Plan establishes the framework for a five-year operating budget and prepares for the development of the next fiscal year budget with the caution that assumptions used in developing the plan may change over time. The primary focus of the SFP is the portion of the General Fund often referred to as discretionary funding. This is the funding source allocated to departments and approved by the Board for programs and activities which are not funded by specific revenue sources.

The 2013 Strategic Financial Plan presented to the Board may be viewed below. It contains property tax and sales tax revenue forecasts and retirement cost projections. Two primary goals of the SFP are to stabilize the budget and prepare for contingencies, and to address and fund agency infrastructure.

To view the Financial Plan, please click link below:
Insert link to strategic plan PDF

2014 Legislative Platform

The Board received a briefing from County Legislative staff regarding Orange County's legislative priorities. The County's federal outlook included a presentation from the federal advocate, which included updates on pension reform, the Santa Ana Mainstem Project and designating John Wayne Airport as a Port of Entry. The presentation may be found below.

In the State Platform, the Board voted 4-1 to support a bill that would permit counties to seek reimbursement for the cost of a search and rescue. Chairman Nelson, citing the rarity of such occurrences and misuse of resources, opposed its inclusion. The entire draft Legislative Platform may be found here.

Armory Emergency Shelter Program Update

The County of Orange Armory Emergency Shelter Program opened on November 13, 2013 at the Fullerton Armory location and December 2, 2013 at the Santa Ana Armory location. The Armory Program provides a safe place to sleep and shelter from the winter weather, along with hot meals, showers, clothing, blankets, and other supportive services to approximately 400 homeless people per night. Last year, the Armory Program provided 40,524 bed nights and served 1,848 unduplicated homeless clients. Both Armories are tentatively scheduled to remain open seven days a week through late March or mid-April 2014, depending upon funding.

While the program is operated by a nonprofit organization (Mercy House), the success of the Armory Program is largely due to the collaborative efforts of County agencies, the State of California's National Guard, the participating cities of Fullerton, Santa Ana, and Anaheim, churches, nonprofit agencies, and dedicated individuals who generously volunteer their time. Volunteer opportunities include: helping the homeless to sign-in, distributing blankets or clothing, serving food, as well as setting up and/or cleaning up. Individuals interested in volunteering can contact Irene Mendoza of Mercy House at IreneM@mercyhouse.net.

Donations of gently used and new items for the Armory Shelter Program can be dropped off Monday through Thursday from 5:00 PM-8:00 PM from December through March at the two armories:
Fullerton Armory, 400 S. Brookhurst Rd. (Corner of Brookhurst Rd. and Valencia Dr.)
Santa Ana Armory, 612 E. Warner Ave. (Between Main St. and Grand Ave.)
If you are interested in donating items, please refer to the attached donation policy and wish list. For more information on the Armory Emergency Shelter Program, visit Mercy House's website at www.mercyhouse.net . For any other questions about homeless issues, contact OC Community Services Director Karen Roper at (714) 480-2805 or karen.roper@occr.ocgov.com.

CalOptima Update

CalOptima Chief Executive Officer Michael Schrader presented his first semi-annual report at Tuesday's Board meeting, per a previous Board directive.

During a brief ten-minute presentation, Mr. Schrader articulated some of the recent accomplishments and programs of the agency, including launching the innovative PACE program for the elderly and a Cal MediConnect (Duals) for Medicare/MediCal recipients. In addition, the Health Care Director delivered short remarks on the Affordable Care Act (ACA) implementation and the Social Services Director commented on the agency's progress with Medical Services Initiative (MSI) enrollment. The full presentation to the Board may be found below.

In June, the Board of Supervisors concurred with an ad hoc committee's recommendation that the CalOptima CEO provide semi-annual oral reports on CalOptima's activities and status to the Board at its regularly scheduled meetings. Additionally, the Board directed that the CEO provide monthly reports on CalOptima's activities and status to each Board member.

New CalOptima Director

The Board of Supervisors has made an appointment to the vacant CalOptima Board of Directors' Member Seat, a four-year term ending December 9, 2017. Theresa Boyd, who fills the position, has been a CalOptima consumer since 1988 and previously served on the Orange County Mental Health Board.

Under the County ordinance establishing CalOptima as the County Health Authority, its Board of Directors comprises 11 positions, all of which are appointed by the Orange County Board of Supervisors.
Per a Board amendment to the ordinance in December 2011, the Board is responsible for appointing one member who represents CalOptima members in Orange County as a current recipient of CalOptima services.
Please visit the CalOptima website for more information.

Supervisor Nelson presents OC Public Works with CSAC Merit Award

On Tuesday, December 3, 2013, Supervisor Shawn Nelson joined OC Public Works' quarterly Service Award Ceremony to present the 2013 California State Association of Counties (CSAC) Merit Award for the Progress Payment (ProgPay) System.

The ProgPay System was developed for the Inspection Section of the OC Public Works Department in order to track the contractor's progress on projects down to each line item of work. A wide range of information is logged into the system beginning with the bids received and ending with the monthly progress payment report. Every month, the contractor's progress is tracked and a report is generated for payment.

The system is an intranet application that was developed using the latest technology. It delivers timely payments, reducing the risk of penalties and need for manual effort by providing the ability to route and approve the payments and change orders, and also generate transmittal letters and meaningful reports.

The ProgPay System demonstrates implementing innovative automation to improve communication between engineers and field inspectors, increase staff productivity, and after one year, saving $312,000 annually.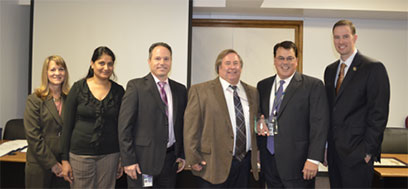 Supervisor Nelson presents OC Public Works staff with CSAC award

OCTA



Santa Rolls into Town for 21st annual Stuff-A-Bus Event

Santa Claus is coming to town and looking for help in filling Orange County Transportation Authority (OCTA) buses with toys for local children in need on Friday, Dec. 20 from 4:30 a.m. to 6:30 p.m. at Honda Center in Anaheim.

This year marks the 21st annual Stuff-A-Bus event which supports the Spark of Love toy drive and is sponsored by the Orange County Transportation Authority (OCTA), ABC7, Honda Center and the Anaheim Ducks.

Firefighters from across Southern California will be there to help collect toys and Garth Kemp of ABC7 will be on-site to broadcast the event and greet the public.

Last year donors set a record breaking drive, filling 14 buses with toys, beating the previous year's record of nine buses. This year OCTA, ABC7, Honda Center and the Anaheim Ducks hope residents will come out and help to collect more toys than ever before.

"The Stuff-A-Bus event is a heartwarming tradition that brings the community together and enables residents to give back to those less fortunate," said OCTA Chairman Greg Winterbottom. "The holidays are a great time to spread cheer and we are pleased to continue this event to help children in need."

The public is encouraged to bring new, unwrapped toys or sporting equipment to the Honda Center parking lot at 2695 E. Katella Ave. in Anaheim. Toys will be distributed to children in need throughout the community.

All donations benefit the Spark of Love toy drive, a program that has collected more than 7 million toys for children over the past two decades. Firefighters from Orange, Los Angeles, Riverside, San Bernardino and Ventura counties have supported the Spark of Love toy drive for more than 20 years.

OCTA Board Selects One Lane in Each Direction for I-405

The Orange County Transportation Authority (OCTA) board voted to construct one general-purpose lane in each direction between Costa Mesa and the county line in Seal Beach as part of the I-405 Improvement Project.

The board's vote means that high-occupancy toll (HOT) lanes will not be a part of the I-405 project, which is being funded through Measure M, the half-cent sales tax for transportation improvements.

The vote will allow the benefits of the project to be delivered more quickly to drivers. Caltrans has the final decision on the project alternative and that could come as early as the end of the month.

The board also voted for the agency to work with federal, state and local stakeholders and the community to have a broader and more comprehensive discussion regarding HOT lanes and what role they may play in improving commutes for Orange County drivers. The concept of managed lanes will be explored as part of OCTA's Long Range Transportation Plan.

The I-405 project is currently in the environmental phase and three build alternatives are part of the study to reduce congestion in the area between Costa Mesa and I-605 at the Los Angeles County line.

The vote reaffirms the board's October 2012 selection and would add one general-purpose lane in each direction at a cost of $1.3 billion. The other alternatives studied included:

A no-build alternative
Adding two general-purpose lanes each direction at a cost of $1.4 billion
Adding one general-purpose lane in each direction, and adding a high-occupancy toll lane that would combine with the existing carpool lane to create a two-lane express lanes facility at a cost of $1.7 billion.
The final environmental studies are expected to be completed in summer 2014 with construction anticipated to occur from 2015 to 2020.

The I-405 is the busiest stretch of freeway in the country, carrying more than 370,000 cars a day near the county line. Traffic is expected to increase approximately 35 percent by 2040. For more information, visit www.octa.net/405improvement.

In the Community

Fourth District Free Speech Forum

On Wednesday, December 4, Supervisor Nelson hosted a Free Speech v. Hate Speech Forum at the North Orange County Community College District headquarters in Anaheim. Approximately sixty elected officials, public agency staff, law enforcement representatives and members of the public attended.

The event was assembled in response to concerns over speakers at public meetings who use the microphone for topics that are hateful, disruptive or out of the jurisdiction of the presiding body. Although this is a wide-ranging issue, there has been particular concern about recent meetings containing extremely controversial and incendiary public comments in the Fourth District.

Targeted at officials who run public meetings, the intent was to establish guidelines as to what boundary or limit exists for individuals to exercise their First Amendment right to free speech. Hopefully, this positive dialogue will reap successful results and continued conversations.

The five panelists who generously participated in the discussion reflected a broad knowledge of and experience with both free speech and hate speech. Thanks again for their time and contribution go to:

Michael Houston, City Attorney of Anaheim
Chief Dan Hughes, Fullerton Police Chief
Manoj Mate, Law Professor at Whittier Law School
Rabbi Richard Steinberg, Congregation Shir Ha Ma'a lot in Irvine
Bardis Vakili, staff attorney for the ACLU of Southern California, Orange County

In addition, staff with the Association of California Cities-Orange County and the Orange County Human Relations Commission assisted in organizing this event.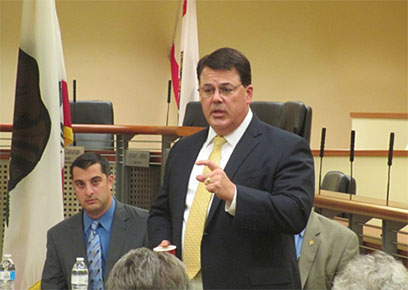 Supervisor Nelson addressing the crowd at the free speech forum

We Give Thanks – Honda Center

Supervisor Shawn Nelson was pleased to lend staff and his support to the 27th annual "We Give Thanks 2013" holiday dinners hosted by restaurant owner Frank Garcia. As his way of giving back to the community for the blessings he's received as owner/operator of La Casa Garcia restaurants in Anaheim, over 15,000 hungry and homeless made their way to the Honda Center and lined up for the early morning opening.

The crowds were served thousands of pounds of turkey, potatoes, and trays of desserts that were topped with whip cream donated by Supervisor Nelson. The day was majestic in the spirit of cooperation and appreciation by the thousands who attended along with a thankful coordinating team whose prayers came through for a sunny Thanksgiving morning after consecutive days of torrential rains leading up to the event. Congratulations to Kent French who directed the on-site operations and acted as MC as Frank Garcia cut the first turkey after prayers and introductions of sponsors and VIPs who support this incredible gesture of humanitarian compassion in Orange County.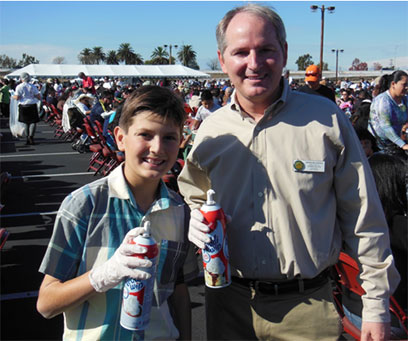 Fourth District Chief of Staff Denis Bilodeau and son Robert enjoy helping at the Honda Center Thanksgiving morning.

Supervisor Nelson presents 2013 State of the County to OLLI

On December 12th, Supervisor Nelson was invited to speak and participate in a forum hosted by OLLI (Osher Lifelong Learning Institute) which was held at Cal State Fullerton. The event was a roundup of City, County and state officials. Supervisor Nelson was joined by Fullerton Mayor Doug Chafee and California State Assemblyperson Sharon Quirk-Silva. Each elected official spoke about the state of affairs in their respective jurisdictions followed by a lively question and answer session.

OLLI at California State University Fullerton (CSUF) provides active, older adults with opportunities to continue learning in a university setting, to engage with peers, to serve our communities, and to support and enhance the activities of the University.

OLLI-CSUF is a chartered program and an integral part of California State University Fullerton, operating under the direction and supervision of University Extended Education. It supports and enhances the activities of CSUF. Its members enjoy the benefits of student status, which include a campus parking pass, access to the campus library, free admission for two to all CSUF athletic events, discounts at the students' store, and discounted admission to the new campus performing arts center. In addition, members may audit any regular CSUF class with permission of the instructor.

To learn more on OLLI, please click the link below: http://olli.fullerton.edu/AboutOlliCsuf/AboutCsufOlli.aspx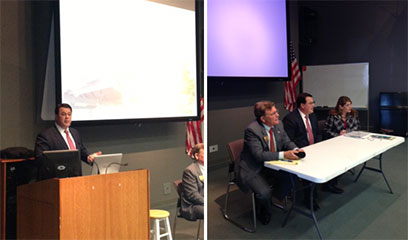 (Left) Supervisor Nelson presenting the "State of the County"
(Right) Fullerton Mayor Doug Chafee, Supervisor Nelson, Assemblywoman Sharon Quirk - Silva

Orangewood Holiday Tea

On Thursday, December 12, Orangewood hosted their annual Holiday Tea and invited many people throughout the community to join them. The Fourth District enjoyed a tour of the facilities given by Orangewood Children & Family Center manager, Denise Churchill. The mission of Orangewood Children's Foundation is to provide life-changing prevention and intervention programs for abused and neglected children, young adults and at-risk families through one-on-one support and community partnerships to end the cycle of child abuse. Their vision is to develop educated, self-sufficient adults and stable, healthy families in our communities. For specific questions about their wish list, please contact Volunteer Services Program Manager, Kristi Piatkowski, at kpiatkowski@orangewoodfoundation.org or at (714) 619-0200 ext. 248. The Fourth District proudly supports Orangewood Children & Family Center!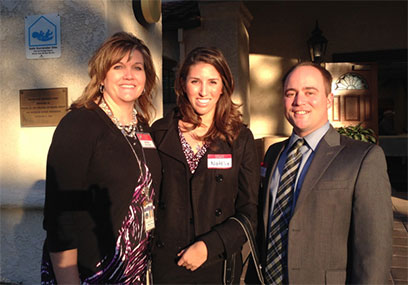 (Left to Right) Denise Churchill, Natalie Wieckert, Scott Carpenter

Las Posadas and Tamale Festival in Old Towne Placentia

Thousands of Placentia residents braved the cold to enjoy the premier tamale festival in Orange County hosted by the Old Town Merchants Association in cooperation with the community resources department of the City of Placentia. A projected attendance of 10,000 enjoyed the night's kickoff with a free concert by Smooth, a tribute band that recreates the greatest hits of Santana from Woodstock through their 40 year legacy of hits. Steve Noguero who dresses in 1960's retro shirts delivered guitar renditions of Evil Ways, Sampa Pa Ti, Black Magic Woman and nine other classics to mesmerize the crowds who danced in the street by the end of their 90 minute concert.

The night was highlighted by service organizations like the Placentia Rotary who provided a Santa for photos and the Police Department who provided photos with the Officers and event security for the restaurants and civic groups who use the event for fundraising. Steve Spernak from Supervisor Nelson's staff manned the public information booth and distributed the newest senior resources guide called Answers to passing seniors and caregivers along with business cards and county resource directories. Congratulations to Rosalina Davis, president of the merchants association, and Felipe Zambrano from the City of Placentia Community Services Department for putting together a fun family event in old town Placentia.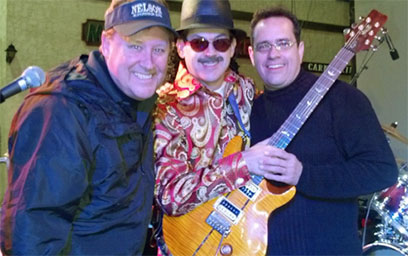 Policy Advisor Steve Spernak celebrates with Santana look-a-like Steve Noguero and OC Register Advertising Specialist Carlos Moya.

Fourth District honors Mayor Ron Garcia

On Tuesday, December 3, the Fourth District was honored to recognize outgoing Brea Mayor Ron Garcia for his outstanding service and leadership this past year. Ron Garcia was elected to the Brea City Council in November 2006 and has served as mayor once before in 2010. In addition, Ron Garcia is active in many other organizations such as the advisory board for the U.S. Army, Brea Veterans of Foreign Wars and Brea American Legion. Also, Ron Garcia was appointed to serve on the Orange County Veterans Advisory Council by the Orange County Board of Supervisors. The Fourth District thanks Ron Garcia for his dedication to the Brea community and is proud of his many accomplishments.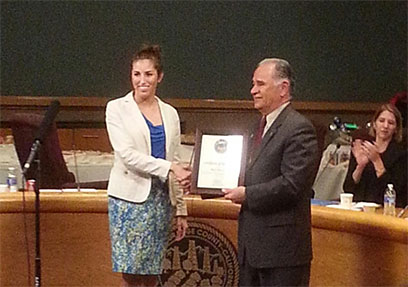 (Fourth District Staff member Natalie Wieckert congratulates out-going Mayor Garcia)

Korean Seniors Association Conference

Policy Advisor Steve Spernak attended a meeting with the Korean American Seniors Association of Orange County. During the briefing, association president Kenny Choi S. Pak explained to Steve that their focus was to secure $1.5 million in state funding to deliver a new senior and cultural center for their 1,000 members to enjoy. The center would also be a counseling and resources workshop along with ESL (English as a second language) classes to help some of the 250,000 Korean Americans in Orange County with speech skills for citizenship. Also attending the conference was Joe Pak from the offices of Assembly-member Sharon Quirk-Silva who provided information on potential funding sources for the new Korean Seniors Center and Nicholas Lee, senior vice president and transportation coordinator for the Korean Seniors Association of OC. Reporter Jeong Ho Shin from the Korea Times Los Angeles covered the meeting, completed interviews and will publish the items discussed in his paper that delivers news and information for Korean Americans in their native language. Supervisor Nelson delivered a proclamation to Mr. Pak for his community organizing, inspiring leadership to secure a new community center, senior transportation solutions and promoting education and opportunity to business owners and employers.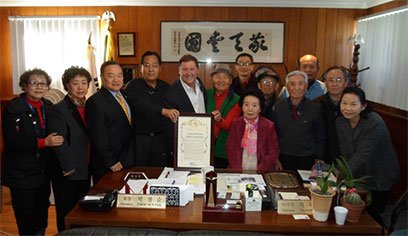 Policy Advisor Steve Spernak (center) meets with the Korean American Seniors Association Board

OC Parks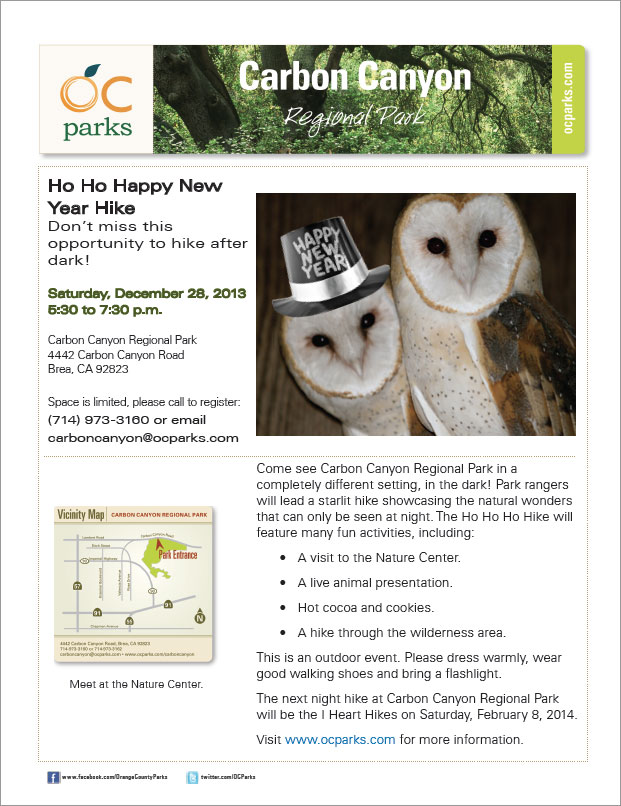 Click on the image above to view a larger version.

Announcements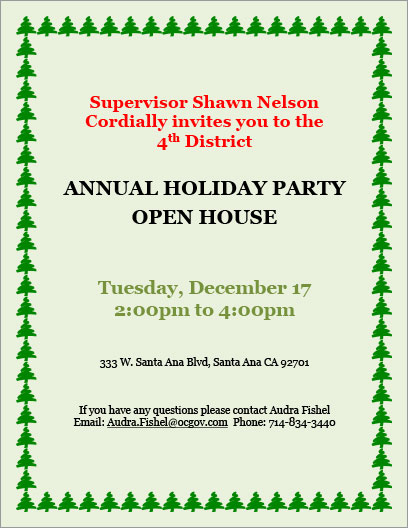 Click on the image above to view a larger version.

County Commissions and Committees

The 4th District has vacant appointments on the following commissions or committees:


Oversight Board of the Successor to the City Redevelopment Agency (Buena Park and Anaheim)
Waste Management Commission
If you are interested in serving on one of these Committees, please call Audra Fishel at (714) 834.3440

OC Animal Care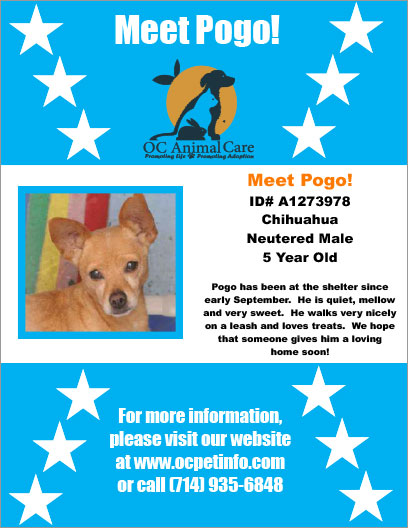 Click on the image above to view a larger version.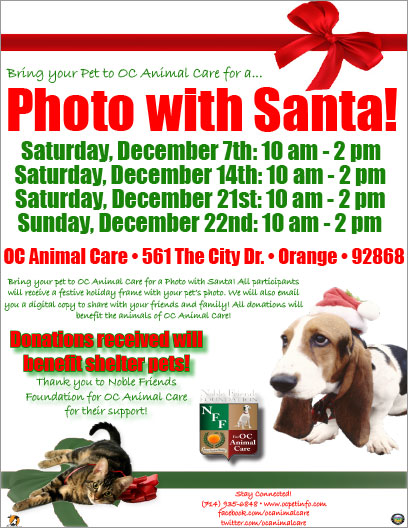 Click on the image above to view a larger version.

Library Corner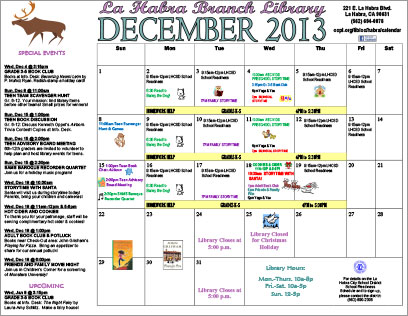 Click on the image above to view a larger version.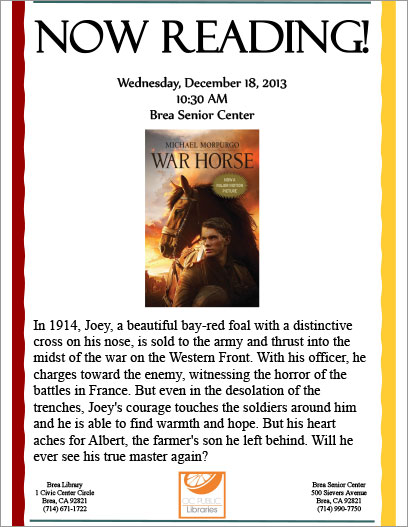 Click on the image above to view a larger version.

Events
Anaheim

What: Mobile C4K (Cops For Kids)
Where: Ponderosa Park
When: Tuesday, December 17
Time: 1:30 pm-4:00 pm

What: Mobile PACE Program
Where: Schweitzer Elementary School
When: Wednesday, December 18
Time: 6:00 pm

What: Anaheim Ballet presents The Nutcracker
Where: The City National Grove of Anaheim-2200 E. Katella Ave
When: Saturday, December 21
Time: 2:00 pm

Brea

What: Brea's Ultimate Evening Boot Camp
Where: Arovista Park-500 W. Imperial Highway
When: Saturday, December 14
Time 8:30 am-9:30 am

What: Charles Phoenix's Retro Holiday Show
Where: Curtis Theatre-1 Civic Center Circle, Plaza Level
When: Sunday, December 15
Time: 2:00 pm-4:00 pm

What: Veterans Services
Where: Brea Family Resource Center-695 E Madison Way, inside the community center
When: Wednesday, December 18
Time: 8:00 am-5:00 pm

Buena Park

What: Community Chorus Holiday Concert
Where: Community Recreation Center-8150 Knott Avenue
When: Sunday, December 15
Time: 3:00 pm

Fullerton

What: Rancho Fullerton Social Club Bingo
Where: 1201 W. Valencia Drive (west of Euclid)
When: Monday, December 16
Time: 5:00 pm-8:00 pm

What: Stroller Brigade
Where: Fullerton Museum Center
When: Wednesday, December 18
Time: 10:00 am-12:00 pm

What: Fullerton Bears, Jr., All American Football Blood Drive
Where: 353 W. Commonwealth Ave.
When: Friday, December 20
Time: 11:30 am-5:30 pm

La Habra

What: Disney Concert Hall: L.A. Master Chorale's Holiday Wonders
Where: Trip departs from La Bonita Park parking lot-1440 W. Whittier Blvd.
When: Saturday, December 14
Time: 11:00 am-5:00 pm

What: Holiday Ornaments
Where: Family Art Center-La Habra Community Center, 101 W. La Habra Blvd.
When: Saturday, December 21
Time: 11:00 am-4:00 pm

What: Melted Snowmen
Where: Family Art Center- La Habra Community Center, 101 W. La Habra Blvd.
When: Thursday, December 26
Time: 11:00 am-3:00 pm

Placentia

What: Placentia City Council Meeting
Where: 401 E. Chapman Ave.
When: Tuesday, December 17
Time: 7:00 pm-10:00 pm


For questions or comments regarding Nelson's E-News
please contact the Supervisor's office staff:
Audra Fishel Ph: 714-834-3440 Email: Audra.Fishel@ocgov.com.