Board of Supervisors

Welcome to Nelson's E-News!

The Board of Supervisors is gradually moving toward the appointment of a replacement Clerk-Recorder since the position was first vacated more than three months ago. Please read below in the "Board Updates" section for more detail.

St. Patrick's Day in Orange County is just around the corner. To mark the occasion, OC Parks is hosting multiple events during the day. Please read further for details on how you can participate in these upcoming celebrations.

The next Board meeting will be Tuesday, March 12 at 9:30 am. For more information on the items to be discussed, please view the agenda here.

Sincerely,
Shawn Nelson

Board Updates



Clerk-Recorder Appointment

On Tuesday, each member of the Board submitted up to twenty candidates to fill the unexpired term of the vacant Clerk-Recorder position. After accounting for duplicates from the qualified list of applicants, the Board pared the hopefuls down to twenty-five total contenders. From this consolidated list, each Supervisor will select a maximum of ten names to submit, again with duplicates consolidated. The process will continue on Tuesday, March 12 at 9:30 am. The current list may be found below.

Clerk-Recorder Memo

OCTA



OCTA Seeks Applicants For Taxpayers Oversight Committee

The Orange County Transportation Authority (OCTA) is seeking qualified volunteers to serve on the Taxpayers Oversight Committee. The 11 member committee monitors OCTA's use of Measure M funds and ensures that all revenue collected from Measure M is spent on voter-approved transportation projects. Your involvement will help keep an eye on your tax dollars.

Applications for the 2013-2016 term will be accepted through April 22 to fill four positions, one in the First, Third, Fourth and Fifth Districts. Orange County residents residing in the First, Third, Fourth or Fifth District are eligible to apply.

For additional information and to request an application, visit OCTA's Web site at www.octa.net/toc or contact Alice Rogan at (714) 560-5577.

In the Community

County Update Presentation to Placentia City Council

The Placentia City Council invited Supervisor Nelson to join them to give a presentation at their March 5th Council Meeting. Supervisor Nelson took the opportunity to update the Council on the work the County is doing to establish a full-time multi-service center and emergency shelter for the homeless, get feedback on the County operation of Tri-City Park and to field any questions the City Council may have. The presentation was a part of an ongoing dialogue the Supervisor hopes to keep with citizens, elected officials and community leaders in the Fourth District as a way to better serve their needs and priorities.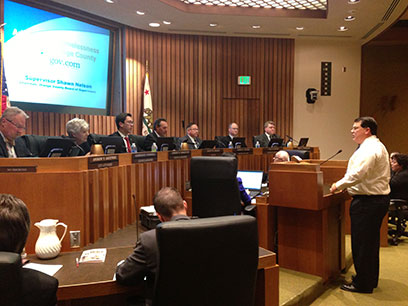 Supervisor Nelson presents a PowerPoint to the Placentia City Council

Chapman News Interview

To watch Supervisor Nelson's interview on the new shelter with Adam Herberts from Chapman News, please click the link below:

http://www.youtube.com/watch?v=1XCcFoJv1g0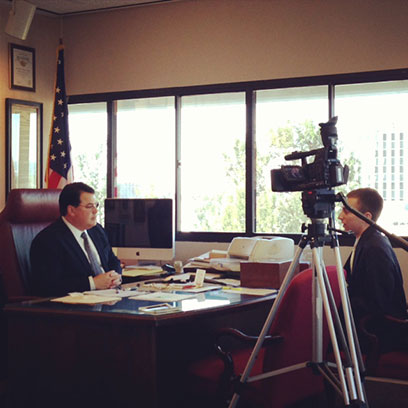 State of the City – Placentia

The Placentia Chamber of Commerce hosted their annual State of the City Event on February 28th, 2013. This annual event showcases the Mayor of Placentia presenting on the progress and potential future for the City of Placentia. This is an event that brings an entire community together with representatives attending from Legislative offices, City & County Personnel, and community organizations.

The shining examples of leadership were present at this grand event and it came to fruition because of Placentia Linda Hospital's support as Title Sponsor and our community of Gold, Silver and Honorary Sponsors.

Mayor Scott Nelson presented his State of the City in a fresh and unique way by showing a video! Mayor Nelson's sense of humor was reflected in his video introduction to the tune of AC/DC "Back in Black" which played in the background as an introduction to the theme of his slide presentation. The City of Placentia is now in the black, with a bright future.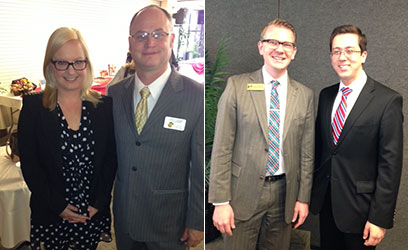 (Left Picture) Supervisor Nelson's policy advisor, Audra Fishel and Placentia Councilman Chad Wanke

(Right Picture) Southern California Association of Government's Regional Affairs Officer, Kevin Gilhooley and Councilman Jeremy Yamaguchi

State of the County
Association of California Cities – Orange County

Supervisor Nelson presented his State of the County to forty local government leaders at last week's Association of California Cities – Orange County meeting. The ACC-OC was founded in 2011 as the hub for public policy, from the ground up for Orange County cities. It serves as the regional advocate for local control, both locally and in Sacramento. It is a statewide and national model for creating good public policy from the ground up with an unrelenting focus on protecting and restoring local control.

To check out more photos of the event, please visit ACC-OC's Facebook page.

To view the state of the county slideshow, please click below:

State of the County ACC-OC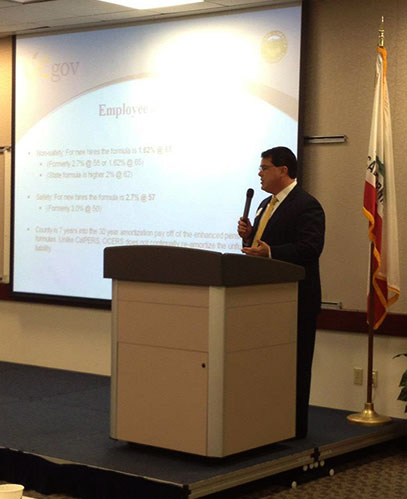 Supervisor Nelson addresses the members of ACC-OC

National Charity League - Fullerton

The National Charity League theme of "The Academy Awards" brought Hollywood to the Anaheim Hilton where members delivered a fashion show with a cat walk amongst the tables of visiting friends and family. Several hundred attended the luncheon that included a silent auction of unique donated items including signed USC memorabilia, box seats to the Ducks games, jewelry, catered dinners at Nieuport 17 along with make-up and day spa excursions that were bid on by the hundreds who attended. The money raised will help to finance Meals on Wheels serving senior citizens in Orange County.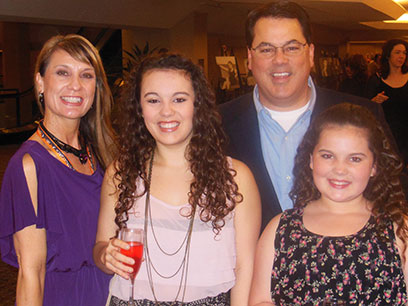 (Left to Right) Sharon Nelson, Katherine Nelson, Shawn Nelson & Amanda Nelson

100 Black Men of Orange County Celebrate 20 Years of Success

The annual gala for the 100 Black Men of Orange County was held this past weekend at the University of California, Irvine. Attending were hundreds of members, supporters, donors and dignitaries. The event featured recognition of the incredible and inspiring accomplishments of professional black men impacting the future of young black men in Orange County.

The local chapter of the national organization was established in Orange County in January 1993. Recognizing the imperative of having a chapter in Orange County, the original 100 Black Men founded this association of influential leaders, mentors, teachers and corporate giants as a means to provide focused, effective and participatory leadership instruction to aspiring young men and teens.

The established program is called "Passport to the Future" and is an educational commitment to each teen. The overarching goal is to mentor them in the triangle of success that focuses on home, school and the community. The "Passport to the Future" candidates dedicate themselves to Saturday morning formal instruction, debate & speech skills and learning the values and moral codes of gentlemen. The anniversary dinner at UCI included an introduction of each of the "Passport to the Future" candidates, all of whom were dressed in tuxedos and individually introduced with a musical soundtrack and an explanation of their life goals. All will attend college and many want to attend law school or even venture into medicine or politics.

Congratulations to the 20th year of success by both the 100 Black Men organization and the alumni who continue to keep the dream alive in Orange County. For more information on how you can contribute to this admirable organization and their mission, please visit 100 Black Men of Orange County's website at www.100bmoc.org.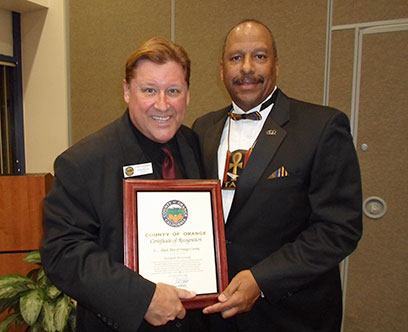 Policy Advisor Steve Spernak (left), presents Dr. Thomas Parham (right), former President of 100 Black Men of Orange County, with a Certificate of Recognition honoring their 20th anniversary

Veterans Collaboration Conference

Policy Advisor Steve Spernak joins Social Services Agency Administrator Gary Taylor (center) and Bobby McDonald, OC Veterans Advisory Council member and president of the OC Black Chamber of Commerce, at last week's Veterans Collaboration conference in Orange. The collaboration strategy is to bring 60 + agencies under a central command with partners Christine Lopez of the Red Cross, Deanne Tate of Veterans First and Karen Roper from the County of Orange Community Services Division. The new concept will streamline access to OC resource agencies for Veterans and military families which is a priority for Supervisor Nelson who wants to advance the program as a template for efficiency, communications and public administration cooperation with the private sector providers.

For more information, please click the link below to view the Save the Date:

Military Save the Date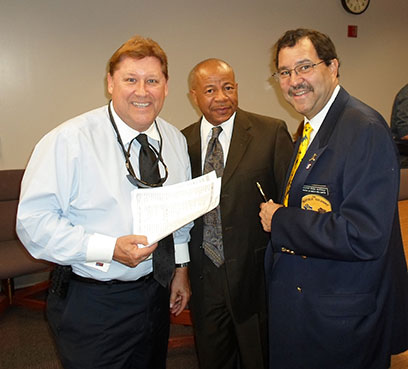 (Left to Right) Steve Spernak, Gary Taylor & Bobby McDonald

Supervisor Nelson Saddened by Loss of Buena Park Legend Donna Bagley

It was with a heavy heart that Supervisor Nelson announces the passing of 100 year old Donna Bagley of Buena Park. Ms. Bagley passed peacefully on February 17th, ending decades of service to the community. Her contributions certainly brightened the lives of many who came to know her.

Wally and Donna Bagley came to Buena Park in 1948, where they purchased their first home. Donna lived in this Orange County residence for 65 years. She was a walking inspiration, sometimes defiant and outspoken, but driven by a huge heart and endless energy to do right by service to God, her country, community and family. The stories were endless, as were her list of friends, of whom included Ronald Reagan and former First Lady Eleanor Roosevelt.

After her husband's passing, Donna went on to be a role model for leadership and community projects, which included her legendary exploits as one of the first women in Rotary in the United States and 36 years as a Board Member of the Buena Park Boys and Girls Club. Her ability to recite the Gettysburg Address is legendary along with a wall full of awards for her service. Among her lifetime achievements were being awarded Cypress College Woman of the Year and attending mass for decades at Fullerton Christian Church where she knew the entire congregation by name.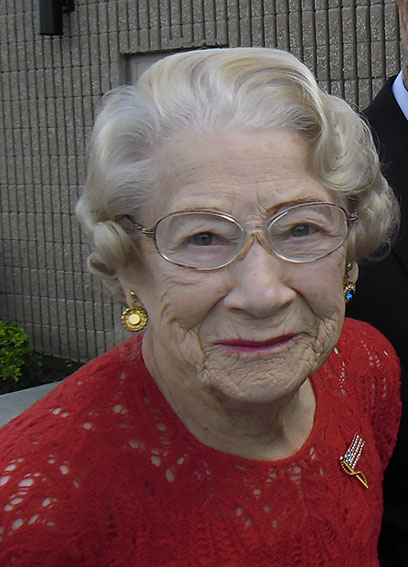 Mrs. Donna Bagley

County Commissions and Committees

Supervisor Nelson appoints influential Brea Pastor to the Orange County Human Relations Council

Supervisor Nelson is proud to announce his newest appointee, Pastor David Rader, to the OC Human Relations Council. Pastor Rader has served 43 years in the ministry. The last 26 have been served as Senior Pastor at Brea Baptist Church. Prior to this ministry, Pastor Dave has served in the Music, Christian Education and Youth Ministries. He treasures his family; his wife, Stacie, their son and daughter-in-law, Jeremy and Joy, and Granddaughters Hannah, Naomi, Selah, and Lily.

The Orange County Human Relations Council is a private, non-profit 501(c)3 organization founded in 1991 for the purpose of developing and implementing proactive human relations programs in partnership with schools, corporations, cities, foundations and individuals. The Council provides an award-winning inter-group and violence prevention program in the schools, and conflict resolution programs and inter-group relations initiatives in the communities all over Orange County. Supported through grants, donations, fees and contracts, the Council is governed by a Board of Directors consisting of diverse community leaders and guided by a Community Partners Advisory Board that is comprised of executives from major corporations and institutions.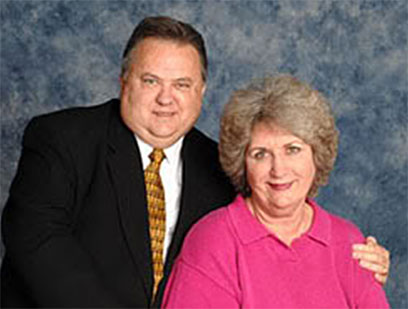 Pastor Rader and his wife Stacie

Announcements

Passport Day in the USA 2013

On Saturday, March 9, U.S. citizens may apply for or renew their passport book or passport card at participating non-State Department passport application acceptance facilities, such as post offices, clerks of court and libraries. While Department of State Regional Passport Agencies and Centers will not be open for service on March 9, many of the same services can be obtained at our acceptance facilities, including application acceptance for children's passports where both parents are present and expedited services are offered.

There are two convenient locations in the Fourth District and Orange County:

Fullerton Public Library
353 W. Commonwealth Avenue
Fullerton, CA 92805
(10:00 am-4:00 pm)
Tim Mountain, (714) 738-6325

Orange County Clerk-Recorder
211 W. Santa Ana Blvd., Room 202
Santa Ana, CA 92701
(10:00 am-3:00 pm)
Jean Pasco, (714) 834-2083

OC Parks


St. Patrick's Day Events at OC Parks

Go green and celebrate this St. Patrick's Day holiday with OC Parks. O'Neill Regional Park, Irvine Regional Park, OC Zoo and Upper Newport Bay Nature Preserve are all presenting themed special events on March 17 to get you into the Irish spirit.

Visit O'Neill Regional Park for the St. Paddy's Day Pilgrimage from 10 to 11 a.m. All ye lads and lassies will take a Ranger guided 2-mile hike through the park and learn a bit about the history of St. Patrick's Day and O'Neill Park's unique Irish heritage.

Irvine Regional Park is celebrating St. Patrick's Day with the Leprechaun Loop hike from 10 to 11 a.m. The guided hike will start at Parking Lot #7 and end up at the pot of gold, filled with special prizes! Participants will gain insight on Irvine Regional Park's history and Irish connection.

"Go Green" with the animals of the OC Zoo by bringing an empty cardboard box in exchange for complimentary zoo admission from 10 a.m. to 4:30 p.m. on St. Patrick's Day. The boxes are recycled and used as enrichment toys for the zoo's animals. Kids can participate in fun themed St. Patrick's Day crafts on-site.

Still searching for that perfect four-leafed clover? Join Upper Newport Bay Nature Preserve for a morning in the great outdoors from 10 a.m. to 12 p.m. and help remove pesky non-native clover from the Butterfly Habitat. Volunteers will learn about the beautiful native flora and decorate a pot to take home filled with coastal California's Owl Clover seeds!

March 17, 2013

St. Paddy's Day Pilgrimage
Time: 10 – 11 a.m.
Event Fee: Free
Parking: $5
Location: O'Neill Regional Park
Address: 30892 Trabuco Canyon Road, Trabuco Canyon, CA 92679
Contact: (949) 923-2260, oneillpark@ocparks.com
Special Instructions: Meet at Nature Center. Wear closed toed shoes. All ages welcome.

Leprechaun Loop Hike
Time: 10 – 11 a.m.
Event Fee: Free
Parking: $5
Location: Irvine Regional Park
Address: 1 Irvine Park Road, Orange, CA 92869
Contact: (714) 973-6835, irvinepark@ocparks.com


Attention Veterans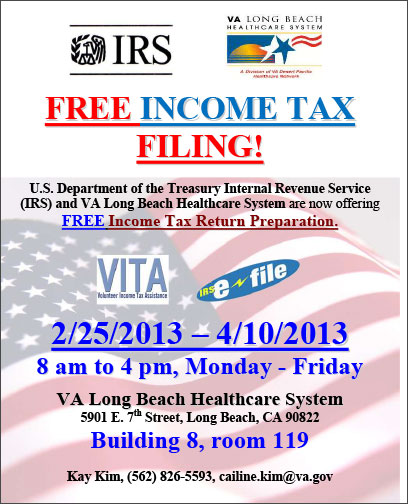 Click on the image above to view a larger version.

OC Animal Care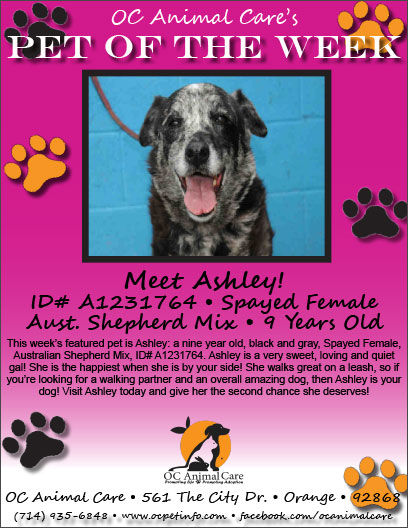 Click on the image above to view a larger version.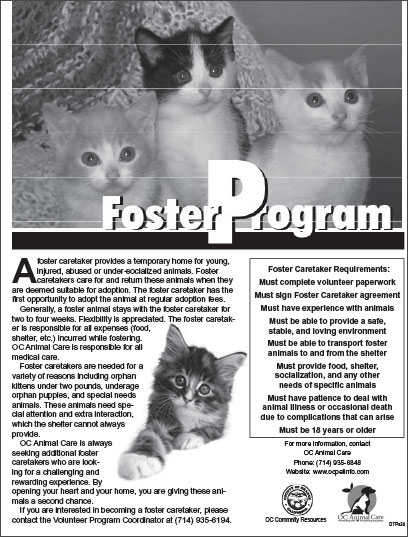 Click on the image above to view a larger version.

Library Corner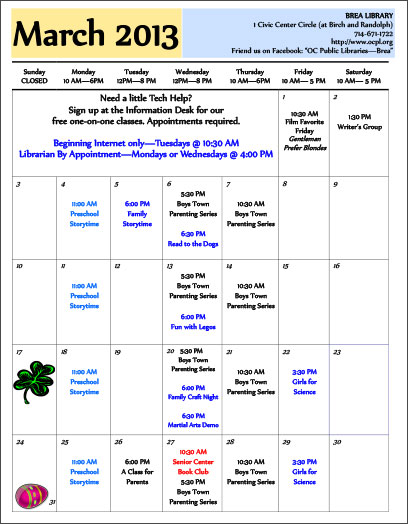 Click on the image above to view a larger version.

Events
Civil War Re-enactment

St. Catherine's Academy presents their 15th Annual Civil War Weekend Saturday March 16th and Sunday, March 17th from 9:30 am to 3:00 pm.

For more information, please see the flyer below or visit St. Catherine's Civil War Re-Enactment page.

http://stcatherinesacademy.org/files/docs/civil-flyer.pdf

Anaheim

What: 10,000 Best Jobs Expo Sponsored Tickets (Orange County)
Where: Angel Stadium, 2000 Gene Autry Way, Anaheim, 92806
When: March 21st, 9:00 a.m. - 5:30 p.m.

Brea

What: 14th Annual Spring Craft Boutique
Where: Brea Community Center, 695 E. Madison Ave.
When: March 16th, 9:00 a.m. - 4:00 p.m.

Buena Park

What: Coaster Run 2013
Where: 8039 Beach Blvd., Buena Park, CA 90620
When: March 10th at 7:30 a.m.

Fullerton

What: Friends of Fullerton Public Library Book Sale
Where: Osborne Auditorium of the Fullerton Main Library, 353 W. Commonwealth Ave., Fullerton, CA 92832
When: March 10th, 10:00 am - 4:00 pm

What: Arbor Day Tree Planting Program
Where: Virgil "Gus" Grissom Park, 1601 West Rosecrans Avenue, Fullerton, CA 92833
When: March 16th, 9:00 am-12:00 pm

La Habra

What: Critter Encounter at the Museum
Where: The Children's Museum at La Habra, 301 South Euclid Street, La Habra, CA 90631
When: March 10th, 1:00 pm - 3:00 pm

What: Spring Family Egg-stravaganza
Where: La Bonita Park, 1440 W. Whittier Blvd., La Habra, CA 90631
When: March 30th, Begins at 6:30 am

Placentia

What: Easter Egg-citement & Spring Carnival
Where: 201 N. Bradford Ave., Placentia, CA 92870
When: March 23rd, 8:00 a.m. - 2:00 p.m.


For questions or comments regarding Nelson's E-News
please contact the Supervisor's office staff:
Audra Fishel Ph: 714-834-3440 Email: Audra.Fishel@ocgov.com.